Meet Our Latest ASX Tech Portfolio Addition: VN8 is a Company Transformed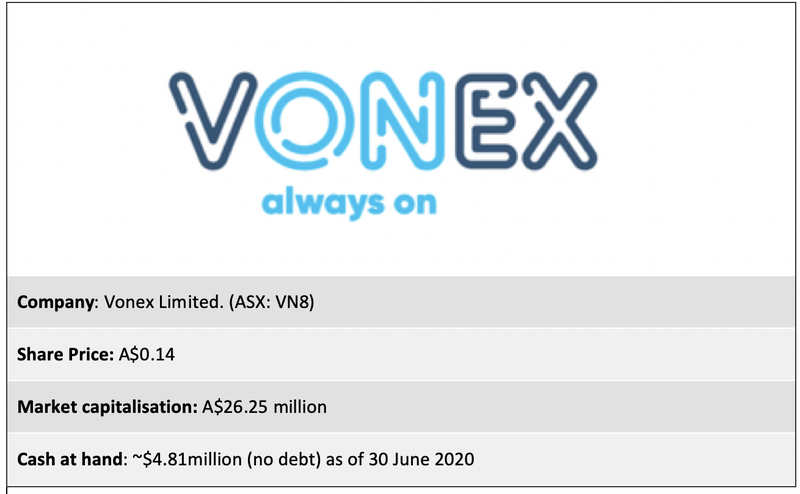 Communication in COVID-induced lockdown environments has never been more important.
From the office to the home, to dealing with remote clients, communication is vital.
It is not surprising then, that companies offering secure, clear and affordable telco services have generally experienced strong growth despite the economic impact of COVID-19.
Looking more broadly at the technology sector, it has outperformed the broader market over the past 12 months, providing investors with a total return of 56%.
Stocks that can deliver outstanding fundamentals have ridden great highs this year.
As have stocks with enormous future potential.
It is those kinds of stocks that we have in our sights, and, in some cases, have added to our portfolio.
Followers of the Next Investors brand will have seen some of the long-term investments we have made across all sectors.
We do invest in a number of high potential small cap ASX listed stocks each year.
We don't always get them right, but some of our most recent successes include: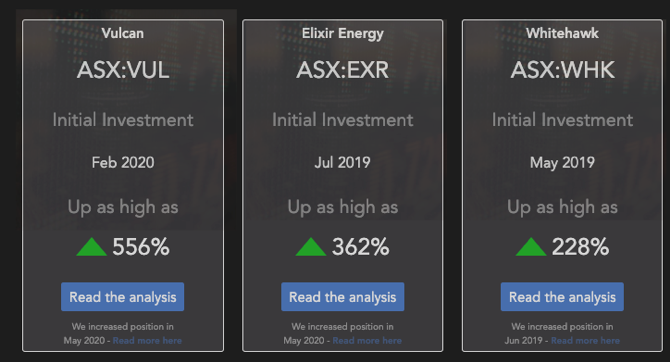 Note, Whitehawk (ASX: WHK), was the first tech stock we added to our long-term portfolio in 2019. It is up 228%.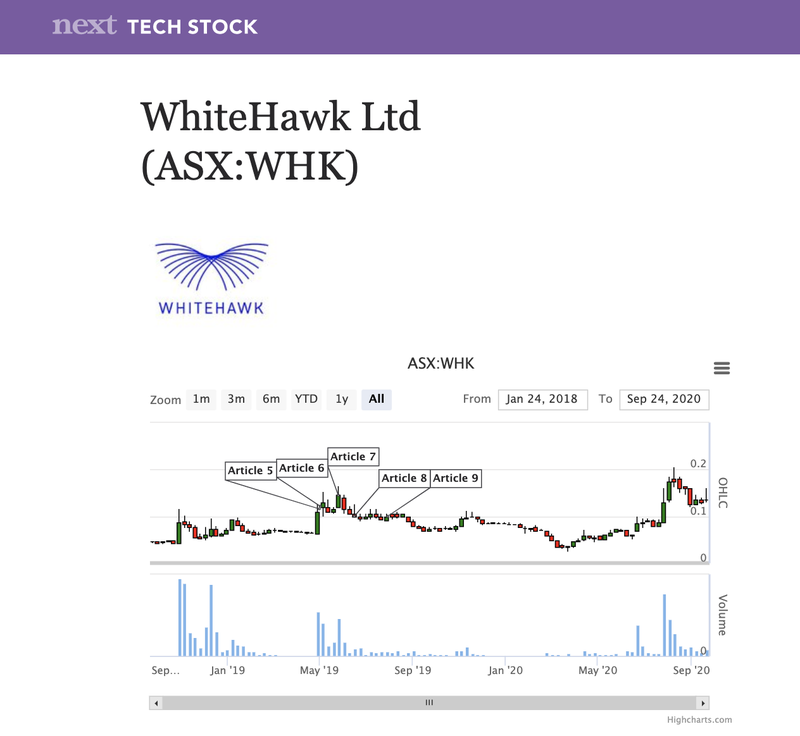 Another of our tech stocks is MyFiziq (ASX: MYQ). We added MYQ to our portfolio when it was just 11.5 cents. Last week, the company hit $1.00 – a 769% increase.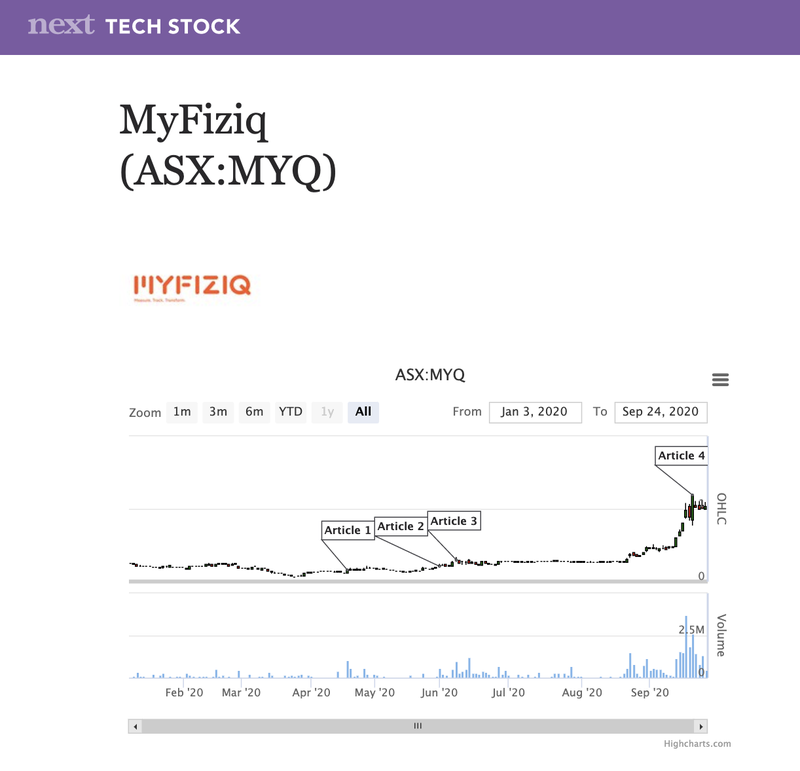 We have taken a significant long-term position in MYQ and it is one of our biggest holdings.
Now, after following the story for a while, and having familiarised ourselves with management and the company, we have decided to take a long-term position in Vonex (ASX:VN8).
We identified Vonex as a stock to watch way back in 2018 when it listed on the ASX and we have been paying close attention ever since.
Vonex has evolved immensely in that time, but 2020 has been a stand-out year, as it positions itself as the telco of choice for small to medium-sized enterprises (SMEs).
This year, Vonex has delivered strong growth, generating predominantly recurring revenue and has continued to develop, deliver and license advanced communications technologies.
We really like the sticky, recurring revenue base the company is building, and the current market cap of less than $30M suggests substantial upside.
This market cap looks particularly small when looking at ASX peers such as Spirit Telecom Ltd (ASX: ST1) - $191M market cap, and Uniti Group (ASX: UWL) $766M, which suggests there is tremendous growth potential here in VN8.

2020 has been punctuated by an acquisition strategy that has delivered the 2SG Wholesale telecommunications and data wholesaling business, which supplies network and communications solutions to telco retailers across Australia.
The acquisition has transformed the company and it is now looking at further acquisitions that will expand its operations.
We will look at how the company has transformed shortly. However, let's first recap who Vonex is.
Who is Vonex?
Vonex (ASX:VN8) has several platforms to help SMEs communicate with their customers and connect with the community.
Industry-leading ONdesk software, a cloud-based program for businesses to manage all their mobile and landline calls for game changing efficiencies, scalability and customer experiences, no matter how small or large their business is.
Reliable NBN and fibre packages.
Affordable mobile packages with data and reliability to "keep you always on".
The company has a target audience of over 2.37 million SMEs in Australia, with a goal to connect them simply, efficiently and affordably.
The full picture and an understanding of how Vonex has progressed over the past two years can be seen in our previous articles:
Vonex's national and award-winning Channel Partner network has been key to its rise.
On this note, earlier in the year Pac Partners analyst Mark Yarwood noted the group's national network of channel partners would help the company scale up very quickly with its diversified product suite including voice, data, wireless and PBX, targeting a mix of retail and small to medium businesses, a strategy that should drive strong revenue and earnings growth.
Yarwood said, "The group's channel partner strategy has helped VN8 scale up rapidly, with the market for SME telco services running at $5bn+ we see plenty of headroom for the company to grow.
"The latest communications report from the Australian Communications and Media Authority (ACMA) forecasts industry-wide revenue to grow from $44 billion to $47 billion by 2022.
"The recent acquisition of 2SG Wholesale's business and assets this calendar year demonstrates that management is capable of pursuing and executing a merger and acquisition strategy to build out cross-selling opportunities and supplement their organic growth profile."
2SG acquisition changed the game
The 2SG acquisition has been paramount in Vonex's growth this year and is one of the reasons why we have added the company to our portfolio.
It has effectively changed its relationship with major suppliers.
Before the acquisition, third party wholesalers previously supplied either the NBN, Mobile or Landline services to Vonex.
Today, Vonex has flipped the switch (so to speak) and is able to purchase these services via 2SG.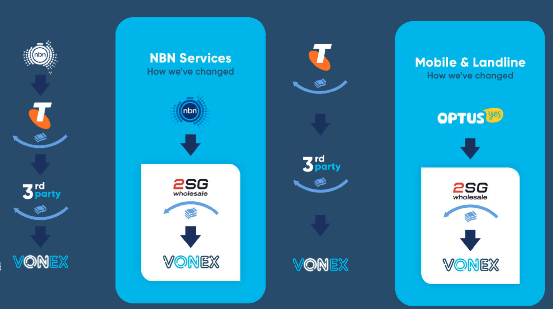 The advantages in being able to do this are plentiful and include:
Improved purchasing power, which benefits both the Vonex end customer and Company profitability
Increase in visibility for network troubleshooting and customer support
Speed to market with new products and services has created a competitive advantage
Yarwood said of the transaction at the time, "The recent 2SG transaction highlights management's appetite and ability to acquire smaller telco companies which we see as rich in opportunities.
"2SG was an asset rich purchase given its relationships with Tier-1 carriers, 100+ wholesale customers, along with direct access into NBN, offering the ability to cross-sell with the potential to build out a direct NBN presence."
Integration of 2SG has brought a new dimension to Vonex's business along with 150+ new wholesale customers, and has allowed Vonex to expand its offering to SME customers with new products, including fleet mobile, mobile broadband and NBN with 4G backup.
Notably, prior to acquisition 2SG had negotiated an agreement to supply business grade mobile broadband to ASX 300 company, Data#3 (ASX: DTL)
2SG's multi-year investment in a sophisticated network environment is now also contributing to a meaningful relationship with Optus Wholesale, helping to build traffic on the Optus network by quickly deploying complex solutions for a broad base of customers.
Direct carrier relationships are valuable in facilitating better support, rates, control of customer internet and cost of supply.
There is strong customer demand for 2SG's secure, business-grade wireless broadband, especially as demand for work-from-services dramatically increased in the face of the COVID-19 pandemic.
Growth has been strong all year
2SG certainly fast-tracked VN8's growth, however it has been steady all year.
Its June quarter update featured the strongest operational and financial quarter that the company has delivered since listing on the ASX.
From an operational perspective, one of the key takeaways was the 88% increase in annualised recurring revenue during fiscal 2020: this now stands at $16.4 million.
It is an impressive growth trajectory, that demonstrates the company's stability and resilience with recurring revenue providing forward earnings predictability.
Vonex finished the first half of the year with $3.7m in total contract value (TCV) of new customer sales — 65 per cent up year on year. It has shrunk its net loss from $2.79 million last year to $596,000 in FY20, ending June 30.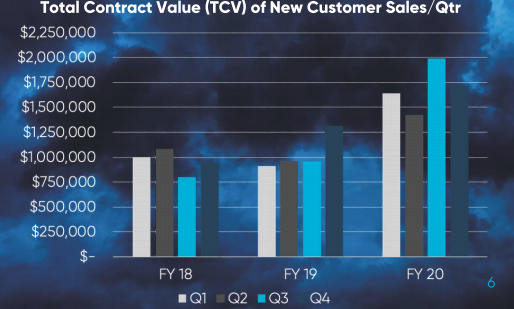 Meanwhile, revenue grew 67 per cent, from $9.2 million to $15.4 million, while underlying earnings before tax returned to the black, to $25,237 from $454,332 in the red in FY19, and $4.8 million cash at bank. Annualised recurring revenue grew 89 per cent to $16.4 million.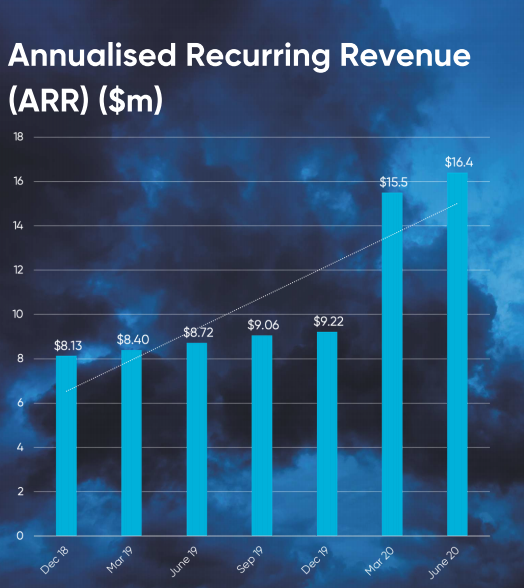 In a letter to shareholders, Vonex non-executive chairman Nicholas Ong said its achievements during the year were incredible considering the challenges faced by many businesses in the wake of COVID-19, particularly highlighting its June quarter as its "best quarter since becoming a listed company".
"We have continued to accelerate our growth and generate revenue that is largely recurring, which provides a strong foundation to build on in the years ahead," Ong said. "As we commence FY21, we are excited to build on our strongest quarter to date, and I'm confident the strategies and targets we have in place will drive Vonex to hit new milestones as we continue to execute on a range of growth initiatives."
Despite the economic effects of COVID-19, sales for its retail business saw an increase of 65 per cent year-on-year.
Vonex has also experienced a 75 per cent increase in mobile broadband orders in June, with momentum growing into FY21. Ramping up its channel partnerships and further wholesale acquisition opportunities were also on the cards for the year ahead.
"We can attribute our most recent wholesale wins to the flexibility we have developed with the NBN active points of interconnect that we recently enabled, and the imminent launch of 5G mobile broadband solutions by 2SG, while will provide customers with internet speeds of up to 600 Mbps," Ong said.
Overall, there has been strong earnings progress: net loss after tax of $0.6m represents a $2.2m year-on-year NPAT improvement; a strong increase in revenue from customers, +45% to $12.8m is led by Wholesale YoY revenue growth of more than 200% – total revenue of $15.4m.
Another important strategy that Vonex rolled out during the year was Qantas Business Rewards, which Vonex said contributed to growth in average length of new contracts as well as higher average total contract value. Despite the onset of COVID-19, Ong said it was continuing to see increase in sales and brand awareness due its involvement in the program.
What's happening with Oper8tor?
Oper8tor is the first multi-platform voice, messaging and social media app that will allow users to connect with all social media friends, followers and contacts from a single app.
The Oper8tor app aims to connect conference, voice, message and video functionality across multiple platforms and devices and has overcome a range of technical challenges. Vonex will continue to progress the app's development in FY21, particularly after engaging with London-based Ragnar Capital Partners to assist in navigating Oper8tor through its rollout and commercialisation phases.
Oper8tor targets growth in users and recurring revenue through a SaaS model, with cross-platform calling for the mobile worker as its key value proposition.
A worthy addition
Revenue figures are up. Net loss is significantly down. Customer acquisition continues to grow. And the 2SG Wholesale acquisition has opened major doors, leaving the company on the cusp of cash flow positivity.
As we reported in our previous article, analysts at PAC Partners believe there is significantly more upside in the Vonex story, with the broker setting its price target at 20 cents per share in April.
It is currently sitting at 15 cents.
Looking forward, the number of registered users and customers on VN8's PBX platform is expected to expand through increasing channel partners and relationships like Qantas Business Rewards who have access to thousands of SMEs (small to medium enterprises).
PAC Partners also anticipates average revenue per customer to increase through the sale of additional products and services saying, "The hero product to date has been ONDESK a hosted cloud solution, while in time the company will layer on NBN fibre, business-grade fibre, and mobile services with 5G expected to come via the Optus relationships acquired through 2SG acquisition.''
It is also worth repeating the analyst believes Vonex is undervalued, conducting a peer comparison on 9 July when its share price was 10 cents: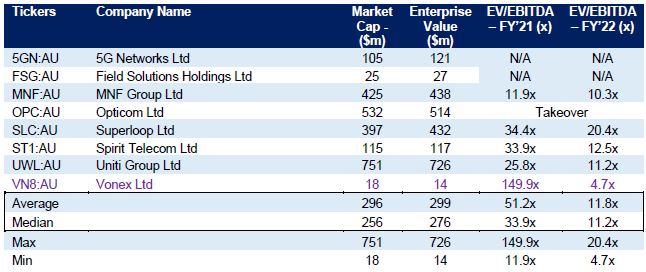 Source: Refinitiv May 2020
There's a lot to like about Vonex moving forward. It's why the eye we had on the company has now seen us elect to add this to our long-term portfolio.
The Vonex investment case: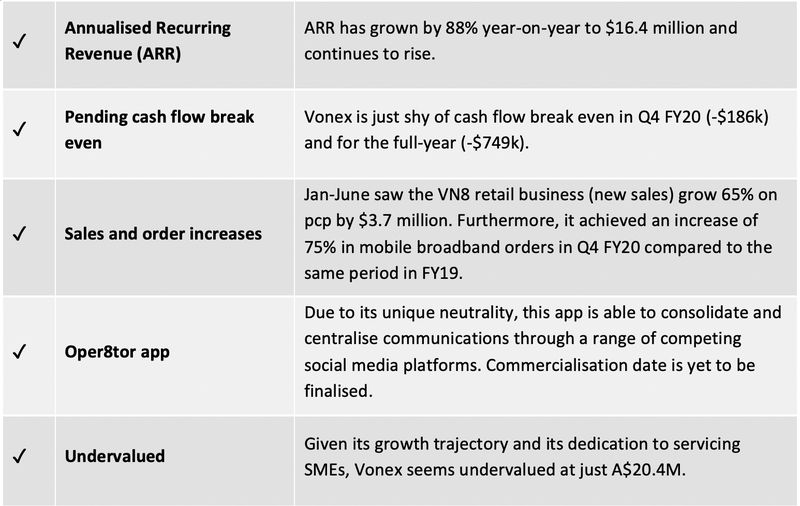 ---