VN8 Acquiring Smaller Players, Becoming Snack for Major Telco
We first invested in Vonex Ltd (ASX:VN8) in September last year, and continue to hold as it executes its growth by acquisition strategy.
VN8 is a telco that services small to medium enterprises. It also has a wholesale business that allows companies to white label its communications technology.
The telco space is in consolidation phase and VN8 is running an acquisition strategy snapping up smaller players.
We are invested as we think a bigger fish will eventually come along and swallow VN8.
Today VN8 announced the successful integration of its last acquisition, hitting 45,000 PBX users and growth of SME customers and whitelabel offerings.
VN8 is a revenue generating company, having earned $12M in revenue in the financial year to date, and $4M in the last quarter.
VN8 is aiming to grow quickly via a combination of organic growth and strategic acquisitions.
Why we are invested in VN8:
VN8 is still not yet well known to ASX investors, but is aspiring to attain a similar valuation to its ASX listed telco peers:
Spirit Telecom (ASX: ST1): $189M
Over The Wire Holdings (ASX: OTW): $296M
Uniti Group (ASX: UWL): $2.02BN
All are trading at many multiples of VN8, currently capped at $23M.
We are invested for the long term as we want to see how VN8's growth strategy plays out - if successful we are hoping VN8 can start catching up to its other much bigger ASX telco peers.
The telco sector has a history of consolidation, so we are betting that one day VN8 could itself be considered as a takeover target (our opinion only).
VN8 has already acquired and integrated two other telcos (2SG and Nextel), and has a number of late stage opportunities it is assessing.
Today's VN8 news:
Today VN8 provided a general business update. Despite a weakness in the share price in recent months, VN8 has hit several milestones:
Fully integrated Nextel into its business operations - and it's already generating contract wins for VN8.
Achieved 45,000+ active users of its Private Branch Exchange (PBX) cloud based phone service.
SME customers up 27% Year on Year: Grew its number of small-to-medium (SME) enterprise clients by 27% over the year to 31 May 2021.
New products innovations: Rolled out NBN Assure to its business partners, successfully deployed new billing and provisioning platforms.
2SG wholesale 5G launch imminent: VN8 has been selected by Optus as a key 5G partner.
New acquisitions imminent? Today VN8 has confirmed several late stage opportunities are currently in progress.
Acquisition 1 (2SG) now adding value to VN8:
So far this year, VN8 has successfully integrated 2SG Wholesale, allowing it to expand its telco offering to SME customers by developing and delivering new products.
Products like 2SG Wholesale 5G services which will launch in the coming weeks.
2SG Wholesale 5G services has been selected by Optus as a key 5G partner. This is highly significant as Optus is one of the major telco players in Australia.
The roll out of 2SG Wholesale 5G is expected to contribute to revenue growth in H1 FY22.
VN8's acquisition of 2SG has delivered excellent growth year-on-year in FY21 to date, highlighted by:
61% growth in orders of mobile broadband,
95% growth in orders of NBN with 4G backup and
217% growth in orders of mobile voice services.
And VN8's other acquisition, Nextel, is set to have a major impact on VN8's numbers again.
Acquisition 2 (Nextel): Integration Complete - About to Add Value to VN8
The Nextel acquisition took VN8's Annualised Recurring Revenue (ARR) to $16.7 in Q1 FY21. It is now tracking at $18M with the full integration of Nextel and 2SG complete.
Nextel is an industry leader in the design, installation and maintenance of voice, data and communications networks for business customers.
Integration is already yielding contract wins. VN8 won a $140k infrastructure job and Nextel remains on target to perform ahead of the financial expectations when VN8 made the acquisition.
What's next for VN8:
VN8 plans to build on its strong organic growth through selective acquisition and is currently reviewing several late-stage opportunities.
VN8 has a strong pipeline of acquisitions in negotiation and due diligence stages.
Roll out of 2SG Wholesale 5G is imminent.
VN8 is planning to support the Australian launch of new products for global telco giant Orange Group (EPA: ORA) to a multi-year enterprise deal for mobile and internet products to Orange Business Services' enterprise customers.
Accelerating product development
[NEW] Here are VN8's company milestones as we see them
Here is our milestone summary and what VN8 has achieved since our last commentary .
This is a new feature we are working on and will soon be rolled out to all portfolio companies, please reply to this email with any feedback/suggestions.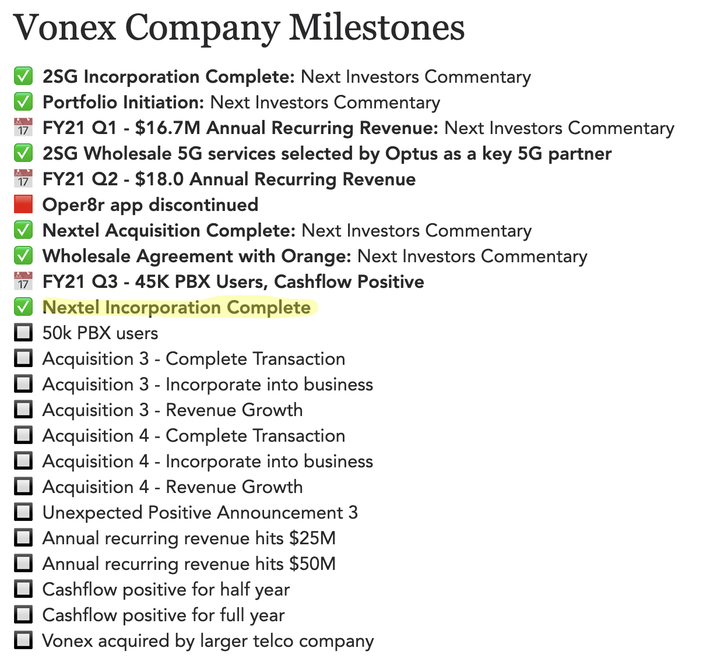 [NEW] Here is our VN8 investment strategy
Here are the investment milestones for VN8, and we continue to hold a significant position
Our investment milestones are a new feature we are rolling out to all portfolio company pages. Again, please reply to this email with any feedback/suggestions.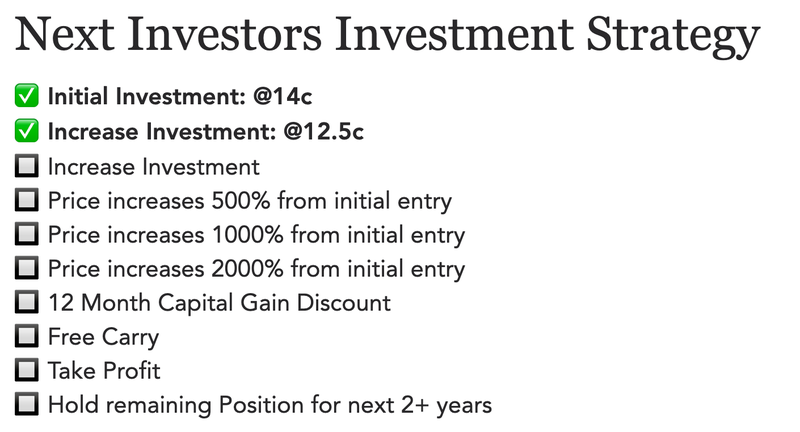 Here is our past commentary on VN8:

---