VN8 to consume its biggest ever acquisition
Last week we updated you on our telco investment Vonex (ASX:VN8) - VN8 is on an acquisition strategy at the moment, gobbling up smaller telcos.
We hope one day VN8 grows big enough to be consumed by a bigger telco.
A few hours after the release of our update, VN8 caught us by surprise and went into a trading halt pending a material acquisition...
Today that acquisition has been announced to the market.
VN8's new acquisition is for a business that delivered $15.6M revenue with an EBITDA of approximately $5M in CY2020.
The acquisition will cost $31M, and according to VN8 will be paid for primarily via a debt facility.
In the current climate of cheap borrowing we really like EBIT generating acquisitions for cheap debt that can be paid down quickly with EBIT from the acquired entity.
The deal is expected to nearly double VN8's recurring revenue up to $32M, and almost triple its SME customers, taking them up to 8,567.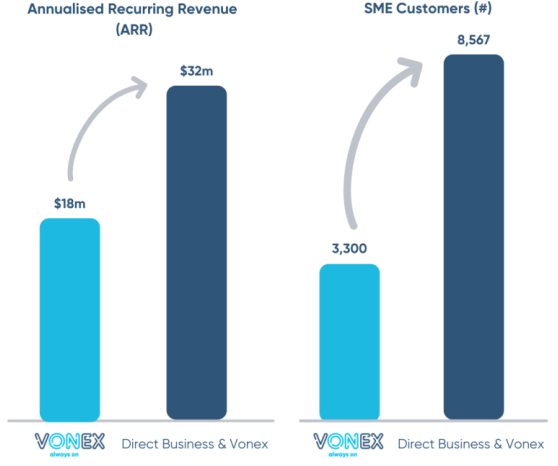 VN8 is a small cap telco that continues to execute on its acquisition strategy and has just announced its biggest acquisition.
VN8 has entered into a conditional, non-binding term sheet to acquire part of the $420M capped MNF Group's "Direct Business".
VN8 will pay $31M cash for the business.
This amount is payable in instalments. $20M is payable on completion of the deal, which will be funded predominantly via a debt facility and VN8's existing cash. The remaining $11M is to be paid via 12 monthly instalments.
This is an important feature of the deal, as the $28M capped VN8 won't face a large dilutionary capital raising, if any at all.
This could all lead to VN8 paying down its debt quicker than expected - debt is extremely cheap at the moment and we like acquisitions of EBITDA for cheap debt.
We invested in VN8 because we think a bigger fish will eventually come along and swallow VN8, just as VN8 builds by swallowing other smaller companies.
We also like telcos to have growing annual recurring revenues, something that VN8 has so far done year in, year out, and which this proposed acquisition would accelerate further.
Full details of VN8's latest acquisition
VN8's planned acquisition delivers VN8 considerable scale with more than 5,250 new business customers, more than 100 new Australian telco channel partners and it nearly doubles its annualised recurring revenue on a full year basis.
The acquisition also gives VN8 access to residential customers in Australia, expanding its footprint beyond SMEs.
VN8 is set to acquire Direct Business for its SME and residential cloud phone, internet and mobile services. It can now also add to its dedicated audio and video conferencing business.
Here are the details of the business unit that VN8 plans to acquired:
The Direct Business delivered revenue of $15.6M in CY2020
$13.9M was derived from the Business segment
$1.7M was derived from the Retail segment.
Approximately 86% of total revenue has been characterised by MNF Group as recurring
81% of total revenue is from Voice.
The Direct Business reported an EBITDA of $5M in CY2020.
With this deal, VN8 will be able to materially expand its footprint of SMEs and residential customers across Australia by migrating approximately 5,250 new business customers to its platform.
VN8 would also benefit from a strengthened channel partner network, bringing more than 100 experienced new channel partners to help it reach new customers.
The Direct Business would also introduce a number of cross-sell opportunities for complementary products.
Why we are invested in VN8
VN8 is aspiring to attain a similar valuation to its ASX listed telco peers through its acquisition strategy:
Spirit Telecom (ASX: ST1): $195.6M
Over The Wire Holdings (ASX: OTW): $282.9M
Uniti Group (ASX: UWL): $2.11BN
All of the above are trading at many multiples of VN8, currently capped at $28M.
Our long term investment in VN8 will allow us to see how VN8's growth strategy plays out.
If successful, we are hoping VN8 can start catching up to its other much bigger ASX telco peers.
The telco sector has a history of consolidation, so we are betting that one day VN8 could itself be considered as a takeover target (our opinion only).
What's next for VN8
Completion of MNF Group Direct Business acquisition
VN8 plans to build on its strong organic growth through selective acquisition and is currently reviewing several late-stage opportunities.
VN8 has a strong pipeline of acquisitions in negotiation and due diligence stages.
Roll out of 2SG Wholesale 5G is imminent.
VN8 is planning to support the Australian launch of new products for global telco giant Orange Group to a multi-year enterprise deal for mobile and internet products to Orange Business Services' enterprise customers.
Accelerating product development
[NEW] Here are VN8's Company Milestones as we see them
Here is our milestone summary and what VN8 has achieved since our last commentary .
This is a new feature we are working on and will soon be rolled out to all portfolio companies, please reply to this email with any feedback/suggestions.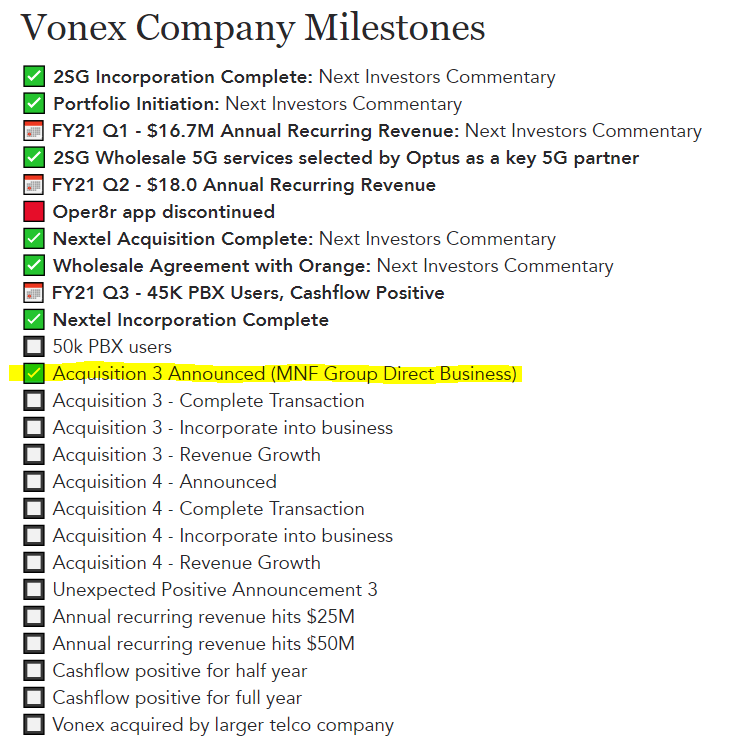 [NEW] Here is our VN8 investment strategy
Here are our investment milestones for VN8.
Our investment milestones are a new feature we are rolling out to all portfolio company pages. Again, please reply to this email with any feedback/suggestions.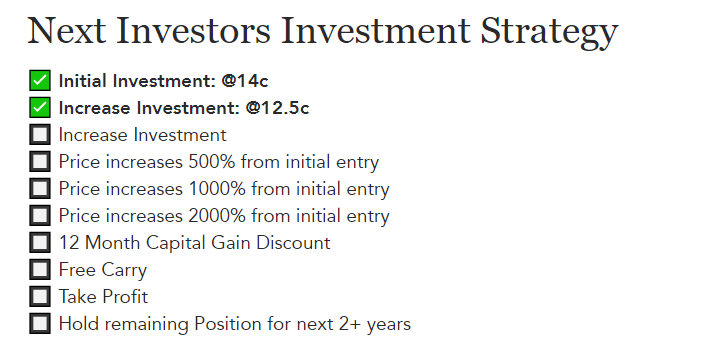 Here is our past commentary on VN8: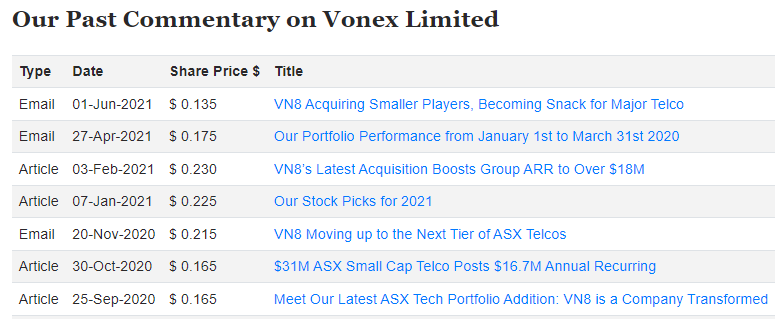 ---