VN8's Latest Acquisition Boosts Group ARR to Over $18M
When we introduced award-winning telecommunications service provider Vonex Ltd (ASX:VN8) as our latest portfolio addition, it was on the back of an impressive and growing Annual Recurring Revenue (ARR) base.
The growing revenue was facilitated by the acquisition of 2SG, giving the company forward earnings predictability and substantial sales momentum.
Today, Vonex announced its ARR will continue to grow via the acquisition of telecommunications Nextel justifying our position in the company.
Here at the Next Investors we are long term investors and take positions in companies that we intend to hold for the long term.
Vonex (ASX:VN8) is one of them. We invested in VN8 last year, at around the current share price, and we think there is significant upside potential from here.
We invested because VN8 is not yet well known to ASX investors, but is aspiring to attain a similar valuation to its ASX listed peers:
Spirit Telecom (ASX: ST1): $216M
Over The Wire Holdings (ASX: OTW): $225 and ...
Uniti Group (ASX: UWL): $1.24BN - yes, now valued at over $1BN.
All are trading at many multiples of our portfolio company VN8, currently at $42M.
The company continues to be trading at similar levels to where we first invested, despite continually delivering strong results.
We think the market might start to catch onto VN8 very soon.
Some of our other tech stock investments have performed well over the past 12 months, and we are hoping VN8 will soon grow in a similar fashion over time.
MyFiziq (ASX: MYQ) is currently up 830%, having been as high as 1200% since we first took a position.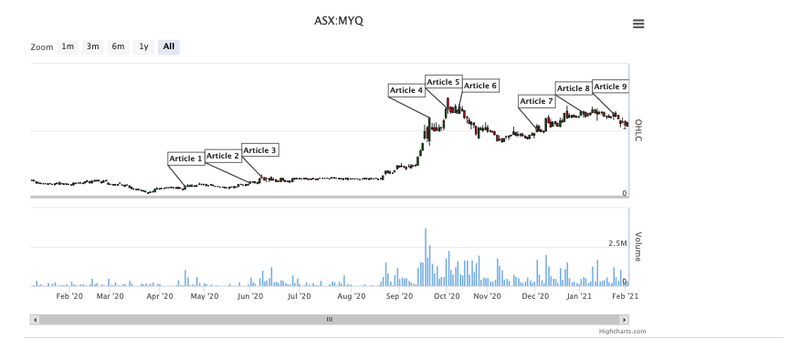 MYQ is up 830% since we first invested in May 2020.
Meanwhile WhiteHawk (ASX: WHK) has a current return of 463% since we first invested and alerted readers to the stock: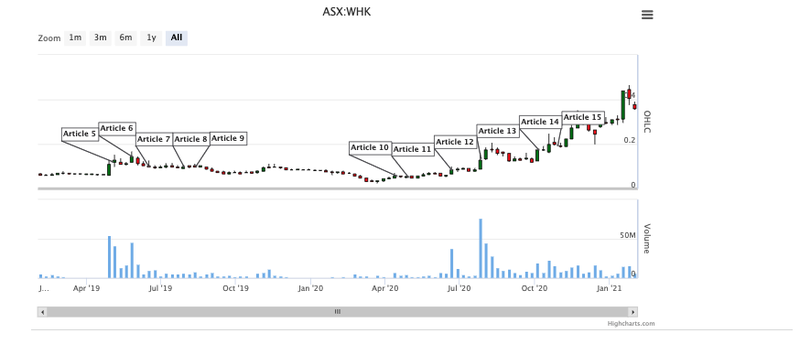 WHK is up 463% since we first invested in April 2019.
Given its trajectory and its revenue profile for 2021, we expect Vonex will also be a long-term winner for investors.
The completion of the Nextel acquisition has already given Vonex a great start to the new year.
Nextel acquisition increases ARR to more than $18 million
In December 2020, Vonex announced it had entered into a conditional binding term sheet with Nextel Pty Ltd to acquire the group's business and operations as a going concern.
Today, the company announced the completion of the acquisition.
Having Nextel in its stable will provide a boost to its annualised recurring revenue (ARR), with group ARR increased to more than $18 million.
This acquisition also substantially enhances Vonex's presence in the Sydney and NSW markets for telco services to small-to-medium enterprises (SMEs), adding market-leading products and services.
The $1.575M transaction valued Nextel at approximately 0.8x FY20 revenue and 3.5x FY20 EBITDA.
A cash component of the acquisition of $315k is more than offset by a recently received R&D tax refund of $541k, and the rest of the acquisition is in the form of 5.5 million escrowed shares.
In FY20, Nextel achieved EBITDA of approximately $450,000 on revenue of approximately $2 million. It also brings long-term relationships with tier-1 carriers, network partners and customers spanning a range of industries, including LJ Hooker, Endemol Shine Australia, 4 Pines Brewing Co, Lifeline and the Sydney Harbour Federation Trust.
Nextel, a provider of telecommunications services to business customers, is recognised as an industry leader in the design, installation and maintenance of voice, data and communications networks.
The company has grown to become a meaningful single-source provider to businesses in structured cabling, telephony systems and electrical fit outs, as well as rolling out fibre, RFID and wireless networks to large-scale projects.
Headquartered in Sydney, Nextel's national footprint allows the group to service businesses in remote locations.
Its professional services team has rolled out systems from micro 4-5 handset users up to 1,000-end enterprise users.
In acquiring Nextel, Vonex aims to replicate the success of its integration of 2SG Wholesale.
Management believes that the acquisition will help it better meet an unmet need among Australian SMEs for telco services that are reliable, affordable, flexible, scalable and friendly to the new 'work from home' paradigm.
Vonex's strong focus on product-market fit, efficiency and customer satisfaction strongly resonate with SME customers, and acquiring Nextel enhances the company's ability to service this market.
The acquisition should continue to build on Vonex's exceptional growth through 2020.
Quarterly highlights robust growth
Vonex released its update for the December 2020 quarter on Friday, featuring robust growth in its retail and wholesale operations.
The total contract value (TCV) of new customer sales was $7 million for 2020, representing a year-on-year increase of 32%.
This strong growth across the company's traditional businesses was backed up by robust performances across the group's wholesale operations with a four-fold increase in mobile voice and a doubling in NBN with 4G backup services.
Mobile broadband orders also experienced outstanding growth, increasing by nearly 90%.
Outstanding operational performances resulted in the company being in a strong financial position with cash at the end of the December quarter totalling more than $3.5 million.
Management pointed to a strong outlook with the acquisition of Nextel assisting in boosting annualised recurring revenue to more than $18 million
2SG accelerates growth as cross selling opportunities are realised
Organic growth was complemented by contributions from the acquisition of 2SG.
Successfully integrating 2SG Wholesale has allowed Vonex to expand its offering to SME customers by developing and delivering new products.
2SG's sales growth was strong across its new and existing wholesale product suite in the December quarter, instrumental in delivering the aforementioned increase of approximately 90% in Mobile Broadband orders, Mobile Voice (+321%) and NBN with 4G backup (+107%).
This strong growth demonstrates that Vonex is beginning to benefit from the cross-selling opportunities identified when acquiring 2SG Wholesale.

2SG's sales growth was strong across its new and existing wholesale product suite in the December quarter.
Vonex expects the 2SG wholesale offering to continue to improve in 2021, with the company receiving a commitment from Optus to open up its 5G network to the group via 2SG.
Management is now in the final stages of preparing to launch internet services that utilise 5G speeds powered by Optus.
Conservative acquisition multiple should see strong return on investment
The benefits of this industry diversification can't be understated in an environment where COVID could still provide interruptions in 2021 that impact businesses to varying degrees.
The acquisition was subject to Vonex completing legal and financial due diligence, which is now complete.
Total consideration for Nextel's business and operations is approximately $1.575 million, payable on completion of the transaction.
This implies an attractive multiple of approximately 0.8 times fiscal 2020 revenue and 3.5 times earnings before interest, tax, depreciation and amortisation (EBITDA) for the same period, making the acquisition accretive to Vonex's earnings and cashflow.
The earnings multiple is particularly significant as industry norms are often upwards of five times EBITDA, indicating that Vonex should relatively quickly recoup its investment.
Indeed, the conservative cash component of the total consideration has helped to preserve Vonex's cash position, while also highlighting the belief that the Nextel vendors have in the company continuing to grow the combined businesses and generating attractive returns for shareholders.
The acquisition will provide an immediate boost of approximately $1 million to the company's base of annualised recurring revenue (ARR), one of Vonex's most compelling aspects as it provides investors with earnings visibility and operational predictability.
Growth in SME user numbers
Vonex's SME user numbers demonstrated further growth, largely driven by the company's partnership with Qantas Business Rewards (QBR) and Vonex's status as Qantas' preferred business-focused telco provider.
QBR continues to market Vonex proactively to its base of more than 250,000 SME members who use QBR's exclusive offers to save money, earn Qantas points and plan ahead for the growth of their business.
Vonex has achieved approximately 42,000 registered active users on its Private Branch Exchange (PBX) cloud-based phone service, a key indicator of Vonex's business development progress.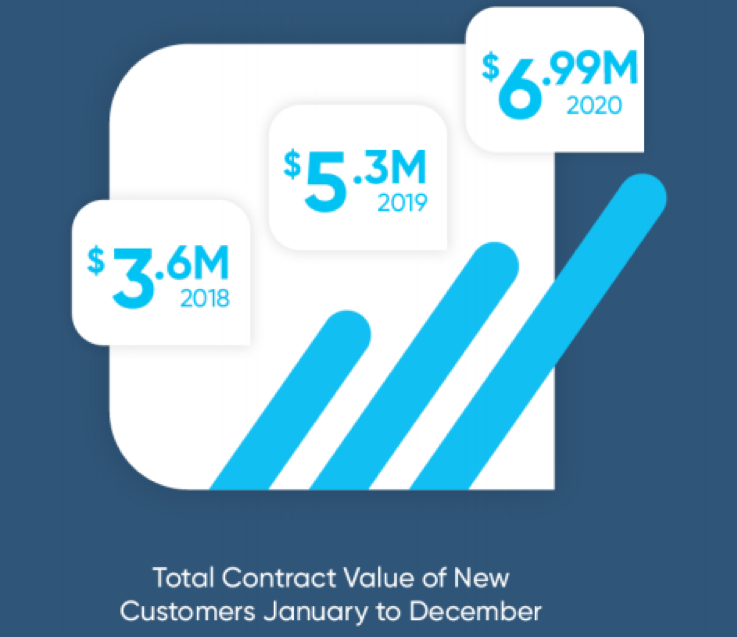 Management also provided an update on the progress of the Oper8tor app, a multi-platform real-time voice messaging and social media app.
Vonex resolved to transition Oper8tor from a state of active research and development to one that focuses on identifying and engaging the appropriate technical and financial partners to guide its further development and commercialisation.
The company will maintain in good standing all intellectual property, websites and internationally granted patents relating to Oper8tor, however it does not anticipate committing further development capital to the project at this time.
This appears to be an astute decision at a time when Vonex can deliver substantial shareholder returns by efficiently bedding down the new acquisition of Nextel, while continuing to optimise the synergies that are being realised from the integration of 2SG.

---