Goldman Sachs Predicts a Continuing Commodities Supercycle
Published 17-DEC-2022 14:00 P.M.
This Monday at ~10:00am AEDT, we will be announcing a new "Pick of the Year".
Our final Pick for 2022.
We have been following this company for a long time and it has just announced the news we were waiting for that should set it up for an eventful 18 month period of newsflow.
With Christmas next Sunday, this week will be the last full week of trading on the ASX before 2023.
So what might 2023 bring?
A couple of days ago US investment bank Goldman Sachs predicted that 2023 will be a boom year for commodities as lack of investment collides with improving demand.
Goldman Sachs reckons that "From a fundamental perspective, the setup for most commodities next year is more bullish than it has been at any point since we first highlighted the supercycle in October 2020".
For anyone like us, who believes in (and is invested for) a continuing commodities supercycle, this Goldman report is a great read - keeping in mind that everyone loves reading content that re-enforces their currently held views (this is known as "confirmation bias").
Here is a link to the full Goldman Sachs commodities supercycle prediction. It's fairly easy to digest and definitely worth the ~10 minutes it takes to read it.
In the report, Goldman has forecast a outsized 43% return for the S&P GSCI benchmark - a common gauge of broader commodities sentiment:

Source: Goldman Sachs 2023 Commodity Outlook
According to GS, commodities that could be swept up in this second boom, include:
gold (inflation hedge)
copper (electrification)
nickel (battery metals + industrial demand)
iron ore (China reopening)
zinc (steel + batteries)
energy and fertiliser prices
Our overall Portfolio is weighted heavily to resource companies from exploration to development stage - see all our commodities based Investments here.
Goldman's commentary can at times be polarising for commodity bulls - the investment bank notably called an end to the battery metals boom in May of this year (which we did NOT agree with, hence not as enjoyable a read for us - there's that confirmation bias again):

Source: Bloomberg
We subsequently saw the lithium price push to record highs - currently sitting just below an all time high in November: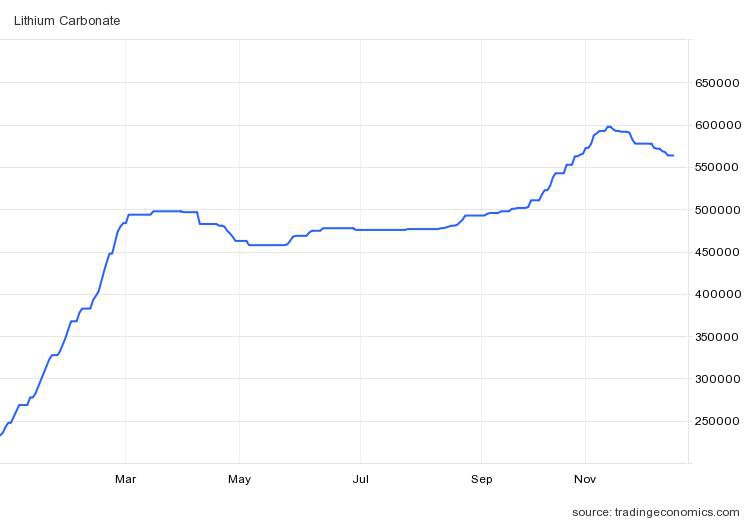 Source: TradingEconomics
So while we like that Goldman Sachs believes in an ongoing commodities supercycle, we also note they were wrong on lithium (so far)...
There is a healthy debate over whether lithium is a "commodity" or a specialty chemical with its own demand and supply dynamics, as not all lithium is the same. This is something we learned about at a recent presentation by Joe "Mr Lithium" Lowry in Melbourne. (He's got a great podcast by the way).
That presentation also featured Canaccord Genuity's Reg Spencer who made a compelling case for a near decade long lithium bull run driven in the medium term by the lithium industry's long history of failing to deliver projects on time to meet demand.
Beyond the lithium commodity/specialty chemical debate though, it's well established that mining companies are having to go deeper and use lower grade ores in recent years - something we think should help drive a commodities "supercycle" throughout this decade.
We often check in on the Australian Bureau of Statistics data on mining exploration spend to get a grip on macro trends in the domestic mining industry: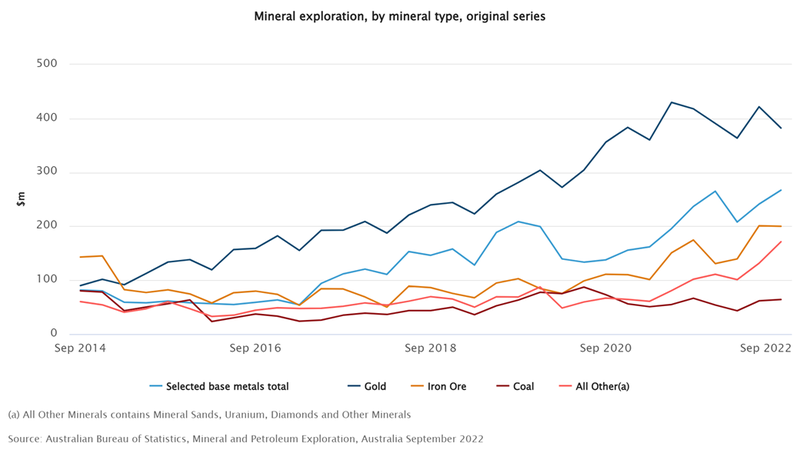 Source: Australian Bureau of Statistics Mineral and Petroleum Exploration
As you can see in the chart - gold is leading the way in terms of exploration spend followed closely by selected base metals which includes battery metals like copper, nickel and cobalt (along with lead, zinc and silver).
This gives us confidence that gold will return to form next year, because miners still see value in exploring at elevated prices which could go higher.
I.e the market sentiment doesn't quite match up with what's happening on the ground for gold exploration.
This chart doesn't tell the whole story however, and if you go back to the last major mining boom you can see mining exploration expenditure is still well below a historical high in 2011: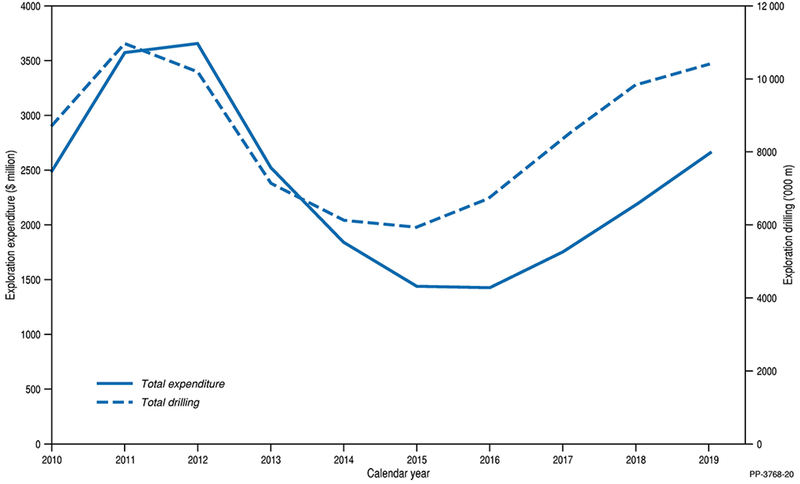 Source: Geoscience Australia Exploration Statistics
We think there really has been a lack of investment, and combined with the electrification/decarbonisation theme should only supercharge the commodities boom.
Our overall Portfolio is weighted heavily to resource companies from exploration to development stage - see all our commodities based Investments here.

🗣️ This week's Quick Takes
88E: Updated investor presentation - drilling to start in Q1-2023
BPM: New CEO appointed - What's next for BPM?
DXB: Results from low-cost COVID-19 study announced
GTR: More uranium mineralisation next to $1.8BN uranium major
LNR: LNR releases rare earths assays, big target to test in 2023
LRS: Maiden JORC resource estimate - investor webinar
LYN: Lycaon upgrades its Niobium-REE Targets
RAS: Ragusa releases NT Lithium Results
TMR: More high grade gold from 2022 drill program
Macro: How the renewable energy transition will drive copper demand
This week in our Portfolios 🧬 🦉 🏹
Galileo Mining (ASX: GAL)
GAL released assay results for four more holes from its Callisto multi-metal discovery - including some of the highest nickel grades seen to date.
GAL will continue to deliver more assay results over the coming weeks through to January 2023 - with assay results from an additional 20 holes pending.
From the assay results released to date, we are seeing higher grades at depth, which is exactly what GAL is targeting.
📰 Read our full Note: More high-grade nickel assays, GAL looking for the source of mineralisation
Titan Minerals (ASX: TTM)
TTM put out the first two assays from its maiden eight hole diamond drilling program at its copper porphyry target in Ecuador.
TTM's best result was on a 308m interval with a copper equivalent grade of 0.4% from a depth of just ~54m.
Our key takeaways from the two assays results are as follows:
TTM has confirmed a porphyry structure from a shallow depth - This is a potentially giant porphyry system from a shallow depth ~54m downhole.
The same hole ended in mineralisation - which means the porphyry system could extend beyond the ~308m intercept.
TTM still has six assays pending which we hope produce slightly higher grades and warrant TTM declaring a new discovery.
📰 Read our full Note: TTM honing in on potential copper-gold porphyry discovery
Pursuit Minerals (ASX: PUR)
Our long held Investment PUR has just announced plans to acquire an advanced lithium asset in Argentina.
This asset sits in South America's 'lithium triangle', a region home to ~50% of the world's lithium production and multi-billion dollar lithium majors like SQM and Albemarle.
Over the coming 12 months we want to see new drilling, a maiden measured JORC resource, an offtake agreement and Bankable Feasibility Study - hopefully leading to a real, producing lithium project.
📰 Read our full Note: PUR - Now a $31M advanced stage lithium stock
Lanthanein Resources (ASX: LNR)
Our rare earths Investment LNR returned results from its maiden drilling campaign in the Gascoyne region, WA.
The hits are shallow (from as little as 6m below the surface) and perhaps more importantly - the results are very similar to LNR's neighbour (Hastings) recent drill results.
LNR now has an initial 1km strike of 'economic [rare earths] mineralisation', open both along strike and depth.
Next LNR will run a step out and infill drilling program with the ultimate aim of putting together a maiden JORC resource estimate in H2-2023.
LNR will also drill test a set of carbonatite structures it has modeled previously - the plan is to drill these targets next year.
These targets have the potential to host a Mt Weld-esque deposit - the deposit which helped turn Lynas Rare Earths into a ~$7.5BN capped company.
It's a "swing for the fences" type drill target - but one we like the sound of.
📰 Read our full note here: LNR hit high grade Rare Earths - More drilling planned for 2023
Food Revolution Group (ASX: FOD)
FOD has taken another big step towards executing its turnaround strategy with the appointment of the Hon. Jeff Kennett AC, as its new chairman.
Kennett can be a polarising figure given his political career - however we are mainly interested in his business and commercial nous and relationships when it comes to our Investment in FOD.
He is also the chairman of the advisory board of PFD Foods, Australia's largest, family-owned food services distributor to restaurants and food services businesses.
We think Kennett will bring significant acumen and connections to his new role - a major coup for FOD.
📰 Read our full Note: The Hon. Jeff Kennett joins FOD as its New Chairman
Dimerix (ASX: DXB)
Our 2021 Biotech Pick of the Year Dimerix (ASX: DXB) announced it had reached the 72 patient recruitment milestone for the Phase III interim analysis data for its FSGS clinical trial (a rare kidney disease).
These results will tell us if there is enough evidence to continue with the trial, and if positive, would be a big de-risking milestone for the company.
Now that the 72nd patient is recruited, we expect DXB to announce the interim analysis results sometime in the latter half of 2023 (in around 41 weeks).
There are significant rewards on offer too.
Travere Therapeutics, who is working on a complementary FSGS treatment to DXB, was able to secure a long term licensing deal with Vifor Pharma with a value of up to $845M.
Driven by premium orphan drug pricing, the total global market for FSGS was recently valued at US$12.6BN.
Here's hoping DXB gets the right result from the interim analysis and can seal a big deal.
📰 Read our full Note: DXB completes Phase III patient recruitment for crucial interim analysis
⏲️ Upcoming potential share price catalysts
Updates this week:
No material news this week:
IVZ: drilling its giant gas prospect in Zimbabwe
PFE: Assay results for manganese (Weelarrana) project.
PRL: Awaiting final execution of a joint development agreement with Total Eren
Have a great weekend,
Next Investors.
---