More high-grade nickel assays, GAL looking for the source of mineralisation
Disclosure: S3 Consortium Pty Ltd (the Company) and Associated Entities own 2,161,544 GAL shares and the Company's staff own 14,000 GAL shares at the time of publishing this article. The Company has been engaged by GAL to share our commentary on the progress of our Investment in GAL over time.
The highest grade nickel results seen so far at this discovery.
... and they still haven't found the source, which means the mineralised system can get bigger.
Today GAL released assay results for four more holes from its Callisto multi-metal discovery - including some of the highest nickel grades seen to date.
Pulling out high grade results are what us and the market like to see, as they prove the mineralised system can host higher grades more generally - and high grade zones are where the serious cash is made in mining.
GAL will continue to deliver more assay results over the coming weeks right through into January 2023 - we are expecting assay results from another 20 holes. Mid December into January is typically a quiet period in the markets, but not for GAL.
Basically all the green lines in the image below are deep drill holes where assays (grade results) are still pending - we want to see the red blob (mineralisation) get bigger as the results come in AND for the grade to keep getting higher as the big red blob extends deeper and to the east: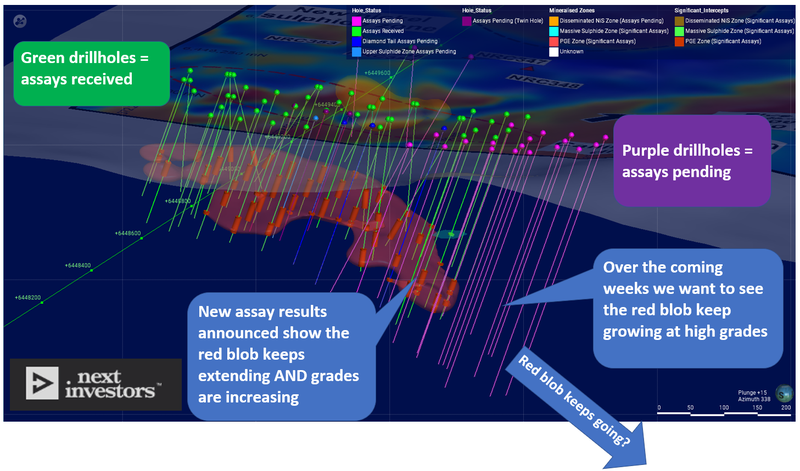 Note that these 3D models are just an interpretation of the publicly released data and assumptions have been made in their creation with no input from the company. They are for illustrative purposes only and should not be relied upon for making investment decisions.
In the six months since its major multi commodity discovery our Portfolio company Galileo Mining (ASX:GAL) has delivered:
New discoveries - GAL first made its PGE discovery and then while drilling ~500m to the north of its discovery found a second nickel sulphide structure.
Share price increase >1,000% - GAL's discovery led to a surge in its share price from ~18c to a peak of just under $2 per share. It's now trading at ~ 88c.
Raised $20.4M cash - We participated in the cap raise at $1.20 per share. GAL maintained $23.4M in cash at September 30th.
We weren't the only ones who increased our Investment during the raise.
Mining billionaire and IGO major shareholder Mark Creasy has purchased $11.5M in shares both on and off market at an average share price that is well above current market prices.
At present, IGO and Mark Creasy's combined ownership of GAL is 35.9%.
After hitting a peak of $2 per share, GAL's share price has now settled at ~88c, even as GAL continues to expand the size and scale of its discovery.
This isn't completely unexpected — generally when a new discovery is made demand for a company's stock increases and the share price re-rates quickly.
Once the company raises a large amount of capital (just like GAL did) and goes into the resource "definition" stage where it is running drill program after drill program, the supply-demand situation for shares changes.
The market can get impatient, and those who participated in the raise or bought into the rally post-discovery look to sell for no other reason other than the initial euphoria has subsided.
This is where the opportunity presents itself for longer-term investors who are following the company more closely and are monitoring whether the company is making positive progress with its project.
Today GAL reported a 1.58% nickel, 0.93% copper and 3.32g/t PGE assay result.
This is the highest grade nickel intercepts we have seen from GAL's Callisto discovery to date and it shows that nickel, copper and palladium grades are increasing as GAL drills at depth to the east.
GAL still has over 20 assays pending (the purple lines in the 3D model), meaning there'll be a lot more news to come from the drilling being done over the new year period and through January.
With an RC and a diamond drill rig active on-site, GAL is currently:
Drilling to the east chasing deeper, higher grade mineralisation.
Drilling to the west of its PGE discovery, chasing shallower mineralisation.
Preparing to drill to the north of its nickel sulphide discovery targeting ~5km of prospective strike along a distinct geophysical anomaly.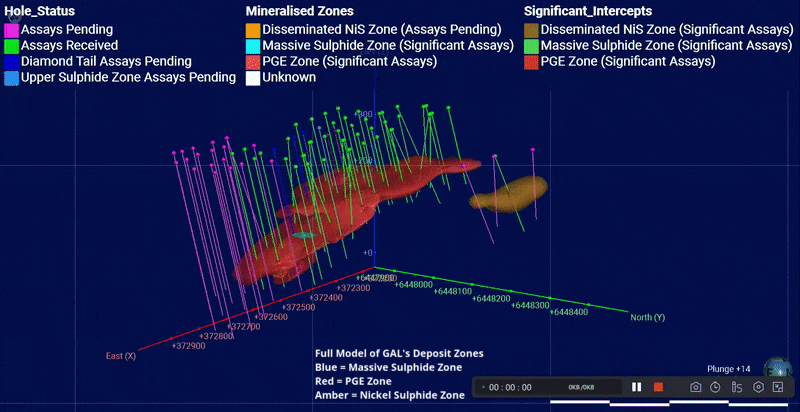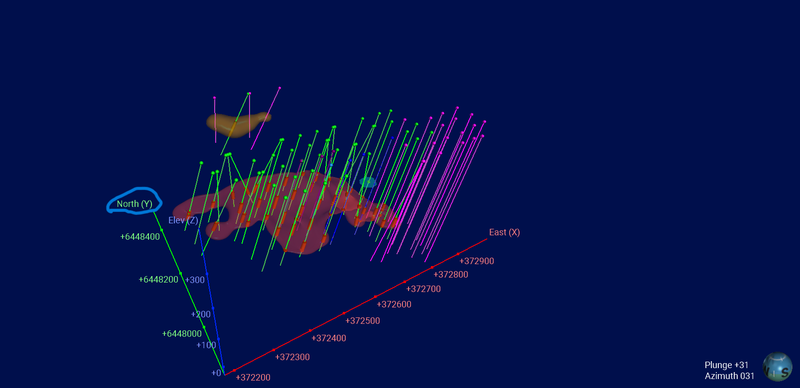 We hope to see GAL's PGE discovery continue both at depth to the east and closer to the surface to the west.
At the same time, we are watching closely to see what comes from the drilling to the north of its nickel sulphide discovery.
This brings us to our "Big Bet" for GAL:
Our 'Big Bet'
"GAL increases the size/scale of its Norseman PGE discovery to a stage where the project/company is acquired by major shareholder IGO Ltd (or another major miner) for over $1BN."
NOTE: our "Big Bet" is what we HOPE the ultimate success scenario looks like for this particular Investment over the long term (3+ years). There is a lot of work to be done, many risks involved - just some of which we list in our GAL Investment memo. Success will require a significant amount of luck. There is no guarantee that our Big Bet will ever come true.
To monitor the progress GAL has made since we first Invested and how the company is doing relative to our "Big Bet", we maintain the following GAL "Progress Tracker":
See our GAL Progress Tracker here: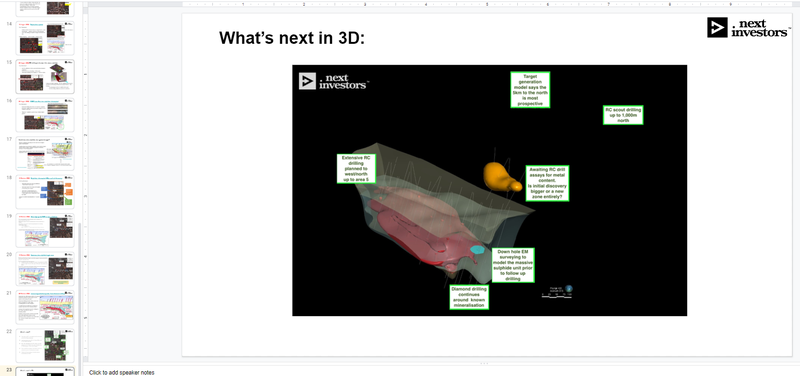 What is GAL doing now & what do we want to see?
With so much going on at Callisto, sometimes the news released by GAL can seem a bit out of context.
We are watching for newsflow in the context of two main project progression points:
1. PGE discovery drilling to the east.
Here GAL is running a diamond drill rig to test for deeper extensions to its PGE discovery.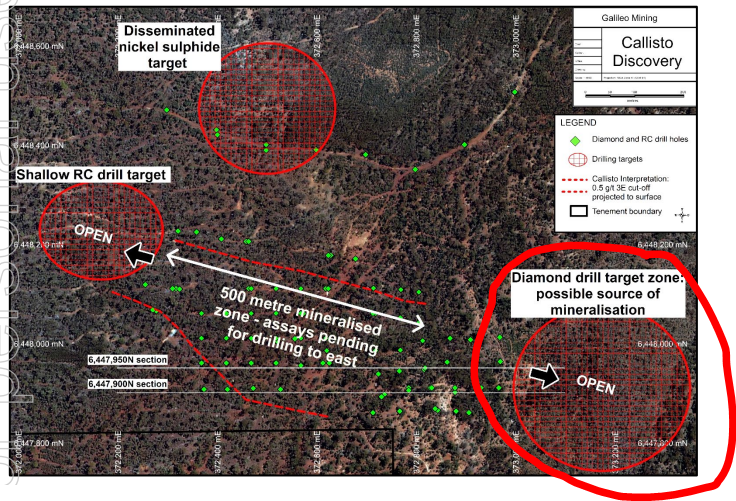 From the assay results released to date, we are seeing higher grades at depth, which is exactly what GAL is targeting.
This is the same part of GAL's project where it intercepted massive sulphides. This is significant as massive sulphides have the potential to host higher grade mineralisation.
Read our previous note where we do a deep dive on the significance of the massive sulphides: GAL Hits "Massive" Sulphides - Here's Why It Matters.
We also note that as GAL continues to drill out its project, its discovery is starting to look similar to Sirius Resources (now IGO's) $1.8BN Nova nickel discovery.
Similar to the Nova discovery, GAL's discovery starts shallower and extends at depth with massive sulphide sections in the deeper sections where grades seem to be increasing.
The image below is of the Nova discovery in all its glory: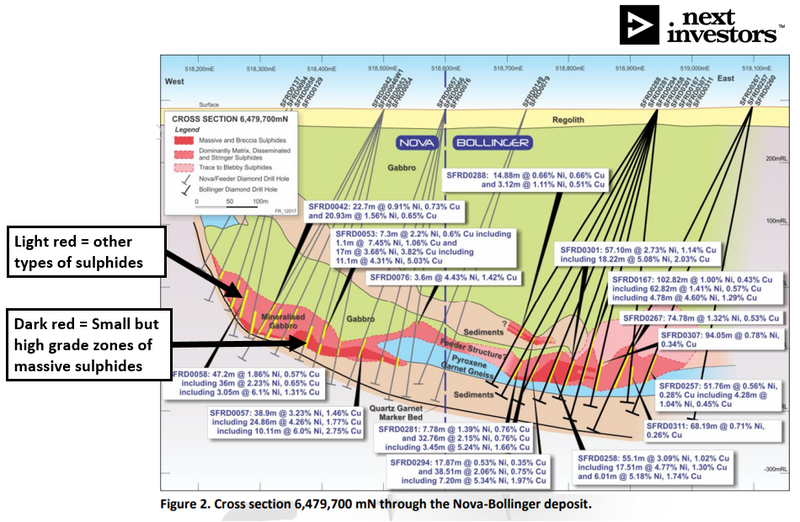 The image below is of GAL's discovery so far - GAL is only really just getting started - only further drilling will prove what GAL is sitting on: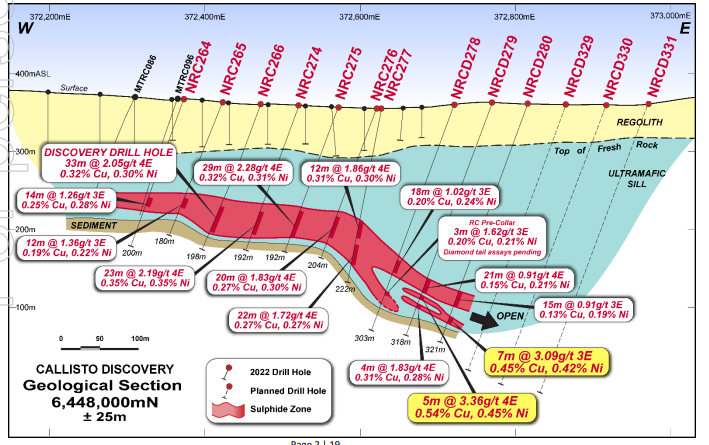 GAL is still drilling to the east of its discovery hole.
Here, we hope to see GAL's discovery continue to grow to the east. A bonus would be to see more massive sulphide sections and the discovery of higher grade mineralisation.
If grades come in higher than or equal to the initial discovery intercepts, we would consider that an excellent result, and would expect the company's market valuation to re-rate higher. Although nothing is a guarantee in the markets or exploration.
2. PGE discovery drilling to the west.
Here GAL has an RC drill rig chasing shallower, nearer surface mineralisation.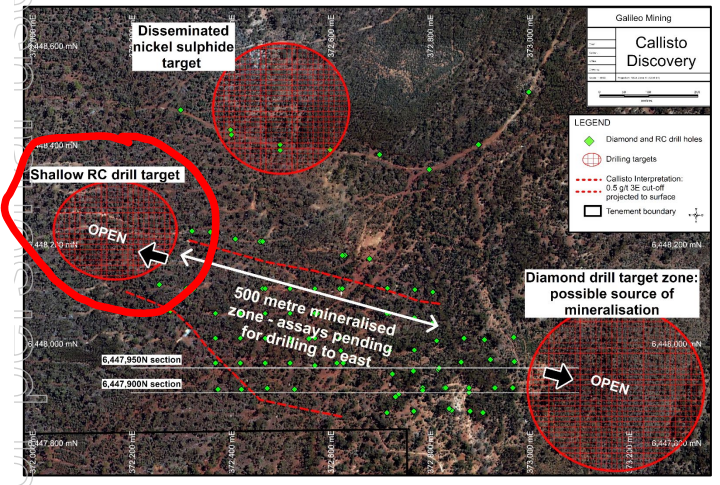 In the western section of its discovery GAL has been hitting mineralisation from depths as shallow as ~82m.
Shallow mineralisation increases the probability of a low cost open-pit mine for GAL's discovery (improving project economics).
To help visualise how the discovery is getting closer to surface to the west here is our 3D model of GAL's project: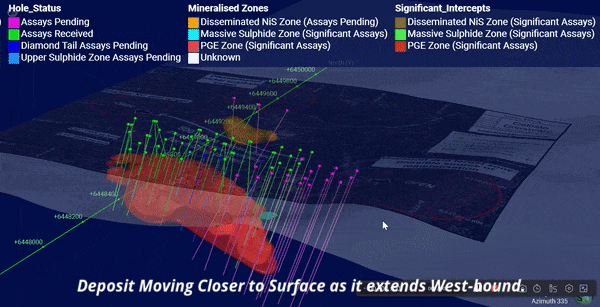 3. The intrusive EM target to the north; over ~5km of prospective strike.
The third bit of newsflow we are looking out for is from the drilling GAL will be doing to the north of its newly discovered nickel sulphide zone.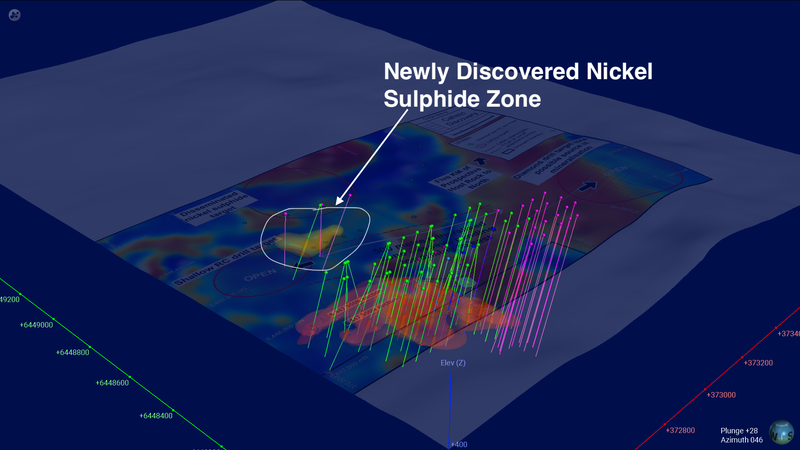 Only five weeks ago GAL hit 50m of nickel sulphides which it declared to be an entirely new discovery.
Whilst most of the focus is on the assay results coming from the first round of drilling at this target, we are more interested in the potential of the ~5km of prospective strike to the north.
GAL has a giant geophysical anomaly that extends into this prospective zone and approvals are already in place to drill 3.5km of the ~5km prospective strike to the north.
Our theory is that GAL may have clipped the edge of a larger nickel sulphide discovery (the red EM target to the north) and that the next rounds of drilling could prove something even bigger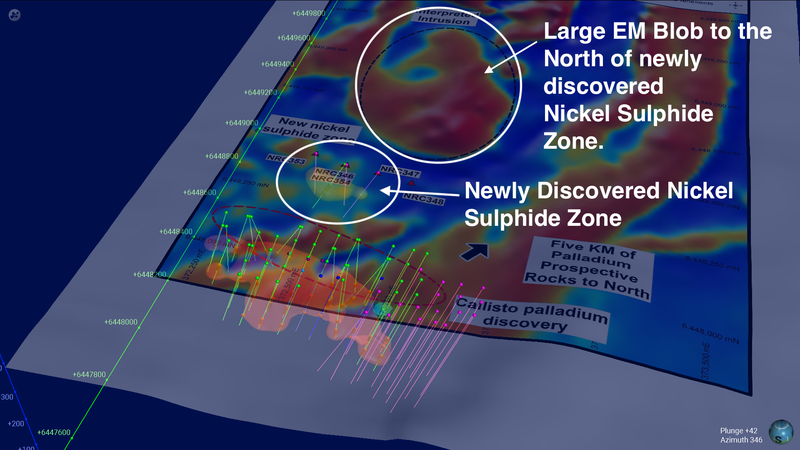 The red EM anomaly does have the potential to be uneconomic graphite or sulphide. But with GAL having already proved a nickel sulphide system, the probability of that red anomaly being an extension to the first intercepts is higher.
Ultimately, this discovery could have the potential to be a standalone project when compared to GAL's Callisto PGE discovery.
What else has GAL been up to?
Rhodium assays increasing at depth.
Similar to today's announcement, a few weeks back GAL announced its highest grade rhodium assays from its Callisto discovery.
In the announcement GAL posted a 1m intercept with rhodium grades of ~0.13g/t from a depth of ~267m.
At first glance, this may seem like a low number, but an economic rhodium grade is a lot different to other metals - primarily because of the price rhodium trades at.
Current rhodium prices are ~US$13,000 per ounce which means that even a small amount of rhodium can add a lot of value to any new discovery.
To really try and understand the significance of the rhodium grades, they need to be compared to the results from the platreef deposits in South Africa which GAL's discovery has previously been compared to.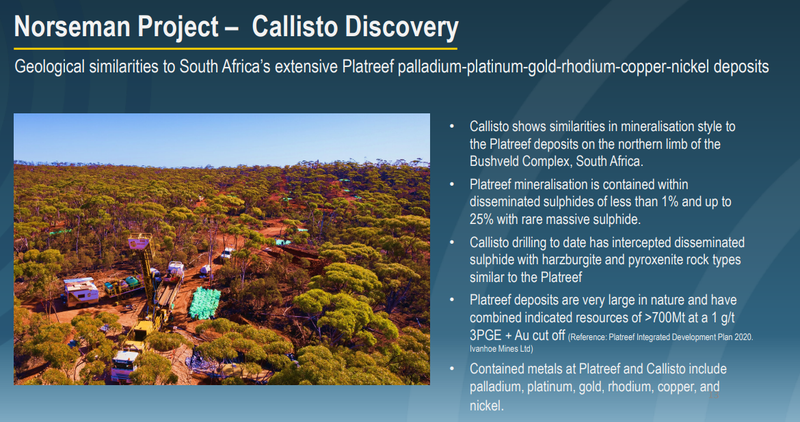 For some context, the Platreef deposit in South Africa is a much deeper underground deposit, and has rhodium grades measuring ~0.14g/t as part of its ore reserves.

The Platreef mineralisation starts from ~700m and extends to a depth of ~1,200m.
GAL's assay result on the other hand, has similar grades but comes from a much shallower depth of only ~267m.
GAL presented at the Mines and Money conference in London.
We also noted that GAL has been presenting to UK investors at the Mines and Money conference in London.
Interestingly GAL was nominated for a discovery award at the conference which to us is an indicator of the interest from investors outside of Australia.
To see the full presentation click here, or alternatively click on the image below: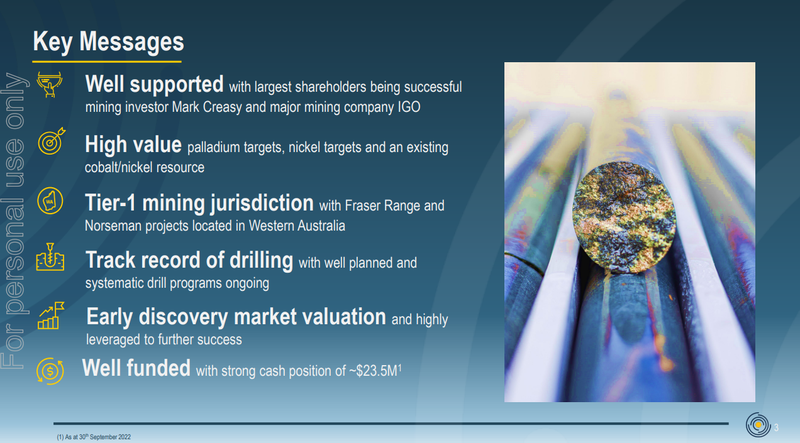 What's next for GAL?
Below is what we are watching for, overlaid on our 3D model of GAL's project.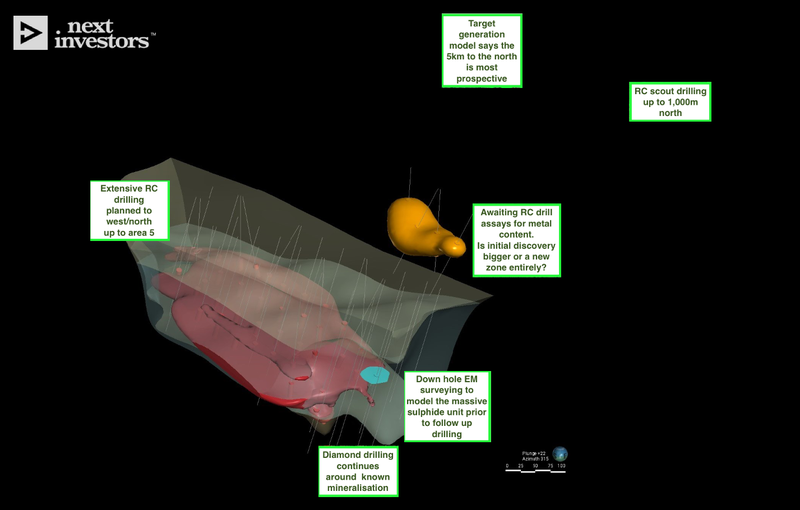 Note - this is an image from our previous note and does not include todays new assay results that extend the red blob deeper and to the east.
Assay results from nickel sulphide discovery 🔄
Assays are pending from the drill holes that GAL is completing to the north of its PGE discovery.
That nickel sulphide zone is the yellow zone we have modelled as part of our 3D modelling of GAL's project.
The assays pending to the north are the purple drillholes circled below.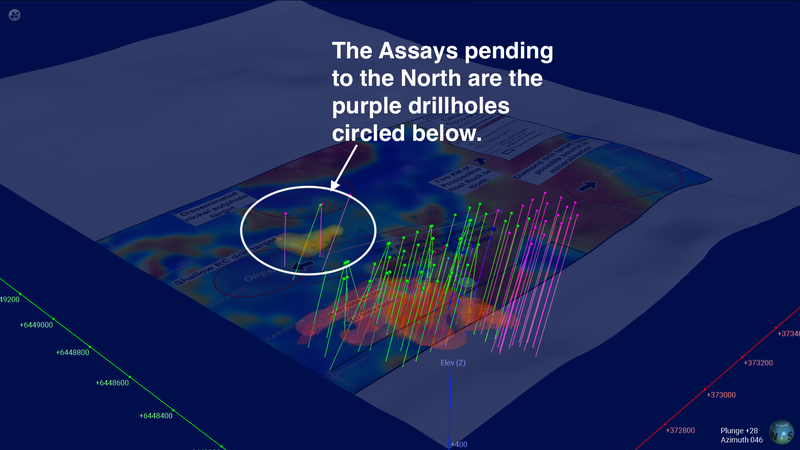 Assay results from PGE discovery 🔄
GAL is also in the middle of a diamond drilling program at the eastern section of its PGE discovery.
Assays are pending across multiple holes circled in purple below: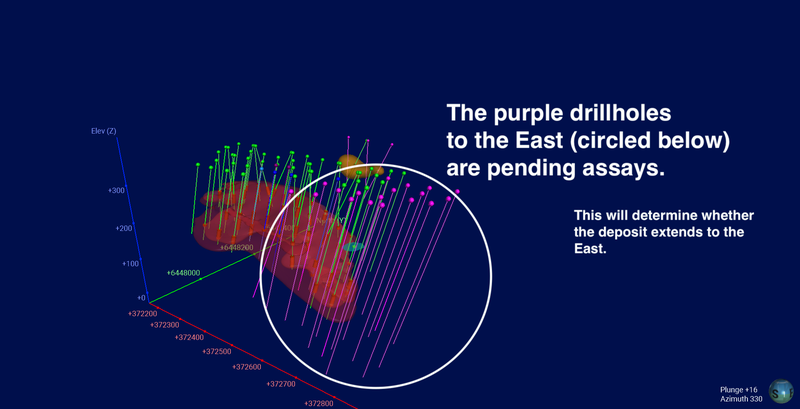 All up, that's a lot of newsflow to watch out for as we head into the new year.
Our 2022 GAL Investment Memo
Click here for our GAL Investment Memo, where you can find the following:
Key objectives we want to see GAL achieve
Why we are Invested in GAL
What the key risks to our Investment thesis are
Our Investment plan

---