GAL Hits "Massive" Sulphides - Here's Why It Matters
Three months ago, Galileo Mining (ASX:GAL) hit its first discovery hole at its Norseman project, putting GAL well and truly on the market's radar.
Since its Callisto discovery, our long term exploration Investment GAL has seen its share price re-rate by almost 10x at its peak.
Following this, GAL raised $20M at $1.20 per share to drill out the discovery.
Prior to this week's news, all the valuable metals GAL had been hitting were in "disseminated" sulphides.
The share price had settled for a couple of weeks after the share placement was digested... until yesterday, when GAL announced a new element to the story — it hit "massive sulphides" while testing for extensions to its new discovery.
This is important because massive sulphides are typically the host rock for easy to process, high grade mineralisation.
The market clearly noticed that yesterday with GAL ending the day 26% higher on over $12M stock traded, as the ASX Small Ords finished 3% lower.
With GAL only 25% of the way through its ~2,000m diamond drilling campaign and 40% through its RC drilling program yesterday's hit has come early in GAL's drilling program aimed at defining its discovery.
Now that GAL has confirmed the presence of massive sulphides — what else could it find in the coming weeks?
There are two ways for a company to increase the value of a new discovery, either:
It discovers zones of higher grade mineralisation,
OR
It drills in different directions and down to new depths, testing for extensions and continuity of mineralisation of its discovery.
GAL's exploration update revealed it has made progress on both of these fronts.
1) First ever massive sulphide hits at Callisto ✅ - Diamond drillholes to the east hit massive sulphides— generally a sign of higher grade mineralisation.
Sulphides, disseminated sulphides, massive sulphides.
It can get a little bit technical, and they all have unique defining characteristics.
The point of difference for a massive sulphide intercept is that it is generally the host rock for higher grade mineralisation.
And remember, GAL was already hitting grades as high as 8.25g/t palladium and 1.94g/t platinum in its disseminated sulphides.
With the first ever massive sulphide intercept yesterday, GAL may have just discovered higher grade zones inside its already very interesting discovery.
So far, hand held XRF analysis has confirmed the presence of nickel and copper - we just need to wait a few weeks for the assay results to confirm the grade of mineralisation.
The higher the grade of a discovery, the more valuable it becomes.
A previous discovery that Mark Creasy (GAL's biggest shareholder) was involved in was the Nova Nickel discovery in the Fraser Range.
That nickel discovery was hosted inside massive sulphides, which IGO (GAL's second biggest shareholder) came in and acquired for $1.8BN.
The takeaway for us is that if these massive sulphide intercepts can prove out a higher grade mineralised zone inside GAL's already valuable discovery, then it could be a game changer for the company and the potential of its project.
Especially if GAL keeps finding more massive sulphides as it continues to progress its drilling program - a key thing we are watching out for in addition to the upcoming assay results.
We now hope that the assays from the massive sulphide hits confirm continuity in GAL's deposit and produce even higher grades than we have seen to date.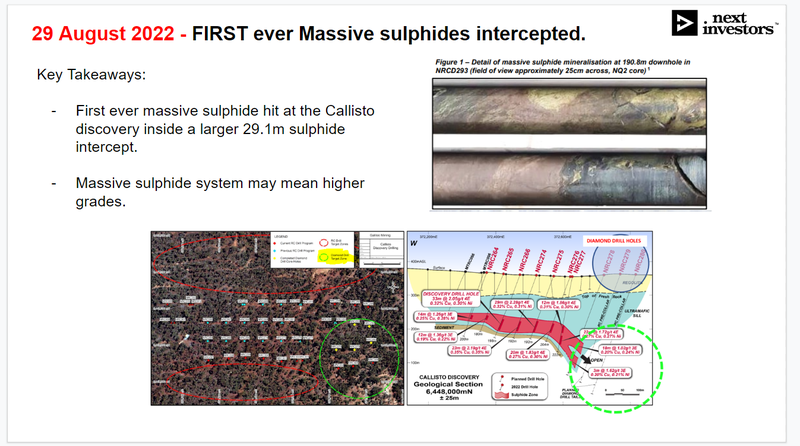 This brings us to part 2 where GAL also made progress:
2) Extending its discovery to the west ✅ - RC drillholes to the west has increased the width of GAL's discovery by ~150 to 200m at even shallower depths of ~90-100m.
Obviously, the massive sulphide intercept was the major headline, but what we think the market may have missed was these shallower RC drillholes.
In yesterday's announcement GAL confirmed that six drillholes to the west extended GAL's discovery by ~150m to 200m.
The biggest intercept was ~34m of disseminated sulphides, and the hits started from as shallow as just ~90m.
These are some of the biggest intercepts to date, at the shallowest depths so far, with assays still to confirm the grades of the intercepts.
The best way to think about this is by going back to our carpet analogy.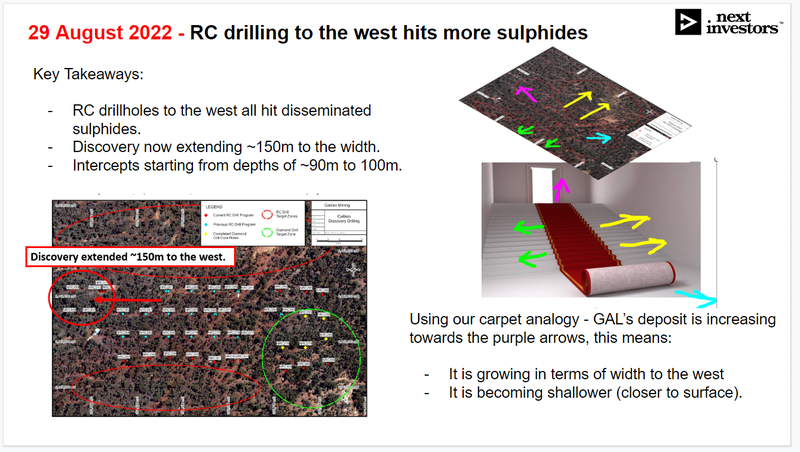 All of this has been updated in our GAL Project Tracker, which is what we use to track the evolution of GAL's discovery at Norseman.
To see this internal working document detailing the history of GAL's discovery check out the following link:
See our GAL Norseman Progress Tracker here: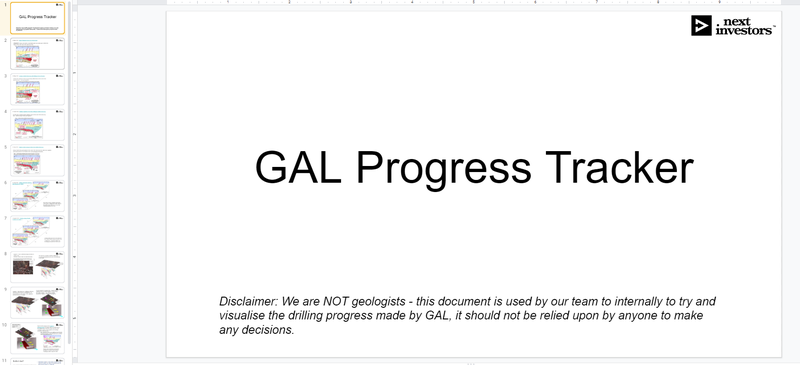 New Investment Memo launch
We first Invested in GAL back in March 2020, almost 2.5 years ago.
Our Investment in GAL followed that of mining exploration billionaire and GAL's biggest individual shareholder Mark Creasy, as well as ASX-listed mining major IGO Ltd (capped at $9.5B), who now collectively own 34.5% of GAL.
Having seen Mark Creasy make the Nova nickel discovery, which was then acquired by IGO for $1.8BN less than three years later, we saw GAL as a potential exposure to one day seeing this happen all over again.
Another Mark Creasy deal was the discovery and eventual sale of the Silver Knight nickel discovery, again, to IGO.
That second time, GAL's now Managing Director Brad Underwood was a part of the Creasy Group team responsible for the discovery and eventual sale.
A large feature of our 2022 GAL Investment Memo was to see GAL make a new discovery.
In May of this year GAL got its lucky break, making its PGE discovery at Norseman. Its share price rallied from ~18.5c per share to a high of just under $2 per share in response.
Off the back of this, GAL locked away a $20.4M capital raise at $1.20 per share.
In a previous educational article we outlined the specific conditions where we would do an Investment Memo refresh. In GAL's case, the applicable revisions are condition #2 and condition #3:


🎓 To learn more about what type of company events trigger an update to our Investment Memo's check out our educational article here.
Before checking out our new Investment Memo, if you would like to see how GAL performed against our original Memo, check out the archived memo here.
Having now made a discovery, a large focus of our new GAL Investment Memo is the Callisto PGE discovery at its Norseman project.
We want to see GAL quickly put the $20M to work and "drill out" the discovery. Basically this means lots of drill holes to establish the extent and grade of the ore body.
But this doesn't mean we have forgotten about the company's Fraser Range projects.
Mark Creasy built his brand after discovering the $1.8BN nickel project in the Fraser Range and we still think GAL holds enough interesting ground to go back and drill test high priority targets in that region.
With $26.4M in the bank on 21 July 2022, GAL has enough capital tucked away to both increase the value of its PGE discovery at its Norseman Project and chase a large scale nickel discovery in the Fraser Range.
Check out our NEW 2022 GAL Investment Memo to see all of the key reasons why we continue to hold GAL, the key objectives we want to see the company achieve over the next 12 months and the key risks to our Investment thesis.

What do "massive sulphides" mean, and why does it matter?
In May GAL announced its discovery after hitting zones of "disseminated" sulphides and grades well above what would be considered economic.
The difference between yesterday's news and all of the previous intercepts GAL has reported is that the company, for the first time ever at Callisto, hit "massive" sulphides.
At a very high level, taking away all of the geological terminology, a massive sulphide is a host rock for high grade mineralisation.
A quick overview of some of the world's biggest and most cash generative projects quickly shows that they are hosted inside massive sulphide structures.
This is because the massive sulphides can be easily processed and because they are filled with relatively higher concentrations of minerals.
A good example of a massive sulphide hosted discovery is the Nova Nickel discovery, which GAL's two major shareholders (Creasy and IGO) were involved in.
The Nova discovery was made off the back of a 4m massive sulphide intercept which had 3.8% nickel and 1.42% copper grades.
Less than three years later, IGO paid $1.8BN (a mix of cash and IGO shares) for the project and the rest was history.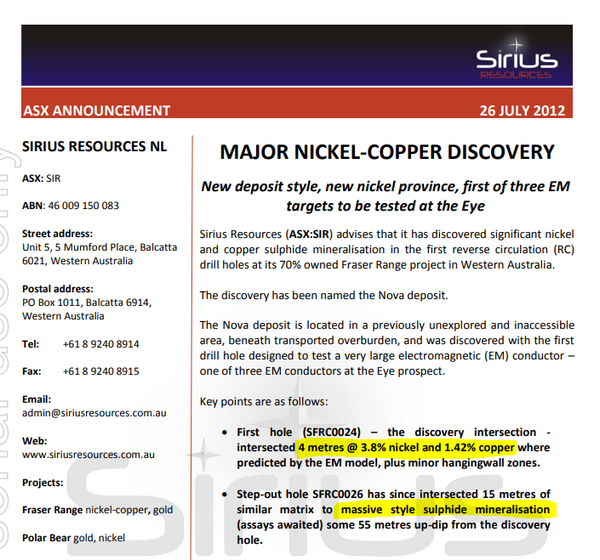 Whilst GAL's project is a PGE discovery, we note that in the announcement GAL did mention XRF readings showed a presence of nickel/copper.
IF the assays from GAL's hole come back with high grades of nickel and copper, this would only add to the value of GAL's PGE discovery.
The significance of all of this for GAL?
Comparing it back to the IGO's Nova deposit, the image below from a 2013 resource estimate shows how the massive sulphide structures (dark red) are just a small proportion of the overall deposit area. Yet it is these structures that can lift a project value to another level.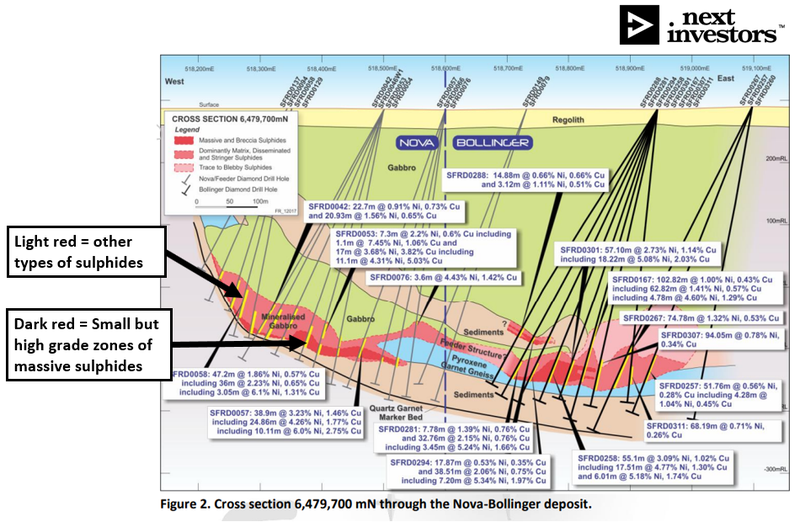 The next step for GAL will be to see if yesterday's massive sulphide intercepts translate into high grade assays.
We hope the assays from these massive sulphide hits confirm continuity in GAL's deposit and display even higher grades than we have seen to date.
If grades are higher than or equal to the discovery intercepts, we would view this as an incredible unexpected surprise for GAL and would expect the company's market valuation to re-rate.
What's next for GAL?
GAL still has 5km of untested prospective strike at its Callisto discovery and over 12km of prospective strike across its two other prospects in the Norseman region — Mission Sill and Jimberlana.
With only ~200-300m of strike tested at Callisto and as GAL prepares to drill ~500m to 1km to the north.
We are hoping to see more high grade pockets of massive sulphides in addition to the continuous mineralisation we have been seeing to date.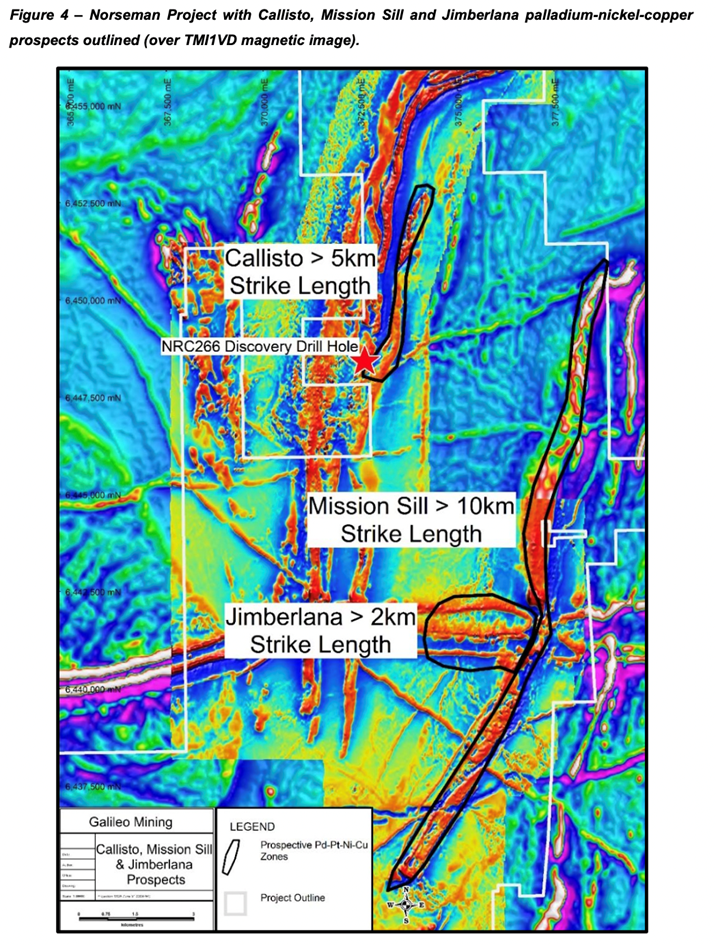 2,000m diamond drilling program + assays 🔄
GAL is now one-quarter, or 582m, of the way through a ~2,000m diamond drilling program aimed at testing extensions to its Callisto discovery along strike and at depth to the east.
The program is following up previous RC drillholes that ended in mineralisation - an indication the system is likely to be extending at depth.
So far five diamond drillholes have been completed — ALL intersecting sulphide mineralisation.
More importantly, the announcement also confirmed the presence of a massive sulphide system in this area.
We will be watching to see the assays come through, especially the assays from the massive sulphide section intercepted yesterday.
GAL confirmed that the assays from these diamond drill cores are likely to come through in late September.
The target area is shown in the image below:

10,000m RC drilling program + assays 🔄
GAL is also ~40%, or 3,828m, of the way through the planned 10,000m of RC drilling.
The ultimate aim for the RC drilling program is to test for extensions to the west/north and south of the current mineralised zone.
As of yesterday's announcement GAL has completed six holes to the west of its discovery and has intercepted disseminated sulphides up to 34m in thickness from depths as low as ~90m.
These are some of the shallowest intercepts GAL has made to date at its discovery.
This is important as the shallower the mineralisation, the more likely an economic open-pit mine can be developed.
With GAL's discovery sitting on a granted Mining Lease, a shallow high grade discovery could be put into production very quickly given there are very few additional permits and regulations to sort through.
If the discovery gets to production, the shallow zones could be stripped at far lower costs and potentially be operated through an open pit mine which we would expect to translate to enhanced project economics.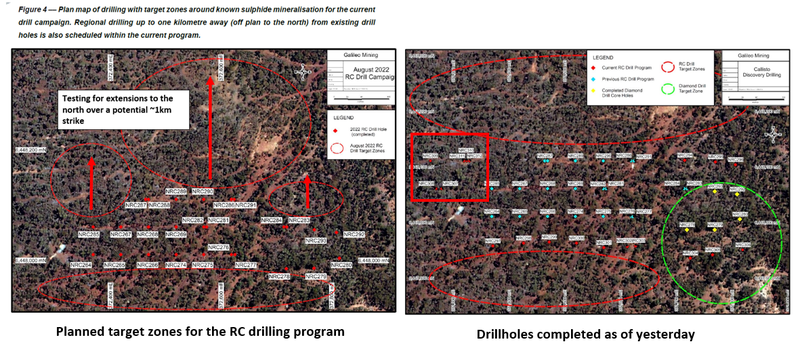 Our 2022 GAL Investment Memo
In our 2022 GAL Investment Memo you can find the following:
Key objectives for GAL in 2022
Why we continue to hold GAL
What the key risks to our investment thesis are
Our investment plan
The ultimate purpose of the memo is to track the progress of our portfolio companies using our Investment Memo as a benchmark, throughout 2022.

---