AJX posts best quarter yet - upward sales trend led by cooling tech. CEO says more to come.
Today our long term investment in Alexium International (ASX:AJX) delivered a set of quarterly financial results with surprise momentum in revenue from its cooling tech products, exceeding our expectations.
AJX is a US-based company that has developed, and is selling, advanced performance chemicals for cooling and fire resistance.
Cooling Chemicals → applications for bedding, helmets, textiles, upholstery, sportswear, body armour, work boots etc... you get the idea, anything a human is constantly in contact with that they want to stay cool.
Fire Resistance chemicals→ applications for military uniforms, fire-fighter uniforms, bedding, upholstery etc... any material we DON'T want to catch fire.
Cash receipts are up 80% and sales up by 20% - most interestingly AJX provided this chart of monthly trending revenue that shows month-to-month sales are trending up - far above what we had been expecting: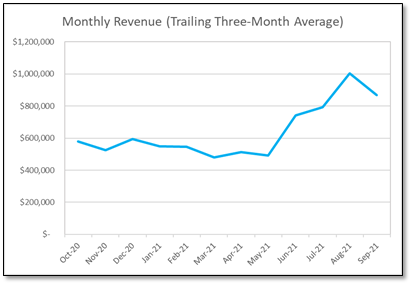 Now we just need to see this trend continue over the next 3 months and beyond.
This quarter marked the highest sales and cash receipts since the new AJX management team began in 2018.
After a long wait for AJX shareholders, this looks like it might finally be the start of why we all invested - to see the successful commercialisation of AJX's cooling and fire resistance tech.
The AJX share price seemed to consolidate above 7c over September, and now we are in October, it looks like it's starting to form a new, higher base above 9c.
We first added AJX to the Next Investors portfolio at 6.5¢ in March 2020. We have been invested in AJX for over 18 months now.
We invested in AJX because we liked its advanced cooling and fire resistance chemicals (lots of potential markets) AND because in early 2020, private equity firm Colinton Capital took a ~12% stake in AJX. Colinton has a track record of helping grow companies with a hands on approach at board and management level.
Despite recent weeks of positive momentum, overall, the AJX share price has moved sideways since we first invested: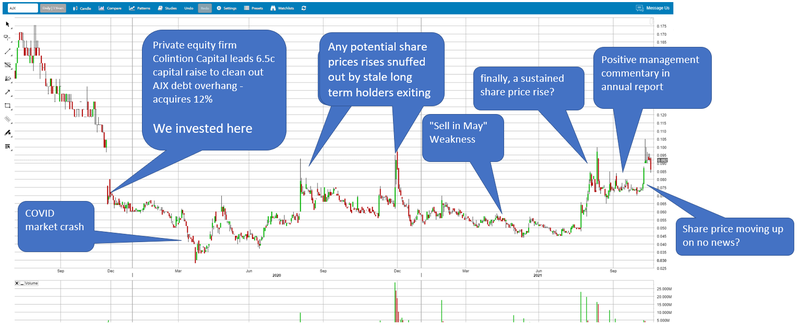 The "AJX plus Colintion Capital combo" driving change in the business took longer than we expected to play out, combined with stale AJX shareholders wanting to exit into new liquidity or upward share price movement.
However, after 18 months of moving sideways, in our opinion the AJX share price now looks like it is finally ready to move, because:
In late July it went up from ~5c... but didn't get smacked right back down like it usually would in the past.
Followed by it spending weeks at a re-rated level of ~7.5c, it hasn't managed that since we first invested...
Then, in last few days it went up again from its newly rerated base to settle around ~9.2c
During 2021, we increased our position in AJX two more times while the share price was moving sideways, most recently buying on market a few months ago in July after we saw that Colinton was buying on market too, after they lodged an increase in substantial holding notice with the ASX.
In August AJX emerged from a 12 month "quiet execution phase", releasing its first announcement in ages about positive early sales in its environmentally friendly mattress cooling product.
6 weeks ago AJX released their annual report with some decent numbers and some positive management commentary promising an eventful 12 months ahead - the market seemed to like what they saw.
So after a few false starts and the company strategy taking a bit longer than we expected to execute, today AJX released the best results we have seen from them and they say there is more coming:


Over the last few company reports we have found that the management commentary has accurately predicted what would come next, so we have a high level of confidence that the positive progress foreshadowed in this report will happen over the next 6 months.
Quick Take: Key highlights from the quarterly
The main thing that we noticed in AJX's quarterly was the chart showing the month to month revenue - it tells a story that can be lost when looking at quarterly numbers alone: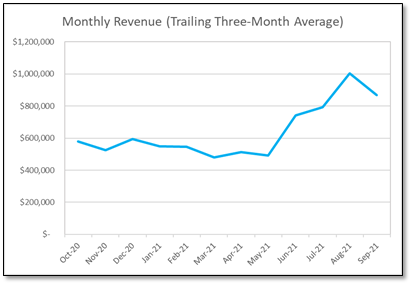 We are looking for consistent growth in revenue - If this trend can continue for the next 6 months (proving it is not a short term blip) it will be undeniable validation that the AJX commercialisation strategy is working.
We also note this quarter is all about the cooling technologies, which seem to be flying off the shelf, we are going to watch closely to see if AJX can keep this momentum going.
While the report was light on updates on the flame retardant side of the business, we did note this management comment that things are progressing well:

In our opinion the CEO comments in today's report show that the hard work from last 18 months (and of course the foundation built over the ten years before that) is now starting to come through in financials:
"success of the technical/commercial strategies that we have developed over the past few years."
"our consultative sales model... the playbook is now established well"
"The success from this reporting period is driven by only the Alexicool® and BioCoolTM product lines, and with the other three platforms at their own critical and near-term commercialisation phase, Alexium has much more growth ahead and that is where real success lies"
AJX progress against our key investment milestones
📅 [NEW] Sales Revenue up 40% Cash Receipts up 70% (Jun-Sep Quarter 2021)
The big news from the announcement was that cash receipts for AJX were up 70% on the corresponding period last year and that sales revenues were up 40% on the corresponding period last year.
This is a very good sign that AJX's cooling products are being well received by the bedding industry. Given the strong level of cash receipts we think that AJX could potentially have their first cash flow positive quarter earlier than anticipated (Apr-Jun 2022 quarter). This would be a massive tick for the AJX team.
🔄 [NEW] Continued upward sales trend (Oct-Dec 2021 quarter)
For next quarter, AJX has flagged that the end-of-year holiday season could negatively impact sales. This is likely because the bedding manufacturers will likely secure their raw materials (like AJX's cooling products) before the busy holiday season.
That being said, we think that AJX's momentum is strong and think that a continued upwards sales trend is achievable. We will be closely monitoring the sales revenues to see if AJX can outperform the corresponding period last year.
🧊 Cooling Market 1: Bedding
✅ Increased Revenue
This quarter AJX saw strong revenue growth driven by sales of their Biobased Cooling Technology (BioCoolTM) and their Total Mattress Cooling System.
The names that AJX has given to each of its products can be confusing - just think of cooling technology for bedding, whenever you read about BioCoolTM, Alexicool® or the Total Mattress Cooling System.
What is most promising is this line from the quarterly:
"While early sales were driven by the conversion of existing business from Alexicool® to BioCoolTM products, sales for this reporting period expanded to whole new revenue streams for Alexium."
We like that revenues were not from customers changing to a different product, which can sometimes mask the overall revenue performance, but that sales were driven by an inherent increased demand driven by customer satisfaction.
We think that this foreshadows more sustainable growth for the product, and greater revenues for the future.
Here is a breakdown of the sales for the year showcasing the Q3 spike in sustained sales from the positive market response to the Biobased Cooling technology: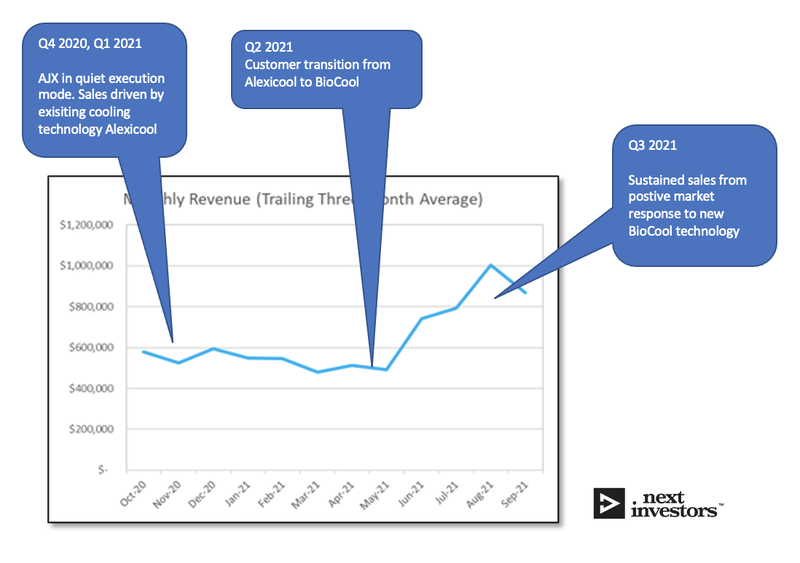 🧊 Cooling Market 2: Body Armour
🔄 Sign Manufacturing Partner #1
According to the release, AJX has "identified a commercial partner for the first commercial application of [its cooling products] in [the body armour market]".
This is a promising sign that this market entry is progressing, AJX is anticipating commercial launch of the product next quarter.
🔲 First Revenues
With the commercial launch of its cooling products in the body armour market we are expecting an announcement about the first revenues sometime in the next 2-4 months.
🧯Flame Retardant Market 1: Military Uniforms
No updates this quarter, but we should expect some news over the next six months.
🧯Flame Retardant Market 2: Bedding
No updates this quarter, but we should expect some news over the next six months.
AJX is reporting Environmental, Social and Governance (ESG) disclosures and progress
Best in class ESG companies attract more capital, better customers and top talent – this leads to better shareholder returns over time - EXR discloses its ESG progress and improvements on a quarterly basis.
Alexium International Company Milestones
✅ Portfolio Launch
📅 Revenue Up 20% (FY21 Results)
📅 [NEW] Sales Revenue up 40% Cash Receipts up 70% (Jun-Sep Quarter 2021)
🔄 [NEW] Continued upward sales trend (Oct-Dec 2021 quarter)
🔲 Continued upward sales trend (Jan-Mar 2021 quarter)
🔲 EBITDA Positive (Jan-Mar 2021 quarter)
🔲 Cash Flow Positive (Apr-Jun 2022 quarter)
🔲 Unexpected Positive Announcement 1
🔲 Unexpected Positive Announcement 2
✅ New Technology Development 1: Perpetual Cooling
✅ New Technology Development 2: Biobased Cooling Material
🔲 New Technology Development 3
🔲 New Technology Development 4
🔲 New Technology Development 5
🔲 New Technology Development 6
🧊 Cooling Market 1: Bedding
✅ Intent to enter a new market
✅ Design/Combine AJX chemistries
✅ Successful product testing
✅ Sign Manufacturing Partnership #1: Softex
🔲 Sign Manufacturing Partnership #2
✅ First Revenue
✅ Increased Revenue
✅ Increased Revenue (2)
🔲 Develop multiple end uses in market
🧊 Cooling Market 2: Body Armour
✅ Intent to enter a new market
✅ Design/Combine AJX chemistries
🔄 Successful product testing
🔄 Sign Manufacturing Partnership #1
🔲 Sign Manufacturing Partnership #2
🔲 First Revenue
🔲 Increased Revenue
🔲 Develop multiple end uses in market
🧊 Additional Cooling Market(s)
🔲 Intent to enter a new market
🔲 Design/Combine AJX chemistries
🔲 Successful product testing
🔲 Sign Manufacturing Partnership #1
🔲 Sign Manufacturing Partnership #2
🔲 First Revenue
🔲 Increased Revenue
🔲 Develop multiple end uses in market
🧯Flame Retardant Market 1: Military Uniforms
✅ Intent to enter a new market
✅ Design/Combine AJX chemistries
🔄 Successful product testing
✅ Sign Manufacturing Partnership #1: Pine-Belts
🔲 Sign Manufacturing Partnership #2
🔲 First Revenue
🔲 Increased Revenue
🔲 Develop multiple end uses in market
🧯Flame Retardant Market 2: Bedding
✅ Intent to enter a new market
✅ Design/Combine AJX chemistries
✅ Successful product testing (UL Testing Complete)
🔲 Sign Manufacturing Partnership #1
🔲 Sign Manufacturing Partnership #2
🔲 First Revenue
🔲 Increased Revenue
🔲 Develop multiple end uses in market
🧯Additional Flame Retardant Market(s)
✅ Intent to enter a new market
🔲 Design/Combine AJX chemistries
🔲 Successful product testing
🔲 Sign Manufacturing Partnership #1
🔲 Sign Manufacturing Partnership #2
🔲 First Revenue
🔲 Increased Revenue
🔲 Develop multiple end uses in market
Next Investors AJX Investment Milestones
✅ Initial Investment: @ 6c
✅ Increased Position: @ 6c
✅ Increased Position: @ 5.49c
🔲 Price increases 500% from initial entry
🔲 Price increases 1000% from initial entry
🔲 Price increase 2000% from initial entry
✅ 12 Month Capital Gain Discount
🔲 Free Carry
🔲 Take Profit
🔲 Hold remaining Position for next 2+ years
---