Cooling Technology for a Hot Market: Why we Invested in AJX
The entry of institutional investor and private equity firm Colinton Capital Partners has had an enormous impact on Alexium International Group Ltd (ASX:AJX)'s business during the second half of 2020.
We believe that AJX's share price is soon going to reflect this improvement.
Alexium is a performance chemicals provider for advanced materials applications with a focus on flame retardancy and thermal management.
Key markets for Alexium are military uniforms, workwear, and bedding products with its brands including Alexicool® and Alexiflam®.
AJX is currently one of our lesser known investments, however we took a position in AJX at 6.5c and are long term holders.
This is in no small part due to AJX's impressive management team, led by CEO Dr Bob Brookins who has extensive experience in materials chemistry and commercialisation.
Here is why we invested:
We like the AJX technology for cooling applications in consumer products.
We like the capital structure and valuation.
We like that AJX has growing revenue and shrinking costs.
We like that they are focused on environmentally friendly solutions, which will bode well under a Biden Presidency.
Colinton.
AJX has provided investors with solid year on year revenue and margin growth despite COVID-19.
It has made significant progress on new product development activities and recently added Dr Paul Stenson to the board, strengthening the Company's industry capability and experience.
We will look at these highlights and more in greater detail further in the article.
Firstly, let's drill down into Colinton's involvement with AJX.
The Colinton connection
It's not often that such a high-quality firm like Colinton gets behind a $40M market cap company like Alexium International Group Ltd (ASX:AJX), so we jumped at the chance to take a position.
Colinton Capital Senior Partner Simon Moore is one of the country's best known private equity executives.
As managing director and global partner of The Carlyle Group (NASDAQ: CG) between 2005 and 2016, the world's second largest PE firm with $230BN Fund Under Management, Moore was involved with shaping the strategy of many corporations, leading significant turnarounds, and managing numerous corporate transactions across small and large companies.
Moore and his team also has vast experience with early stage enterprises, which could be of enormous benefit to AJX in the long run.
The highly-experienced Colinton team consists of Genevieve Gregor, who was previously Managing Director and co-Head of the Australasian Special Situations Group at Goldman Sachs based in Sydney, former Deloitte partner Martyn Strickland and Investment Principal Jason Phillips, who was a Senior Associate in Citigroup's Investment Banking Division.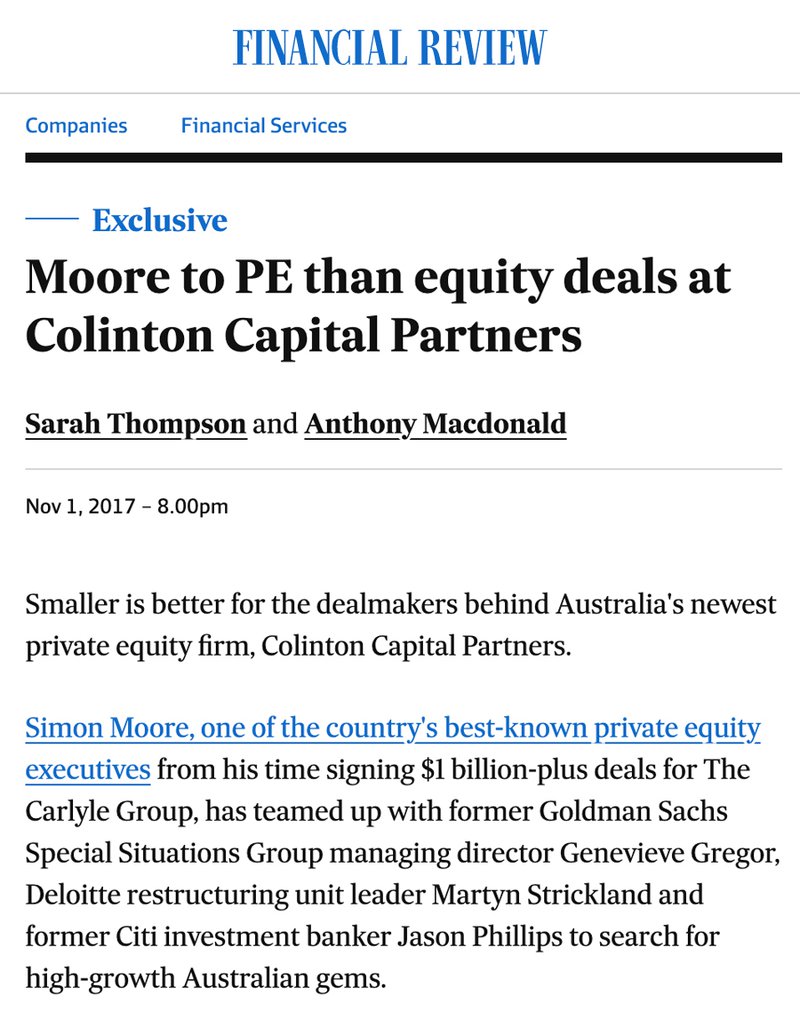 It is this experience Colinton brings to AJX, along with its positive endorsement of the business, strategic guidance in terms of negotiating what can sometimes be a challenging path for smaller companies and capital.
He hopes to have a similar influence with AJX and his presence is one of the justifications for our long-term position in the company.
Colinton has invested a total of A$10.84M in Alexium shares and convertible notes with Moore joining the board to help AJX realise its near-term potential.
As a general rule, Colinton invests in growing businesses with strong market positions, positive earnings and enterprise values from $20 million to $200 million.
The group specialises in providing flexible capital solutions for expansion, succession planning, management buy-outs/buy-ins, public-to-private transactions and active minority public positions, an ideal partner for Alexium in terms of negotiating the corporate world.
Colinton's investment in Alexium appears perfectly timed with the group having battled through the difficult phase of research and development, launching new products and establishing robust relationships with clients/distributors, including the US Defence Force.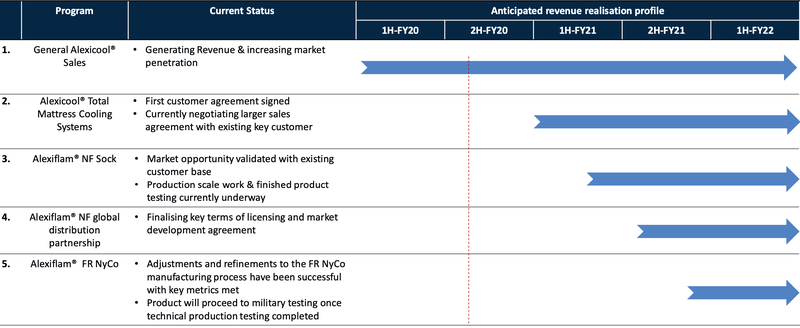 AJX near term target revenue streams are expected to be realised in FY20 and FY21.
In commenting on the progress Alexium has made across these areas, Moore told Next Investors, "From our perspective we (Alexium and Colinton collectively) don't have to establish ourselves from ground zero.
"We have established clients and such a credible market presence that when we say our products work or we can get this, we are already a known and trusted commodity.
"Indeed, one of the factors that really sold us (Colinton) regarding the company's potential was that it had two proven products, but having established goodwill and credibility you've also got a running start in terms of having credibility with customers on each side of the business.
"Especially with big customers like these big suppliers and some of the defence uniform stuff, it can be difficult to build that level of trust.''
Moore will be a major player as AJX transitions to profitability, accelerates growth, expands its product range, broadens its portfolio of clients and enters new geographic regions.
Accelerated growth and expansion invariably throw up their own challenges with the need to streamline efficiencies and manage costs while also being cognisant of investing for improvement and scale in order to maintain a competitive advantage and optimise margins.
Retaining its competitive position is important as Alexium's proprietary technology offers a point of difference between it and other industry players, providing decided barriers to entry across its core industries.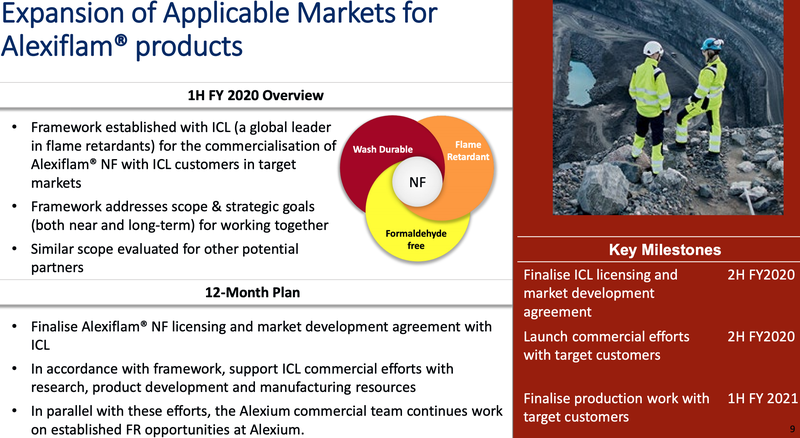 When Moore first decided to have a look at AJX he and one of his partners, Jason Phillips, went to the US and met with Alexium's management as well as a number of suppliers and customers.
"One of the things that we identified in diligence was that the company would benefit from the addition of an expert from the chemicals industry who had considerable experience in the US in very relevant areas within chemicals and had travelled a similar commercialisation life pathway to what lay ahead for Alexium," Moore told Next Investors.
"So I revisited my old network as I'd lived in the States for nearly 15 years doing private equity over there.
"And through my friends and from my old working days over there, we identified a small group of potential candidates, and we interviewed them, and the one that stood out to us and we eventually put on the board was Paul Stenson.
"He's got an excellent background, relevant skill set, the ability to deal and work with management and lengthy experience in working for big chemical companies similar to ICL, enabling him to understand all facets of Alexium's business.''
Backed by Colinton, Alexium has made significant progress of recent times.
"One of the things you're seeing now is a lot of work in progress being made around application of the fire retardant to the mattress sock or a mattress cover if you want to think of it that way.
"That in itself is like, well, we've got great relationships in the mattress industry and we're seen as an innovator in that category, but it's on the cooling agent side it's not on fire retardant, but we're dealing with very similar people.
"And our reputation and effectively our goodwill that we've established in the eyes of a customer such as Simmons Serta, and also Simmons SSB is already there.''
Colinton is a long-term investor – at least four years.
If what Alexium has been able to achieve in a relatively short period of time is a guide to what can be expected in the medium to long-term, AJX could become one of Colinton's 'brag book' investments.
With that in mind, let's have a look at AJX's products, the markets it is tackling and its recent performance.
Bedding market bucks the trend
Despite the troubles with retail during COVID-19, one corner of the market that is booming, is the US bedding industry as consumers stay home and shift spending habits away from travel and eating out.
Directly exposed to this market — which is enjoying a year over year sales increase of more than 30% — is AJX.
In its last quarterly, sales increased by more than 40% over the prior quarter with sales for major accounts in both mattress and top-of-bed markets. AJX also saw an improvement in its margins, driven by the optimisation of manufacturing processes and the integration of cost-effective raw materials.
This comes after AJX had been busy establishing partnership agreements and introducing new proprietary chemical treatments for the US bedding industry, plus other cooling and fire-retardant applications.
AJX's patent-protected, environmentally friendly technologies have applications for several industries, with key markets being mattresses and bedding, military uniforms, and workwear products. These innovative, high margin products are marketed under two brands — Alexicool®, its cooling technology, and its flame retardant, Alexiflam®.
Strong bedding market during COVID
Alexium CEO Bob Brookins recognised that increased time at home due to quarantining protocols has resulted in consumers upgrading their homeware. He expects this trend to continue for the foreseeable future and for sales to remain high in the current second quarter, even though it has historically been lower due to market seasonality.
During the first quarter ending 30 September, AJX's cash receipts totalled US$1.7 million (A$2.4M), up US$0.50 million (A$0.71M) from the prior quarter. Based on sales during the period, the projected cash receipts were US$1.9M — the difference having been received just after the quarter ended.
These sales for the quarter were for major accounts in both mattress and top-of-bed markets.
Brookins did note that some new product development efforts had been impacted by COVID, specifically by delays from supply chain partners for certain types of textiles and foam. However, the delays encountered are just timing related, and don't reflect material changes in the company's opportunities.
During the quarter progress was made on AJX's ongoing initiatives and the commercialisation of its new technologies, including Phonon and Alexiflam NF for FR mattress socks, with growth expected to continue in 2021.
As part of an ongoing effort to improve efficiencies, significant progress was also made during the quarter in improving margins.
These improvements have come through two efforts:
- Optimisation of raw material usage and processing parameters in manufacturing
- Integration of more cost-effective raw materials for key components
Products recently sold will reflect the current margins which includes a mix of lower margin goods.
But it is in the second half of 2021 that we will see significant changes to margin with the full introduction of these improvements.
Launch of New PhononTM perpetual cooling Technology
During the quarter, AJX introduced its new-to-the-world cooling technology for consumer products.
This PhononTM perpetual cooling technology has a novel cooling mechanism that operates by continually pulling heat away from the consumer, dramatically enhancing the rate of cooling over current cooling products.
Cooling technologies are now a critical selling feature for premium mattress manufacturers and AJX has a reputation for leading technical innovation and analytics via its Alexicool® products.
AJX's patent pending technology is targeted for thermal management applications in textile and foam products and has a total addressable market in the United States for cooling technologies in total mattress cooling systems (TMCS) of US$60M, plus an additional US$25M market for top-of-bed applications.
The new technology is poised to disrupt markets as it enhances the rate of cooling by up to 200% over current products, creating a constantly comfortable experience by continually regulating and removing heat from consumers.
Beyond bedding applications, there is also opportunity for the technology in other markets, including upholstery, medical products, sporting goods, and outdoor apparel/accessories.
As the company has an established position in bedding markets, this is the initial target for commercial application of Phonon, although research and evaluation of adjacent markets has begun.
While technical innovations tend to be incremental in nature, this is a truly disruptive platform technology — one that could change the narrative in relation to thermal management solutions for the global mattress industry and other performance applications in consumer products.
The technology establishes a new standard for extended cooling performance and opens up a host of new markets for Alexium, providing a new growth platform for the business.
AJX is now seeking innovative and technology focused partners to expand new product applications.
This latest proprietary technology builds on years of research at Alexium and complements the group's other high-profile products in Alexicool® and Alexiflam® which have applications in multiple markets.
These performance chemicals and materials have advanced applications across the military, workwear and bedding products industries with a focus on flame retardancy and thermal management.

Alexicool® Technologies
Central to Alexium's product portfolio is its flagship Alexicool® business line.
Alexicool® technologies are a chemical finishing treatment for fabrics and foam that's applied to bedding and mattress components to absorb heat, while providing a cool-to-the-touch feel, enabling mattress and mattress component manufacturers to deliver immediate, long-lasting cost-effective cooling.
AJX first started selling Alexicool® products in 2017 and has since expanded into a broad range of mattress components and mattress tiers.
Alexicool® products are now Alexium's major source of revenue, with consumer bedding products its largest single market.
The company took an innovative systems approach to total mattress cooling to develop its leading-edge Total Mattress Cooling System (TMCS) using where a suite of textile- and foam-based Alexicool® products.
Rather than providing for just one component of mattresses, Alexicool® can be incorporated across five different components of the bed, suggesting potential for five-times the revenue.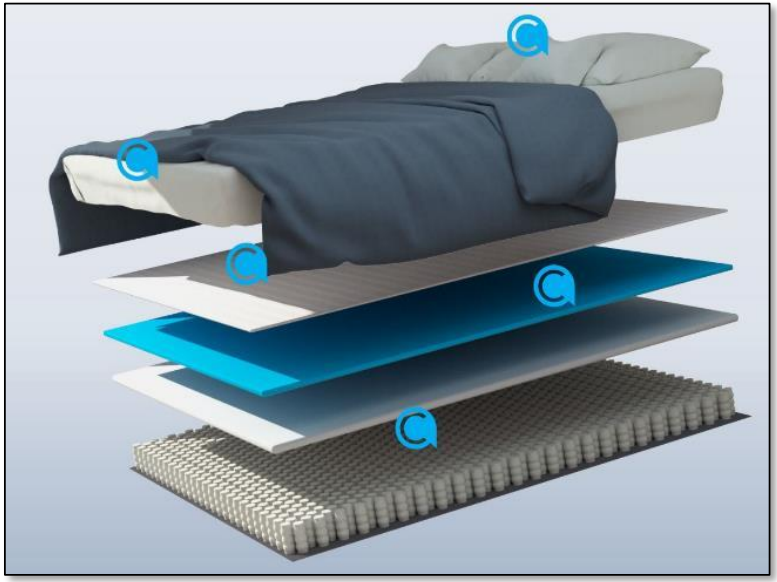 Alexium TMCS
Alexiflam® Technologies
Alexiflam® is AJX's environmentally friendly flame-retardant chemistries for fabrics.
Alexiflam® NF (natural fibre) is its proprietary flame retardant for cotton and cellulose-based textiles. Flame retardant cotton (FR cotton) is a prominent segment of the protective fabrics market and presents a huge potential for AJX given global market size of FR cotton is more than 300 million sq. yards per annum.
The company is leveraging Alexiflam® NF for application to a cotton/polyester blend sock for protection from foam mattresses to reach its addressable target market that's worth in excess of US$300 million.
In June, the group's prototype foam mattresses using FR (flame retardant) socks treated with Alexiflam® NF passed flammability testing that is required by US federal safety standards.
Initial distribution efforts are expected to focus on European end markets followed by an expansion into China and the US.
Beyond these established markets, AJX sees other unique opportunities in a diverse range of markets for Alexiflam® NF applications, including in FR socks for bedding and FR treatment for fleece.
More on the company's products can be found on its website: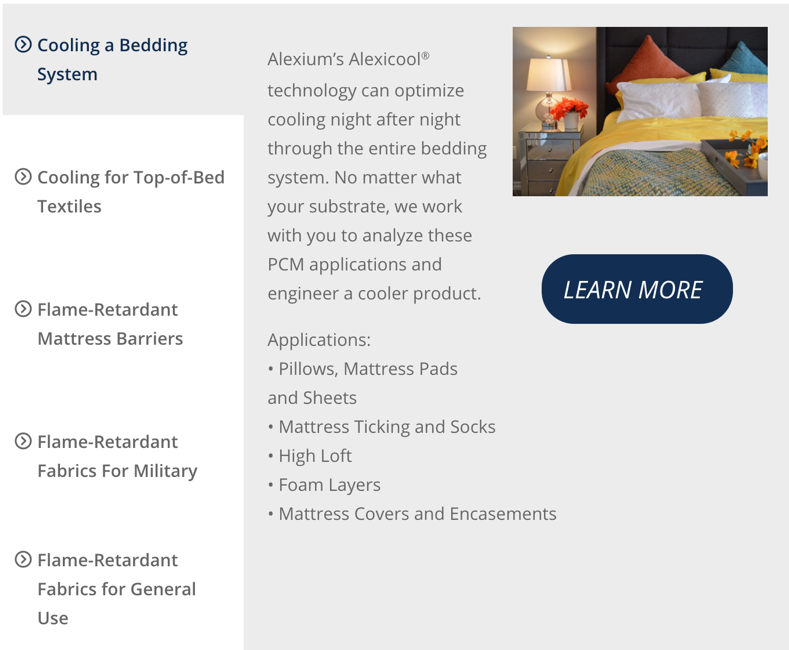 Commercialization of Alexiflam NF for 100% Cotton FR Socks
The Alexiflam® NF (natural fiber) for 100% cotton flame retardant (FR) mattress sock is a sustainable, natural cotton solution to replace fiberglass mattress barriers.
The technology transforms cotton into an effective flame-retardant barrier that eliminates the risks of airborne fiberglass shards. Key features are sustainability, durability of FR treatment, cost savings, and providing a fiberglass-free solution.
Having completed successful UL testing of the NF-treated 100% cotton FR sock, AJX has begun to commercialise Alexiflam® NF to FR sock manufacturers.
Product commercialisation is still in early stages, but production trials have been scheduled with potential suppliers along with product testing. This progress keeps the company on track to meet its growth targets in this market segment.
AJX non-executive director, Simon Moore, explained that "a lot of progress is being made around application of the fire retardant to the mattress sock or a mattress cover.
"We've got great relationships in the mattress industry and we're seen as an innovator in that category.
"Our reputation and effectively our goodwill that we've established in the eyes of a customer such as Simmons Serta, and also Simmons SSB is already there."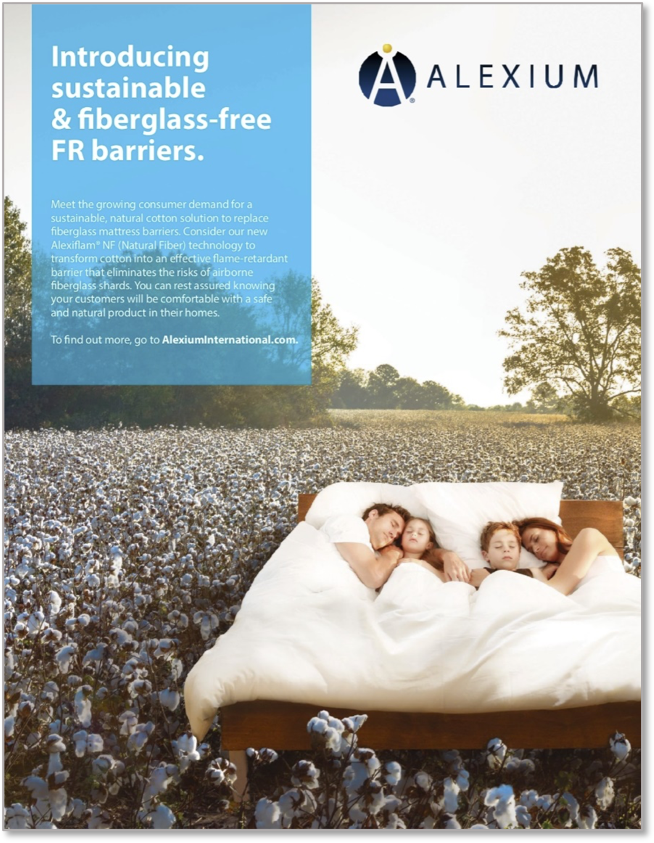 Multiple partnership and supply agreements locked in
ICL Supply and Evaluation Agreement
AJX this year signed a Supply and Evaluation Agreement with major flame-retardant chemical company, Israel Chemicals Ltd (TASE/NYSE: ICL) for the market launch of Alexiflam® NF following a long period of co-operation between the parties.
ICL will actively evaluate the potential market for Alexiflam® NF with existing and new customers, develop new applications, and based on market feedback will drive sales into global FR cotton markets. Together, they will combine their technical and market resources to launch Alexiflam® NF into target markets.
In addition to this exclusive supply and distribution agreement, AJX had already penned agreements with some notable parties...
Soft-Tex exclusive Supply Agreement and Innovation Partnership
Earlier this year, AJX entered into an exclusive Supply Agreement and Innovation Partnership with industry leading bedding product manufacturer Soft-Tex International.
For over three decades, Soft-Tex has been manufacturing and distributing premium specialty sleep products that incorporate the latest sleep technologies — now including that of AJX.
AJX's Alexicool® cooling products will provide the cooling engine for Soft-Tex's ReactexTM technology, which manages bedding system heat flow to provide a comfortable sleep environment.
The partnership provides a supply channel to major US retailers, such as Bed Bath & Beyond, Amazon, and US department stores J.C. Penney and Dillard's.
Soft-Tex, interestingly, has an exclusive partnership with Serta Simmons Bedding (SSB) — the biggest mattress brand in the US — to add new technologies to SSB's mattress lines.
Pine Belt exclusive development agreement
The first of AJX's three strategic business partnerships came in March 2019 — an exclusive development agreement with uniform treatment company Pine Belt Processing for Alexiflam® FR NyCo for applications for military uniforms.
Alexiflam® FR NyCo is chemistry for wash durable flame retardation of nylon/cotton fabrics, for which there is no current incumbent solution. Its commercialisation would solve a long-standing problem for the militaries worldwide.
AJX is working with Pine Belt Processing to comply with their production requirements and to prepare uniforms for evaluation by the US military. Delivering such a solution to the US military opens up a US$90 million addressable market to Alexium.
Alexium: A Next Investors portfolio stock
Backed by strong consumer demand, and the development and commercialisation proprietary cooling and flame-retardant solutions, serving multiple sectors, Alexium is well positioned to build on its solid quarter in the months and years ahead.
The company holds a long-term position in out Next Investors portfolio and we look forward to hearing from management about the future plans of this innovative ASX junior.
This still remains a good opportunity for new investors with the stock now at similar levels to what we picked it up at back before it was oversold with the wider market back in February-March.
Read our comprehensive WiseOwl Report for more information: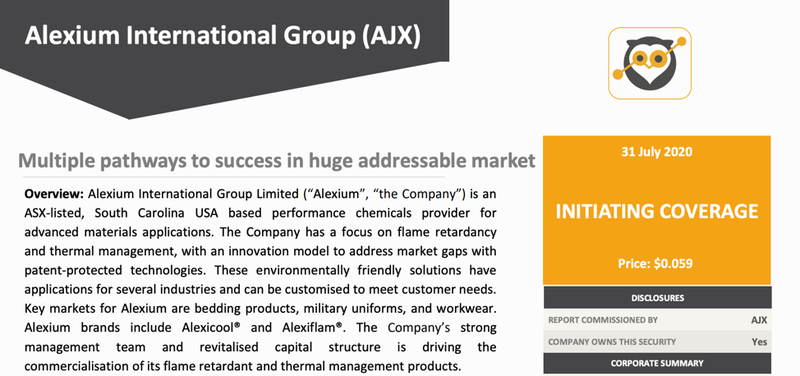 Here's why we invested: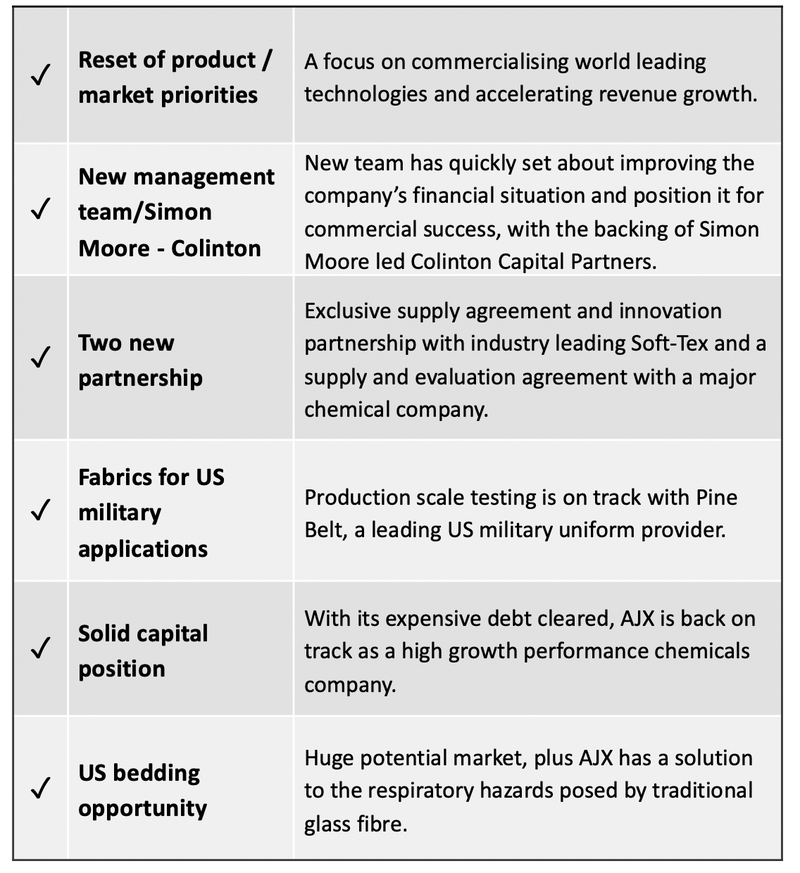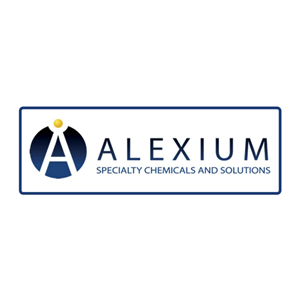 ---