AJX Ready for 2023 with New Commercial Focus
Disclosure: S3 Consortium Pty Ltd (the Company) and Associated Entities own 6,178,333 AJX shares and the Company's staff own 120,000 shares at the time of publishing this article. The Company has been engaged by AJX to share our commentary on the progress of our Investment in AJX over time.
Who doesn't like a good turnaround story?
After a rough couple of years, we think 2023 could be the year that it all comes together for our Investment in performance materials company Alexium International Group (ASX:AJX).
After hitting new lows late last year, the AJX share price has started creeping up from 1.8c to 2.4c following the release of its quarterly report last week.
Under a new commercially minded CEO and with an improving operating environment in CY2023, AJX is now executing on a strategy to finally achieve sustainable profitability.
This strategy was revealed in AJX's quarterly report — the company will be taking a "laser-like" focus on customers and commercialising its technologies.
As long term Investors in AJX we like the sound of that, and will be following closely to see if the management team can nail it.
It's fairly simple: if AJX can consistently earn more money than it spends, it will reduce the need for external dilutive funding.
This is Business 101, but it's especially important right now given the capital markets environment.
AJX has developed and is selling advanced performance chemicals to deliver thermal regulation and flame-retardant solutions.
AJX generates revenues by selling its performance chemicals technology to manufacturers in the US mattress and bedding markets, and is expanding into other markets including military uniforms, athletic and workwear, and tactical body armour.
Now with a clear game plan to achieve consistent cashflow positive results, we think this year could mark the beginning of AJX's commercial success.
We first invested in AJX at 6 cents per share almost three years ago, impressed by its unique technologies under development and the large market opportunities for their application.
The share price got as high as 10c a few times since we Invested, but deteriorated heavily with the broader market sell off April 2022 down to about 1.5c, and had not been showing any signs of recovery - until recent days.
In spite of its weak share price performance over the last 12 months, we don't consider the business to have gone backwards.
AJX has spent the last few years investing heavily in the development of its thermal management and flame retardancy technologies for applications on a wide range of materials.
And now, over the last two quarters, the new commercially minded CEO Billy Blackburn has had a chance to understand the AJX business and set about turning it into a commercial success.
So after a few false starts over the years, we think it's now time for AJX to translate its years of R&D into profits.
A large part of AJX's strategy is to leverage its position in thermal management to saturate its existing US mattress and top-of-bed markets.
AJX also wants to enter new markets with its existing technology platforms, including military uniform applications and tactical gear.
And finally, AJX needs to keep developing new products with a view to entering new sales channels in future years.
In order to deliver cash positive results, in the near term AJX is concentrating its efforts on these three distinct areas, in order of priority:
Bedding market applications - the core business that will drive near term profitability. AJX is focusing on sales of its multiple thermal management and flame retardant products to mattress and bedding manufacturers across all segments of the bedding market.
Adapting its flame retardant product (FR NyCo) to meet US military specifications.
Refining and expanding the market for its perpetual cooling technology (EclipsysTM) application for tactical gear.
1. Bedding market applications - getting back to basics
In the past, AJX had a propensity to chase the newest things — concentrating on developing innovative new technologies. This focus on IP and development resulted in some truly novel technologies, including the EclipsysTM perpetual cooling technology for which there is no competition in the market.
But this also saw AJX somewhat neglect the sales side of the business, particularly when it came to its core business — the bedding market.
The bedding market is going to be the number one focus for AJX right now, as it is the easiest way to generate revenue.
Most of AJX's sales are to bedding market customers, made up of cooling and comfort applications of its technologies to mattress, pillow, and mattress topper manufacturers.
For AJX to meet its short-term sales and profitability goals it has to grow and diversify its revenue within the wider bedding market.
AJX intends to expand its customer base — playing a broader role across all segments of the bedding market, broadening its target market and growing sales to non-traditional mattress producers.
AJX is aiming to further saturate market share of its existing traditional innerspring mattress producers, while also targeting foam mattress producers, pillow producers, mattress topper producers, and even online bed-in-a-box retailers.
Making this possible was recent technical breakthroughs by AJX's product development team on its Alexicool Phase Change Materials (PCM), making it more readily adaptable for application to foam mattresses and pillows.
PCMs are materials that can draw heat away from skin. They absorb, store and release large amounts of heat as they change state — melting or solidifying — based on the temperature of their environment.
Entering the foam market opens up another ~30% of the overall bedding market previously not accessed by AJX. The company is now engaging new target customers for foam mattress and foam pillow applications.
New technology DelCool; new markets
AJX is in also discussions with several large players in the bedding market to adopt its newest technology — its DelCool dehumidifier technology — into their products.
All feedback from prospective customers on this new technology has been positive so far.
AJX has secured orders of 17,000 initial trial units from a new partner for the top-of-bed segment (pillow liners) and the parties are now sorting contracts for the longer-term, higher volume business.
Once a long term contract is executed it will be announced with AJX to provide forecasted revenues. We would expect this could act as a share price catalyst once announced to the market.
At this stage AJX says it anticipates agreements for the supply of "meaningful volume to multiple parties" over coming months.
This sounds to us like there should be continued revenue growth out of these deals - this is something we are going to look out for over the coming months.
In addition, AJX is working with a top five international bedding brand to license its technology for use in bedding applications abroad, in markets where they have licensed bedding manufacturers making and selling their products.
At least in the near term, AJX will heavily concentrate its efforts on expanding its reach into existing and new mattress and bedding markets. This is what will transform AJX into a near-term cash flow positive business.
From that point, there will then be significant potential for AJX to expand the adoption of thermal management and flame retardant technologies into new and diverse markets.
2. Flame retardant (FR) sales for military applications
In addition to its thermal management product portfolio for the bedding market, AJX wants to sign commercial deals for its flame retardant (FR) technologies — both within the bedding market and beyond.
This the second priority for the new commercially focused AJX.
One channel that we really like is AJX selling its newly validated FR NyCo for uniforms into US Military branches, as well as foreign militaries.
Securing US military contracts for uniforms and tactical gear could be very lucrative and it has been a target market for AJX's for some time, so we like that meaningful progress is now being made.
Responding to requests for its flame retardant nylon/cotton fabrics to meet the key performance targets requested by the US Military, AJX has lowered the final fabric weight, while achieving the required tear strength and fire-retardant properties.
The samples led to the military fast-tracking the technical review and field testing of AJX's new FR NyCo offering to expedite it as a viable full-scale option for military personnel.
Looking ahead, AJX is taking a two-pronged approach — getting government buyers (namely military branches and first responders such as police) to specify the FR material desired in their public bids, and having the military approve the material for use before it is purchased by uniform manufacturers.
Such is the opportunity here that AJX expects its FR technology portfolio could be one of its greatest sources of revenue gain in FY24 and FY25.
However, in the near-term this is a secondary consideration behind its primary focus on achieving a cash flow positive position via sales of core bedding products.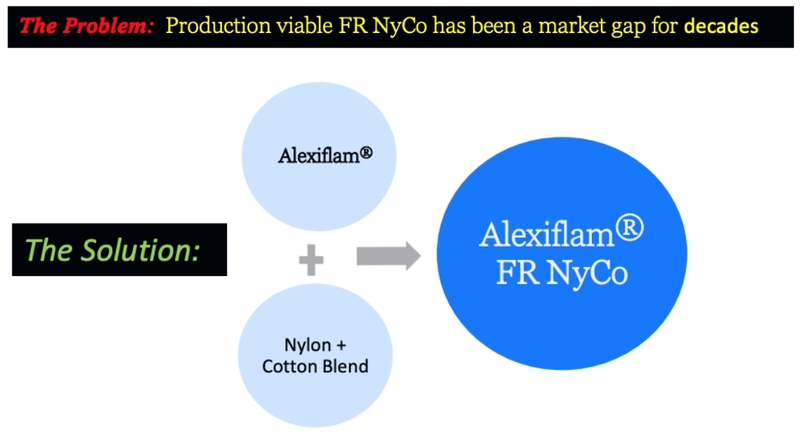 3. EclipsysTM perpetual cooling for tactical gear
Thermal regulation solutions for body armour applications in tactical gear is another market segment that AJX is targeting.
Body armour typically has high heat and humidity retention that cause users to suffer from significant thermal stress.
To address this, AJX has developed an application of its EclipsysTM perpetual cooling technology for integration with body armour. The patent-pending technology continually funnels heat away from the human body.
This video highlights the benefits it brings to wearers:
While also being sold to bedding markets, AJX first launched EclipsysTM into the body armour market in mid-2022.
But the company faced a steep learning curve in figuring out how to integrate the technology into ballistic panels and tactical vests, while also perfecting how to produce the rolled goods to be supplied to the tactical gear producers.
The result was AJX altering its EclipsysTM product to best suit the operational needs of tactical gear, including a more sustainable material design.
AJX also redesigned the tactical gear application method, making it simpler for the customer to adopt.
In its most recent quarterly report, AJX confirmed that these improvements have led to multiple customers agreeing to test EclipsysTM in their tactical gear.
For an overview of AJX's performance chemicals technologies, see our AJX Progress Tracker: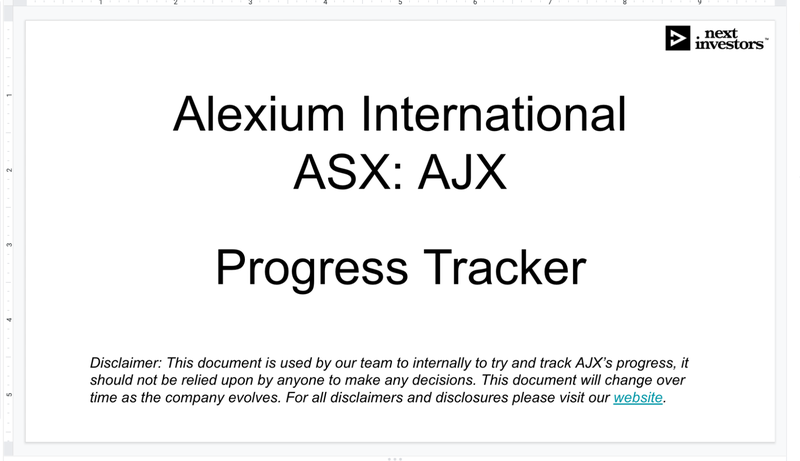 New commercially-minded CEO hired
The appointment of Billy Blackburn as new CEO last September only reinforces that AJX is taking its commercial aspirations seriously.
That's not to say that former CEO Bob Brookins is out, rather Brookins will remain on the Board and move into the chief technology officer role. This will allow him to concentrate his strengths on the technical and product development side of the business while Blackburn focuses on commercial side — delivering positive cash flows.
We are confident in Blackburn's ability to do so, as he brings 25 years of commercial experience to AJX and a successful record of product commercialisation and driving profitable revenue growth.
Most notably, he founded a high-growth technology company specialising in high purity solvents, which was subsequently sold to Nova Molecular.
At Nova Molecular, Blackburn was appointed Vice President, Business Development, responsible for "substantial revenue growth that included securing major consumer healthcare contracts".
That's exactly the type of commercial success that we want to see from AJX.
In fact, it aligns almost perfectly with our Big Bet for AJX...
Big Bet:
"AJX delivers sustained, growing profits year-on-year, such that it grows to a $500M market cap."
NOTE: our "Big Bet" is what we HOPE the ultimate success scenario looks like for this particular Investment over the long term (3+ years). There is a lot of work to be done, many risks involved - just some of which we list in our AJX Investment Memo. Success will require a significant amount of luck. There is no guarantee that our Big Bet will ever come true.
An improved market outlook
In the December 2022 quarter, AJX reported cash receipts of US$1.48M with sales of US$2.0M (around US$0.5M was received in January).
This was down from the US$2.85M received a year earlier in the quarter ended 31 December 2021, but was up on the prior quarter's US$1.4M in sales (30 Sept 22).
While we would have liked to see more commercial success from AJX to date, we recognise that the market for its products has faced considerable challenges in recent years.
Mattress shipments, for instance, recorded their largest single year decrease in nearly 50 years in 2022 due to high inflation, poor consumer confidence, and a contraction in the housing market. Understandably, this saw mattress manufacturers slow orders and hold back on new releases.
To get through the downturn of the past 12 months, AJX kept inventories low and adopted a just-in-time manufacturing approach. It also shifted its product development focus to the top-of-bed accessory markets, a market that saw steady sales while mattress sales were soft.
This allowed AJX to retain customers and it even increased its market share, especially for bedding accessories. AJX expects further expansion with this "top-of-bed" market being a key component of growth in FY2023.
More broadly, leading US macroeconomic indicators suggest a trend of modest upward growth in the North American bedding market this year — increased mattress sales are forecast as disposable incomes grow and consumer price inflation abates.
So perhaps the cyclical low point in the mattress market has turned - we hope this translates to growth in AJX's revenue.
What's next?
The following image provides a solid overview of where AJX plans to concentrate its efforts in the near term.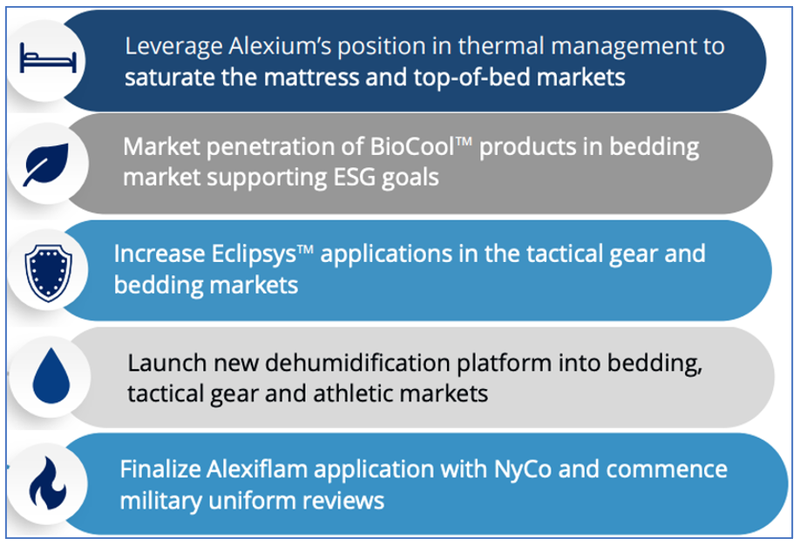 How AJX will fund its ambitions is something we are mindful of as Investors. As at 31 December 2022, AJX had just over US$1.1M cash on hand, as well as line of credit availability of $966k, giving the company access to US$2.7M in total available funding.
This should cover approximately 3.4 quarters of expenses, assuming no unexpected rise in costs.
Line of Credit
AJX has a Line of Credit with Alterna CS. As at 30 December, AJX had drawn US$724K on a total availability of $1.69M. The loan ends in April 2025 and interest is variable (based on WSJ Prime Rate + 5% spread) with a current rate of 12.5%.
Convertible note - Colinton Capital Partners
In 2019 AJX executed a convertible note with its largest shareholder, Colinton Capital Partners, of A$5.15M, due for repayment in December 2023. This was recently replaced in December 2022 with a A$7.0M convertible note 2022 that matures in December 2025.
The new note paid off the old one, and then injected A$1.5M in cash to support AJX through the next phase of its growth and development.
Terms include a three-year term with AJX to pay 10% cash coupon interest or 12% if it decides to defer and accrue interest payments. This provides the company with flexibility and control over cashflow.
The conversion price is A$0.03/share, which was a >75% premium to the stock price when the note was issued in December.
Colinton Capital Partners is AJX's largest shareholder. It is a well known private equity firm that specialises in taking a "hands on" approach to its investments. Colinton seeks to grow the companies it invests in from $100M's market caps to multiple billion dollar companies.
We would like to see all the convertible notes extinguished as soon as possible by AJX, as these can act somewhat of a burden on the company share price. The only way to do this is to earn more money than they spend, and while not quite there yet, AJX is tracking in the right direction.
Considering the increased scope of AJX's product portfolio and applicable markets, and its near term cash positive goal, we have revised our Investment Memo including what we want to see the company achieve over the coming 12 months.
AJX Investment Memo
We have published an updated Investment Memo reflecting the company's current position and strategy. In it you will find:
Our key objectives for AJX for the coming year
The reasons we are Invested in AJX
The key risks to our Investment thesis
Our Investment plan
You can read the full memo here.
Investing in any stock is not without risk. Small cap stocks are exposed to more risk than larger stocks. We have attempted to summarise some of the key risks we see for our investment in AJX - you can check them out below and click the box to read the full summary.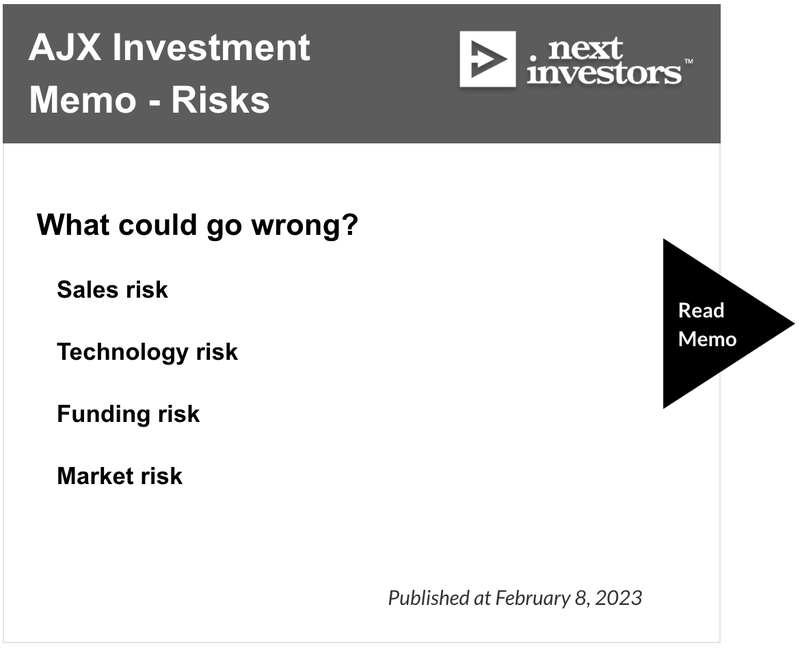 ---