AJX Partners with US$15B Giant to Commercialise its Flame Retardant Chemistries
Alexium International Group Limited (ASX:AJX) has joined forces with a major flame retardant chemical company for the market launch of Alexiflam® NF — AJX's proprietary flame retardant (FR) for the treatment of cotton and cellulose-based textiles.
AJX and its new strategic business partner will combine their technical and market resources to launch Alexiflam® NF into target markets.
The business partner will actively evaluate the potential market for Alexiflam® NF with existing and new customers, develop new applications, and based on market feedback drive sales into global FR cotton markets.
The agreement, which was announced today, follows the April 2019 MOU that provided terms for both parties to utilise their sales, marketing and technical resources in commercialising Alexiflam® NF in key markets.
That MOU named Israel Chemicals Ltd (TASE/NYSE: ICL) as the other party and followed a long period of co-operation between AJX and ICL that began five years earlier. In August 2014, the companies collaborated in an R&D program initiated by the South Carolina and Israeli governments to work on novel approaches to the flame retardation of nylon-based textiles.
This agreement is the third strategic business partner for AJX, following the announcement on 15 April 2020 of an exclusive Supply Agreement and Innovation Partnership with industry leading US bedding product manufacturer, Soft-Tex and AJX's agreement with Pine Belt to develop flame retardant uniforms for the US military.
The huge amount of research and development that's been undertaken in developing and optimising Alexium's products now sees the company primed to translate that to commercial rewards.

Market Capitalisation: A$33.6 million
Share Price: 5.3 cents
Cash: US$3.13 million as at 31 December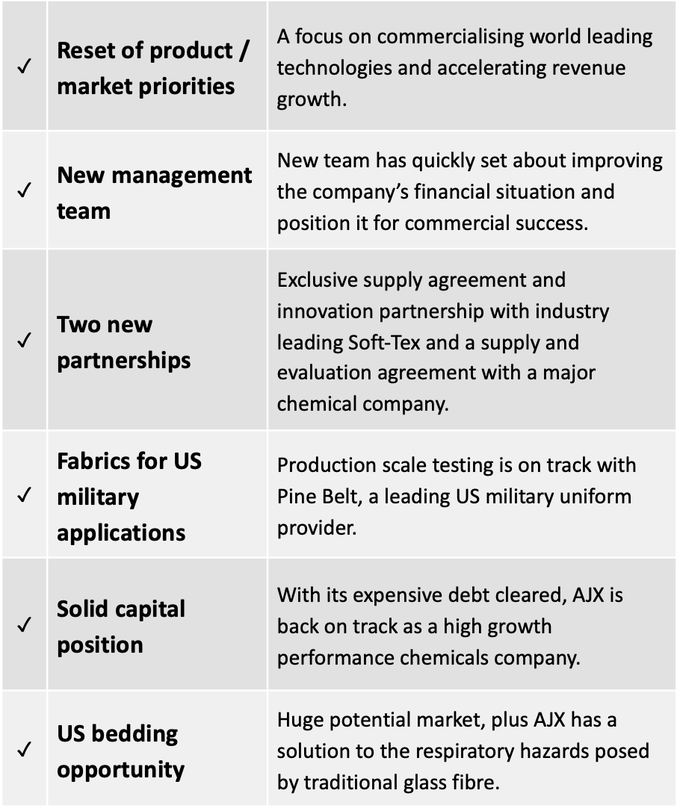 South Carolina, USA based Alexium International Group Limited (ASX:AJX) is a performance chemicals provider for advanced materials applications with a focus on flame retardancy and thermal management.
Driven by an innovation model for addressing market gaps with patent-protected technologies, AJX is undertaking a three-year plan to commercialise its world leading technologies, accelerate revenue growth, and drive shareholder returns.
Its environmentally friendly solutions have applications for several industries and can be customised to meet customer needs.
After more than 18 months spent transforming the direction of the company, the work of Alexium International Group's (ASX:AJX) new management team is beginning to pay off.
The company's advanced materials sciences team has re-engineered its product suite to innovative, high margin, customer-centric products primed to translate into commercial success.
Key markets for Alexium are military uniforms, workwear, and bedding products under the Alexicool® and Alexiflam® brands.
Alexiflam® Technologies
Alexiflam® is AJX's environmentally friendly flame-retardant chemistries for fabrics.
Alexiflam® NF is its proprietary flame retardant for cotton and cellulose-based textiles. Flame retardant cotton (FR cotton) is a prominent segment of the protective fabrics market and presents a huge potential for AJX given global market size of FR cotton is more than 300 million sq. yards per annum.
The company is leveraging Alexiflam® NF for application to a cotton/polyester blend sock for protection from foam mattresses to reach its addressable target market that's worth in excess of US$300 million.
Additionally, Alexiflam® FR NyCo is chemistry for wash durable flame retardation of nylon/cotton fabrics, for which there is no current incumbent solution. Its commercialisation would solve a long-standing problem for the militaries worldwide.
Initial distribution efforts are expected to focus on European end markets followed by an expansion into China and the US.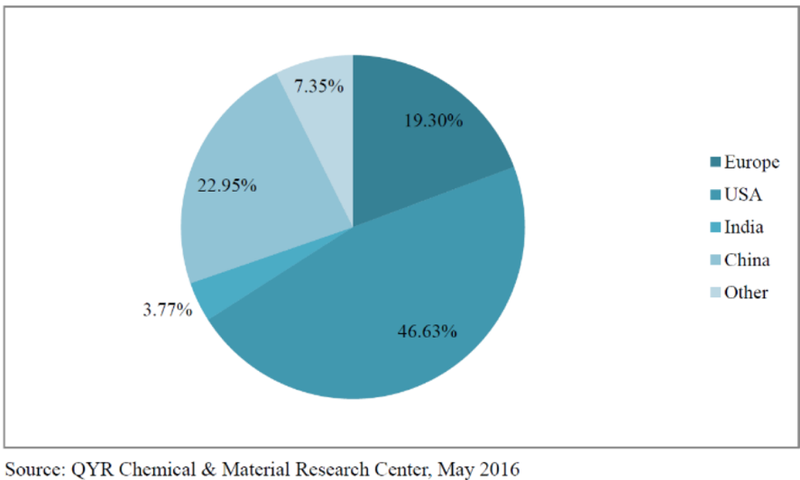 Global production by region of FR cotton fabrics
Beyond these established markets, AJX sees other unique opportunities in a diverse range of markets for Alexiflam® NF applications, including in FR socks for bedding and FR treatment for fleece.
Alexicool® Technologies
In addition to its Alexiflam® business line, AJX's product portfolio includes its flagship Alexicool® technology.
Alexicool® technologies are a chemical finishing treatment for fabrics and foam that's applied to bedding and mattress components to absorb heat, while providing a cool-to-the-touch feel, enabling mattress and mattress component manufacturers to deliver immediate, long-lasting cost-effective cooling.
Alexicool® products are Alexium's major source of revenue for now, with consumer bedding products its largest single market.
Supply and Evaluation Agreement Signed
AJX today confirmed that it has signed a Supply and Evaluation Agreement with a major flame retardant chemical company, a strategic business partner for the market launch of Alexiflam® NF.
The two parties will combine their technical and market resources to launch Alexiflam® NF into target markets.
The business partner will actively evaluate the potential market for Alexiflam® NF with existing and new customers, develop new applications, and based on market feedback will drive sales into global FR cotton markets.
This agreement establishes a framework for both parties to commercialise Alexiflam® NF and includes:
Alexium grants access to the Alexiflam® NF technology to the business partner.
The partnership will actively evaluate the potential market for Alexiflam® NF, develop new applications, and based on market feedback will target their sales into global FR cotton markets, including workwear.
Alexium will market Alexium® NF for FR socks used in foam mattresses, cotton fleece, and military uniforms.
Alexium will continue to manufacture Alexiflam® NF but this could be transferred the business partner should they develop the requisite manufacturing capability. Upon such a transfer, the revenue AJX receives will become a royalty stream based on Alexiflam® NF sales.
As I mentioned, while the name of the strategic business partner, a "major flame retardant chemical company", was not disclosed in today's announcement, AJX last year signed an MoU (that was referred to in today's release) with Israel Chemicals Ltd (NYSE:ICL).
That announcement stated that the ICL licensing and market development agreement and launch was due to be finalised during the (current) second quarter of 2020.
ICL is a global specialty minerals and chemicals company that services key agricultural and industrial markets for the sole marketing and distribution rights of Alexiflam® NF.
As a leader in the manufacture and sale of flame retardants, ICL has an extensive existing portfolio of FR products covering multiple applications, global manufacturing locations and large sales and distribution networks. This partnership offers AJX access to a receptive global audience via its existing customer base.
Today's agreement is a key milestone for the fourth key growth pillar of Alexium's strategic plan. Each of its key growth pillar has a clearly defined pathway to revenue, setting AJX up for commercialisation over the coming 12-18 months.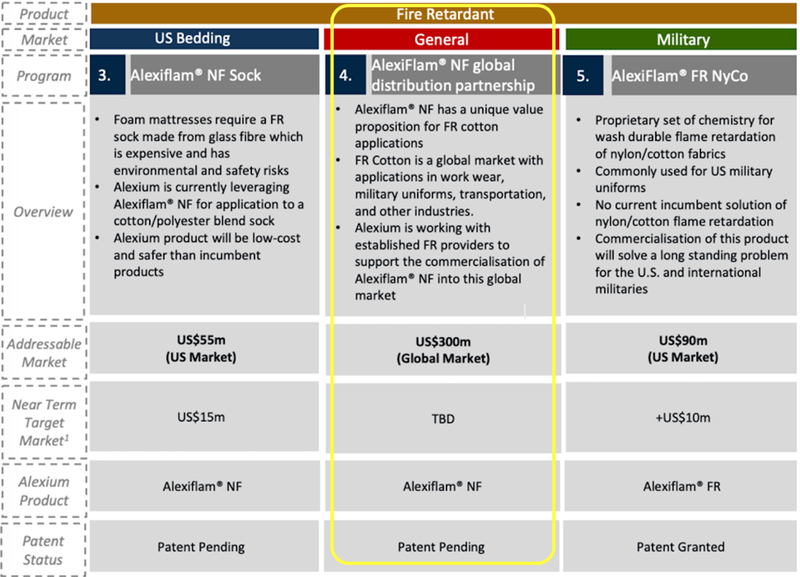 AJX's key growth pillars (3-5)
Commenting on today's agreement Alexium CEO Dr Bob Brookins said, "Alexiflam® NF is a product that allows us to target both traditional FR cotton markets as well as unique opportunities where traditional FR cotton treatments are not a fit.
"Over the past year, work with our business partner has been productive and we have identified a strong list of target markets and customers for Alexiflam® NF. I look forward to working with them to drive the joint commercialisation activities.
"By combining Alexium's unique and proprietary chemistry with their marketing and sales distribution infrastructure, the management team has positioned Alexium to access these flame-retardant markets."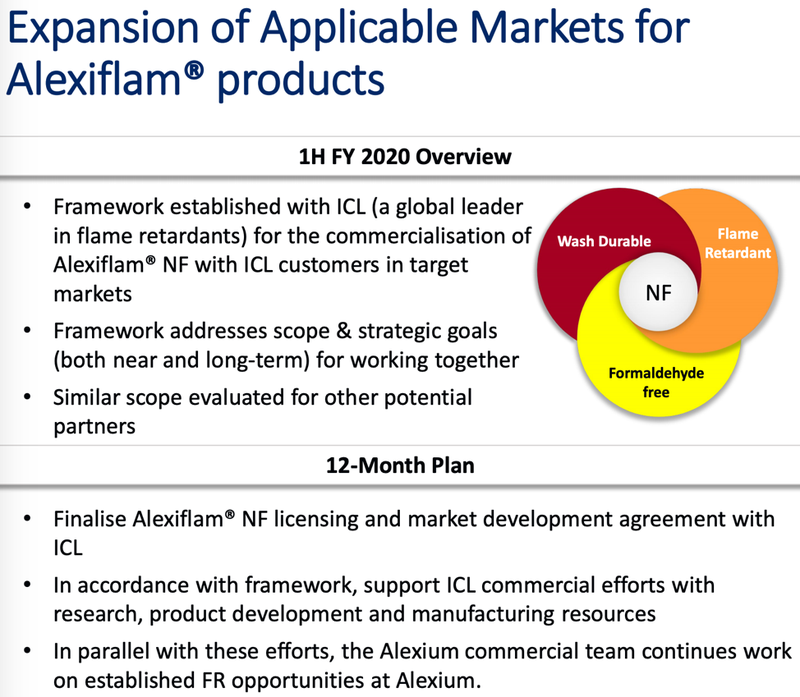 Source: Alexium 1H FY2020 - Presentation
Before this Supply and Evaluation Agreement was signed, AJX already boasted an impressive list of customers including a major US bedding manufacturer and a supplier of military uniforms and in recent months it has been keeping busy forging new agreements.
Soft-Tex Supply Agreement and Innovation Partnership
Just over a week ago, on 15 April, Alexium entered into an exclusive Supply Agreement and Innovation Partnership with industry leading bedding product manufacturer Soft-Tex International.
Soft-Tex manufactures and distributes premium specialty sleep products, incorporating the latest sleep technologies to build the most comfortable products, and has been doing so for three decades.
AJX's Alexicool® cooling products will provide the cooling engine for Soft-Tex's ReactexTM technology, which manages bedding system heat flow to provide a comfortable sleep environment.
The partnership combines the technical and commercial strengths of both companies and provides AJX with a channel to some of the world's most recognisable retailers, such as Bed Bath & Beyond, Amazon, and US department stores J.C. Penney and Dillard's.
Soft-Tex also recently entered into an exclusive partnership with the biggest mattress brand in the US — Serta Simmons Bedding (SSB) to add new technologies to SSB's mattress lines.
AJX's agreement with Soft-Tex was a significant step forward for the first two of AJX's five key growth pillars: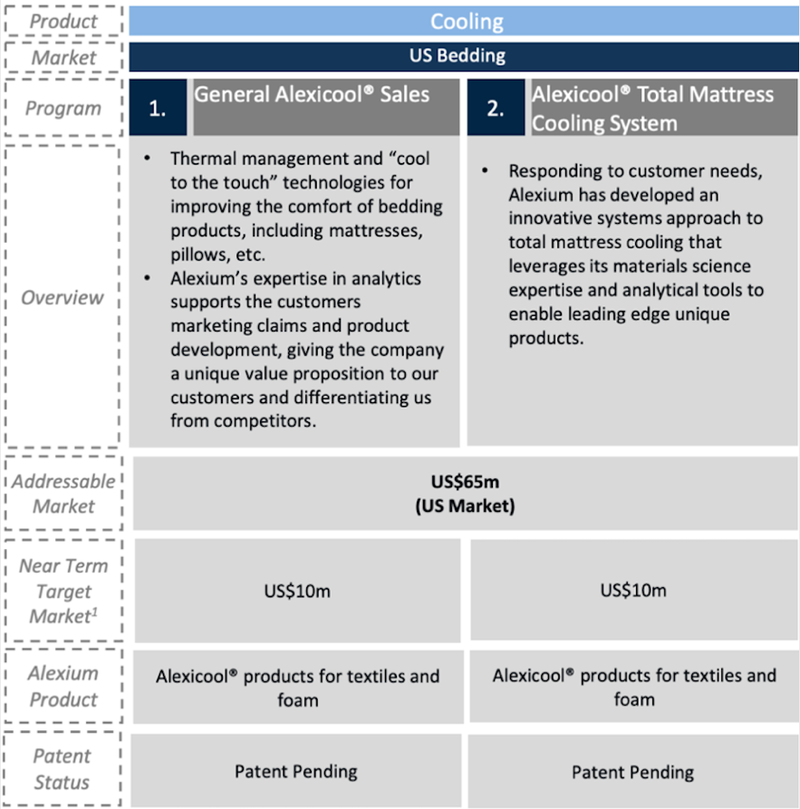 First two key growth pillars of AJX's Strategic Plan
In case you missed it, there's more on Alexicool® technology and the supply agreement with Soft-Tex in my last article:

The first of AJX's three strategic business partnerships came in March last year — an exclusive development agreement with uniform treatment company Pine Belt Processing for Alexiflam® FR NyCo for applications for military uniforms.
This involves AJX working with Pine Belt Processing to comply with their production requirements and to prepare uniforms for the US military's evaluation.
Delivering such a solution to the US military opens up a US$90 million addressable market to Alexium, which, in the near term, presents a US$10 million immediate revenue opportunity for the company.
What now for AJX?
AJX's high margin initiatives are driving major leaps in profitability. Capitalising on its globally unique and patent protected product range, AJX is realising the cost benefits of increased scale and anticipates material growth in earnings and cash flow.
AJX has multiple product programs underway and strategic growth opportunities: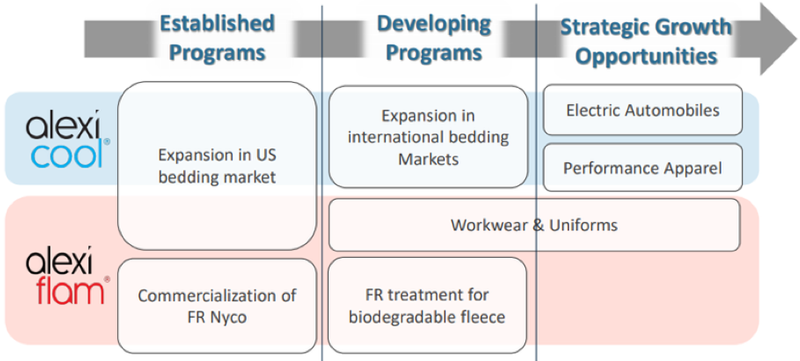 Strategic Plan: FY2020 to FY 2023
Further growth is expected from international sales via distribution and licensing agreement or direct market entry and remains significant opportunity outside of the US market, with plans to enter the Chinese and European markets.
The company, under new management, has refocused on high margin initiatives that are driving major leaps in profitability and expects to be delivering meaningful shareholder returns by 2022.
Now with three strategic business partnerships, with Pine Belt, Soft-Tex and the major flame retardant chemical company announced today, the turnaround looks to be on track.
The company also looks solid financially. A capital raising completed in December 2019 allowed AJX to repay its existing expensive debt facility, which had weighed on the share price, and support its transition to a high growth performance chemicals company.
Management expect revenue growth in 2021 to accelerate as it continues to grow Alexicool® product sales through innovative product development and realises first revenues from Alexiflam® FR sock.
---