Alexium Inks Exclusive Supply Agreement with Bedding Industry Leader
ASX technology junior, Alexium International Group Limited (ASX:AJX) has entered an exclusive supply agreement and innovation partnership with industry leading bedding product manufacturer Soft-Tex International.
Soft-Tex, which manufactures and distributes premium specialty sleep products, has maintained its prominent market position for no less than three decades by constantly incorporating the latest sleep technologies in building the most comfortable products.
Soft-Tex will exclusively purchase Alexicool® phase change material (PCM) products for bedding systems that are based on Soft-Tex's Reactex® technology — a technology that stores and releases heat to provide overnight cooling or heating, activated by pressure.
The innovation partnership combines the technical and commercial strengths of both companies and provides AJX with a channel to some of the world's most recognisable retailers, such as Bed Bath & Beyond, Amazon, J.C. Penney and Dillard's.
Soft-Tex also recently entered into an exclusive partnership with the biggest mattress brand in the US — Serta Simmons Bedding (SSB) to add new technologies to SSB's mattress lines.
AJX's Alexicool® cooling products will provide the cooling engine for Soft-Tex's ReactexTM technology, which manages bedding system heat flow to provide a comfortable sleep environment.
This two-year initial agreement is a major step for AJX in the commercialisation of its "total mattress cooling systems" and its development of phase change materials (PCM) for the thermoregulation of materials.
AJX's PCM technology has wide ranging applications, and while these are at various stages of commercialisation, the company's major customers and revenue generators are bedding manufacturers. Yet today's announcement marks the completion of a key milestone for the commercialisation of "total mattress cooling systems".
This opens up a huge industry and opportunity for Alexium, which is currently capitalised at just $25 million. The home bedding market in the United States alone was valued at around US$13 billion in 2018 and forecast to reach US$18.5 billion by 2025.
The company was already making major strides before today's announcement as new management continues its repositioning of the business, doubling revenues in the half year to 31 December. The signing of an exclusive agreement with an industry leading manufacturer is a good sign that AJX's revenues will continue their acceleration.
All the latest from,

Market Capitalisation: A$26.64 million
Share Price: A$0.046
Cash: US$3.13 million as at 31 December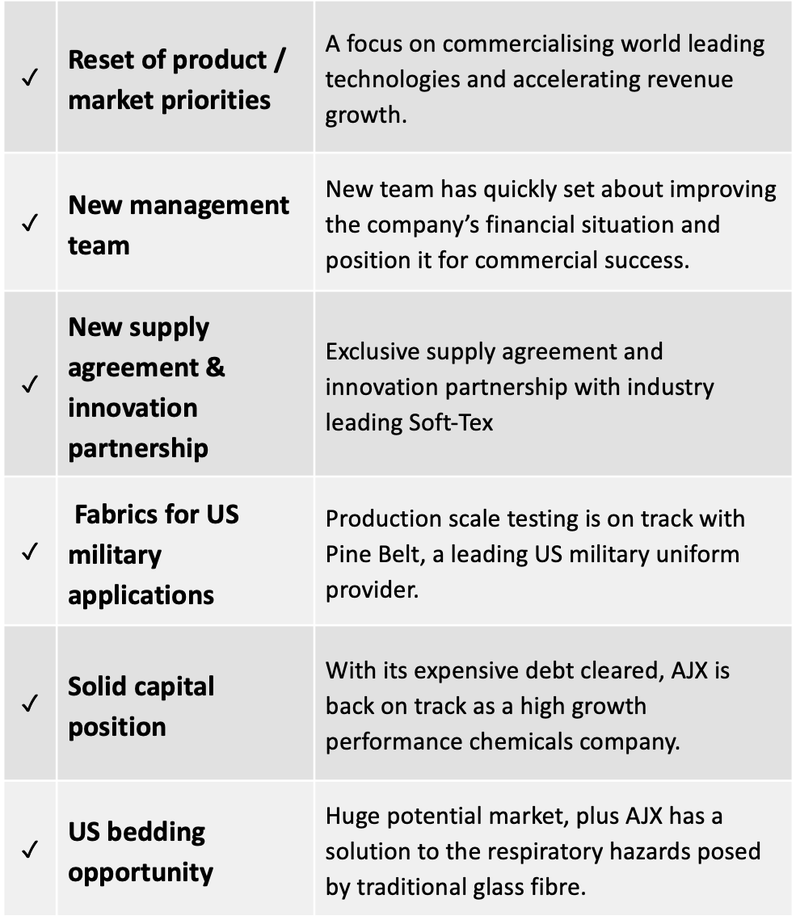 South Carolina, USA based specialty chemicals innovator Alexium International Group Ltd (ASX:AJX) is focused on high-performance, environmentally friendly, phase change materials (PCM) and non-hazardous flame retardants (FR).
The group's chemical treatments are marketed under two brands — Alexicool®, its cooling technology, and its flame retardant, Alexiflam®.
While the focus of this report is AJX's Alexicool® cooling systems, my last report on the company in March covered its fire retardant (FR) technologies and target markets:

AJX first started selling Alexicool® products in 2017 and has since expanded into a broad range of mattress components and mattress tiers.
It developed an innovative systems approach to total mattress cooling to develop its leading-edge Total Mattress Cooling System (TMCS) using where a suite of textile- and foam-based Alexicool® products.
Rather than providing for just one component of mattresses, Alexicool® can be incorporated across five different components of the bed, suggesting potential for five-times the revenue.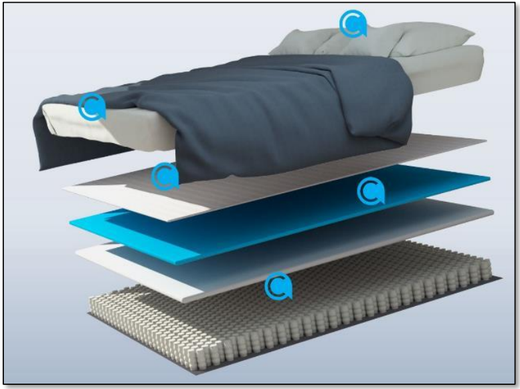 Five bedding components
Innovation partnership and supply agreement with Soft-Tex
Widely recognised as the industry leader, Soft-Tex International manufactures and distributes some of the finest specialty sleep products available. Its Reactex® technologies span the personal climate control, wellness, antimicrobials, and other categories.
Soft-Tex's ReactexTM technologies controls heat energy flow and storage to create a customer's unique ideal personal bedding climate.
The technologies involve an additive technology formulated to control heat energy flow and storage and function much like a battery — storing and releasing heat to provide overnight cooling or heating through pressure activation.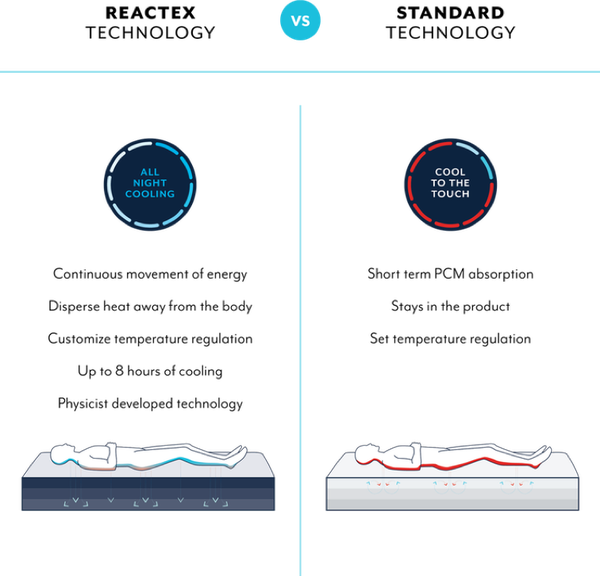 Reactex compared to other technologies
The supply agreement announced today will see Soft-Tex International exclusively purchase Alexium's Alexicool® phase change material (PCM) products for bedding systems based on Soft-Tex's Reactex® technology.
Under the exclusive agreement, Soft-Tex International will exclusively use Alexicool® products for top-of-bed and mattress applications.
Alexium was selected due to its advanced PCM products, technical support, and analytical expertise that enable ReactexTM technology's thermal regulation advantages. Its Alexicool® products uniquely meet Soft-Tex requirements to provide the cooling engine for its ReactexTM technology.
Alexium management are confident with the distribution plan established by Soft-Tex International, having conducted thorough due diligence on Soft-Tex and its suppliers.
The agreement has an initial two-year term that may be automatically renewed. It specifies the provisions for the commercial relationship, including pricing, supply capabilities, and AJX's analytical support for Soft-Tex commercial efforts.
Alexium Chief Executive Officer, Bob Brookins said, "Alexium is excited to be taking this step forward with Soft-Tex as we are pleased to provide products and services based on our advanced materials sciences capabilities."
AJX's Chief Commercial Officer, Allen Reihman added, "This agreement formalises the innovation partnership between Soft-Tex and Alexium, combining the technology and market strengths of both companies.
"ReactexTM technology controls heat energy flow and storage to create a customer's unique ideal personal bedding climate. Our Alexicool® products uniquely meet Soft-Tex requirements and provide the cooling engine for ReactexTM technology."
By combining the technical and commercial strengths of the two companies, the innovation partnership opens a channel for AJX to reach some of the world's largest retailers, including Amazon and US department stores such as J.C. Penney and Dillard's.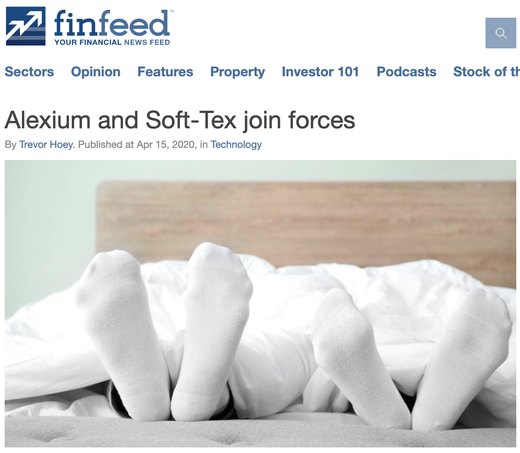 Serta Simmons Bedding – Soft-Tex Partnership
As discussed in the article below, Soft-Tex International last month entered into an exclusive partnership with privately-owned Serta Simmons Bedding to add new technologies to SSB's mattress lines.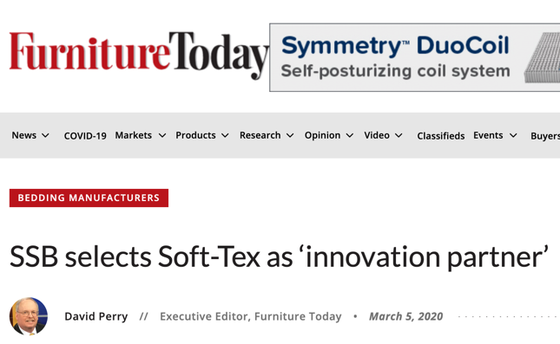 The relationship establishes Soft-Tex's role as an "innovation partner," providing sourcing, supply chain management and marketing services to SSB that are tied to the new technologies.
The multi-faceted partnership will support SSB research and development teams and be integral to the delivery of next-generation mattress products.
Soft-Tex intends to be a long-term innovation partner for SSB, providing them a strong competitive advantage in the mattress marketplace and creating products that offer real solutions to solve customer needs.
Leveraging its "robust intellectual property" Soft-Tex will provide SSB access to new products developed using more than 100 of its patents in the mattress category. Its innovation teams have begun working directly with SSB on the integration of those technologies for use in upcoming SSB product launches.
SSB and Soft-Tex expect to launch mattress lines featuring Soft-Tex-supplied technology for shipment in the fall of 2020.
Serta Simmons Bedding's chief marketing officer Melanie Huet said, "The Soft-Tex and SSB partnership will play a vital role in creating, developing and commercialising meaningful products for our retailers and consumers that solve some of the sleep industry's toughest challenges."
In light of today's announcement from regarding AJX's agreement with Soft-Tex, this presents a huge opportunity for Alexium too.
A key milestone in "total mattress cooling systems" commercialisation
Alexium's agreement with Soft-Tex is a key milestone for the commercialisation of "total mattress cooling systems" and is a significant step forward for the first two of its Growth Pillars, as outlined in its half year presentation released on 27 February.
In that presentation, Alexium defined a set of near-term growth pillars that will create an attractive portfolio of patented products servicing large global market. These products fall into two broad categories of Cooling or Fire Retardant.
These two growth pillars — general Alexicool® sales and Alexicool® TMCS — provide a unique value proposition to customers, while also differentiating AJX from competitors in a market that is valued at the US$65 million in the US alone.
Here are the company's product lines for its Alexicool® cooling products: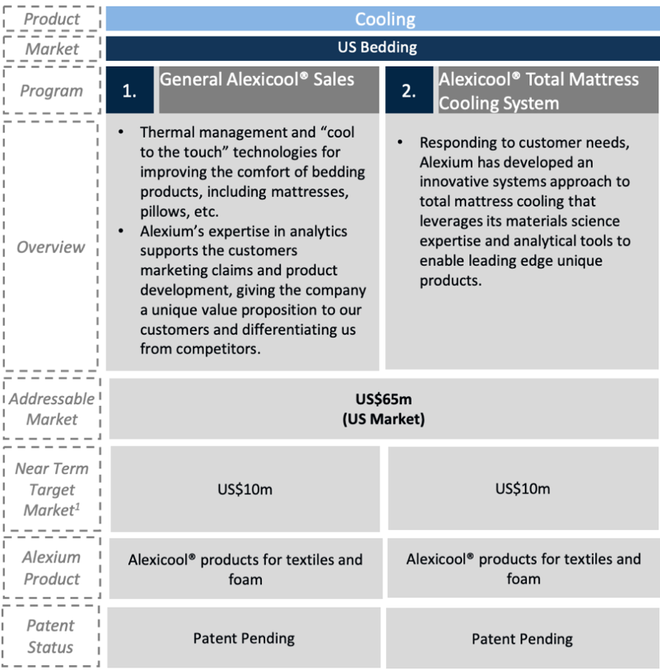 Alexium's Cooling Programs
Alexium's expansion continues
While agreements such as that signed today are extremely positive for AJX and its shareholders, uncertainty remains around COVID-19 and its impacts on the consumer market and all along the supply chain.
On 1 April, AJX provided an update on the impact of COVID-19 on its business saying that it has been focused on maintaining operations at its Greer, South Carolina, USA facility while looking after the health and safety of its employees.
The company isn't aware of any limitations in its supply chain due to COVID-19, as while some customers have shut down corporate offices, their manufacturing facilities are still operating.
The group is now working with customers to understand their needs and is tracking market trends as the impact of COVID-19 reaches consumer markets.
All AJX staff is continuing to work with approximately one-third working from home, allowing the company to continue supporting customers and drive key initiatives.
The company also confirmed that its liquidity position remains strong after completing its successful A$22.3 million capital raise in January 2020.
That financing saw institutional investor, Colinton Capital Partners become a cornerstone investor in the company, investing a total of A$9.2 million, while a senior partner of Colinton Capital Partners, Simon Moore, joined the AJX Board soon after, in February 2020.
Colinton is now working closely with the company, providing support and assistance in strategically assessing the current economic climate and undertaking scenario planning.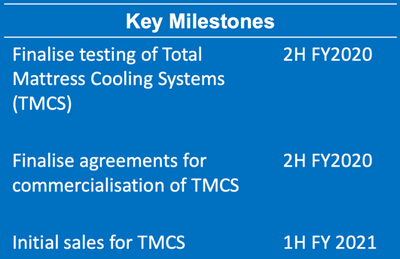 Alexicool® Products key milestones
In addition to the key milestones for Alexicool®, AJX continues working towards its key milestones for its other programs.
It is set to finalise product development and the commercialisation of the Alexiflam® NF for FR Sock, while production scale trials for military testing and evaluation of Alexiflam® FR NyCo is underway.
Next year, in FY21, Alexium expect to accelerate revenue growth by continuing to grow Alexicool® sales through innovative product development.
Additionally, it expects to realise first revenues from Alexiflam® FR sock in 2021, while completing a Limited User Evaluation with US military and realise first revenues from that product.
All up, AJX anticipate that by 2022 it will be delivering meaningful shareholder returns.
---