Alexium Enters High Growth Phase Targeting Major US Markets
Specialty chemicals innovator, Alexium International Group (ASX:AJX) has a focus on high-performance, environmentally friendly, nonhazardous flame retardants (FR) and phase change materials (PCM).
Simply put, Alexium's technologies address key gaps in the flame retardant and fabric cooling market. The technologies have wide ranging applications and the company is rapidly increasing its market position in key textile markets.
Alexium has gained a large share of the US bedding market with its cooling technology, a phase change material (PCM) that absorbs and releases thermal energy to maintain a cool temperature.
It has also developed patent pending flame retardant (FR) technology with enhanced FR properties and improved environmental and health profiles — all at a lower price point. With wide ranging applications it has a development and supply agreement with a major uniform supplier to the US military.
Having invested years in world leading R&D to develop a unique portfolio of intellectual property, Alexium is now focussing on its core strengths and is ready to reap the rewards.
The company has spent the past 18 months repositioning for future growth — refocussing on its high-margin initiatives while exiting unprofitable business lines — moves that are now driving major leaps in profitability.
It appointed a new management team that quickly set about improving the company's financial situation and position it for commercial success.
Such is the quality of Alexium's technologies that it's drawing an impressive list of customers that includes a major US bedding manufacturer and a major supplier of military uniforms as it continues to gain traction in the market.
Financial results for the first half of 2020 announced last week confirm that the company is on track. Revenues more than doubled from the first half of 2019, while gross margins expanded to an impressive 39%. It also signed a number of agreements.
The new team also recently completed a fully committed capital raising to repay the company's existing expensive debt facility and support its transition to a high growth performance chemicals company.
Going forward, the company has a three-year plan to commercialise its world leading technologies, accelerate revenue growth, and drive shareholder returns.
Alexium boasts a strong sales pipeline across a range of US markets, a rich product portfolio, a capable and experienced management team to drive growth, cash in the bank, and now, a new cornerstone investor.
All the latest from ...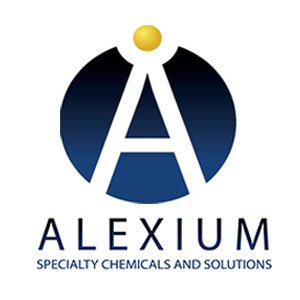 Market Capitalisation: A$34.9 million
Share Price: A$0.055
Cash: US$6.9 million (US$3.1M cash + US$3.8M before costs from Placement)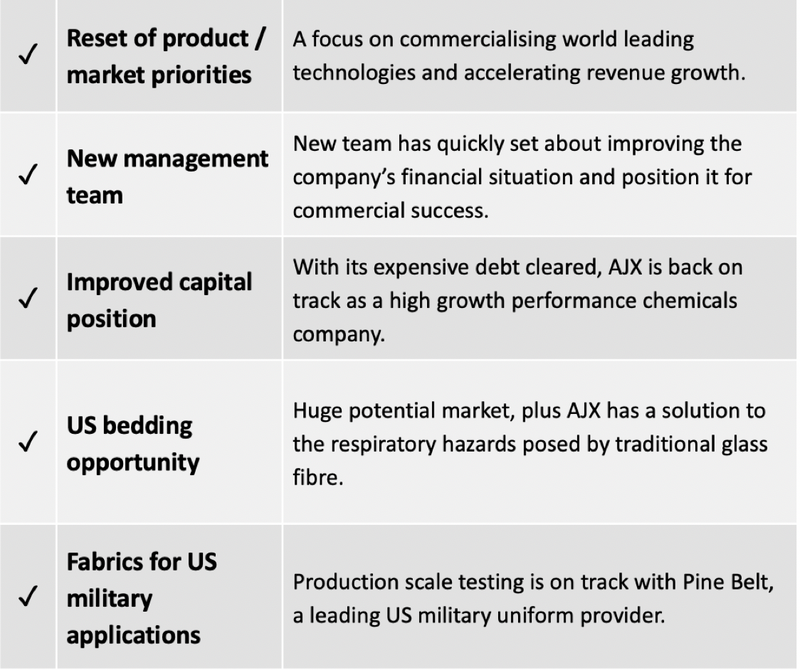 Alexium's product suite
Alexium's chemical treatments are marketed under two brands Alexicool® and Alexiflam® and applications under development include textiles, packaging, electronics, and building materials.
ALEXICOOL®
Alexicool® is the company's cooling technology — a cost-effective chemical finish for fabrics that absorbs heat while providing a cool-to-the-touch feel. It was designed for bedding fabrics and apparel to improve comfort and provide a durable phase change material (PCM) finish at a practical cost.
Being fully encapsulated PCMs, Alexicool® products absorb body heat, drawing it away from the skin to maintain a cool comfortable outer temperature.
As you can see below, Alexium has gained a sizable market share in the Mattress and Top of Bed components, yet a considerable market opportunity remains on the table.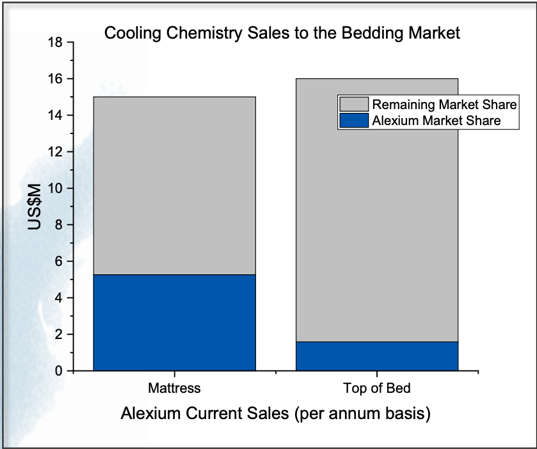 This revenue generating product line is increasing its market penetration, while its PCM technology also has wide ranging applications outside of bedding applications.
The company has a supply agreement with a multi-billion dollar North American mattress brand that selected Alexium as the preferred supplier of key phase changing material (PCM) ingredient for its mattresses.
The company also has a two-year supply agreement with Pegasus Home Fashions to provide Alexicool® products for its top-of-bed applications.
Alexicool® Total Mattress Cooling System (TMCS)
Since it first started selling Alexicool® products in 2017, Alexium has since expanded into a broad range of mattress components and higher volume mattress tiers.
Responding to customer needs, AJX developed an innovative systems approach to total mattress cooling. It leveraged its product portfolio and analytical tools to develop a leading edge unique total mattress cooling systems (TCMS) where a suite of textile - and foam-based Alexicool® products are used.
This increases revenue per unit, strengthens the reliance on Alexium IP, and promotes the utilisation of the company's analytical tools.
These opportunities provide a step change in revenue growth and are the basis for achieving cash flow positive.
So rather than providing for just one component of mattresses, AJX will offer Alexicool® for up five different components of the bed — which suggests potential for five-times the revenue.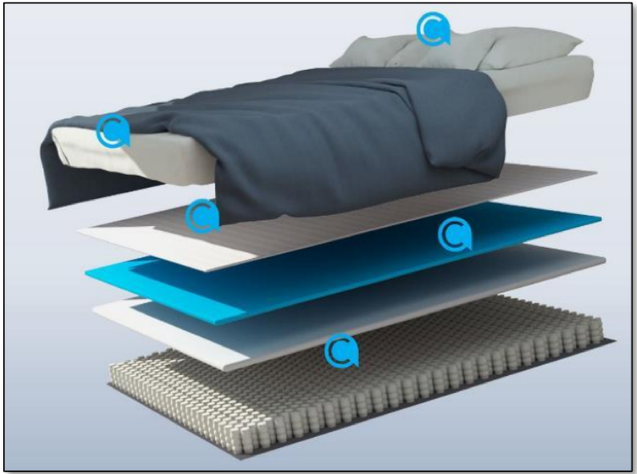 Altogether, these bedding components comprise a sizable addressable market, estimated at US$65 million in the US alone.
AJX anticipate that in the near-term the addressable TMCS markets could be worth US$10 million each in the near-term, after an expected ramp up period following initial sales of potentially up to one year.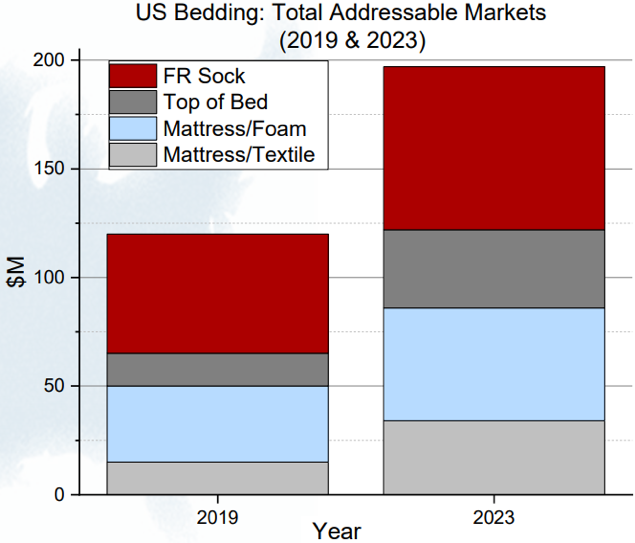 ALEXIFLAM® NF
Alexiflam NF is a proprietary flame retardant (FR) developed by Alexium for the treatment of cotton and cellulose-based textiles.
This is a huge addressable market for Alexium worth an estimated US$300 million globally, as FR cotton is a prominent segment of the protective fabrics market and used in work wear, military uniforms, transportation, amongst other industries.
Alexiflam® NF is unique and has enhanced flame-retardant properties over incumbent products. It also provides improved environmental and health profiles being essentially formaldehyde free, with mild application conditions, and ammoniation free application.
Alexiflam® NF Sock for US bedding industry
Alexium's Alexiflam® NF Sock is another component of bedding manufacture and provides flame retardant (FR) protection for foam mattresses.
Alexium is currently leveraging Alexiflam® NF for application to a cotton/polyester blend sock for the protection of foam mattresses.
For obvious safety reasons, foam mattresses require a flame retardant (FR) protector that comes in the form of a sock around the mattress.
However, existing FR socks on the market, while providing flame protection, come with risks of their own. These incumbent products are expensive and have environmental risks as well.
Made from a glass fibre they pose respiratory hazards for consumers and difficulties for manufacturers, as the family in the following video realised.
To resolve these issues, Alexiflam® NF can be applied to a standard cotton/polyester fabric for FR sock applications. Notably, the product avoids a serious health concern related with traditional foam mattress socks.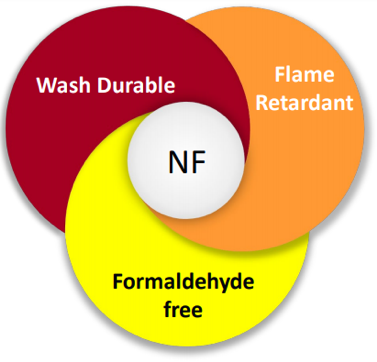 A quick comparison of the Alexiflam NF-based FR Sock with the market's incumbent product shows that Alexium's product is priced more attractively and has multiple additional features that should see it attract a much larger market share going forward: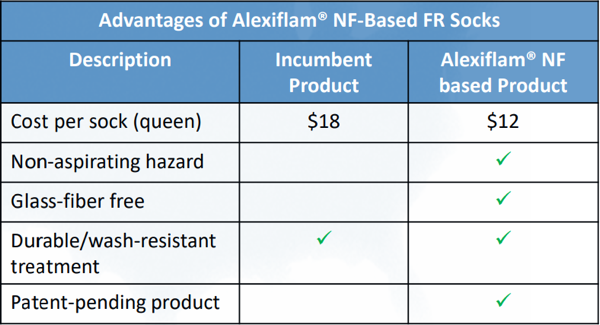 Alexium product will be low-cost and safer than incumbent products
The US market for FR socks offers huge opportunities for Alexiflam® NF and is worth a potential US$55 million. Given the size of the addressable market, strong value proposition, and established customer relationships, commercialisation is a 12-month priority.
To support the commercialisation of Alexiflam® NF into this global market, Alexium is working with established FR providers.
The company last year signed an MoU with Israel Chemicals Ltd (ICL) (NYSE:ICL), a global specialty minerals and chemicals company that services key agricultural and industrial markets for the sole marketing and distribution rights of Alexiflam® NF.
As a leader in the manufacture and sale of flame retardants, ICL has an extensive existing portfolio of FR products covering multiple applications. It offers access to a receptive global audience for Alexium via its existing customer base. It has global manufacturing locations and large sales and distribution networks.
During the second quarter of 2020, AJX will finalise the ICL licensing and market development agreement and launch commercial efforts with target customers.
ALEXIFLAM® FR
Alexiflam® FR is a flame retardant developed by Alexium for synthetic and synthetic-blend fabrics.
While Alexiflam® NF is used for the treatment of cotton and cellulose-based textiles, Alexiflam® FR is used on nylon/cotton (NyCo) fabric blends with a higher percentage of cotton.
Flame retardation of higher percentage nylon compositions has been studied for many years but has proven difficult to achieve.
There have been limited options available for fabrics with high synthetic content so Alexiflam® FR was developed to fill this gap. It is an affordable, effective and practical add-on FR solution that is used for bedding, automotive, workwear, military/first-responder uniforms.
Alexiflam® FR NyCo Technology
Alexiflam® FR NyCo is a proprietary set of chemistry for wash-durable flame retardation of nylon/cotton fabrics commonly used for military uniforms.
Various segments of the US military have actively sought flame retardant technologies. Specifically, they are seeking FR solutions for 50/50 nylon cotton, which is widely used for uniforms.
Delivering such a solution to the US military opens up a US$90 million addressable market to Alexium. In the near term this is a US$10 million immediate revenue opportunity for the company.
Features of Alexiflam® FR NyCo include:
Self extinguishes, forming a strong char
No holes or cracks in char.
No melting or dripping.
Improved fabric properties (e.g. tear strength, hand) over incumbent FR fabrics.
Industrially launderable.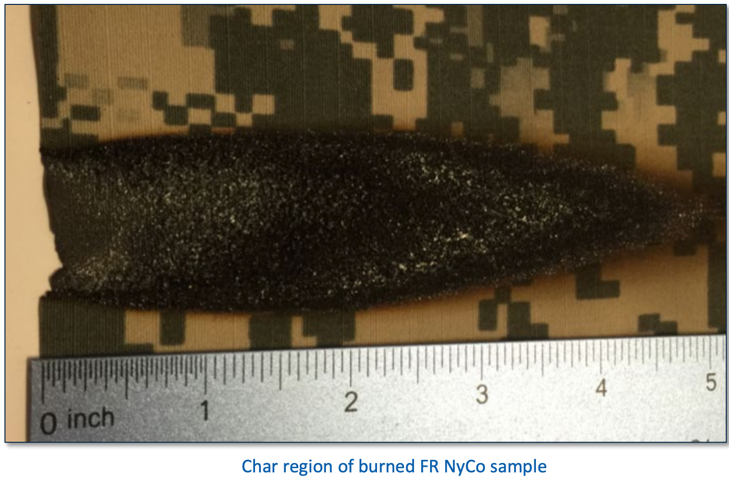 Pine Belt Processing
Alexium has an exclusive development agreement with Pine Belt Processing for Alexiflam® FR NyCo for flame retardant applications for military uniforms.
Pine Belt is a provider of high performance, high volume uniform treatments to the US military, and its reputation is unrivalled.
Alexium directors conducted a program review with Pine Belt leadership confirming that production scale testing is on track, and over the coming 12 months AJX will support Pine Belt in finalising and optimising production scale processes.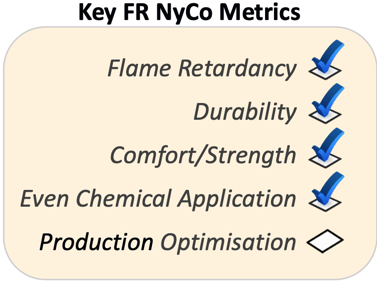 It will complete technical production testing on lowest weight add-on with FR NyCo process and deliver FR NyCo fabrics to USMC for testing and evaluation.
The current half year will see the production optimisation finalised at Pine Belt's facility and testing and evaluation will be initiated by the military.
There are two elements to the FR NyCo strategy. The first is AJX's partnership with Pine Belt, and the second phase will be the rapid adoption by key US military segments to drive further growth.
This is a huge market opportunity with an addressable US market worth US$90 million: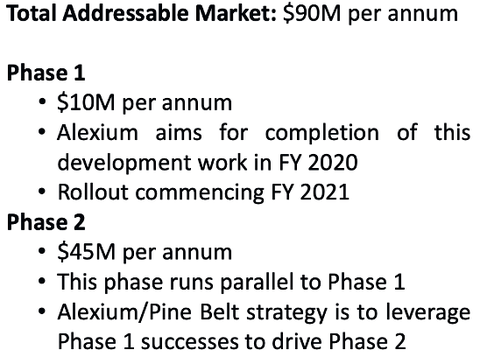 The commercialisation of this product will solve a long standing problem for the US as well as international militaries.
Higher margins, revenues rising
Alexium's reset of its product and market priorities has provided a commercial advantage proposition for customers, while eliminating low margin commodity product sales.
Thanks to these strategic changes, in the six months to 31 December 2019, the company saw a sharp rise in revenue and gross profit.
Revenues more than doubled to US$3.177 million in the first half of 2020 from US$1.548 million (A$2.2M) in 1H 2019.

In that time, gross margins improved by 9.8% thanks to pricing and manufacturing controls and processes to 39.9% in H1 2020.
The group also had a tight control of costs and increased efficiencies, cutting operating overheads by 18% from US$3.3 million to US$2.7 million.
The total operating loss (EBITDA) improved by US$1.4 million from a year earlier.

Capital position
Alexium secured A$22.3 million in funding in December 2019 through a combination of capital raise and a convertible note.
The funds allowed AJX to fully retire its US$9 million (A$13.2M) high-interest (1.5%) bearing debt, while funding an acceleration of its Alexicool® and Alexiflam® technology growth initiatives.
This was a major development for the company as the existing capital structure did not support long-term growth. The senior secured debt with mezzanine like terms was very expensive with interest payments of A$145k per month, with the debt maturing in the near term. It didn't provide access to growth capital and acted as a red flag in attracting institutional investors.
In January, the company then issued shares at A$0.06 per share to raise a total of A$5.7 million. This reduced debt by US$5.5 and annual interest costs by circa US$1.0 million.
Now with US$6.9 million of cash on hand (post tranche 2 of placement) Alexium has plenty of cash to realise the significant opportunities ahead.
Alexium CEO Dr Bob Brookins explained the importance of this for the company's growth: "From my first day as CEO, strengthening the company's capital structure has been a priority. The existing debt package was burdensome for a number of reasons including a notably high interest rate, costly transaction fees, and less than one year to run.
"The capital raise we initiated in Q2 FY2020 addressed this and provide a significant step forward for the company. Beyond the debt itself, the capital raise completed this month provides additional working capital at a pivotal time when executing and delivering on strategic initiatives launched in CY2019 is paramount."
Cornerstone investor Colinton Capital
The financing saw well regarded institutional investor, Colinton Capital Partners become a cornerstone investor in Alexium, investing a total of A$9.2 million in Alexium shares and a convertible note.
Colinton is now working with Alexium's Board and management to realise the near-term potential of the company. Additionally, Simon Moore, Senior Partner of Colinton Capital Partners, joined the Alexium Board in February 2020.
Now that the company's financing situation has been resolved, the appeal of the company has leaped — as demonstrated by Colington Capital coming on board.
Alexium is now is a much better situation: de-risked and its balance sheet strengthened, ensuring it is fully funded to capture growth.
Backed by experienced team
Alexium's revised strategy of refocussing sales effort away from low margin products and towards high margin, IP driven products was driven by the company's experienced advanced materials sciences management team that was brought in during the 2019 FY.
The new team is led by Dr Bob Brookins who was appointed CEO in July 2018, and in October of that year Jason Lewis was appointed CFO and Allen Reihman appointed as CCO.
For 18 years, Brookins has worked in materials science and synthesis of polymers/specialty products. He led the development and commercialisation of Alexium's phase change material (PCM) platform technologies and the Alexicool® product line. Brookins co-invented Alexium's flame retardant (FR) technologies for military uniforms and formaldehyde-free, flame retardant products for cotton-based materials.
CFO Jason Lewis spent 22 years in specialty chemical company for mining, fertilizer, phosphate, asphalt and oil/gas industries with a strong track record of value creation.
The company's COO, Allen Reihman has worked for over 20 years in markets for polymers/specialty chemicals, including serving as Director of New Business Development for Invista and as Director of Commercial Development for five global specialty chemical businesses at Invista.
What's ahead for AJX?
Alexium has already made strong progress over the last six months, and the coming 12-18 months are an important period of commercialisation.
It expects to accelerate revenue growth rate from 2020, targeting a revenue rise of more than 50% on FY19.
Looking further ahead, there are multiple developing programs and strategic growth opportunities in the pipeline: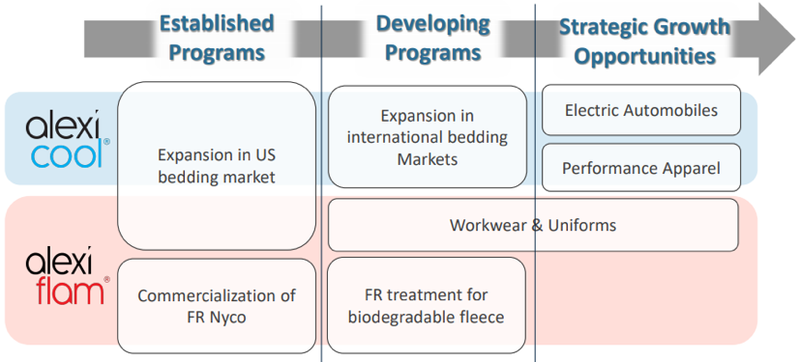 Strategic Plan: FY2020 to FY 2023.
Over the remained of the current financial year, the company is on track to commercialise and bring in new revenue from the foam application of Alexicool® products. It is also set to finalise product development and commercialise Alexiflam® NF for FR Sock, while production scale trials for military testing and evaluation of Alexiflam® FR NyCo is underway.
Next year, in FY21, Alexium expect to accelerate revenue growth by continuing to grow Alexicool® sales through innovative product development.
Additionally, it expects to realise first revenues from Alexiflam® FR sock in 2021, while completing a Limited User Evaluation with US military and realise first revenues from that product.
Further growth is expected from international sales via distribution and licensing agreement or direct market entry. Major opportunity exists internationally with the company planning to enter the Chinese market this financial year.

Then, in the more medium-term, Europe has been identified as a strategic opportunity.

By 2022, Alexium expects to be delivering meaningful shareholder returns.
It will capitalise on its globally unique and patent protected product range, realising the cost benefits of increased scale and anticipates material growth in earnings and cashflow.
With the company refocusing on high margin initiatives that are driving major leaps in profitability, now could be a good opportunity invest before the company soon becomes cash flow positive.
The huge amount of research and development that's been undertaken in developing and optimising Alexium's products now sees the company primed to translate that to commercial rewards. The recent half year report certainly points in that direction.
Also, considering that the share price is currently $0.055 – this could be an excellent opportunity to buy in below the 6¢ level of the recent capital raising.
---