Private Equity firm buys AJX shares on market - So we did too
We recently bought more AJX shares on market at around ~5.49c after we saw a "change in substantial holder notice" announcing that private equity firm Colinton Capital was buying more AJX shares on market.
Colinton Capital is a well known private equity firm whose specialty and track record is a "hands on" approach to grow the companies they invest in from $100M's market caps to multiple $ Billions.
AJX is currently capped at around ~$31M. AJX might be one of the smallest sized companies in Collinton's portfolio - hopefully meaning big room for growth.
AJX is a US based company that has developed and is selling advanced performance chemicals for cooling and fire resistance with applications in bedding, clothing, uniforms, upholstery, medical , sporting goods and many other consumer market segments.
Colinton capital now owns ~12% of AJX after they originally invested A$10.84M into AJX at 6.5c back in early 2020. Colinton took a board seat and has since been working with the AJX day to day operational team to build for growth.
We have not sold any shares in AJX after we originally took a position at 6c over a year ago when Colinton Capital first invested and announced its plans to help AJX grow - after topping up again we have nearly tripled our position size in AJX and are now sitting at an average entry price of just under 6c.
Next week we plan to release our deep dive analysis of AJX, including our investment strategy and expected company milestones we want to see.
When we first invested in AJX in early 2020 we thought the Colinton involvement and clearing out of AJX's debt overhang would have an immediate impact on the AJX share price...
But looking back it appears that a few stale shareholders needed to wash out first and that the Colinton team needed some time with AJX management to start making an impact that would translate to the AJX share price.
While AJX and Colinton were working together to improve the business, AJX went a bit quiet on the announcement front which was disappointing as the share price moved sideways and we were underwater on our entry price of 6f6cc for a while.
When we saw that Colinton was buying more on market we decided to do the same: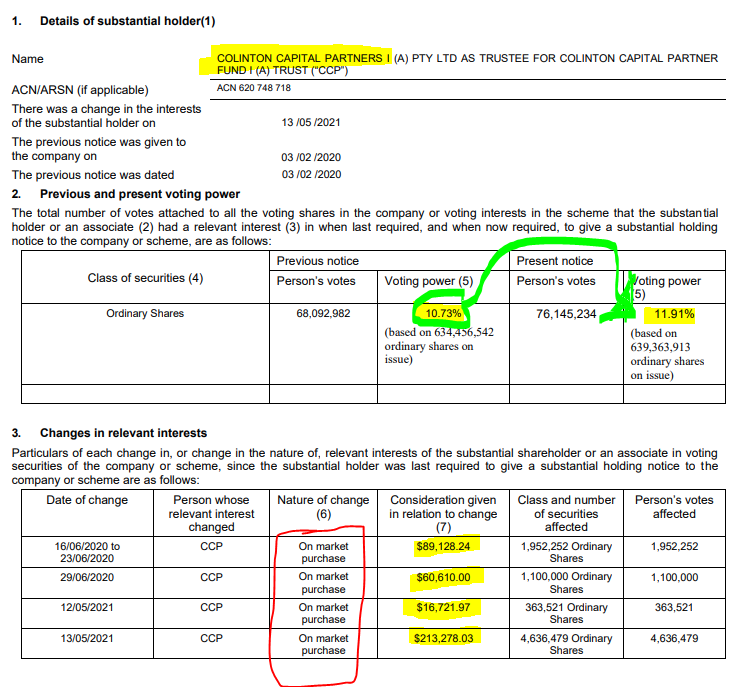 In the last few weeks we picked up the phone and spoke to AJX management and spoke to Colinton Capital - We speak to a lot of CEOs and can usually get a pretty good read on the general mood of management and it felt like both AJX and Colinton were genuinely excited about the progress they had made in the last 12 months, which we hope will finally begin being reflected in the AJX share price going forward.
While we invest in some speculative exploration companies, AJX is a growth story with growing revenue, in demand products and backed by private equity - AJX is a long term hold for us to see the strategy play out and hope to see it trading well above its modest $31M market cap.
Next week we plan to release our deep dive analysis of AJX, including our investment strategy and expected company milestones we want to see.
---