Site visit: Kazakhstan, first impressions
Published 15-AUG-2022 10:21 A.M.
We have been in Kazakhstan all this week visiting our Investment in Sarytogan Graphite (ASX:SGA).
The SGA management team hosted several investors, equity analysts and the board of directors to visit the SGA graphite deposit, see the drilling site, meet the local team and check out the drill core processing facility.
This is known in the industry as a "site visit" and is an opportunity for analysts and investors to get a better understanding of the project by seeing the operation up close.
This is especially important in a location like Kazakhstan which many Australian investors may be unfamiliar with.
We are currently enroute back to Australia and will soon share our in-depth report on the SGA site visit.
Today we will share some quick first impressions and some photos.
SGA holds 100% of a huge graphite project in Kazakhstan, strategically located between Europe and China.
SGA has the highest grade graphite resource of any ASX listed graphite company. It is also the second largest contained graphite resource on the ASX.
Graphite is a critical raw material used in the manufacturing process for lithium-ion batteries - it cannot be substituted in battery anodes.
The battery market is rapidly growing, with graphite demand expected to be five times greater than current levels by 2050.
Here's what we saw on the site visit and our key takeaways:
Kazakhstan is not like you may first think
Despite what Borat might try to tell you, Kazakhstan is actually a modern country with amazing cities – we travelled via Nur-Sultan and Almaty:

Great roads and infrastructure en route to SGA's graphite deposit
We drove from Nur-Sultan to the industrial city of Karaganda, then on to the SGA's graphite deposit and project site which was ~170km away by highway then some rougher road.
We observed well developed roads, rail and power infrastructure, confirming what SGA says in their investor presentation.
Good infrastructure close to a project is important when planning and developing a mine – roads to truck out the product, electricity supply to power the mine and rail to export.

We also noted significant road upgrades in progress on the way to the project site:

Graphite at surface
On site of the graphite deposit we walked across the two graphite zones, found some historical drill holes and observed the graphite outcropping at surface (the black/dark areas on the ground are graphite).
Any mineral deposit close to surface is easier and cheaper to mine than one that is deep underground: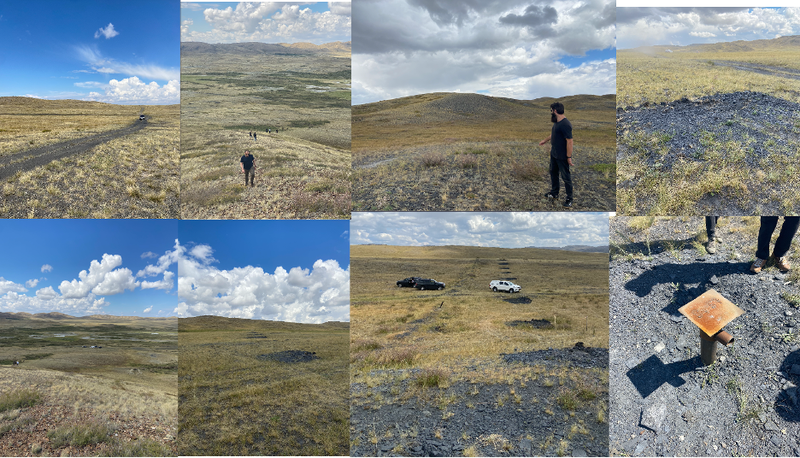 Drill rig in action
We saw the drill rig in action working through the current drilling program. We also met the drilling team.
Interesting fact: The drill rig is housed in a shipping container so that it can operate during the Kazakhstan winter when temperatures can reach minus 50 degrees Celsius.

While it isn't exactly the newest rig we have ever seen, this rig has successfully worked through many Kazakhstan winters – and a drill core is a drill core at the end of the day.
Other operating mines and plants nearby
On the way back to Karaganda we drove past two large plants (pretty sure they were a steel mill and a cement plant) which shows that it is possible to build complex projects in the area near SGA's site.

Karaganda is the closest city to SGA's graphite deposit - it's the fourth largest city in Kazakhstan and is an industrial city near the country's many coal mines.
Drill Core processing facility
Back in Karaganda we visited SGA's drill core processing facility and saw how the drill cores are stored and processed prior to being sent to the assay lab to test the grades. We also met the local SGA geology team.

Museum of other major mineral discoveries and mines in Kazakhstan
Kazakhstan has a long history of successful resource development projects, most famously in oil and uranium – it is the biggest uranium supplier in the world.
A strong history of successful projects increases the likelihood that a future project will be a success.
This museum is owned by the drilling contractor being used by SGA and showcases 13 key past discoveries and mines in Kazakhstan, including rock samples from each one.

Many thanks to SGA and their team for hosting everyone.
Once we are back in Australia we will put together a more detailed commentary and analysis of what we observed on the trip.
In the meantime, here is our investment memo for SGA where we outline what SGA does, why we Invested, what we expect SGA to deliver in the next 12 months, key risks and our Investment plan:
Disclosure: S3 Consortium Pty Ltd (the Company) and Associated Entities own 4,802,500 SGA shares and 1,466,250 SGA options, and the Company's staff own 50,000 SGA shares and 12,500 options at the time of publishing this article. The Company has been engaged by SGA to share our commentary on the progress of our Investment in SGA over time.
The Company was in Kazakhstan as a guest of SGA.
In other news
Our 2021 Pick of the Year PRL went into trading halt this week on the long anticipated joint development agreement with Total Eren, we expect this news to be released on Monday when PRL is scheduled to come out of halt.
Lithium stocks roared back this week, with VUL almost hitting the $10 mark, and our other lithium Investments EMH, LRS and RAS all looking very strong too – welcome news after the horror show in June.
This week we released a note on our Canadian gold explorer TMR, who is trying to discover enough new gold on a historically producing site so they can justify restarting the existing gold mill.
TMR announced a whopping 523g/t hit which (the biggest grade we have ever seen) and will make for some interesting drilling over the next few months.
We have shared a document that we use to track the progress of TMR's drilling campaign and how their new discovery is developing – you can see that document here:
Explainer on TMRs discovery and upcoming drill campaign
Upcoming potential share price catalysts list ⏲️
Results expected in the near term:
GGE is drilling its maiden helium well in Utah, USA (memo).
PRL signing a Joint Development Agreement (JDA) with partner, Total Eren, to materially de-risk its WA Green Hydrogen Project (memo)

IN PROGRESS: The signing of the JDA with Total Eren. PRL's deadline to sign the JDA is now 10 August 2022.
Update: PRL went into a trading halt on Thursday after mentioning that the company is finalising the terms of the Joint Development Agreement with partner Total Eren. PRL requested a trading halt "until those terms are finalised" and will be in a halt until Monday morning. We are hoping it will be good news for PRL shareholders, us included.

IVZ to drill its giant gas prospect in Zimbabwe - we have been waiting two years for this event (memo).

IN PROGRESS: Drilling is now scheduled for August. IVZ says it is considering three separate farm-in offers.
Update: IVZ put out a video update on the well site for the Mukuyu-1 well site. We shared the video in a Quick Take earlier this week which you can view here: The latest video from the Mukuyu-1 well site.

KNI is drilling its cobalt targets in Norway (memo).

IN PROGRESS: KNI has completed its first cobalt drilling program in Norway, hitting visible cobalt in 7 out of the eight holes at their highest priority target as part of its expanded 11 diamond drillhole campaign.
Update: No progress this week.

BPM has completed drilling at its lead/zinc prospect in the Earaheedy Basin, close to Rumble Resources' recent discovery (memo)

IN PROGRESS: ~3,740m of AC/RC drilling completed along strike from Rumble's discovery. Assays are now pending.
Update: No progress this week.

PFE is drilling its polymetallic (Hellcat) project (memo)

IN PROGRESS: PFE is doing 1,700m of diamond drilling across four EM targets at its Hellcat project targeting base/precious metals.
Update: No progress this week.

LNR is commencing drilling for rare earths along strike from Hastings Technology Metals. (memo)

IN PROGRESS: LNR is now running heritage surveys and expects to be drilling in early September.
Update: This week LNR kicked off heritage surveys as part of the permitting leading upto the drilling program which is now expected in "early September". We put out a note off the back of that announcement which you can read here: $24M capped LNR getting closer to drilling near its much bigger neighbours

GAL commenced its latest round of drilling at its Callisto PGE discovery in WA.

IN PROGRESS: We have added this drilling program to our catalyst list because it will be testing for extensions to GAL's discovery to the north. The 10,000m, 50-hole RC drilling program is currently ongoing.
Update: No progress this week.
Quick Takes 🗣️
Here are this week's Quick Takes:
88E: Maiden prospective resource estimate adjacent $1.7B neighbour
ARN: Resource drilling ongoing with more pegmatites being intercepted
EV1: $13M raised to progress project development
IVZ: The latest video from the Mukuyu-1 well site
LNR: Gold project sold, balance sheet now even stronger
LRS: Pilot plant commissioned to aid offtake discussions
LRS: Preliminary Economic Assessment for lithium project started
NHE: Airborne Gravity Gradiometry (aim for helium bullseye)
RAS: Drill targets identified at its Lithium project in the NT
TEE: Neighbour Empire Energy delivers strong gas flow rates
This week on Next Investors 📰
Tempus Resources (ASX: TMR)
Earlier this week our junior gold exploration Investment Tempus Resources (ASX:TMR) put out some of the biggest gold grades we have ever seen.
TMR's assay results returned 523g/t gold over a 0.42 metre intercept from a depth of only 96.91 metres.
We do note that the intercept was over a thickness of only 0.42 metres, but it is still a great result nonetheless.
With the result released this week, TMR made the best ever intercept at the Elizabeth Gold project - not just the Blue Vein discovery but across TMR's entire project.
We rarely ever see intercepts grading this high, and while we hoped for good assay results, these exceeded our expectations in a big way.
In our last TMR note, we said anything above 4-5g/t would make it "game on" for the Blue Vein discovery, as we viewed those grades as being what was needed for TMR to declare a potentially economic discovery.
The results this week exceeded our expectation by almost 100x.
This wasnt the only good result from TMR either, the remaining two drillholes also exceeded our expectations — one assay measured 32.7g/t gold over 0.45 metres and the other 7.4g/t gold over 1.73m.
With all three drillholes intercepting high grade gold, the Blue Vein discovery continues to widen and is starting to exhibit a common characteristic of these style vein deposits — a "stacked vein" structure.
We started up a preso comparing the mineralisation layers of a cake which is an easy way to think about what TMR is looking for. To check out that slide deck click here.
📰 Read our full Note: TMR announces 523g/t gold hit
Top End Energy (ASX: TEE)
Last week our junior gas explorer Top End Energy (ASX:TEE) put out an operational update.
In the update, TEE confirmed that:
On country meetings with native title holders have been scheduled for later this month/early September at its NT projects.
~150km of seismic is being planned conditional on the approval of land access agreements.
Reprocessing and interpretation of existing 2D seismic data is underway at its QLD project ahead of a planned seismic acquisition campaign later in the year.
In the background, TEE has been strengthening its team.
Over the last few months TEE confirmed the appointment of Dr Mike Fischer and Marshal Hood, who were both instrumental in taking Ophir Energy from a small private explorer to (at its peak) a $3.5B market cap on the London stock exchange.
This means that as TEE gets closer to its permits being granted, its high calibre exploration team will be ready and familiar with the company come drill time.
UPDATE:
This week we also saw TEE's neighbour in the Beetaloo sub-basin (Empire Energy) announced some positive gas flow rates from its drilling program.
With the market adding ~$31M to Empire's market off the back of the result, we think the positive news around TEE can only increase the look through valuation of TEE's ground, especially considering the low market cap of ~$16.7M (at 24c per share).
To see our Quick Take click here: Neighbour Empire Energy delivers strong gas flow rates
📰 Read our full Note: Gas explorer sitting in a busy neighbourhood
In our other Portfolios 🧬 🦉 🏹
Catalyst Hunter 🏹
Latin Resources (ASX: LRS)
Earlier this week our lithium exploration Investment Latin Resources (ASX: LRS) put its project in fast track mode with the market screaming for more lithium supply.
LRS appointed consultants to commence a preliminary economic assessment for its Colina lithium discovery BEFORE defining a JORC resource estimate.
Interestingly, LRS appointed the same consultants that completed a Definitive Feasibility Study (DFS) for Brazil's biggest hard rock lithium player Sigma Lithium (capped at $3.1 billion) - so they are already familiar with the region and its geology.
LRS has also commissioned a pilot plant that is capable of producing product samples which it can then shop to potential offtake partners.
On the offtake front, LRS also confirmed it had started having discussions with "several international car and battery manufacturers as well as leading lithium trading houses with respect to future supply of its lithium product".
With $33.5M in cash in the bank (as at 30 June 2022), LRS is flexing its balance sheet muscle, concurrently running the following:
A 25,000m resource definition drilling program - Four rigs are on site and drilling to fast track a maiden JORC resource estimate. (Before the end of 2022)
Metallurgical test work - To qualify its product specifications to aid in discussions with potential offtake customers.
Preliminary economic assessment - Utilising all of the above data to put some colour around the project economics of its discovery. (Before March 2023)
With all of this happening simultaneously, LRS is looking to fast track its project from new discovery to a potentially development ready project in under 18 months.
📰 Read our full Note: The Lithium Market is On Again - LRS Fast Tracking to Development
Lanthanein Resources (ASX: LNR)
This week our rare earths exploration Investment Lanthanein Resources (ASX: LNR) announced that heritage surveys had commenced ahead of its maiden drilling program now scheduled for "early September".
$24M capped LNR's project sits in what is emerging as a highly valuable rare earths province in WA, nestled near two much bigger rare earths stocks:
Dreadnought, capped at ~$250M
Hastings Technology Metals, capped at ~$465M
Hastings' rare earths project is currently being progressed into production and Dreadnought has recently announced a discovery with some impressive drilling results.
While LNR's peers are more advanced, we are hoping that LNR can close the gap by making a new rare earths discovery with its first drilling program planned for early September.
Working in LNR's favour ahead of drilling are:
Rock chips grading as high as 8.01% - These were from outcropping ironstones which may mean there is more underground.
Ironstones outcropping at surface - The same style of geology where Hastings made its discovery and Dreadnought recently drilled out rare earths.
Geophysics targets - Pinpointing 12 different high priority drill targets.
Drilling within close proximity of larger capped peers - The maiden drilling program is bordering Hastings' Yangibana project and is <40km away from Dreadnought's recent discovery.
Most importantly, LNR's ground has never been drilled for rare earths before.
Having looked at both Dreadnought's drilling results and Hastings' most recent drilling results we've outlined the following cases for LNR's maiden drilling campaign:
Bull case: Significant mineralisation is found (approaching Dreadnought results, ~10-20m at 2-3% TREO)
Base case: Enough mineralisation is found to warrant follow up drilling (similar hits to nearby Hastings - ~5-10m at ~1-2% TREO).
Bear case: No mineralisation is found
With these cases in mind, we think there are a lot of pieces aligning for LNR at the moment and we're very much looking forward to the early September drilling.
📰 Read our full Note: 24M capped LNR getting closer to drilling near its much bigger neighbours
---