Gas explorer sitting in a busy neighbourhood
Disclosure: S3 Consortium Pty Ltd (the Company) and Associated Entities own 3,725,000 TEE shares and 1,850,000 TEE options at the time of publishing this article. The Company has been engaged by TEE to share our commentary on the progress of our Investment in TEE over time.
The European Union has labelled natural gas a "green" energy source.
This supports our long held theory that gas is the ideal transitional fuel source for bridging the gap between fossil fuels and renewable energy technologies.
Natural gas has a carbon footprint that's 50-60% lower than fossil fuels like coal, which is currently the biggest supplier to the Australian power grid.
This, combined with the gas shortage being experienced all over the east coast of Australia, means the impetus to invest in new domestic gas projects has never been stronger.
These are just some of the reasons why we added junior gas explorer Top End Energy (ASX:TEE) to our Portfolio earlier this year.
TEE holds gas exploration projects in both Queensland (Adavale Basin) and the Northern Territory (McArthur Basin near the Beetaloo Basin), where Australian energy majors Santos (capped at $24B) and Origin (capped at $10B) are actively drilling.
TEE provides us with exposure to five different basins across the NT, holding a 50% interest in ~162,000km2 of ground. It is capped at only $15.3M, with $5.4M in cash at 30 June 2022, trading with an EV of just $9.9M.
TEE is still very early in the company lifecycle, with most of its permits in the Northern Territory under application — meaning it still has to complete access agreements before any exploration work can happen.
We are following our tried and tested approach to Investing in oil and gas explorers, in which we Invest months or even years ahead of the drilling newsflow.
As we have done with our previous Investments in IVZ and 88E, we plan to hold our position until TEE is closer to its maiden drilling program, ticking off permitting and pre-drilling work milestones.
At this point we expect the market to have re-rated the company higher, providing the opportunity to (hopefully) free carry our position into the drill, holding a big portion of our Total Holdings into the drilling results.
Last week TEE released an operational update that put into perspective where the company sits in the project lifecycle right now.
In the update, TEE confirmed that:
On country meetings with native title holders have been scheduled for later this month/early September at its NT projects.
~150km of seismic is being planned conditional on the approval of land access agreements.
Reprocessing and interpretation of existing 2D seismic data is underway at its QLD project ahead of a planned seismic acquisition campaign later in the year.
In the background, TEE has been strengthening its team.
Over the last few months TEE confirmed the appointment of Dr Mike Fischer and Marshal Hood, who were both instrumental in taking Ophir Energy from a small private explorer to (at its peak) a $3.5B market cap on the London stock exchange.
This means that as TEE gets closer to its permits being granted, its high calibre exploration team will be ready and familiar with the company come drill time.
It has now been around four months since TEE's listed in the ASX. One thing we have noticed is that even though the broader market sentiment has been poor, TEE's share price has held up relatively well, with the share price sitting above the 20c per share IPO price.
Many of the companies in the small cap space are down as much as 70-80%, whereas TEE is holding up nicely.
We think this has a lot to do with the quality of the company's prospects, its tight capital structure, and its low enterprise value on listing.
All of this, combined with near term catalysts from the activity across the NT with the majors actively drilling wells and conducting production tests, has seen TEE's share price well supported.
Although TEE may not have any near term drilling related newsflow of its own, the fact is that any game changing newsflow from bigger companies in the NT could make property in this part of the state "hot" and bring more investor interest to our tiny gas exploration Investment.
Our view is that the NT is being positioned as the next gas production hub developed in Australia, and any success in the region will trickle down to junior explorers with acreage in and around these larger companies.
With its massive landholding and tiny $9.9M enterprise value, we made our Investment in TEE well in advance of any drilling event, which is when we expect to see the company's market cap re-rate.
To see all of the key reasons why we first invested in TEE, why we continue to hold it in our Portfolio, and all of the key risks, check out our full 2022 TEE Investment Memo by clicking on the image below.
TEE's team strengthened
A core part of our Investment framework is to back the right people with the right set of expertise to progress objectives and manage the various risks that companies face.
Getting the right people isn't easy.
Just as building a business from the ground up can be difficult, building a management team and board of directors capable of taking a small cap to a much larger market cap can be hard.
As companies progress, they need to bring on people with expertise in areas where the company anticipates future challenges.
i.e if a company is looking to raise a large amount of capital, a director with capital raising experience is important. If the company is gearing up to drill its first well, then the expertise needed is completely different.
With TEE now getting closer to having its first permits granted, it has started to bring on people with very specific experience with small cap explorers.
A few weeks back, TEE brought Dr Mike Fischer onto the team.
Fischer brings over 40 years of experience, having worked for some of the biggest oil and gas companies in the world, including BP and Woodside here in Australia.
Particularly interesting to us is Dr Fischer's experience taking small cap companies and transforming them into multi billion dollar market cap companies.
Dr Fischer was previously chief operating officer at Ophir Energy, which he took from a small private explorer to an IPO on the London Stock Exchange in 2011 before the company went on to reach a $3.5 billion market cap.
At Ophir, Dr Fischer saw exploration success on 21 out of 26 wells, for discoveries totalling over 1 billion barrels of resources net to Ophir.
He was also with Ophir when the company sold 20% of its Tanzanian gas discovery for US$1.3 billion.
With TEE capped at only $15.3M and still at a very early stage in the exploration lifecycle, we think having someone with Dr Fischer's experience in building a company from the ground up is highly relevant to TEE.
TEE added to its team again last week, announcing the appointment of Marshal Hood as the company's exploration manager.
Mr Hood brings 18 years of experience across the energy sector, including in hydrogen and small LNG projects.
Importantly, he was also a senior geophysicist with Ophir Energy working with TEE's new non-executive director Dr Mike Fischer.
We are hoping the new appointments can apply their learnings from building up Ophir to TEE.
Activity in the Northern Territory (update)
In our last TEE note, we touched on the activity of some of the gas majors in the NT.
Our theory is that whilst TEE is currently focused on securing tenure over its projects, the activities of the majors in the area will prove commercial viability of the region's gas resources and, in turn, increase the value of TEE's permits.
The slide below shows exactly what is happening in the Beetaloo sub-basin for the rest of 2022:
Origin Energy and Falcon Oil and Gas:
Companies: Origin Energy (capped at $10 billion) and Falcon Oil and Gas (capped at $138M).
What they are doing: Two well drilling and flow testing programs.
When it is happening: Q3/4 2022. (No updates since our last note).
Santos and Tamboran Resources:
Companies: Santos (capped at $24 billion) and Tamboran Resources (capped at $142M).
What they are doing: Two well long term producing testing.
When it is happening: Now
Tamboran Resources:
Company: Tamboran Resources (capped at $142M)
What is it doing: One well to be drilled and flow tested.
When it is happening: September 2022.
Updates since our last note:
Tamboran announced in its quarterly update that it has secured a rig to drill the Maverick 1H well in the first week of September, subject to environmental approvals being granted. Civil works for the well pad are ongoing, so we should see the company spud that well on time.
We will be monitoring this as news comes from Tamboran.
Empire Energy
Company: Empire Energy (capped at $177M).
What is it doing: One well to be drilled and flow tested.
When it is happening: Now.
Updates since our last note:
Since our last note, Empire has started fracking the Carpentaria-2H well.
After completing the fracking process, Empire plans to do an extended production for up to 90 days.
Empire has also announced that planning is ongoing to drill both the Carpentaria-4V vertical well and the Carpentaria-3H horizontal well later this year.
We will be monitoring Empire's activities, and presume the rest of the market will be too.
What's next for TEE?
Granting of permits at the company's NT project 🔄
TEE is currently progressing ~30 different applications covering over ~162,000km2.
In a recent update, TEE confirmed it is prioritising the granting of key permits that sit around the edge of the Greater McArthur Basin, immediately south of discoveries within the "Velkerri" and "Kyalla" shale prospects and the "Moroak" and "Bessie Creek" conventional targets.
The significance of these permits is that they sit right under the "Velkerri Shale" — the gas target that majors like Santos, Origin and Empire Energy are targeting across the Beetaloo sub-basin.
This is why we think the drilling activity from TEE's neighbours could potentially have an impact on the look-through valuation of TEE's ground in the region.
If the majors can prove out commercially flowing gas at this shale layer, we suspect the market will become a lot more interested in the ground TEE holds.
Last week, TEE confirmed that On Country Meetings (OCM) had been booked with the native title holders for August and September.
TEE said this would be the precursor for the granting of the permit and the approvals needed for its proposed 2023 work programs.
TEE also confirmed that an OCM with the traditional owners of EP 259 is expected to be concluded in September.
Assuming these permits are granted, TEE will then look to run ~150km of seismic surveys in H1 2023.
Below is an image of the two permits (circled) showing the proximity to the Beetaloo sub-basin.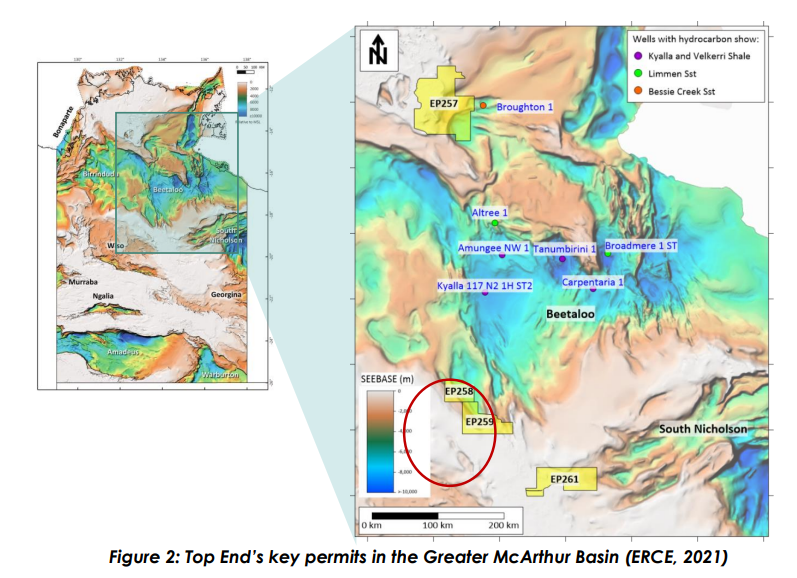 Reprocess + analyse existing seismic data at the QLD project 🔄
This morning TEE confirmed that the reprocessing of the ~90km of existing 2D seismic data at its QLD projects is now underway.
The ultimate aim for the program is to consolidate and optimise existing seismic/well data to better define the prospectivity of the project and identify potential future drilling targets.
The agreement with the seismic contractor is for the reprocessing of up to 220km of seismic data, so TEE may acquire an additional ~120km of seismic data depending on the outcome of the reprocessing works now being done.
Acquisition of a further ~120km2 of 2D seismic data at its QLD project 🔲
As mentioned above, this is contingent on the findings from the reprocessing of all of the existing seismic/well data over the QLD project.
What could go wrong?
Heading into its on-country meetings with native title holders in the NT, it's worth thinking about what could go wrong for TEE.
The main risks we see at this stage is with respect to the "permitting risks".
With the native title holder's approvals required as well as other land access agreements/regulatory approvals, TEE still needs to go through the whole permitting process before it is officially granted exploration rights over its permits.
We hope these are resolved quickly and TEE is granted the permits, but we are conscious that there are risks with these types of permitting processes.
To see the other risks we outlined in our TEE Investment Memo, click on the image below.
TEE is taking an ESG conscious approach to exploration
TEE is also focused on an ethical and sustainable approach to exploration to support the transition to a green economy.
It is supported in this through its partnership with Socialsuite ESG to provide a clearer and simpler way to explain its ESG progress.
Below is TEE's latest ESG disclosure report from Socialsuite ESG, or click here to view it online:
Our TEE Investment Memo for 2022
Below is our 2022 Investment Memo for TEE, where you can find a short, high level summary of our reasons for investing.
The ultimate purpose of the memo is to record our current thinking as a benchmark to assess the company's performance against our expectations 12 months from now.
In our TEE Investment Memo, you'll find:
Key objectives for TEE in 2022
Why we invested in TEE
What the key risks to our investment thesis are
Our investment plan
Disclosure: S3 Consortium Pty Ltd (the Company) and Associated Entities own 3,725,000 TEE shares and 1,850,000 TEE options at the time of publishing this article. The Company has been engaged by TEE to share our commentary on the progress of our Investment in TEE over time.
---