First NT gas exploration permit in 8 years - now likely weeks away for TEE
Disclosure: S3 Consortium Pty Ltd (the Company) and Associated Entities own 3,725,000 TEE shares and 1,850,000 TEE options at the time of publishing this article. The Company has been engaged by TEE to share our commentary on the progress of our Investment in TEE over time.
Native title approval has been received.
Our domestic gas exploration Investment Top End Energy (ASX:TEE) just hit a major and long awaited milestone for its Northern Territory gas projects.
At present, TEE holds a 50% interest in exploration permit applications covering ~166,000km2 in the Northern Territory.
Today TEE received native title approval for one of its most important permit applications - EP 258.
This news clears the pathway for permit approval, and on the ground exploration work in the coming weeks.
The Northern Territory and more specifically, the Beetaloo Basin has been referenced as the next major gas production hub of Australia.
The Beetaloo Basin is estimated to have enough gas to power Australia for up to 300 years and has lured in the likes of $23BN Santos and the emerging $241M Tamboran Resources.
TEE is an early stage explorer in the region capped at just $12.9M, whereas its more advanced Beetaloo neighbours trade in the hundreds of millions.
TEE has been working with stakeholders to convert its exploration permit applications into actual permits for many months.
Native title holder approval was a key milestone before TEE could convert the applications into exploration permits.
One of TEE's highest priority permits, EP 258, secured that approval today.
It's now all about converting the application into a granted exploration permit, so that TEE can begin exploration work.
TEE expects this trigger on ground exploration work to be completed in "the coming weeks".
With the critical native title holder approval now in place, we are hoping for smooth sailing to the granting of the exploration permit (EP258).
This would represent the first exploration permit granted in the Northern Territory since 2015 — a serious accomplishment and a testament to the hard work of TEE's management.
EP 258 has always been one of TEE's highest priority permits because it sits right on the Beetaloo Basin's margin edge.
The exploration strategy TEE is pursuing is relatively simple.
Once the permit is granted, TEE will look to prove if the reservoir formations currently being explored in the Beetaloo extend underground into sub-basins surrounding it.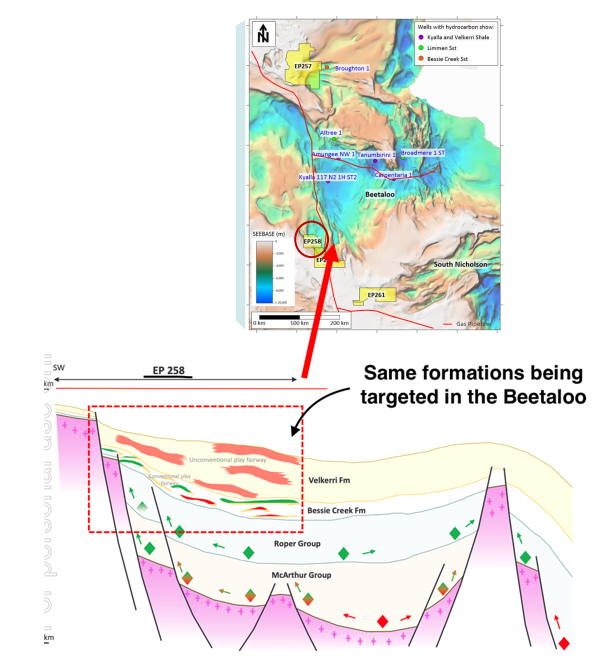 The first step after the permit is granted will be to run airborne gravity surveys in the lead up to an on-ground 2D seismic survey.
To date, most of the exploration attention has been focussed on the Beetaloo Basin itself, but TEE is going for ground where most others haven't looked yet — a different higher risk but higher reward exploration strategy if it works.
If TEE's exploration theory is correct, it could change the game in the basin. And being a first mover, this could result in a share price re-rate for TEE.
At this stage, TEE's theory is largely based on seismic data on ground to its north.
There is no seismic data inside TEE's ground YET.
Overall TEE's theory is unproven at this stage - and requires more exploration work to prove.
While the focus of today's news was on the NT permitting process, TEE also has a more advanced gas project in Queensland.
TEE expects to make a decision on drilling its Queensland asset in the second half of this year.
TEE has a 715 billion cubic feet prospective resource defined here, and is just about to kick off a 2D seismic acquisition program.
TEE is one of our Portfolio companies where we are executing our tried and tested oil and gas Investment Strategy - Invest early, hold as interest and speculation in a drilling event increases the company's share price and progressively de-risk into drilling, while holding the majority of our Position into the drilling result.
Generally, we've had better success when there is more time between our Investment and the drilling events.
We Invested almost 2 years before TEE's major drill program. We Investing in seed rounds and at the IPO, at an average entry price of 11.3c per share.
We have not sold a single share in TEE. We have held our entire position for ~ 11 months. TEE is now starting to bring its projects to a position of being drill ready.
TEE's share price has had time to find a base and has traded sideways in the lead up to drilling, which is typical and to be expected.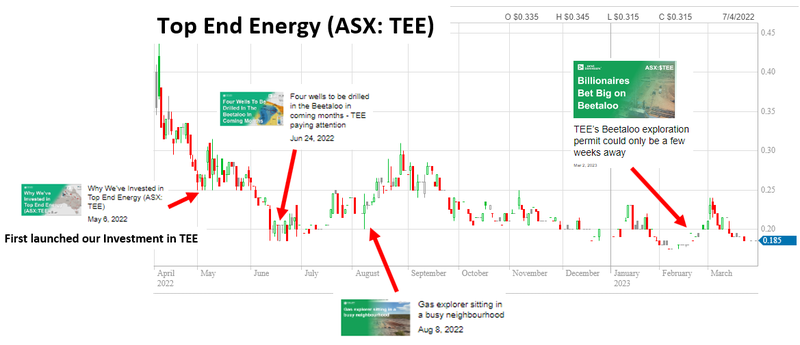 Over the next 9-12 months, we expect the third stage of our strategy to play out where investors start to take notice of TEE's progress and build positions in the lead up to an eventual drilling event.
Our plan is to hold the majority of our position as TEE brings three of its projects up to a stage where they are drill ready.
Taking a step back - here's the quick summary of TEE's assets and current status:
Northern Territory gas projects - A 50% interest in ~166,000km2 of exploration permit applications. Native title is now approved for EP 258. This was the main precursor to EP 258 approval. Approval of EP258 will allow TEE's on ground exploration programs to begin.
Queensland gas project - A 715bcf prospective resource target; 2D seismic acquisition planned in Q2 2023; drilling decision expected later this year.
Natural hydrogen and helium prospectivity - TEE is looking to see whether its projects have exploration potential for hydrogen and helium, in addition to natural gas.
Drilling one of its projects is a key catalyst on the pathway to TEE one day hitting our "Big Bet" which is:
Our 'Big Bet'
"TEE makes a new large scale gas discovery in Australia and becomes a takeover target from one of the oil and gas majors at 1,000%+ from our Initial Entry Price."
NOTE: our "Big Bet" is what we HOPE the ultimate success scenario looks like for this particular Investment over the long term (3+ years). There is a lot of work to be done, many risks involved - just some of which we list in our TEE Investment memo. Success will require a significant amount of luck. There is no guarantee that our Big Bet will ever come true.
To monitor TEE's progress since we first Invested and track how the company is performing relative to our "Big Bet", we maintain the following TEE "Progress Tracker":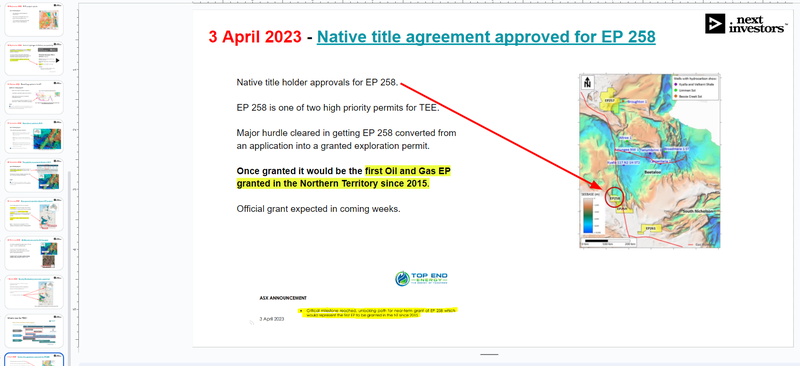 What's next for exploration permit (EP) 258?
Now that TEE has the all important Native Title approval, once it settles the section 31 deed with the Northern Territory government, the exploration permit should be granted.
TEE expects this process to be completed "in the coming weeks".
Meanwhile, TEE has been preparing to commence exploration works as soon as the permits are granted.
Just over a month ago, TEE appointed contractors to run ~2,500km of airborne geophysical surveys over the whole permit.
TEE expects that work to start in either this quarter or the next.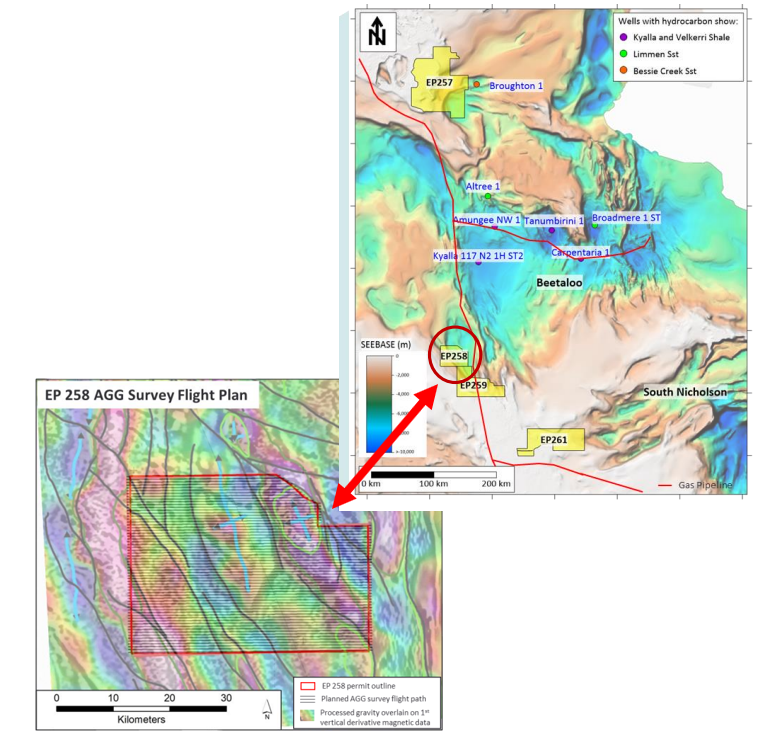 The data gleaned from the program will help TEE plan an on ground 2D seismic survey to run over the entire EP 258 permit.
Update on TEE's Queensland project
TEE has also been progressing its QLD gas project towards a maiden drill program.
What TEE has already done:
Previous drilling and seismic was done at the project back in the 1980s.
TEE reprocessed the historic seismic data and delivered three high priority drill targets.
From one of the three targets (Coolibah Prospect), TEE defined an independently certified prospective resource of 715 billion cubic feet (BCF).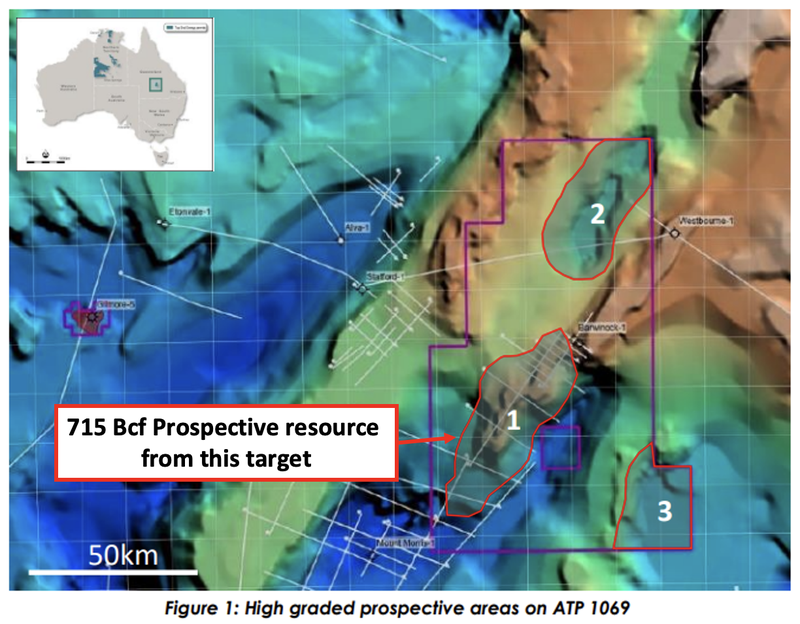 What TEE plans to do next:
TEE is now looking to secure land access agreements so it can commence an updated 2D seismic acquisition program of up to 120km.
It is no surprise that TEE will run the new seismic acquisition program in and around the area of the prospective resource.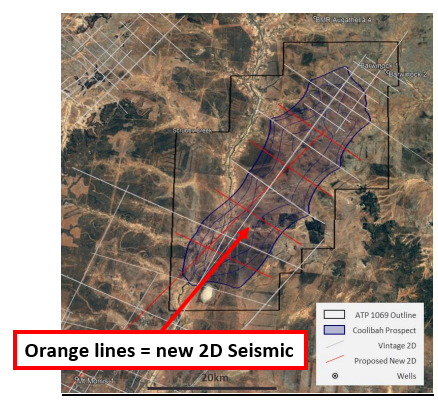 Ultimately, TEE will put together the new and existing data to find the best place to drill and improve its chances of success when it comes time to drill a well.
TEE expects to make a decision on the drill program in H2 2023.
What's next for TEE?
Permitting in the NT 🔄
With the native title approval secured, we want to see TEE's high priority EP 258 application granted.
Once granted, this would mark the first exploration permit (EP) granted in the Northern Territory since 2015.
While the current focus is on EP 258, TEE still has ~166,000km2 still under application, so we could also see more newsflow if these are granted.
Seismic data acquisition program in Queensland 🔲
At its Queensland project, TEE is working on securing land access agreements for its project ahead of a planned 2D seismic acquisition program.
We covered this news in a recent Quick Take which you can see here: New seismic acquisition program over 715 bcf gas target in QLD.
Natural hydrogen/helium prospectivity assessments 🔄
Late last year, TEE kicked off a portfolio wide review to see if its projects had natural hydrogen/helium potential.
See our Quick Take on that news here: Testing for natural hydrogen & helium prospectivity
News on this front could arrive any time. It would come as an unexpected positive development since the market is currently more focused on TEE's gas projects.
What are the risks?
We note that TEE is still a very early stage explorer.
Today's news is about getting exploration permits converted from applications to granted permits in the NT, and the company's QLD projects are still only prospective targets.
TEE will still need to do a lot of on the ground work in the NT to define drill targets, ahead of any drilling.
At this stage the primary risk across the company's NT projects is still "permitting risk" and at its Queensland project "exploration risk".
Given TEE is a pre revenue explorer, it is dependent on raising capital to deliver its work programmes. Eventually TEE will likely require additional funds to undertake drilling but this could be some time away.
Below are all the risks we listed in our TEE Investment Memo.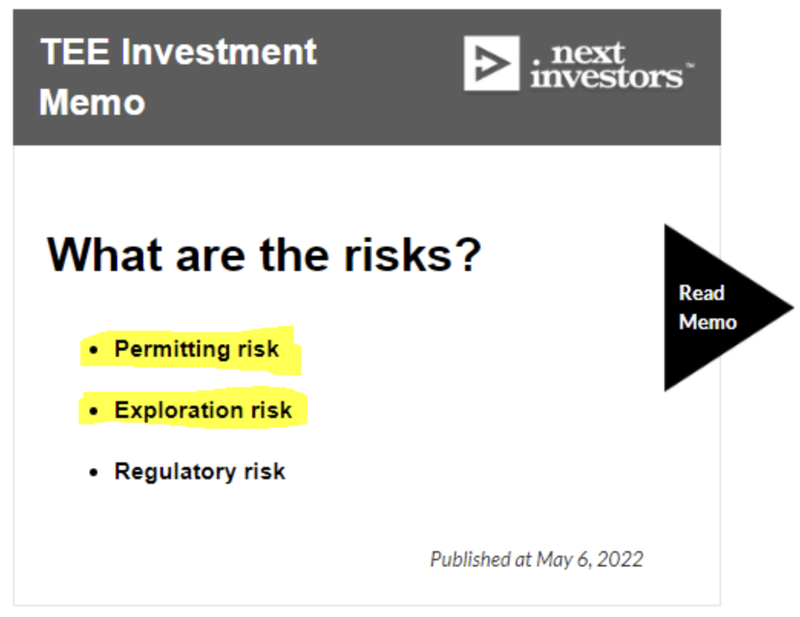 Our TEE Investment Memo
Below is our TEE Investment Memo where you can find a short, high level summary of our reasons for Investing.
In our TEE Investment Memo, you'll find:
Key objectives for TEE for the coming year (as of May 2022)
Why we are Invested in TEE
The key risks to our Investment Thesis
Our Investment plan
---