Operational update across domestic gas projects.
ASX:TEE
Oct 06, 2022
Announcement
Investment Memo: TEE IM-2022
Objective 1: Exploration licence applications to be granted over NT projects

---
Earlier in the week, our domestic gas exploration Investment Top End Energy (ASX: TEE) put out an update on its Northern Territory gas projects.
TEE confirmed that after on-country meetings with native title holders had been held, an exploration agreement had been reached in principle.
This represents one of the first meetings of its kind since the lifting of the moratorium on hydraulic fracturing in 2018.
The execution of the exploration agreement by the native title holders is the key prerequisite before TEE gets its permits granted.
TEE's highest priority permits in the Northern Territory (EP 258 and EP 259) sit on the edge of the Greater McArthur Basin, south of the discoveries Santos, Origin and Empire Energy have made across the Beetaloo sub-basin.
At the moment, TEE has no seismic data available over the project area but data collected by TEE's neighbours seem to suggest that the structures which they have drilled and made discoveries could extend into TEE's ground.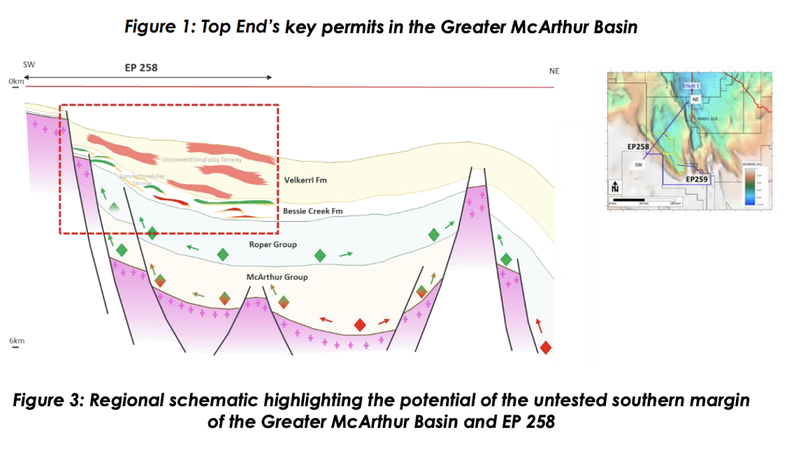 TEE is looking to test this theory in 2023, but before the company can do any exploration work, it needs to finalise permitting and secure its tenure.
TEE also confirmed that it is currently in the planning process for up to ~150km of 2D seismic surveying planned for H1 2023.
Next:
We want to see the feedback from the native title holders come through, which is expected in the coming weeks.
If positive, then TEE will have all of the necessary agreements in place to move forward with the granting of its permits.
---