Top End Energy Ltd Limited
(ASX:TEE)
Current Price:
$0.200
Our Investment Summary
Date of
Initial Coverage
06-May-22
Initial
Entry Price
$0.113
Returns from
Initial Entry
77%
---
What does TEE do?
Top End Energy (ASX:TEE) is a junior gas explorer focused on making gas discoveries in Queensland (Adavale Basin) and in the Northern Territory (McArthur Basin near the Beetaloo Basin).
TEE is committed to becoming a net zero emissions energy producer with a focus on gas projects.
TEE also intends to investigate developing/acquiring other product streams like helium, hydrogen, and carbon off-setting/capture technologies.
What is the macro theme behind TEE?
Gas prices are surging after sanctions on Russian gas, security of supply has become a global issue.
With the world transitioning towards cleaner, lower carbon sources of energy and growing support to move away from dirtier fossil fuels, gas is the logical "transition fuel" to bridge the gap between fossil fuels and other conventional green energy sources.
Australian domestic gas markets are also structurally short in supply. Demand and pricing for gas on the east coast is expected to remain high as supply pressures, both domestically and in the international LNG market, are expected to increase over the long term.
Investment Memo: Top End Energy Ltd (ASX:TEE)
06-May-2022
---
Why did we Invest in TEE?
Low enterprise value - leveraged to a discovery: With a market cap of ~$18.4M, $5.7M in cash, TEE has a tiny enterprise value of ~$12.7M. TEE is therefore highly leveraged to a major discovery being made over the coming years.
Beetaloo Basin gas peers trading at many multiples of TEE: The region is currently being actively explored by Empire Energy (currently capped at $187M), Tamboran Resources (capped at $209M). Global energy heavyweights Santos ($28B) and Origin Energy ($13B) are also invested in the Beetaloo. While TEE is at a much earlier stage than its peers in the region, there is potential for growth over the coming years.
Gas is the ideal transition fuel between fossil fuels and green energy: Gas provides a pathway to transition from fossil fuels like oil and coal to lower carbon emission renewable energy generation sources.
Mandated to acquire new projects: TEE is mandated to explore acquisition opportunities ranging from helium, carbon capture assets, all the way through to hydrogen and ammonia projects. This gives TEE optionality to bring in new projects in a space where there is minimal ASX listed exposure.
What do we expect the company to deliver in 2022?
Objective #1: Exploration licence applications to be granted over NT projects
TEE's NT gas projects are at various stages in the permitting process, and we expect the different licences to be granted over the course of 2022.
We are most focussed on the projects adjacent the Beetaloo Basin, next door to Origin, Santos and Empire Energy.
Milestones:
🔲 Secure native title agreements
🔲 Secure land access agreements
🔲 Exploration licences granted
Objective #2: Target generation works at the QLD gas project
We want to see the company complete an in-depth review of all of the historical data available (seismic and historic well data). Depending on progress elsewhere, TEE could run a ~120km seismic program as part of these target generation works.
We don't expect TEE to drill this project in 2022 but would like to at least see the highest priority targets identified.
Milestones:
🔲 Analysis and reinterpretation of historical data (seismic and historic wells)
🔲 Geological mapping and/or geophysical surveys
🔲 Seismic data acquisition programs
🔲 Identification of drillable prospects
Objective #3: Clearer strategy on clean energy projects
TEE has committed to investigating other product streams like helium, hydrogen and carbon capture/off-setting technologies.
We want to see some indication of the strategy that TEE will pursue in these sectors.
Milestones:
🔲 Announce to the ASX a clear plan or project acquisition in one of these sectors.
What are the risks?
Permitting risk: A key risk for TEE is that key permits in the NT are not granted. The NT projects are all still exploration licence applications and are going through the permitting process, which is never guaranteed to be concluded or may take longer than expected.
Exploration risk: After the permitting issues are resolved, TEE still has to explore and eventually drill the projects. As with any exploration company, there is always a risk that nothing is found or that what is found is deemed uneconomic. Capital will be required along the journey to deliver on exploration goals.
Regulatory risk: Until 2018 there was a moratorium on the use of hydraulic fracture stimulation (fracking) in the Northern Territory. Even though the moratorium has now been lifted, the permitting process for fracking exploration remains heavily regulated. There is also a risk that new government regulations on the industry render the permits inactive.
What is our investment plan?
The bulk of our TEE shares are escrowed for 24 months from its 4 April 2022 ASX listing.
Similarly to our other oil & gas exploration investments, we invested in TEE early and are patiently holding for the long term.
It will be at least 12 months before TEE undertakes any drilling. In the lead up, there will be a lot of preliminary work conducted as exploration takes place, drill permits are secured, and drill targets are identified.
As with all our early stage investments, we may look to de-risk our investment in the lead up to a major catalyst, or in the event of a significant share price re-rate in the next 12 months. In this case we would only look to sell the portion of shares that are not escrowed for 24 months - which is less than 10% of our entire position.
---
Disclosure: S3 Consortium Pty Ltd (the Company) and Associated Entities own 3,725,000 TEE shares and 1,850,000 TEE options at the time of publishing this memo. The Company has been engaged by TEE to share our commentary on the progress of our Investment in TEE over time.
Next Investors Investment Milestones
✅ Initial Investment: $0.113
🔲 Top Slice
🔲 Free Carry
🔲 Take Profit
🔲 Price increases 300% from initial entry
🔲 Price increases 500% from initial entry
🔲 Price increases 1000% from initial entry
🔲 12 Month Capital Gain Discount
🔲 Hold remaining Position for next 2+ years
Latest Articles About ASX:TEE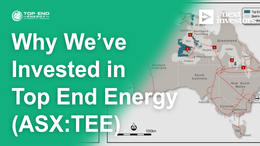 Why We've Invested in Top End Energy (ASX: TEE)
May 6, 2022
Articles Mentioning ASX:TEE
Our Past Commentary on Top End Energy Ltd
No quick takes found on Top End Energy Ltd (ASX:TEE)