Quarterly Reporting Season and other news from our portfolio stocks
Published 31-JUL-2021 16:50 P.M.
Quarterly reporting season is always a very busy week for us - companies are required to submit their quarterly report by 31st July which gives us a lot of reading and analysis to do across our investments in a short space of time.
Around this time each quarter we also try to catch up for an update call with each of our portfolio company CEOs.
We've had positive reader feedback on some of our recent comments on these meetings so we will ensure to keep including it in our notes.
CEO meetings scheduled for this week: WHK, AHI, BPM, IVZ and EXR.
Aside from VUL going into trading halt pending the announcement of ANOTHER "binding offtake term sheet" (!!!) - this week was dominated by quarterly report commentary on our growth stocks ONE, AJX and VN8
In other news PRL appointed a well connected board member and we analysed how the surging phosphate price impacts MNB's scoping study valuation.
There were definitely no boots on the ground at the ASX forms lodgement office this week as BPM went into suspension for not submitting a cleansing notice on time. Nothing to worry about as this happens to companies occasionally but it's not a great look. Last night BPM announced its all sorted and they.will be back trading on Monday.
WHK announced a channel deal with Amazon Web Services (we'll talk about that soon), EMN got more investment from EIT InnoEnergy and PUR's much anticipated Julimar drill was delayed by severe weather.
We still have a couple of quarterly reports to work through next week.
📰 Here's what happened this week on Next Investors
This week we took a deep, analytical look at Minbos Resources (ASX:MNB).
A month ago we wrote about the phosphate price surging above the highest anticipated level in MNB's Scoping Study.
The higher the phosphate price, the higher the value of MNB's phosphate project.
MNB is developing a phosphate (fertiliser) project in Angola with a 6 million tonne mining target and a 21 year mine life.
We promised a deep dive into MNB's project and this week delivered it.
MNB's Scoping Study indicates just US$27M CAPEX will get them an after tax NPV of between $159M and US$260M, and we believe phosphate prices will continue to be strong as global food security comes into play.
This NPV of $US260M is using a phosphate price PRIOR to this year's surge... a price that is a lot higher now.
You can read all about it here: In Depth: Phosphate Price remains above highest predicted price in MNB's scoping study
Province Resources (ASX:PRL) ticked off a key milestone this week, with another "dream team" board appointment in Roger Martin, who was previously chief of staff to the WA treasurer and VP of corporate affairs at Woodside.
After signing a binding MoU with global energy major Total Eren and raising $18M, PRL has been busy securing land rights, government and community support with Total working on the Scoping Study.
Total signed the binding MoU on April 16, 2021 with PRL to deliver a Scoping Study with a view to developing the major green hydrogen project in the Gascoyne.
Roger will help PRL to secure key WA government support at the highest level and astutely manage the relationship with Total Eren in developing PRL's Project.
Total Eren is a leading France-based renewable IPP with over 3.3 GW of renewable energy power plants worldwide either operating or under construction (mainly solar and wind).
Roger's appointment adds to another recent key board appointment Kylah Morrison who offers significant local experience, particularly in areas such as forging relationships with indigenous organisations and creating that win-win outcome between developer and community.
You can read all about its latest drill results here: Dream Team: Key Ministers now on PRL Speed Dial?
Vonex Ltd (ASX:VN8) reported yet another robust quarterly result today, with unaudited sales revenue of $4.8 million for the quarter, leading to annualised recurring revenue (ARR) of $18.7 million.
This comes off the back of VN8's recently announced biggest ever acquisition and corresponding cap raise (and debt finance).
In the last 18 months, VN8 has acquired 2SG and Nextel and last week announced the acquisition of MNF Group's Direct Business for $31M.
Whilst $31M appears large when compared to VN8's market capitalisation (~$24M), we view the deal as genuinely transformative as it essentially doubles VN8's small medium enterprise (SME) customer base and revenue line going forward.
While VN8 has just missed the mark on being cashflow positive this quarter, we expect they will hit that milestone for 2H21.
VN8 was also the subject of a research note earlier this week from PAC partners describing VN8's "Transformational Acquisition" with a subsequent $0.23/ share price target (vs $0.125/ share at close yesterday).
Further to the 11c placement VN8 will also be offering an 11c Share Purchase Plan (SPP) to existing eligible shareholders - closing on August 13th.
We are taking up our full allocation in the VN8 SPP.
You can read all about it here: VN8 Quarterly: So close to being cash flow positive. Completes giant acquisition, cap raise. We topped up.
We took an in-depth look at Oneview Healthcare (ASX:ONE)'s quarterly results this week.
ONE is our 2021 Tech Pick of the Year and the quarterly exceeded our expectations.
So far we have generally observed that ONE's management take pride in execution, are very measured and have generally under promised and over delivered, so we are excited by their positive outlook for the next half.
Highlights of the quarterly include increased revenues - up 56%. We were expecting a 20% revenue increase (on previous corresponding quarter) in our investment milestones - so this result has almost tripled our expectation, earning a big tick.
Costs were down 42%. Our expectation was that costs would remain stable, so again expectations have been exceeded and another big tick:
Read our full take on ONE's quarterly: Expectations exceed, our Tech Pick of the Year delivers a strong quarter of growth.
Last week we wrote that we had increased our investment in Alexium International (ASX:AJX), buying shares on the market at around ~5.49c and promising a deep dive analysis on our investment in AJX and the best way to track the progress of this complex story.
On Friday we released that analysis.
After 12 months in quiet execution mode, where the share price drifted sideways, AJX Quarterly CEO commentary promises 'announcements' in the near term - in addition to reporting increased revenue and reduced costs compared to this time last year.
We share our AJX investment strategy and new company milestones for AJX which we will track closely over the coming months:
Read our deep dive on why we invested more in AJX: We have tripled down on AJX - Here is our investment plan
🗣️ Quick Takes - Our Other Investments:
Vulcan Resources (ASX: VUL) closes the $7.88 million IPO raise for the spin out of its wholly owned subsidiary, Kuniko Limited. Kuniko is a zero carbon battery metals exploration and sustainable development company in Norway.
VUL finished the week in a trading halt citing another offtake agreement is on the way.
EMN received a second tranche of investment from EIT InnoEnergy of €125,000 (AU$200,00), bringing the EU-backed body's investment to date to €187,500.
The investment is intended to help accelerate EMN's Chvaletice Manganese Project's successful integration into Europe's electric vehicle (EV) battery value chain.
PUR has had to delay drilling at Phil's Hill due to heavy rains. The drill rig is now expected to start spinning its bits in early August.
Advanced Human Imaging (ASX: AHI)
AHI is preparing to launch the Tinjoy-owned WinScan App, following preregistration marketing carried out in July 2021.
The target release for the WinScan application is now mid-August 2021.
Tinjoy had anticipated an earlier launch in line with the 618-sale held annually in China but unfortunately was unable to meet this objective.
Tinjoy is targeting 1,000,000 users by Christmas 2021 and is servicing over 28,000,000 monthly consumers digitally and in person.
More on AHI soon.
WhiteHawk Cyber Risk Scorecards can now be purchased via the Amazon Web Services (AWS) Marketplace, allowing WHK marketing and sales to both industry and government clients without requiring contract vehicles.
Through this relationship and listing on the AWS Marketplace, companies of all sizes can now go beyond the Cybersecurity Maturity Model Certification (CMMC) compliance to accelerated performance and resilience at scale and with seamless enablement.
Joint go to market opportunities with AWS Federal are also being developed - more soon.
CPH's wholly-owned Canadian subsidiary, Mernova Medicinal Inc. ("Mernova") has secured fourteen new cannabis strains to support and increase growing customer demand for the Company's top-quality indoor grown, hand trimmed, hang dried, cured, artisanal, craft cannabis products.
🦉In our other portfolios 🏹
🦉 Wise-Owl
European Metals Holdings (ASX: EMH) could be the beneficiary of the Czech Ministry of Industry and Trade and the country's dominant power company CEZ, signing "an agreement over plans to attract a gigafactory for electric car batteries to the country".
The Czech government and CEZ have signed an agreement to provide significant incentives to secure this proposed battery factory.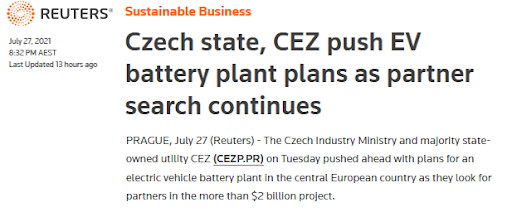 EMH is developing the largest hard rock lithium resource in the EU at its Cínovec project in the Czech Republic.
CEZ is EMH's 51% project partner.
EMH's lithium project is less than an hour drive from the proposed site of this new battery factory.
🦉Here is what we think: Czech government announces support for electric car gigafactory – 64km away from EMH's lithium project
Auroch Minerals (ASX: AOU) revealed its going to start its biggest drilling campaign to date in the next two weeks – drilling beneath its historic nickel mine.
AOU released two assay results from its recent drilling, confirming high grade textured nickel sulphides with 4.64m @ 2.99% Ni recorded.
There are at least another SEVENTEEN assay results still to be released from AOU in the coming weeks.
All of this activity comes just when Tesla signed a deal with BHP to buy its nickel.
BHP looks desperate for more high quality WA nickel near its smelters so it can sell it to battery makers, and AOU has one of the pole positions in this nickel race.
One of AOU's projects is a historic nickel mine that used to feed BHP's smelter.
🦉Here is what we think: The Great WA Nickel Race has Begun
The Food Revolution Group (ASX: FOD) released its June 2021 quarterly results on Thursday and we spent some time this week with new CEO Steven Cail to unpack the results and what it all means for FOD investors.
FOD is a food and beverage manufacturing company specialising in innovative health-focused products.
The biggest takeaway is that FOD's new Juice Labs wellness shot products are delivering impressive market penetration, accounting for 68% market share in the wellness shot space.
🦉Read the full analysis here: How Did FOD Perform Last Quarter?
🏹 Catalyst Hunter
Mandrake Resources Ltd (ASX:MAN) is continuing to drill in the Julimar Province, 30km from the $2.6BN Chalice Mining discovery.
We have been surprised to see the recent sell off in MAN from over 20c down to 8c, as drilling has shown some promising early signs to date.
Assay results for all holes will be due in approximately four to six weeks, so we could see the selling start to dry up soon in anticipation of those and we think MAN could spring back up on positive news fairly quickly.
MAN is targeting a large PGE- nickel-copper discovery and has spent many months generating its drill targets.
Three out of four EM targets have been drilled so far - with visible sulphides in drill cores evident - and there is one more hole to drill, which will be drilled once heavy rains have cleared on site.
🏹 Read our update here: MAN sold down, Assay results to come
🌎 Relevant Mainstream Media:


Sorry its a bit light this week, we were flat out working through all the quarterly reports
North American Gold (TMR)
Australian gold miners discover that love takes time in North America
Battery Metals (VUL, EMN)
Bloomberg: EV Batteries Won't Be Enough to Save the Mining Industry
Seismic Equipment on the ground (ASX:IVZ)
The Herald: Massive equipment for gas project lands
Green Hydrogen (ASX:PRL)
AFR: Global LNG market faces shake-up from Japan's green shift
ESG
Mining News Net: Gold investors want fair dinkum emissions reporting
Have a great weekend,
Next Investors
---