Expectations exceed, our Tech Pick of the Year delivers a strong quarter of growth.
Quarterly results this morning from our 2021 Tech Pick of the Year Oneview Healthcare (ASX:ONE) have exceeded our expectations.
ONE is a health tech company that provides hospital patients with a "virtual care and digital control centre" at their bedside to deliver the best possible patient experience during their stay.
Today we are going to assess how well ONE has performed against our expected milestones for the quarter. So far we have generally observed that ONE's management take pride in execution, are very measured and so far have generally under promised and over delivered, so we are excited by their positive outlook for the next half.
We shared the key milestones we wanted to see ONE deliver when we first invested ONE: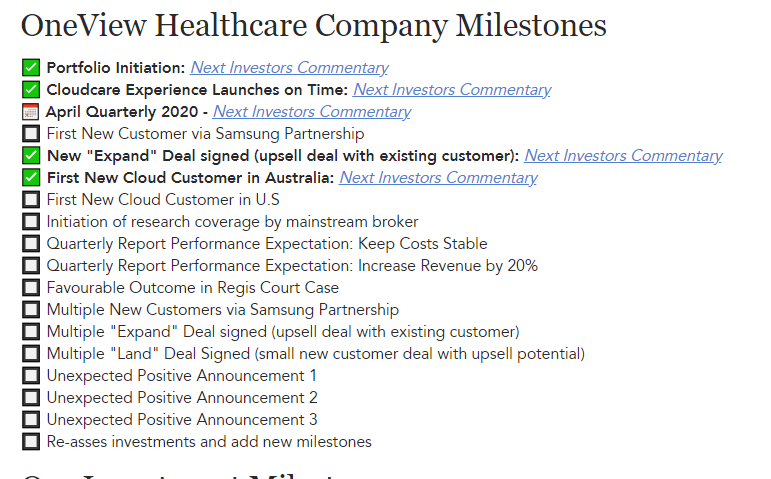 We are pleased to say ONE has exceeded our expectations so far, here is what they have achieved this quarter:
Revenues are up 56%
We were expecting a 20% revenue increase (on previous corresponding quarter) in our investment milestones - so this result has almost tripled our expectation, earning a big tick on our milestone:
✅ Quarterly Report Performance Expectations: Increase Revenue by 20%
Costs are down -42%
A reason we invested in ONE was because it was just starting to see the benefits of a significant cost reduction program - our expectation was that costs would remain stable, so again expectations have been exceeded and another big tick:
✅ Quarterly Report Performance Expectation: Keep Cost Stable
We laid out the corresponding quarterlies for June 2020 and June 2021 and it made for some great reading as ONE investors: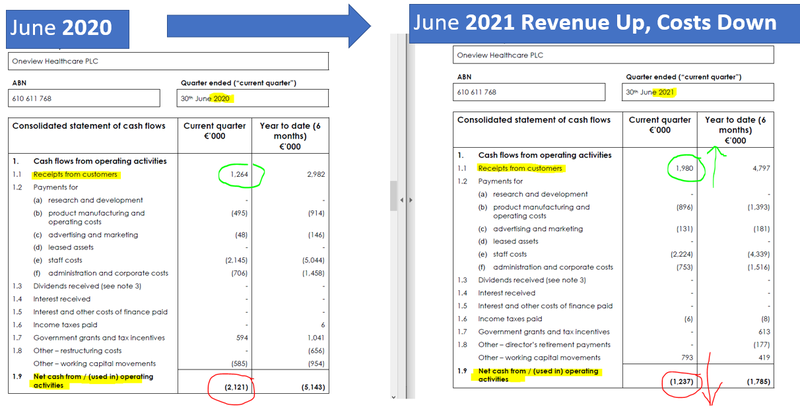 Initial Traction on new Cloud offering
Another key reason we invested in ONE was the launch of its easier to "sell and implement" cloud hosted version. We already reported on the two new cloud deals as they were announced by ONE during the last couple of months:
✅ New "Expand" Deal Signed (upsell deal with existing customer)
✅ First New Cloud Customer in Australia
Over the next 6 months we want to see more land deals (multiple smaller deals with new hospitals) and expand deals (upsells and contract expansions of smaller "landed" customers):
No ticks here yet but we think they might be getting close:
🔲 Multiple "Land" Deal Signed (small new customer deal with upsell potential)
🔲 Multiple "Expand" Deal signed (upsell deal with existing customer)
Here is our detailed explanation of how ONE will use a "land and expand" sales strategy for software companies.
We also note in the management commentary that the Northern Health deal that was announced by ONE on the 18th June already has 29 beds live after just 6 week in - this is incredibly fast by healthcare tech standards and huge proof point of ONE's new cloud offering to deliver fast small deals that can be expanded on.

Traction with Samsung partnership
In February this year, ONE signed a distribution agreement with Samsung SDS America - the enterprise IT solutions provider of Samsung. This agreement cleared the way for Samsung's enterprise IT sales team to distribute ONE in a bundled solution for patients in the USA.
"Oneview continues to work with its new partner Samsung with respect to the go to market strategy. Early feedback has shown a preference for Cloud Enterprise vs. Cloud Start."
🔲 First New Customer via Samsung Partnership
We are watching the progress of this partnership as if successful could contribute significant revenue growth
Traction with Microsoft Azure Marketplace
ONE also has a partnership in place with microsoft, reporting that:
"Cloud Enterprise is now transactable in Microsoft's Azure Marketplace, meaning customers can buy via the Marketplace. This enables us to benefit from maximum co-sell focus from Microsoft, as well as enabling customers to count the cost of Oneview towards their Minimum Azure Consumption Commitments."
We are watching closely to see the first customer generated from the microsoft partnership:
🔲 [NEW] First New Customer via Microsoft Partnership
Like with the Samsung agreement - we are watching the progress of this partnership to contribute significant revenue growth.
ONE is suing Regis Healthcare - Now in mediation
OK, fine we take it back...
Last quarterly we said we didn't think it was a good idea for ONE to try and sue Regis Healthcare as it would distract management focus from the more exciting area growth of the new cloud offering: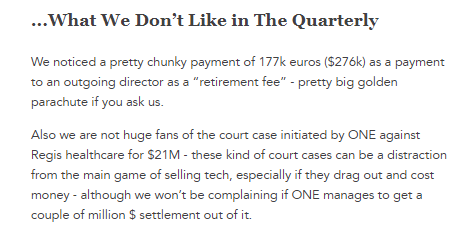 Well we might have to eat some humble pie on this one... according to the quarterly report the legal process has moved to mediation... which could mean a nice cash settlement in return for ONE throwing out the court claim:
"A hearing in the Supreme Court of Victoria, Commercial Court between Oneview Healthcare Pty. Ltd and Regis Aged Care Pty. Ltd. has directed both parties to mediation, which is scheduled for 20 August 2021."
Hopefully we can tick off this milestone in the next couple of months - we would love to see a couple of $ million paid to ONE as a result of mediation with Regis:
🔲 Favourable Outcome in the Regis Court Case
Observing the speed at which this case went to mediation, and the amount of M&A activity in the aged care space at the moment, we suspect Regis doesn't want legal action and a potential liability hanging over its head right now.
Cash Remaining
ONE is rapidly increasing revenue and reducing costs, so we are taking the cash burn calcs in the quarterly with a grain of salt, we think there is more like 5 to 6 quarters remains (just our opinion of course).

We have formed this view given the management outlook provided in the quarterly expected in a strong second half:

So far we have generally observed that ONE's management is very measured and generally under promise and over deliver, so we are excited by this outlook from the quarterly.
---