ONE signs agreement with the largest hospital bed supplier in the US
Our 2021 Tech Pick of the Year Oneview Healthcare (ASX:ONE) just signed an agreement with the largest hospital bed supplier in the US, Baxter International.
NYSE listed Baxter is in the S&P 500, and capped at $23BN after its acquisition of hospital bed maker Hill-Rom for US$10.5BN.
Hospital beds are in addition to the vast array of other medical devices Baxter produces for hospitals and hospital rooms.
ONE sells hospital bedside tech - connecting the patient in the hospital bed to nurses, meal service, medical images and records, educational content, entertainment and other in room systems to help make the hospital run better.
There are ~920,000 hospital beds in the US.
Baxter has ~75% market share of these beds (according to prospect.org).
ONE currently has a ~1% market share of these US beds.
Today ONE has announced a "value added reseller agreement" with Baxter to sell ONE's technology into certain customers in Baxters' current customer base (75% of the US hospital bed market).
ONE has stated that there is potential this deal "may lead to additional sales of 3,000 to 5,000 beds per annum" for ONE.

Source: ONE announcement
This would be a ~20% to ~33% increase in ONE's current contracted beds per year of this initial two year term.
We think that if ONE can impress Baxter on the initial 2 year term of this value added reseller agreement, then there should be scope to expand it.
According to Baxter's 2023 shareholder meeting, one of Baxter's four "strategic pillars" going forward is "connected care":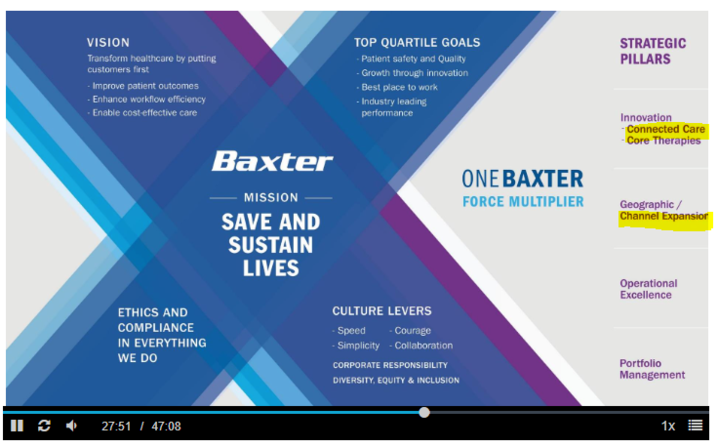 Connected care is essentially what ONE does.
In 2021, Baxter acquired dominant hospital bed maker Hill-Rom, and with them came 75% of US hospital beds.
To understand why the acquisition of Hill-Rom hospital bed maker and their market share was so important to Baxter, take a look at this Baxter slide deck that outlines the acquisition and its benefits: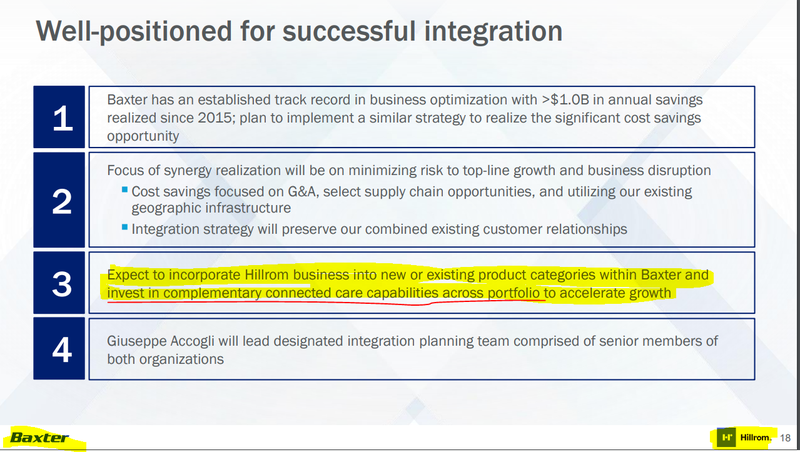 According to the acquisition deck, a key part of Baxter's Hill-Rom acquisition strategy is "investment in complementary connected care capabilities", which is where it looks like the Baxter-ONE agreement fits into the picture.
Hill-Rom Holdings was a company growing quickly prior to its acquisition by Baxter - that's probably why Baxter took them over
We also watched the latest Baxter AGM to see what they plan to do, now that they own Hill-Rom's hospital bed business:
~27 minutes into the briefing there was this: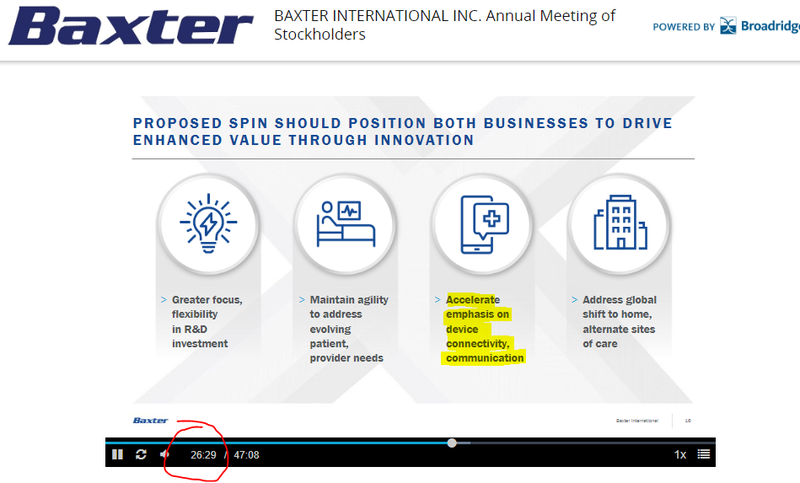 Source: Baxter 2023 Annual meeting CEO presentation recording
It looks like a connected hospital room is part of the Baxter plan.
Baxter now has the beds. ONE specialises in providing this bedside connectivity.
Baxter's strategy post-acquisition is to inject tech into every aspect of the hospital, and now it looks like ONE's going to help them do it.
As we noted above, ONE announced potential for this agreement to add between 3k and 5k contracted beds per year over the initial two year term. This would be a ~20 to ~33% increase on ONE's current contracted beds in a single hit in the first two years of this contract.
ONE's tech is a digital control centre for a patient when they're in a hospital. It provides a data rich way to improve both the patient's experience and hospital efficiency. We've seen how the tech works first hand.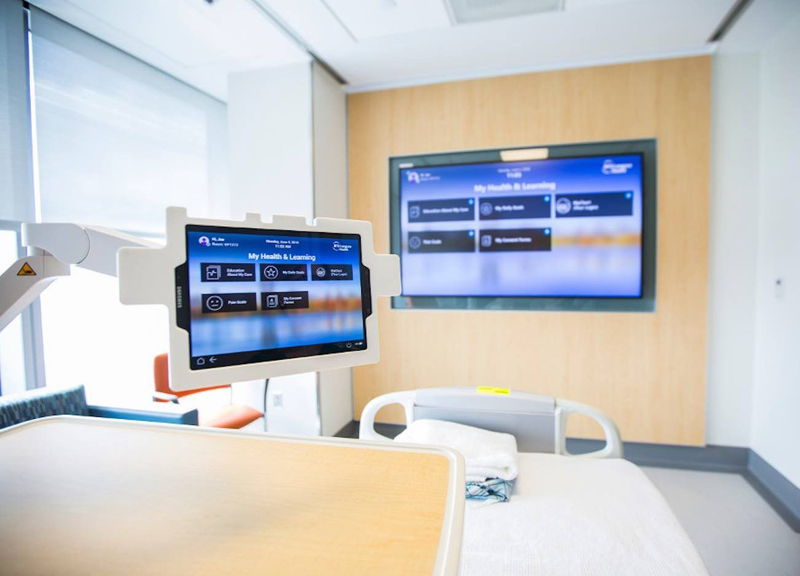 Here is a video showing how ONE's hospital bedside tech works and how it helps the patient:
We've long maintained that hospitals need ONE's tech.
Now, ONE has signed a deal that could deliver a big step change in the number of beds it generates revenue from.
Today, ONE announced that it has agreed a two year deal with the largest hospital bed supplier in the US (Baxter International), starting immediately.
The US is the biggest healthcare market in the world.
We're confident ONE has the tech to dramatically reshape the patient experience and make hospitals run better. We Invested in ONE to see its tech in as many US hospitals as possible.
As of 2023, there are ~920,000 hospital beds in the US and ONE's tech is installed in just ~1% of them.
With Baxter as ONE's new "big brother" and access to 75% of US hospital beds, we think ONE now has a clear pathway to rapid growth (contracted beds, the equivalent of active users), and progressive material improvements in recurring revenue.
Assuming of course ONE can wow Baxter with their technology on the first few Baxter led installations - which we are confident in given ONE is a mature product already used in 15,000+ hospital beds.
These types of deals that open up potentially deep market penetration don't come along often.
In fact, potentially only once. That's how big we think this is (assuming of course it delivers over its term).
It's a testament to ONE's relentless hard work over the last couple of years since our Investment, it's validation that the product stacks up, and most importantly, we think it may result in unlocking the compounding, rapid recurring revenue growth that the market, tech investors and big funds love.
Baxter made the Hill-Rom acquisition to become the primary provider of a connected, tech driven approach to hospital care in the US.
Smart beds were the two fastest growing segments of Hill-Rom's business prior to it being acquired: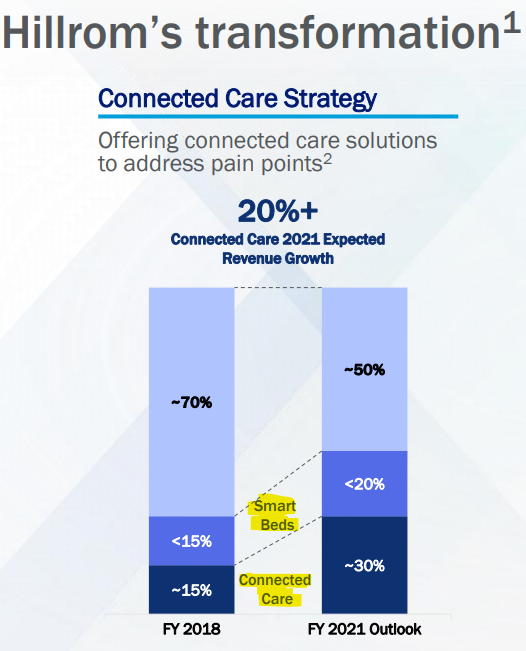 Source: Baxter International Presentation
Which emphasises how hard Baxter is going at building out their tech capabilities.
ONE will now be part of this push. Today's deal signals to us that Baxter intends to test out ONE's tech for the duration of the current 2 year contract, and if ONE can impress, it will be very interesting to see what happens next.
ONE expects this agreement to add between 3k and 5k contracted beds per annum over the initial two year term.
For context, that could be an up to ~33% increase in ONE's current contracted beds in a single hit.
Given the sticky customers, long-term deals (usually 5 years) and accelerating growth in contracted beds that ONE has already delivered since we Invested - we think ONE's product will resonate with Baxter's customers and Baxter will find it an essential addition to its portfolio of offerings to hospitals.
In turn, ONE's product may quickly become the new standard for US hospitals - not "nice to have" but a baseline expectation for both patients and hospital administrators.
We've previously shared ONE's statements that its sales pipeline is very strong since the pandemic - and this could prove to be the biggest sales converter of them all.
This is due to the well publicised nursing shortages that have affected the US and Australia.
We think this Baxter deal represents a genuine breakthrough - despite shedding share price value during the NASDAQ tech wreck and small cap bear market, ONE has kept a laser-like focus on delivering this kind of deal (as well as doing some much needed corporate belt-tightening to preserve enough cash runway).
Since our last note, ONE moved from ~8 cents in late April to ~30c this morning - a re-rate over 300% in just 6 weeks.
According to a change in substantial holder notice released on June 2nd, Major ONE shareholder Will Vicars bought 5.7 million shares on-market in the last few weeks through various entities he controls, increasing his position in the company to 29.3%.
Will Vicars is Caledonia's co-chief investment officer, and is ranked Australia's 110th richest person with a personal fortune of $1.27 billion.
The recently buoyant market for US tech stocks likely helped ONE move up the charts as well.
Another example of how market sentiment can drive small cap stocks up or down despite fundamentals not changing.
We've been watching ONE even more closely since it announced a "bring your own device" ("BYOD") solution in the last quarterly released in late April.
This upgrade in ONE's tech could well have triggered the deal with Baxter, but we can never know for sure.
This tech upgrade makes ONE's platform available on a patient's own phone (instead of via a bedside tablet and TV screen in the hospital).
We're a device centric society - this was a natural extension of ONE's tech that only promised more market penetration.
We think ONE is the full package for hospitals - and now it may have a shot at becoming nearly ubiquitous in the largest healthcare market in the world (US) - the "final destination" we'd always wanted for our ONE Investment.
While no specific commercial terms were outlined in today's announcement, we'll get a better sense for the impact of the agreement as ONE's next few quarterly reports roll in.
In turn we hope that this rapid revenue growth (especially recurring revenue) will underpin valuation uplift for ONE. This is our Big Bet...
Our ONE Big Bet:
"ONE will sign on enough new hospital beds at an accelerating rate to achieve a $1BN valuation (based on 5x to 10x forward annual recurring revenue) and be acquired by a large health tech provider."
NOTE: our "Big Bet" is what we HOPE the ultimate success scenario looks like for this particular Investment over the long term (3+ years). There is a lot of work to be done, many risks involved, and it will require a significant amount of luck. There is no guarantee that it will ever come true. Some of these risks we list in our ONE Investment Memo.
To see how ONE is going against our Big Bet - we've got a Progress Tracker which provides a quick summary of ONE's progress since we Invested: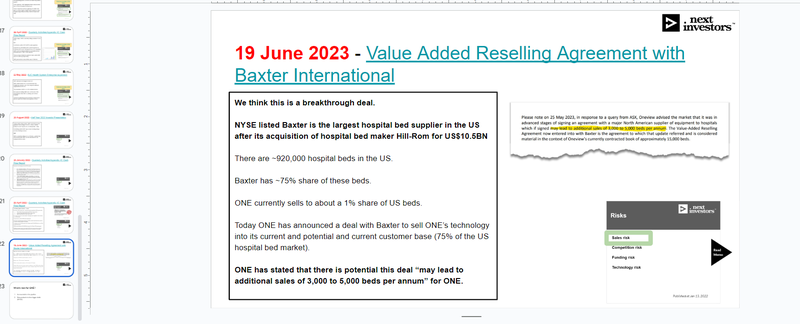 At one point, our ONE Investment was up 858% from our Initial Entry Price of 6.5c in June 2021, going as high as 57.5 cents.
But after a great share price run, ONE was progressively sold down from what we think was a combination of:
a global "tech wreck" which dragged down pretty much every tech stock (even Google etc),
some new contract delays for ONE, and
maybe two bouts of tax loss selling after 2021 highs...
... which combined, all saw ONE trade all the way down to the ~8 cent range in April this year.
When ONE delivered its March quarterly in late April, we featured the company in this note, commenting on it hitting the 15,000 bed milestone.
From there, the ONE share price really started to move, which we think could have been triggered by a number of anticipated major deals that ONE said were in the pipeline (as per the March quarterly) and the promise of a new bring your own device ("BYOD") solution that could look a bit like this: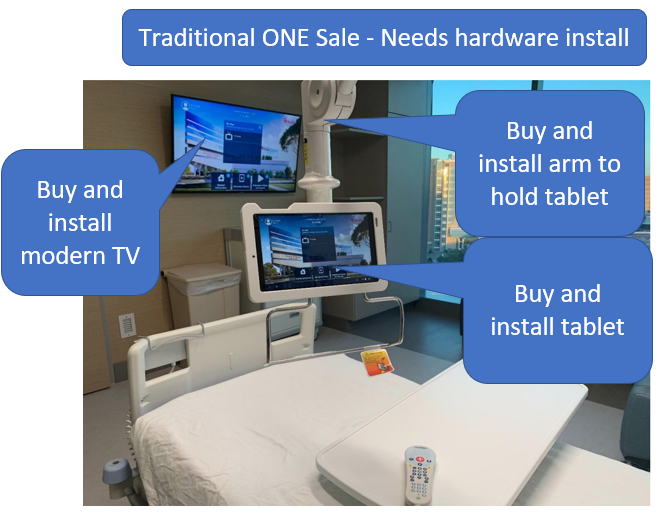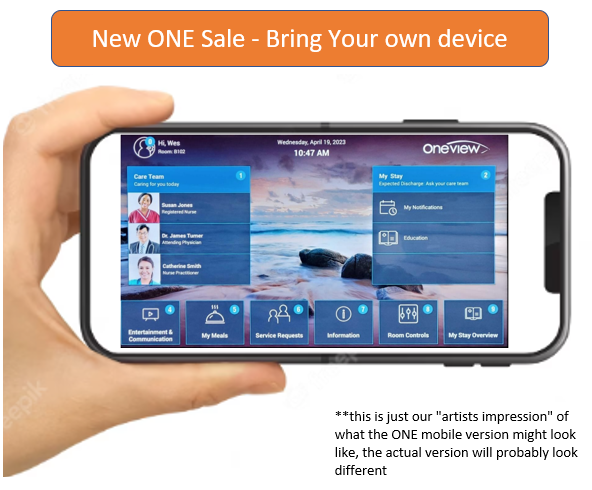 We liked the bring your own device ("BYOD") solution, as it could make it much easier for ONE to get its tech into hospitals. And we're waiting to hear more about this upgraded ONE functionality.
How does a "value added reseller agreement" work?
Today's announcement is a "value added reseller agreement" between Baxter and ONE.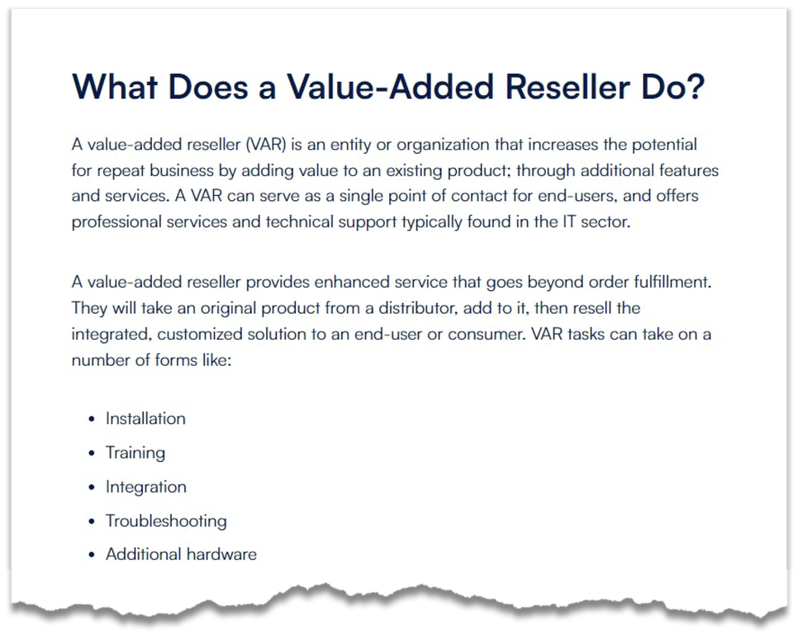 Source: Relevize
For context, ONE has over 15,000 beds contracted right now - so today's agreement with Baxter could mean ~20-33% growth in the first year if ONE's forecast of 3k to 5k new beds per annum is achieved.
Hopefully this will be the start of even more US market penetration and we hope eventually leading to a near ubiquitous presence.
Here's a quick diagram of how a Value-Added Reselling Agreement would work for ONE: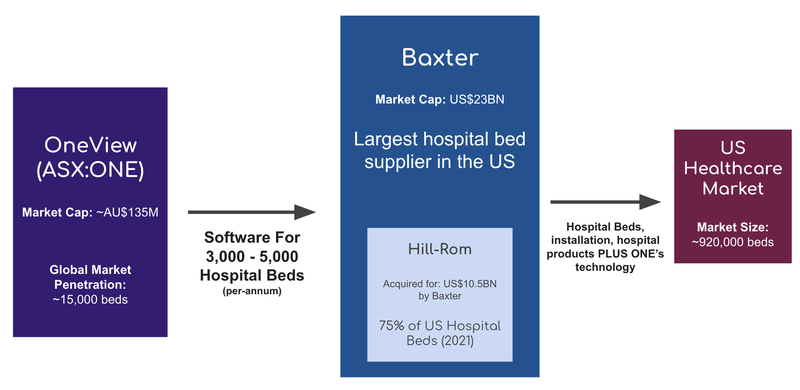 In simple terms, under the agreement, Baxter International will re-sell ONE's technology as a "value add" in its existing offering to its customers.
Future ONE quarterlies will give us a better insight on the revenue from this agreement.
But for now, here's why we think Baxter has the marketing expertise and deep reach that ONE needs in a "big brother"...
What's next for ONE?
We're looking for ONE to further define its expectations for the rest of the year and coming years in the wake of this breakthrough deal.
We plan to release a new ONE Investment Memo as we learn more about ONE's own plans.
For now though, here's what we want to see based on recent developments:
🔄 4x new hospital network deals
As ONE exited its trading halt, it noted that there were 4 new hospital network deals in the pipeline in "advanced" negotiations. These deals are in addition to the Baxter International deal announced today.
We want to see at least one of these deals close in the near term - ideally, all of them.
🔄 Update on bring your own device ("BYOD") solution
We want to hear more about this important new way of delivering ONE's tech into a hospital. We think this is where ONE can get deep market penetration.
Risks
Here are the risks from our ONE Investment Memo: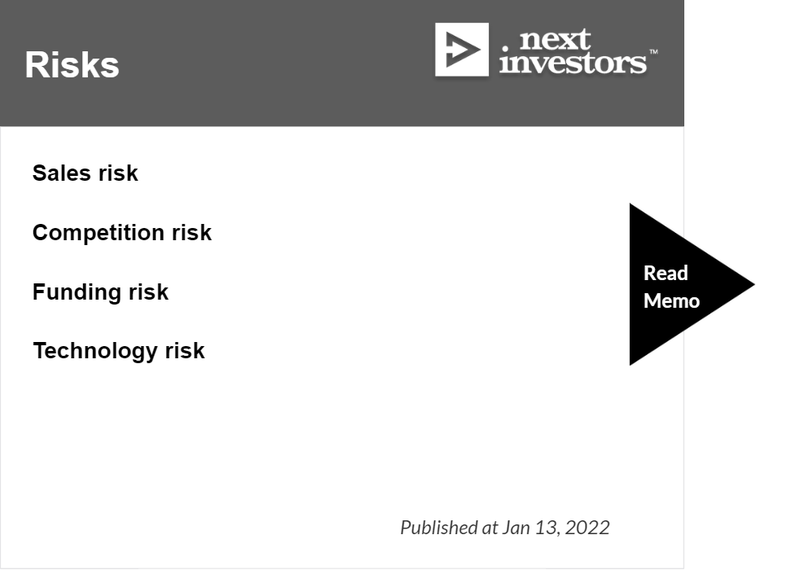 Sales risk - there's always a chance that reseller agreements don't deliver expected revenue for a variety of reasons. Baxter International could fail to successfully push ONE's product out to its customers.
Baxter could also refocus its marketing efforts away from selling ONE's product for any number of reasons (we don't know the precise agreement terms so it's hard to precisely forecast these risks).
Additionally, Baxter's acquisition of Hill-Rom Holdings is the subject of interest by the US Federal Trade Commission (FTC).
The FTC sent Baxter a letter last October, saying that even though the deal was closed, the agency could still opt into reviewing the deal and challenge the merger. If this happens then it might somehow hamper ONE's ability to penetrate the US market via this agreement with Baxter.
Competition risk - a big tech company could launch a competitor product.
Funding risk - ONE had €4.2M ($6.7M) in cash at 31 March 2023. Growth companies like ONE need cash to achieve their goals. Whilst it generates revenue, to deliver accelerated growth, ONE may need to raise more capital at some stage, which dilutes existing shareholders.
Technology risk - ONE will need to add functionality to its products over time as the health tech industry advances. ONE has flagged that a range of additional features are in the pipeline, in particular the bring your own device ("BYOD") solution. If the rollout is slow or doesn't happen the ONE share price could suffer and in turn increase sales risk.
Our ONE Investment Memo
In our ONE Investment Memo you'll find:
Key objectives for ONE
Why we Invested in ONE
The key risks to our Investment Thesis
Our Investment Plan
---