Litigation with Regis settled, ONE to receive $2M
ASX:ONE
Apr 19, 2022
Announcement
Last week, our 2021 Tech Pick of the Year Oneview Healthcare (ASX: ONE) announced that litigation against Regis Healthcare had been settled, with ONE due to receive $2M within ~30 days.
The $2M will add more firepower to ONE's already really strong balance sheet given ONE had ~€15.1M cash in the bank as at the 31st of December 2021.
As part of our 2022 ONE Investment Memo, we set most of our objectives around ONE increasing its sales capabilities to try and land more deals with major hospital networks and in turn increase revenues.
With the added cash in the bank and any distractions from the litigation gone, ONE now has even more cash to fund the growth of the company.
Next: We expect to see the March quarterly report before the end of this month. We are hoping to see increased revenues and updates on any new deals that have been added to the sales pipeline.
Below is a screenshot from our 2022 ONE Investment Memo, which details why we invested, what we want to see the company achieve in 2022 and the key risks to our investment thesis.
Check out our memo by clicking the image below.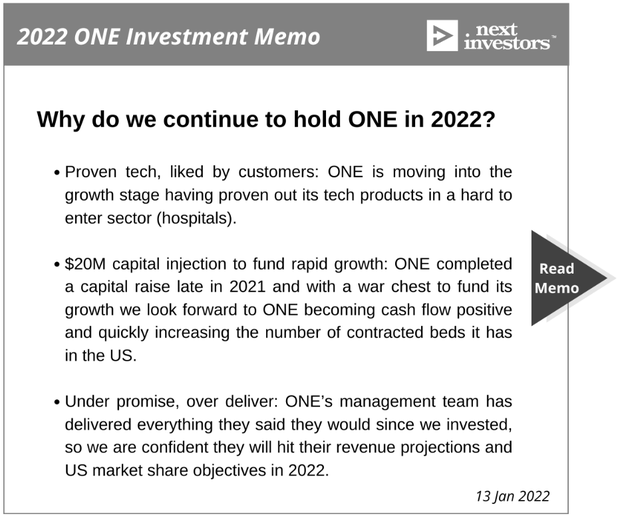 ---