ONE delivers on 15,000 contracted beds milestone
Disclosure: S3 Consortium Pty Ltd (The Company) and Associated Entities own 7,965,000 ONE shares at the time of publishing this article. The Company has been engaged by ONE to share our commentary on the progress of our Investment in ONE over time.
Our healthtech Investment, and 2021 Tech Pick of the Year, Oneview Healthcare (ASX:ONE) has just exceeded our #1 Objective for the company.
ONE uses cloud technology to provide hospital patients a "virtual care and digital control centre" at their bedside that delivers the best possible patient experience during their stay.
When we wrote our first ONE Investment Memo in January last year, we wanted to see the company achieve a milestone of 15,000 contracted hospital beds.
For ONE, a 'contracted bed' is like an active user for a tech company. The more contracted beds, the more recurring revenue that flows to ONE.
In today's ONE quarterly report, ONE achieved our #1 Objective - reporting over 15,000 beds signed.
Congratulations to ONE for today exceeding our target in our Investment Memo: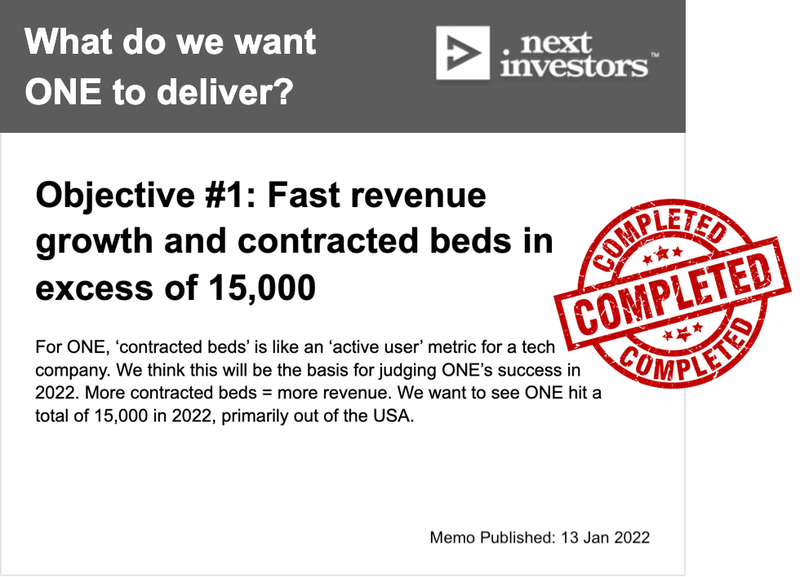 We will soon share our new targets for the next phase of ONE's growth.
According to today's quarterly report, ONE added three more hospitals as long term clients:
Catholic Health (the big one signed today, 800 beds, 5 year contract)
University of Miami Health System (81 beds, 5 year contract)
Adeney Private Hospital (42 rooms, 5 year contract)
PLUS, there are another four more hospitals in "late-stage contract negotiation" which could add up to 3,000 new beds.
That would tack on ~20% to ONE's total contracted beds in short order.
This sales momentum comes at a very good time, as positive broader tech sentiment came back over the last couple of weeks after a negative 2022 for all things tech.
We were actually hoping to see ONE achieve 15,000 by the end of 2022, so ONE is only a few months late on hitting this target.
Tech investors reward revenue growth momentum - the faster the growth the more the share price will rise.
So how is ONE going to further increase its sales velocity?
ONE included some very interesting commentary on page 6 of today's quarterly report, around a new "bring your own device (BYOD)" feature.
Basically this means that instead of a hospital needing to buy and install physical hardware for their patients to use ONE, the patient can install ONE directly on their own mobile phone or tablet.
So patients can be in their hospital bed, and use a ONE app on their mobile phone to order meals, control the room lights and temperature, call a nurse, get their treatment information, and interact with various other hospital systems.
But most importantly, from a sales perspective it's a way easier sell for ONE by removing the need for hospitals to buy and install hardware: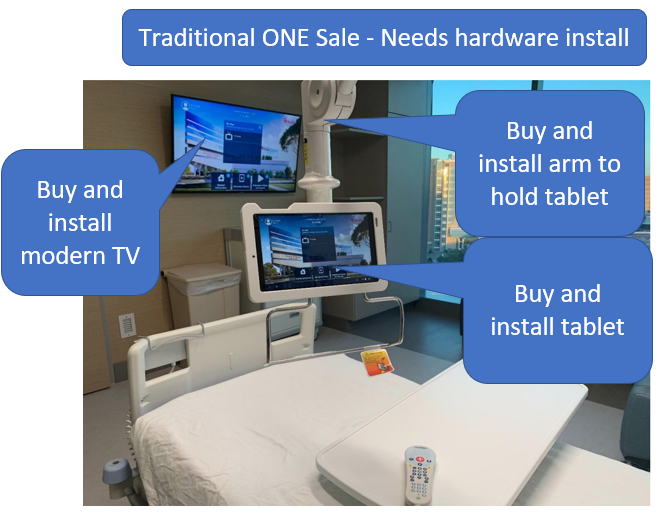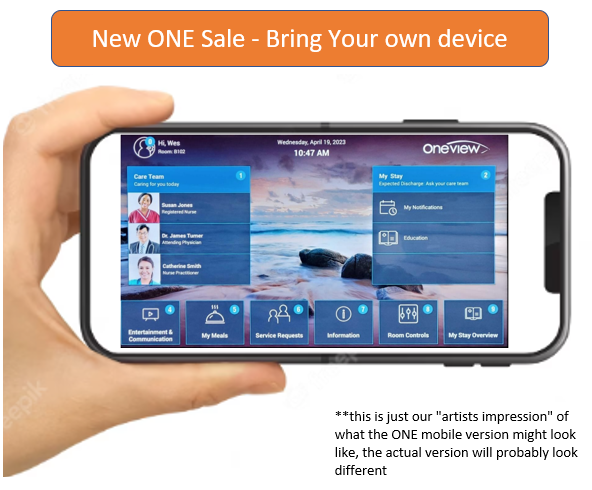 An analogy would be when you wanted to buy pay TV back in the early 2000s.
Remember when you wanted to get Foxtel and you had to organise a technician to come to your house and install the Foxtel box?
"I'll be there to do the installation in 3 months, on Tuesday some time between 8am and 5pm, make sure you are home to let me in."
The friction probably made you think twice about it.
Now compare that to buying cloud based Netflix today, which takes about 60 seconds and you are up and running.
We think this new "bring your own device" functionality from ONE will make it materially faster and easier for hospitals to sign up to ONE.
ONE is able to deliver the BYOD functionality thanks to the years of work it has done integrating to various hospital systems AND the work it completed over the last two years in migrating its service to the cloud.
We are hoping to see ONE's share price reach and exceed its 2021 highs on the back of increased revenue momentum through low-friction BYOD sales combined with continued positive sentiment in tech.
Our initial entry price to ONE is 6c and we participated in the last capital raise at 27c (ONE is currently trading at around 8c).
Our ONE Big Bet:
"ONE will sign on enough new hospital beds at an accelerating rate to achieve a $1BN valuation (based on 5x to 10x forward annual recurring revenue) and be acquired by a large health tech provider."
NOTE: our "Big Bet" is what we HOPE the ultimate success scenario looks like for this particular Investment over the long term (3+ years). There is a lot of work to be done, many risks involved, and it will require a significant amount of luck. There is no guarantee that it will ever come true. Some of these risks we list in our ONE Investment Memo.
To see how ONE is going against our Big Bet - we've got a Progress Tracker which provides a quick summary of ONE's progress since we Invested:
See our ONE Progress Tracker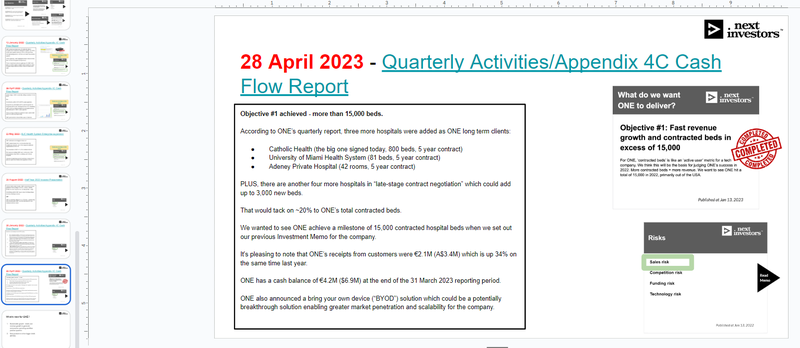 More on today's ONE quarterly
With this quarterly ONE ticked off the 15,000 contracted bed metric we had laid out as our #1 Objective in our ONE Investment Memo in January 2022.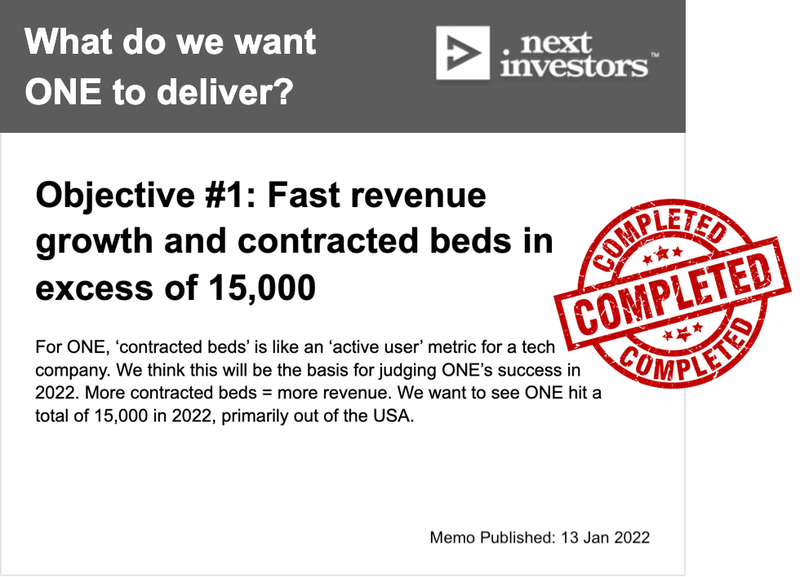 While revenue growth hasn't been as fast as we had originally hoped for (it was only one quarter late...), it's pleasing to note that ONE's receipts from customers were €2.1M (A$3.4M) during the quarter which is up 34% on the same time last year.
In the tech wreck that played out after we published the January 2022 ONE Investment Memo, ONE had to tighten its belt and reduce its cost base which we discussed in our last ONE note.
So the fact that ONE has grown receipts by 34% in this environment is pretty impressive to us.
In this quarterly ONE also said that a further four new "logos" or hospitals/healthcare networks are in "late-stage contract negotiation" which should add over 3,000 beds.
Assuming those deals close, that would grow contracted beds by 20%, representing rapid growth for the company.
For context, before we Invested in ONE in 2021, it took ONE roughly five years to get to ~10,000 contracted beds.
Now ONE has tacked on ~50% growth in contracted beds in the space of two years with hopefully up to 3,000 more beds to come shortly.
So what we think we are seeing is a material step change in ONE's trajectory as it targets cashflow breakeven.
We know hospitals are sticky as customers. ONE can sign them to long term contracts as evidenced by the 5 year contract signed today with Catholic Health in New York for 800 beds.
And there's a major product innovation that could be a big step forward for ONE as well...
ONE announced a big thing to look forward to - "BYOD"
As we hinted at above, ONE is working on a potentially breakthrough product that could dramatically reduce sales friction and drive its bottom line.
It's a bring your own device ("BYOD") solution - meaning the patient brings their own device (you guessed it) into the hospital and it is then loaded up with ONE's tech.
After more than two years being Invested in ONE, we know that the company has to work incredibly hard to get its products into hospitals, as there are significant upfront capital costs involved.
A BYOD solution would practically eliminate these capital costs, and potentially open up a much larger swathe of the lucrative US healthcare market.
ONE received very positive feedback about this potential product offering and is moving to see if it can be delivered.
We are pleased to hear about the BYOD development for one simple reason - we think this is how ONE could achieve major market penetration and scale quickly.
We are looking forward to hearing more about BYOD in subsequent quarters as we think it could be the key to unlocking very rapid growth for the company.
Risks
Here are the risks we are most conscious of for ONE at the moment and they are all closely linked: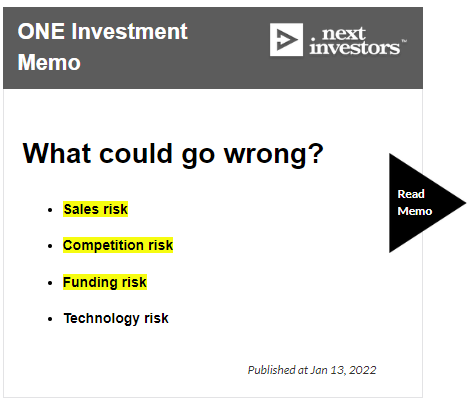 With sales risk - there's always a chance the deals fall through.
Competition risk is ever present for ONE - the company isn't alone in the US healthtech market and this is linked to sales risk.
ONE has a cash balance of €4.2M ($6.9M) at the end of the 31 March 2023 reporting period. If big deals don't close and revenue drops off further, that would eat into ONE's cash balance, perhaps precipitating a capital raise down the track - this is a risk for most small cap companies.
One risk that we did not predict was "macro theme" risk - namely the tech crash which took most tech stocks down with it, until sentiment turns positive again and they rebound. We will include "macro theme" risk in all future memos.
Our ONE Investment Memo
In our ONE Investment Memo you'll find:
Key objectives for ONE
Why we Invested in ONE
The key risks to our Investment Thesis
Our Investment Plan
---