IVZ to drill any day now - What a past successful exploration campaign looks like
Damian, founder of Next Investors here - the "weekend edition" is a day late as I took yesterday off to enjoy AFL grand final day.
I wanted to use today's note to wish good luck to anyone on Invictus Energy (ASX:IVZ) and share a case study of a past oil & gas exploration campaign I followed closely that was successful, and hence what I'll be looking out for during IVZ's drilling.
IVZ is about to start drilling the biggest conventional onshore oil and gas prospect in Africa, followed by a second drill into the first of a group of basin margin prospects known as a "string of pearls".
After two years of waiting the drilling is expected to start any day now.
Two years isn't that long at all compared to the wait for IVZ founder, Managing Director and largest shareholder Scott Macmillan - who has been working towards this drilling event for 11 years.
We will all soon get a first look at what lies under IVZ's ground and depending on the drill result, IVZ could do anything from going up 1,000% to down 80% - probably something in between.
It all depends on the result the drilling delivers.
Remember that frontier oil and gas exploration is about as risky as you can get in small cap investing.
Over the last few years we have seen many examples of when an oil & gas drill DOESN'T deliver a result and the carnage that happens to the share price - this is by far the more common result.
Over the next couple of months we will find out if IVZ will live up to being our 2020 Energy Pick of the Year and join the "hall of fame"... or will it have to go back to the drawing board.
Right now we are holding 4,987,102 shares and 1,217,101 options - we took a decent swing at the last placement at 23c (couldn't resist those options).
We've decided to hold a bigger than usual position into the result on IVZ - after holding for over two years. During the last 12 months we have managed to achieve Free Carry but have not taken any profit yet.
If the IVZ share price doubles from here pre-result we will probably Top Slice 20% of the position. The rest is going to ride into the long awaited drill result, and we will either be jumping for joy or nursing yet another expensive small cap lesson.
In preparation for what I HOPE & PRAY will happen for IVZ, today I'm going to go over a case study of a past, similar oil & gas drilling campaign that I followed very closely which was successful.
I will look at what kind of announcements came out during drilling, what the share price did in response and hence what I'll be looking for during the IVZ drill campaign.
The reason I have a special interest in IVZ is the similarity to the first oil & gas exploration investment I ever made that actually delivered exceptional drilling results.
Almost exactly 10 years ago in 2012, also in Africa, also a basin margin play with multiple prospects in an unexplored basin AND with a "string of pearls" - Africa Oil Corp (TSX.V:AOI) drilled a string of successful wells and delivered a 1,000% share price run and sustained re-rate.
AOI's now prolific Lokichar basin has many similarities to IVZ's Cabora Bassa basin.
When I first invested in AOI I was in my late 20s. I had been burned by a bunch of oil & gas exploration investments and was trying to apply all those expensive lessons to my investment in AOI, sharing the investment journey via this blog in my spare time.
I had much of my savings from my day job invested in AOI - which was definitely NOT smart, but at that time if I lost all my cash (again) I didn't have that many financial responsibilities or anyone to answer to - only my then girlfriend (now wife) who would know that I had blown myself up on a small cap explorer again whenever I came home from work and said we probably have to cancel foxtel and stop buying fancy things like grapefruits.
Luckily I finally hit one, AOI went from $1.50 to a high of $12.50 on a successful first well, the blog readers were all happy and I was able to use the profits to work on the blog full time - which became nextinvestors.com.
Obviously, during this time I was watching AOI like a hawk before, during and after its first drill.
Now that IVZ has increased its land holding and acquired its very own "string of pearls" on the Cabora Bassa basin margin, IVZ is also noting the similarities to AOI in its latest presentation (some markups added for clarity):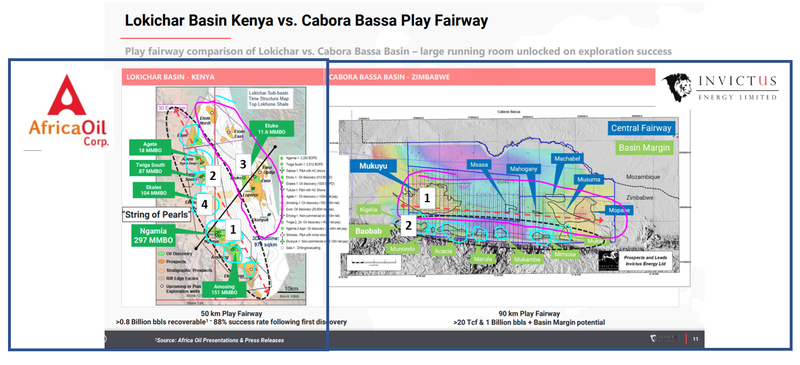 Original Image Source: IVZ presentation Sept 2022
Key things to note from the AOI to IVZ comparison:
I have highlighted the basin margin "string of pearls" for IVZ and AOI in aqua.
A "string of pearls" is a collection of targets/prospects along a basin margin, sharing a similar geological structure - if you successfully drill one "pearl" the chances are the other "pearls" will be successful too.
I have circled the other basin targets in a large purple markup.
If you rotate AOI's map 90 degrees counterclockwise (otherwise known as "to the left") it looks very similar to IVZ.
I have numbered the order of which AOI drilled the first four wells in the Lokichar basin, and the order of the two planned IVZ wells.
Key differences in approach to drilling:
AOI decided to drill two basin margin "string of pearl" targets in the Lokichar basin first, then moved inside the Lokichar basin, then moved back out to the basin margin again to drill another "pearl" - all drills made discoveries (note: AOI also drilled two wells outside the Lokichar basin during this time).
IVZ plans to drill inside the basin first (giant Mukuyu-1 prospect) and then move onto the first "pearl" in their "string of pearls" on the Cabora Bassa basin margin at Baobab-1. What IVZ learns from the first two wells will determine its next move.
First here is what the AOI share price looked like from 2011 to 2013, which includes
Pre-drill work leading up to the first well
A multi zone discovery on the first well that drove up the share price
And then subsequent drilling and other key announcements
Both AOI and IVZ started their drill campaigns roughly at around ~$200M market cap.
The image shows the usual pre-work required to get to drilling, and a nice little run up from $1.50 to $2.50 in anticipation of AOI's first drill result - this is around where IVZ sits now.
Now the key difference, from most oil & gas explorers, is that AOI actually announced the discovery of an oil column early on during the progress of its first well, THEN followed it up with bigger oil columns on deeper targets in the first well.
This is what generated the significant share price increase over March, April and May in 2012.
NOTE: I'm NOT suggesting IVZ will achieve anything similar to AOI, this case study is to understand what a successful discovery looks like. The past performance of AOI is not an indicator of the future performance of IVZ.
I'm going through the case study of the AOI drill campaign as an example of how a similar drill campaign CAN go right, and the potential things I'll be looking out for with IVZ based on what I saw with AOI.
So almost exactly 10 years after the success with AOI, IVZ is about to start drilling in a similar unexplored rift basin system, including a "string of pearls" set of basin margin prospects.
Again I'm not suggesting IVZ will do anything similar to AOI - this is just a case study of an explorer, in a similar style basin, that actually worked 10 years ago for reference purposes.
The multiple different zones where AOI discovered oil columns were each announced individually over a 3 month period and appear to be what got the AOI share price moving, probably combined with the large number of other prospects in the basin that investors thought might also be successful based on the success of AOI's first well.
IVZ's first Mukuyu-1 well (hopefully spudding any day now) consists of seven stacked targets, so there is certainly scope for IVZ to announce gas columns as they hit them. This is of course IF they do actually hit something AND assuming they dont wait until target depth to do logging and sampling:
Image Source: IVZ presentation Sept 2022
AOI approached the order of drilling a little bit differently to IVZ, in that they drilled two "pearls" from their "string of pearls" targets first, then moved into the basin, before drilling a third basin margin well (not counting two wells they drilled outside the basin).
IVZ is starting off in the middle of the basin to drill the monster Mukuyu-1 prospect (hopefully spudding any day now), then the rig will move to the basin margin to drill the first in the string of pearls, Baobab-1.
Here is another way to look at the timeline of how the AOI drilling results happened against how the share price reacted. In short, the price spike happened as progressive results were announced during the initial drill.
I've downloaded the relevant AOI announcements from 2011 to 2013 which encompases the share price rise and re-rate shown in the previous image and highlighted the three announcements released across 60 days where the big share price rise happened, all of them are progressive results from the first well.
I've renamed each announcement pdf in the format:
[YYYY MM DD] [share price at end of day] [Announcement Summary]
So it's easier to read what happened with AOI announcements in chronological order: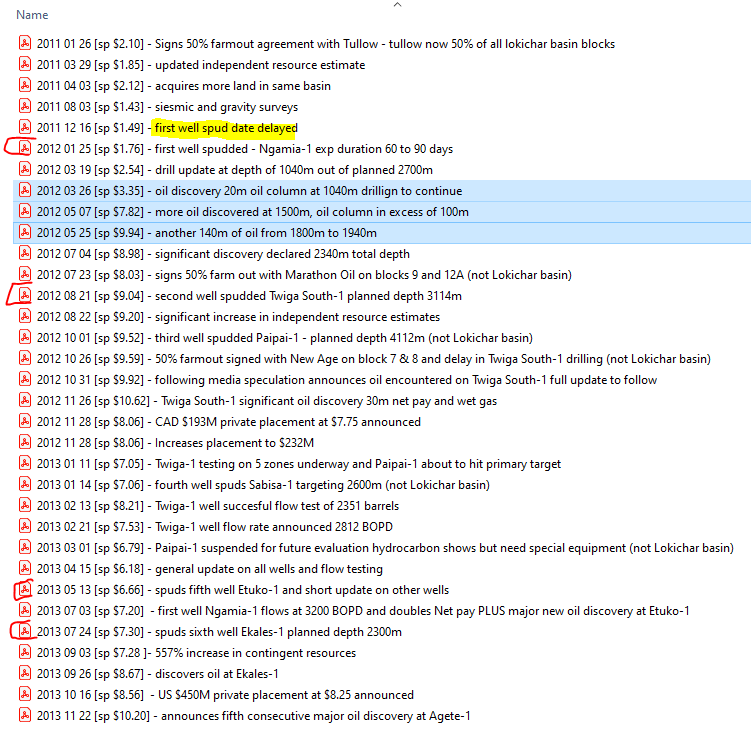 Image Source: My computer
If you want to access and read any of these I have shared them all here.
The spudding of the Lokichar basin wells are shown in red.
Again, you can see a number of familiar things were announced pre-drill, including seismic & gravity surveys and more land acquired. IVZ has also delivered this common set of pre-drill announcements.
Also note there were delays to spudding AOI's first well (shown in yellow) - this is common in basin opening drills on the initial rig mobilisation to a far away location where every single part of the rig needs to be transported and assembled. I can think of many times where I have traveled somewhere and forgotten something important like my phone charger or a key pair of shorts.
Once AOI released the first few results as it passed through and tested the targets in the well over a few months, the share price rose significantly (shown in blue):
Here are the links to those announcements
Another thing to note from reading this set of positive announcements is that even successful drills experience issues, in AOI's case deteriorating hole conditions requiring a side track to deepen the well.
This is totally normal in exploration drilling, same as delays to spudding a well.
AOI also hit the basin bounding fault earlier than expected (i.e. before reaching their planned target depth), meaning that the drill location they chose based on the data they had didn't allow them to drill deep enough to test one of the lower target zones.
Again, a pretty normal thing to happen and delivered valuable learnings for the next drill plan.
After the AOI share price surged and another successful well was announced, AOI did a $193M placement at $7.75, significantly higher than pre-drill average price and enough to fund the drilling of many more of its prospects... and yes, as usual the share price then hovered around the placement price of ~$8 over the next 6 months - still a nice ~4x from the pre drill average.
After the significant discovery and cap raise AOI had enough cash and potential to keep the rigs in-country and drilled out many targets in the basin, making lots of discoveries in the string of pearls given that each pearl is a geologically similar structure.
Ideally, we want to see IVZ make successful discoveries on both Mukuyu-1 and Baobab-1 and then raise a decent chunk of cash to drill the next 5 to 10 holes... or bring in a deep-pocketed farm-in partner to do the heavy financial and operational lifting.
A few years later AOI farmed down half of its 50% ownership in the Lokichar Basin to Maersk for a deal worth nearly $1 billion in back cost repayments AND future carry.
In 2014 AOI share price took a hit after the oil price crashed so keep in mind that unexpected and uncontrollable macro factors can always impact a great investment.
AOI went on to use its farm down cash to acquire producing oil & gas assets to create cashflow while they wait for their discoveries to be developed by its farm-in partners. AOI are now producing 27,000 barrels of oil per day and paying regular dividends - AOI are definitely the exception to the rule for the majority of oil & gas exploration companies that never make a discovery.
Like with AOI and other explorers that strike significant oil & gas, if IVZ manages to hit it out of the park with the first two wells it opens up many opportunities for funding and partnership to drill out the rest of the basin.
...but of course on the flipside a couple of bad results will likely mean that IVZ will need a change in plan (and likely a pretty painful recapitalisation raise).
So based on what I observed 10 years ago with AOI, what I'll be watching out for with IVZ is any early results announced, perhaps gas shows but preferably gas columns from testing the first few target zones, hopefully prior to reaching target depth.
However, every oil & gas explorer approaches things differently, and IVZ may wait till they hit target depth before it releases any news - we just don't know.
Also noting that technical issues may likely occur and cause delays while they are being solved, but don't necessarily mean the drilling will be unsuccessful - AOI's first drill spud was delayed. It was also planned to take 60 to 90 days and ended up taking almost double that time while they encountered and solved drilling problems... but was still a success.
One positive difference to note is that IVZ went for the option of retaining their full ownership by NOT doing a farm out and self funding the first two drills. AOI had already farmed out a 50% share on the key blocks BEFORE its first drill (and post-discovery it farmed out another 25% for almost $1 billion in back costs repayments and free carry on its remaining 25%).
So IF IVZ manages to deliver a significant gas discovery, it will have a way bigger chunk of the project to work with compared to if it had farmed out before (on the flipside it will bear all the costs of a failure).
On a side note, my personal favourite part of the AOI discovery was what happened on the day that the discovery announcement was made - everyone I know is sick of hearing this story but here it is anyway (and it sort of relates to IVZ at the end).
Back when I was invested in AOI and the drilling had just started, I got it into my head it would be a good idea to travel to an overseas oil & gas conference where AOI's management was presenting to try and meet them (to this day meeting management remains a key part of our investment process).
The conference was coincidentally being held in Nairobi, Kenya, where AOI had just started its first drill into the Lokichar basin, hoping to make Kenya's first ever oil discovery.
Conference tickets were about $1,200 so as a long shot I asked the conference organisers for a free media pass and sent them the link to this blog which at the time had maybe a couple of thousand readers max.
I was very surprised when they said yes and sent me a free conference ticket.
So I took a week of leave from my job, bought the cheapest plane ticket I could find and was off to Kenya to try and meet the AOI management and other interesting oil & gas explorers.
There were about 350 people in attendance, including African oil & gas explorer CEO's, financiers, government ministers from Kenya and neighboring countries, and representatives from the big energy companies.
It's half way through the first day of the conference, everyone is sitting down listening to the presentations, when suddenly...
AOI releases an announcement on the TSX.V that they had made Kenya's first ever oil discovery in the Lokichar basin.
Being an overexposed AOI investor, at an oil & gas conference, in Kenya, at the moment AOI announced Kenya's first ever oil discovery that spiked the share price was certainly an experience.
I still have a copy of the Nairobi newspaper from the next day:
Here is an archived copy of my write up of this conference from 2012 including the reaction as the oil discovery news was released and what happened at the conference drinks that night - this was certainly one of the most interesting things that has happened to me since I started investing in exploration stocks :
https://web.archive.org/web/20130620214900/http://www.nextoilrush.com/index.php/east-africa-oil-and-gas-conference-report/
(big thanks to MC from reddit for finding this archive of my old blog, I thought it had been lost forever)
While it's probably way too unlikely for history to repeat this perfectly timed results announcement, IVZ will be presenting at an oil & gas conference, in South Africa, from 18th to 21st of October... just about the time we might be getting some early results from IVZ's first target zone (if the first well spuds this week and IF it actually discovers gas... lots of ifs):
Source: Africa Energy Week, Cape town
While a repeat of AOI's perfectly timed discovery announcement while IVZ is at a conference full of key oil & gas industry players is almost impossible, it would certainly be funny if 10 years later IVZ managed to deliver a similar feat.
IVZ is also presenting at this conference in South Africa on October 6th, but given the delays to spud I don't think there will be enough time in which to deliver any results by this date.
So there is a summary of what a successful oil & gas drilling campaign looks like with AOI, including a nice to have (but unlikely) cherry on top of delivering their first discovery at a key industry conference.
Can IVZ deliver something similar? Only the drill results over the next couple of months will determine this - the past performance of other companies DOES NOT indicate what the future performance of a company will be.
Also always remember that oil & gas exploration is extremely risky, especially this close to commencement of drilling - we have been holding IVZ for over 2 years and have de-risked our position to be at Free Carry, meaning essentially a free hit at the results.
Most oil & gas exploration companies will fail to make a discovery and the share price will go down a lot - remember to only invest what you are comfortable to lose.
So good luck to all IVZ holders, the next few months should be interesting.
Damian, Next Investors
Read this article on our website here:
🗣️ Quick Takes
Here are this week's Quick Takes:
AKN: Increases stake to 80% of flagship Koongie Park project, WA
BOD: Extends entitlement offer by a week
BPM: Drilling underway at WA gold project
GAL: More high grade assays from shallow zone of discovery
GGE: Trading halt pending flow test results
IVZ: Expanded acreage with a prospective resource upgrade on the way?
LNR: Rare earths drilling almost 50% complete
TG1: More target generation works at WA copper projects
Macro (Critical Minerals): Critical minerals quickly becoming a priority in the EU
Macro (Lithium): Lithium prices now trading at all time highs
This week in our Portfolios 🧬 🦉 🏹
Sarytogan Graphite (ASX: SGA)
Our graphite Investment Sarytogan Graphite (ASX: SGA) announced the discovery of high-grade graphite mineralisation outside of its existing resource.
📰 Read our full note: SGA discovers more high grade graphite - OUTSIDE existing resource area
Tempus Resources (ASX: TMR)
Last week our Canadian gold exploration Investment Tempus Resources (ASX: TMR) put out the highest grade assay results we have ever seen... again.
📰 Read our full note: TMR record breaking drill hits - another step to restarting dormant gold mill
Noble Helium (ASX: NHE)
Our helium exploration Investment Noble Helium (ASX: NHE) added an extra 1,538 km2 of exploration acreage in Tanzania, adding to the 1,138 km2 it picked up last week.
In total, NHE now has 5,464 km2 of helium licences and applications in the East African Rift System (EARS).
📰 Read our full note: NHE scoops up more helium acreage in most prospective part of the planet
Grand Gulf Energy (ASX: GGE)
Our 2021 Catalyst Hunter Pick Of The Year Grand Gulf Energy (ASX: GGE) completed its workover program at its maiden pure play helium well in Utah, USA.
📰 Read our full ote: GGE confirm helium discovery - but a flow rate still evades them
⏲️ Upcoming potential share price catalysts
Results expected in the near term:
Company Progress Trackers
Have a great weekend,
Next Investors
---