TMR intersects unexpected visible gold - "accidentally" discovers potential new gold vein
The path ahead for Tempus Resources (ASX:TMR) to fast-track gold production and extend its historical gold resource at its flagship Elizabeth Project in Canada involves an aggressive drilling program.
TMR's current drilling program has a mix of goals — to test if historically mined gold veins EXTEND FURTHER or to DISCOVER NEW GOLD VEINS that can be further drilled. The overall goal is to increase the estimated amount of gold underground.
This week TMR announced another set of results: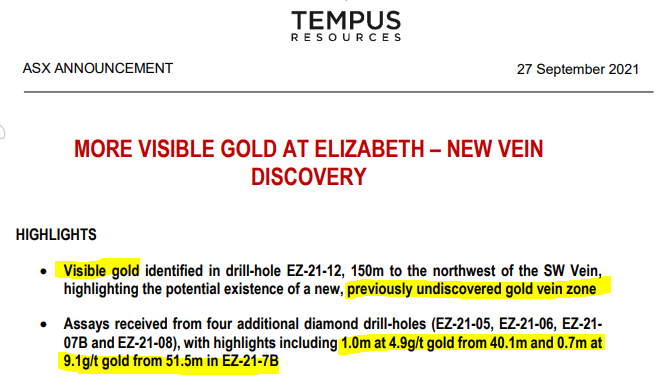 This announcement tells us two key things:
An unexpected visible gold hit in a NEW drill hole designed to test extension of an existing gold vein at depth indicated that THERE MAY BE AN ENTIRE NEW VEIN (assay results now pending).
Assay results to test if two historically known veins connect came back with some gold grades, but not the bonanza grades we wanted to see.
We got on the phone to TMR chairman Alexander Molyneux to find out what he thought of these results — you can listen to his thoughts on the results further down the page.
TMR continues to drill and has 11 assay results in the lab, one of which (hole 9) is testing a far away possible extension of the south west vein — a high risk but potentially high reward hole if it comes in. We provide a summary of what each upcoming drill hole is designed to test and what our expectations are later in the article.
We like gold companies that have both exploration upside and a clear pathway to early production. TMR certainly fits both criteria.
Spanning some 115km2, the Elizabeth Project is located in the Bralorne Gold District of southern British Columbia — a top 10 jurisdiction globally for pure mineral potential.
Historically, Elizabeth has produced over 230,000 ounces of gold, and hosts a resource of over 200,000oz at 12.26g/tonne (inferred), which TMR is looking to upgrade.
Importantly — and what separates TMR from the vast majority of other gold junior hopefuls — is that Elizabeth comes with a permitted and previously producing mine, a mill, as well as a tailings storage facility that can be restarted.
Having infrastructure and permits are key hurdles for junior companies attempting to transition to production, so this is significant. We are a little ahead of ourselves in that TMR needs to drill more and grow the current resource first. But with plant, permitting, and tailings storage already established, TMR has a quick path to production should enough gold be found.
TMR will continue to drill and explore the deposit to upgrade the size of the resource at Elizabeth and Blackdome.
To fund these efforts, TMR recently completed a capital raise at an average price of 25.1¢. The extra $6.28M in the bank helps accelerate drilling for the remainder of the Canadian drilling season, while adding local and international institutional investors to the register.
New Vein? It's all about Hole 12
The unexpected positive news from this week's announcement was the visible gold identified in the upper section of hole 12, which is indicative of an undiscovered gold vein.
Hole 12 is a step back hole that was designed to test how wide the Southwest Vein was at depth. The hole intersected the quartz zone of an offchute of the Southwest Vein, indicating mineralisation at depth. But the exciting bit is that in the upper section of the hole visible gold was intersected, reflective of a new undiscovered vein.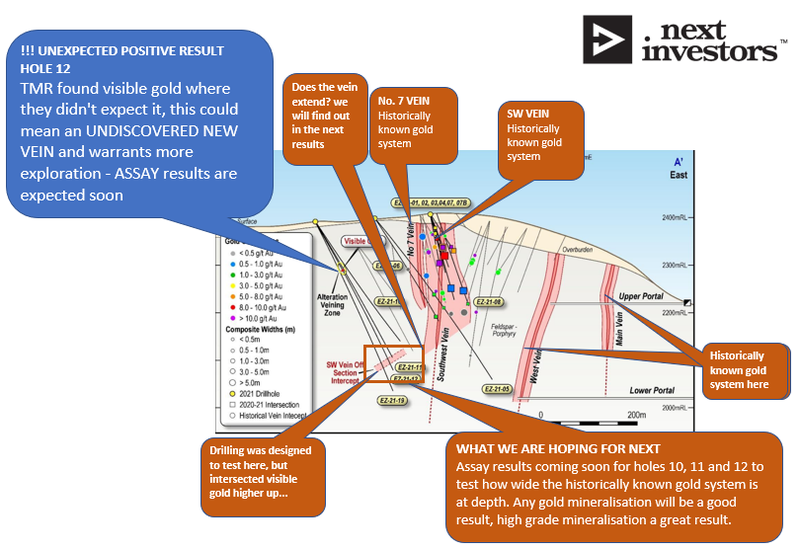 Almost the entirety of the historical resource at Elizabeth is made up by two high grade chutes — the southern chute of the Southwest Vein and the northern chute of the Southwest Vein.
With the visible gold from hole 12, there is the potential for a new ore chute discovered that could meaningfully extend the gold resource.
TMR has moved the drill rig to the area near hole 12 to see if it can have a repeat of the discovery and any additional resource conversion to prove the existence of a new high grade chute.
Here is Chairman Alexander Molyneux talking about hole 12:

The assays announced
Exploration is like solving a puzzle. Sometimes a piece fits and other times it doesn't. But with each new try, more and more information is gained to reach the ultimate goal — extending the gold resource.
Think of the four assay results announced on Monday as the puzzle pieces that didn't quite fit. Although they don't advance the project towards the end goal, they provide the company with valuable information to make better decisions about future drilling.
Drill holes 5-8 tested the boundaries of the Southwest Vein and though we hoped that the vein extended beyond its boundaries and connected up with the other nearby "7 Vein", the results do not suggest there is a strong connection.
While the results from holes 5-8 don't detract from the story, they don't add anything new or exciting for TMR.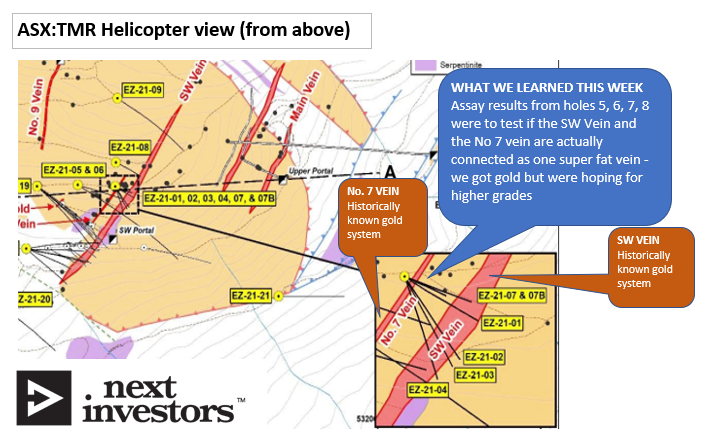 Here is Chairman Alexander Molyneux talking about the assay results from holes 5-8:
Next assays: what to expect
We are hoping that the next batch of assays will arrive some time in late October, with holes 9, 10, 11 and 12 likely to be included and 13 and 14 possibly included in the next batch.
Hole 9: This hole is being drilled in an area well outside of historical resources. We are not expecting a result from this hole, but if it comes in with mineralisation it will demonstrate major extension potential of the SW vein - a very big result.
Hole 10 & 11: These holes were to test whether the Southwest Vein widens at depth with a reasonable grade. Further to that, we are HOPING there is gold mineralisation in the upper part of the hole to establish the presence of a previously unknown vein.
Hole 12: Similar to the commentary on holes 10 and 11, however there is visible evidence of gold on the drill core. We are hoping for bonanza grade mineralisation from this hole.
Hole 13 & 14: These are testing a section of the SW Vein that has been mapped but does not yet contain any gold mineralisation. Similar to hole 9 we are not expecting a result, but if they› do come in with mineralisation they are also quite extensional.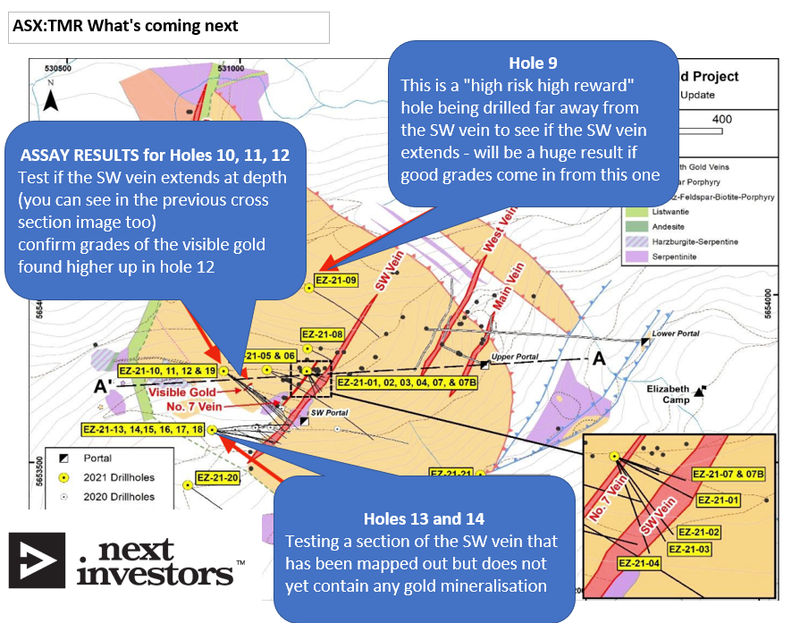 REMINDER: Our TMR investment journey
We originally took a position in Canadian Gold explorer Tempus Resources (ASX:TMR) at 21¢ back in February 2020 because we liked its Canada and Ecuador Gold projects, active drilling campaign plans, and sub 100 million shares on issue. We increased our position in November 2020 at 34¢.
For a number of reasons, which we cover in this article, the TMR share price moved sideways in 2020. However, after a brief hiatus due to the Canadian winter season, the 2021 drilling campaign is well underway.
TMR's goal for the current drilling season is to extend the high grade veins that have already been discovered by as much as possible, and identify any new veins that could extend the gold resource.
Now that geophysical surveys have shown that the whole system is a lot larger than previously known and work has shown that the gold is economically extractable, we expect plenty of action to come over the next few months for TMR.
In previous years, TMR was one of those exploration stocks that had a finite window to drill each year (thanks to the Canadian winter), so all the share price activity was concentrated into those drilling season windows. However, this season TMR has announced that they have applied for permits to continue drilling throughout the winter via underground adits. This will provide further news flow through into the 1st and 2nd quarters of 2022.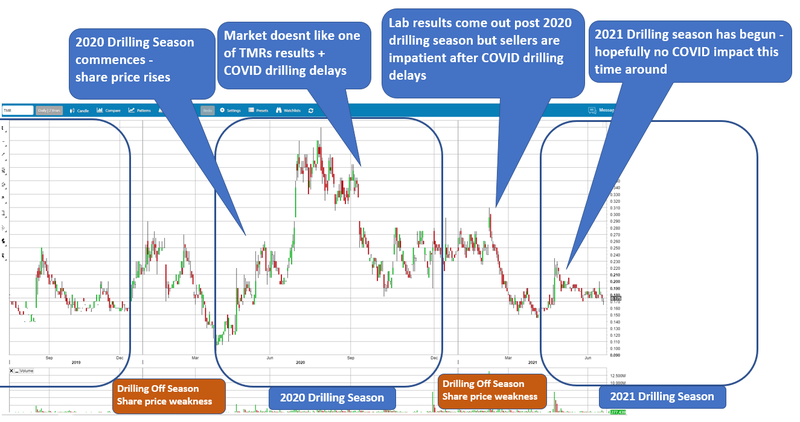 In terms of their drilling results, TMR received bonanza grade gold results in its 2020 drilling campaign and a bonanza grade gold hit from its first drill of the 2021 season.
TMR continues to drill the gold deposit at Elizabeth with its latest news that it may have identified a new gold vein. With plenty of assays and drilling left in the season, we look forward to seeing what it can deliver.
Tempus Resources Company Milestones
✅ Next Investors Portfolio Launch
✅ $4M Cap Raise @ 15.3c
✅ $2.5M Cap Raise @ 31c
✅ TSX Venture Listing
✅ $1.25M Cap Raise @ 26.5c
✅ Project Acquisition Complete (Blackdome / Elizabeth)
✅ Sale of Mineral Creek Gold Project
✅ $1.9M Cap Raise @ 14.5c
✅ OTCQB Listing
✅ $6.28M Cap Raise @ 25.1c
🔲 Resource Upgrade (Blackdome)
🔲 Resource Upgrade (Elizabeth)
🔲 Preliminary Economic Assessment (Blackdome / Elizabeth)
🔲 Gold Price over US$2000 oz
Blackdome / Elizabeth (British Columbia, Ca)
2020 Drilling Season
✅ Notice of work granted Blackdome
✅ RC Drilling Commenced (Blackdome)
✅ RC Assay Results 1 (Blackdome)
✅ RC Assay Results 2
🟧 5,000m Drilling of 6,000m Target Complete at Blackdome
🟧 Permit of work granted (Elizabeth, Delayed)
✅ Diamond Drilling Commenced (Blackdome)
🟥 2,000m Drilling of 6,000m Target Complete (Elizabeth)

2020 Drilling Results
✅ RC Assay Results 1 (Blackdome)
✅ RC Assay Results 2 (Blackdome)
🟩 "Bonanza" Assay Results (Elizabeth)
2021 Drilling Season
✅ Drilling Restarted 4,000m from 2020 Season (Elizabeth)
✅ 4,000m from 2020 Season Complete (Elizabeth)
✅ Positive Geophysical Results - Gold System Extended
🔄 7,500m of Drilling at Elizabeth
✅ Metalurgical review confirms ~95% recovery rates
🔄 Permit for underground adit
🔲 New Drilling at Blackdome ?
🔲 Assay Results (Blackdome)

2021 Drilling Results
🟩 Assay Results 1 (Elizabeth, EZ-21-4)
🟩 Assay Results 2 (Elizabeth, EZ-21-1,2,3)
🟧 Assay Results 2 (Elizabeth, EZ-21-5,6,7,8)
🔄 Assay Results 3 (Elizabeth, EZ-21-9,10,11,12,13,14)
🔲 Assay Results 4 (Elizabeth)
Next Investors Investment Milestones
✅ Initial Investment: @20c
✅ Increase Investment: @34c
✅ Increase Investment: @14.5c
✅ Increase Investment: @17.86c
🔲 Price increases 500% from initial entry
🔲 Price increases 1000% from initial entry
🔲 Price increases 2000% from initial entry
✅ 12 Month Capital Gain Discount
🔲 Free Carry
🔲 Take Some Profit
🔲 Hold remaining Position for next 2+ years
---