TMR Now Fully Funded for Canada and Ecuador Next Door to Where Newcrest Has Expanded its Stake
PUBLISHED: 04-05-2020 11:09 a.m.
Tempus Resources (ASX:TMR) has raised $4 million to fund its next stage of exploration at its low risk, high producing, high grade gold mine in British Columbia, Canada.
TMR's Blackdome-Elizabeth Gold Project consists of 42 contiguous mineral claims totalling nearly 9900 hectares and comes with a ~300,000 ounce resource.
TMR is planning to start drilling in mid-late June and will be on site in the next week or two once it has cleared the roads and made other preparations for drilling to start.
The Mineral Creek Property will also be a focus after the company released historical drilling data, including a wide bonanza grade return of 7.2 metres at 159 g/t gold from 64 metres, including 4.5 metres at 253.6 g/t gold. After the announcement, shares in the company rose nearly 60%.
A little extra money in the bank should also help Tempus with its Ecuadorian asset.
Ecuadorian gold is highly sought after.
Ecuador hosts the most valuable greenfields gold discovery of the last 15 years – C$2.6 billion capped Lundin Gold's (TSE: LUG) Fruta del Norte tenements.
Fruta del Norte hosts an NI43-101 Indicated Mineral Resource of 23.8 million tonnes at 9.61 g/t gold and a further Inferred Mineral Resource of 11.6 million tonnes at 5.69 g/t gold (9.48Moz total).
So sought after is this ground that the $19.3 billion capped Newcrest Mining (ASX: NCM) is seeking to raise $1.1 billion to fund future growth, whilst expanding its exposure to gold production at Fruta del Norte, having raised its ownership stake in Lundin to 32% in December last year.
The activity in this region works in TMR's favour as it owns prospective ground directly adjacent to Lundin's.
Given its proximity to Lundin, the money now in the bank and the work it is about to start at Blackdome, despite most of the world still being in lockdown, we have confidence in our long-term position in Tempus.
With work to commence shortly in Canada, there is plenty of news to flow, so let's check in on ...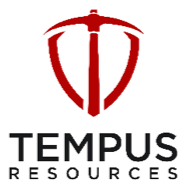 Tempus Resources
ASX:TMR
Share Price: $0.17 (at market open 4 May 2020)
Market Capitalisation: $7.2 million
Here's why I like TMR: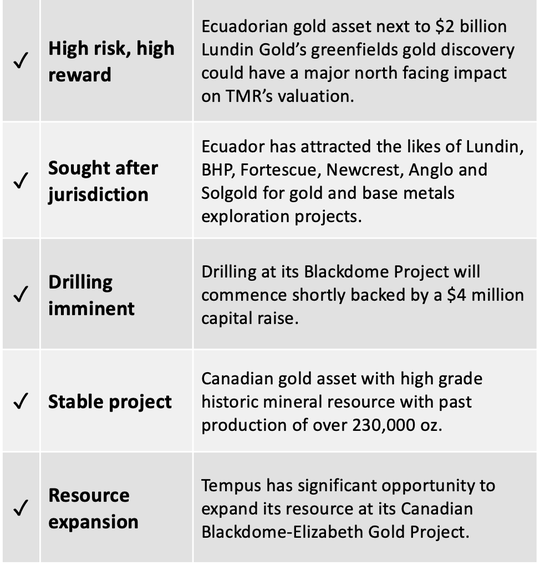 Drilling in Canada just days away
Tempus Resources Ltd (ASX:TMR) today announced it has raised $4 million to go towards drilling at its 100%-owned Blackdome-Elizabeth Project located in the Tier-1 jurisdiction of British Columbia, Canada.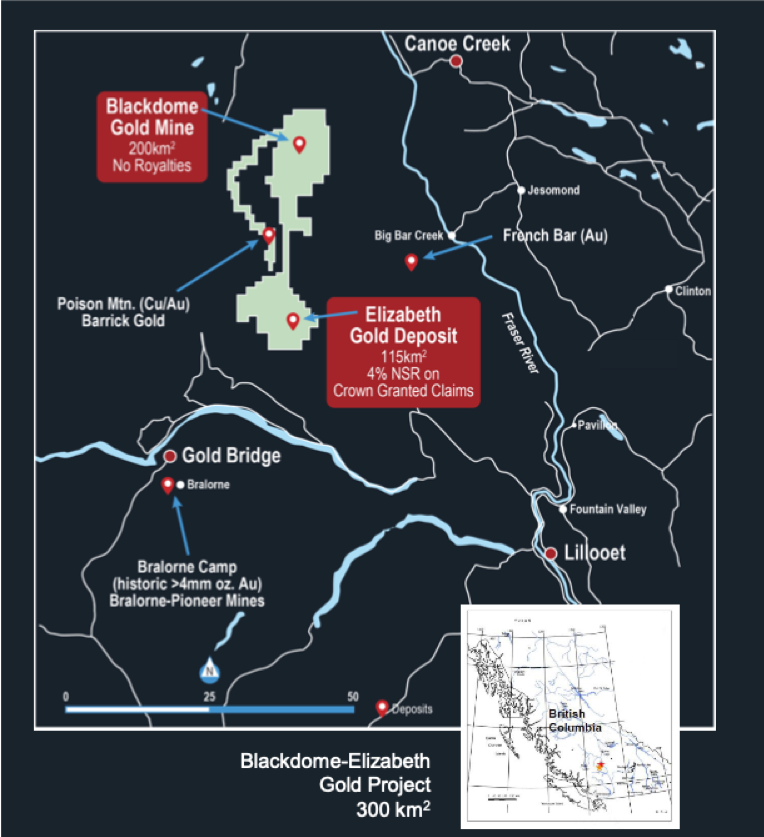 "This capital raising ensures Tempus is well funded for the exciting period ahead, as we commence our physical exploration programs in Canada in the coming weeks. We are very pleased to welcome some significant new investors to Tempus as part of this placement, as we continue to build our profile internationally and in Australia," said Managing Director Brendan Borg of the raise and the work to come.
Tempus successfully completed a bookbuild for the issue of approximately 26,169,868 million new shares to raise approximately $4 million at an average issue price of 15.3 cents per share.
The placement was to sophisticated and institutional investors, including Sprott Capital Partners, a prominent investor in the mining industry and an Asia-based specialist natural resources investment fund.
You can read more about the raise in the following Finfeed article: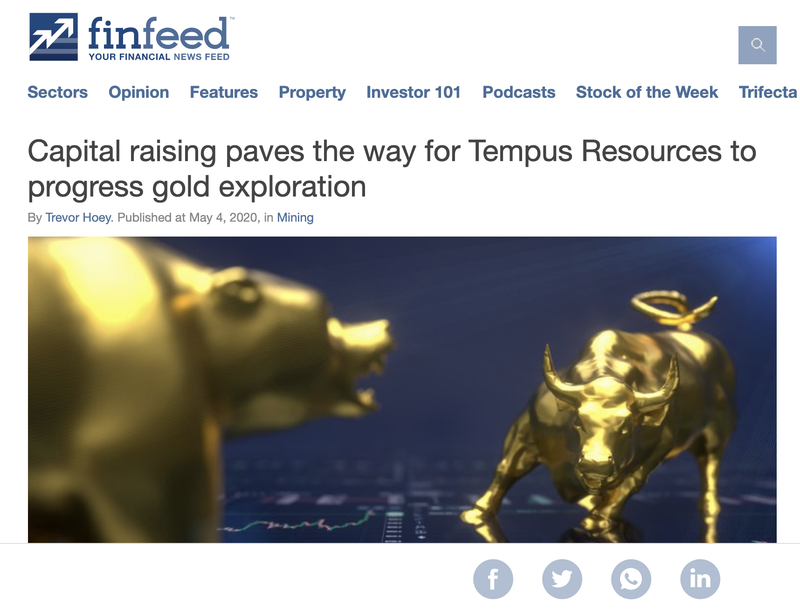 Blackdome, along with its Mineral Creek Gold Project (which was the subject of a 50% share price rise following the release of historical data showing presence of bonanza gold grades, is located approximately 200km from Vancouver and are significantly de-risked by previous production history, with demonstrated excellent metallurgical recoveries and key approvals and permits received.
As we stated when we initiated our coverage in the article, High Risk, High Reward? This $9M Capped ASX Explorer's Neighbour went from 30¢ to $40, the solid infrastructure in place provides Tempus with a pathway for a low cost, fast-track re-start of this project.
The 2020 exploration program at Blackdome-Elizabeth is currently on schedule for commencement in the June quarter, and will comprise sampling and analysis of potentially mineralised drill core from previous drilling programs.
Significant drilling and sampling programs are scheduled to commence at both Blackdome and Elizabeth later in the June quarter, focusing on resource extension, verification, and exploration of newly discovered targets, including the prospect 2.5 kilometres from the known Elizabeth deposit.
Blackdome highlights TMR's potential
Given the current strength in the gold price, and the potential for a fast track development of its Canadian resource, Tempus commenced a review of the Preliminary Economic Assessment previously completed for the project.
The review assesses the value of the project given the current gold price and exchange rates, and is designed to determine the requirements and timeframe for a Definitive Feasibity Study to be completed on this part of the overall Blackdome-Elizabeth Project development.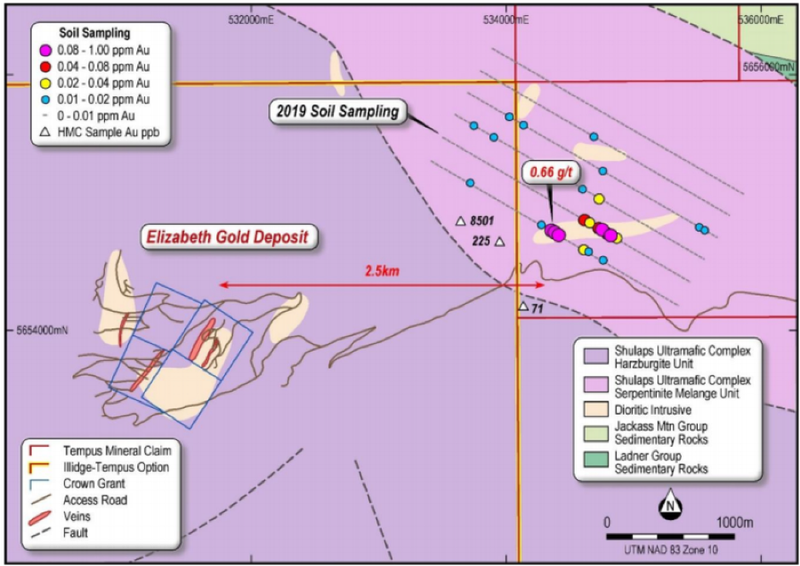 The previous financial modelling and technical work programs completed on the Blackdome Tailings Project did not take into account the considerable quantity of silver present in the tailings, which Tempus believes is likely to make a significant contribution to the potential revenues from the project.
Significant technical advances made in the treatment of tailings since the last technical work was completed will also be considered.
The Blackdome-Elizabeth Project includes an historical tailings Mineral Resource of nearly 300,000 tonnes grading approximately 1.5 g/t gold for 14,145 ounces.
This resource is declared under Canadian NI43-101, which is a 'qualifying foreign resource estimate'.
Mineral Creek will also receive some love
Given recent results at Mineral Creek, part of the $4 million funds raised will also be allocated to this asset.
Historical drilling data from its Mineral Creek included a wide bonanza grade return of 7.2 metres at 159 g/t gold from 64 metres, including 4.5 metres at 253.6 g/t gold.
Strong grades were also delineated at depth, including 1 metre at 74.5 g/t gold from 82 metres and 5.3 metres at 13.1 g/t gold from 92 metres.
As shown below, the Mineral Creek Gold Property is located on Vancouver Island, British Columbia, approximately 10 kilometres east of the town of Port Alberni.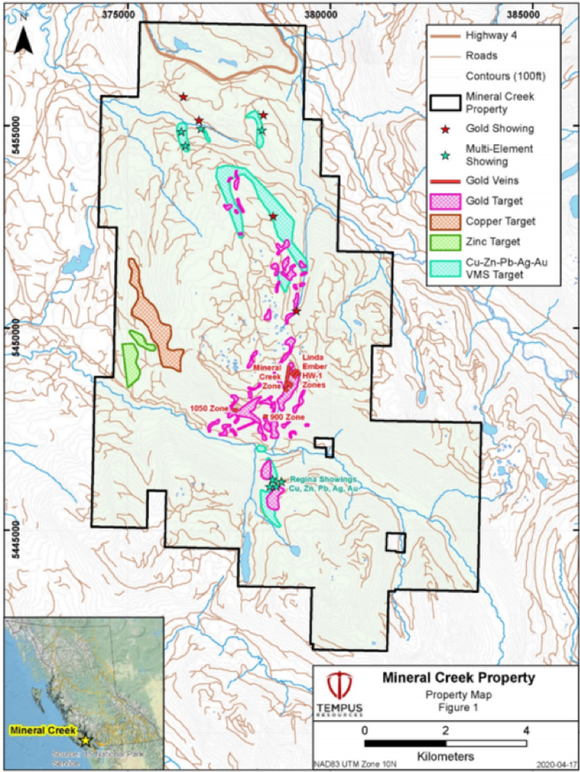 Mineral Creek has a long history of gold mining, dating back to the late 1800s where placer gold was mined from Mineral Creek and China Creek, and from several adits along the Mineral Creek Fault Zone, where gold was mined from high grade gold-quartz veins.
In the 1980s approximately 50,000 metres of diamond drilling was completed on the property, and while this data has been compiled it hasn't been reported given lower reliability and the subsequent need for further field validation.
Drilling in the 1980s focused on the volcanogenic massive sulphide (VMS) and gold mineralisation potential.
The second physical exploration phase came in the 2000s when a total of 216 diamond drillholes for 37,500 metres was completed on the property, identifying 6 gold zones (Linda, Ember, 1050, 900, Gap and Big Southeaster).
As indicated below, these included the bonanza grade results we referred to earlier, which more specifically was returned from the Linda zone (up to 7.2 metres at 159 g/t gold).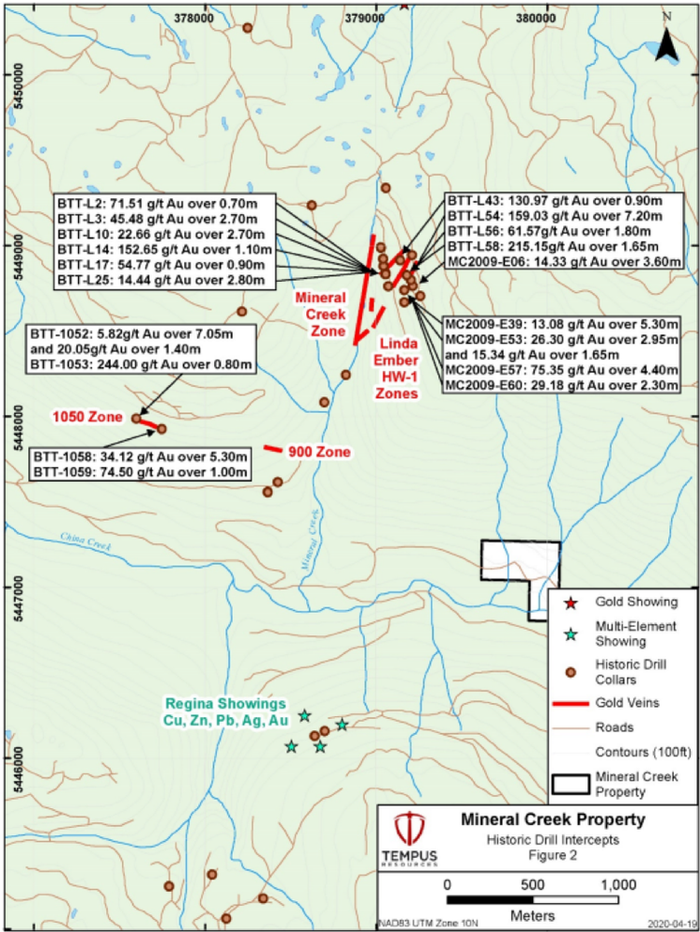 Gold grading up to 75.25 g/t was delineated in a 4.4 metre intersection at Ember.
Drilling at 1050 identified a 0.8 metre zone grading 244.00 g/t.
The Mineral Creek Property's predominant geological structure is the north-south trending Mineral Creek Fault Zone that hosts the Mineral Creek Gold Zone.
Within this zone, there are several narrow quartz vein splays off the Mineral Creek Fault that have been known to return bonanza-grade gold assay values.
Many of these splays remain underexplored with significant strike potential.
So there is a great deal of work to be done in Canada in the near term based on historical workings, however Canada is not the only country that has the potential to have a positive impact on Tempus.
Movement in Ecuador
Newcrest Mining (ASX: NCM) is seeking to raise $1.1 billion, part of which will help it expand its exposure to gold production at C$2.6 billion capped Lundin Gold's (TSE: LUG) Fruta del Norte tenements in Ecuador.
Newcrest recently raised its ownership stake in Lundin to 32% in December last year, highlighting just how prospective it believes this ground to be.
Newcrest managing director Sandeep Biswas said the purchase was in line with the company's growth strategy, "The acquisition is expected to be earnings accretive with the gold prepay and stream facilities expected to provide Newcrest with economic exposure to approximately 400,000 ounces of gold from the mine between 2020 and 2026," Biswas said.
"With gold prices at the levels we see today, Newcrest expects to receive significant cash flows which will rank ahead of Lundin Gold's equity holders."
What does this mean for TMR?
A lot really.
TMR's ground is adjacent to Lundin's, with the latter moving from C30¢ to C$40 on some eye-watering gold discoveries.
TMR would be looking for similar traction.
TMR's Ecuadorian project hosts similar geochemistry, alteration and geological features to Lundin Gold's Fruta del Norte.
Lundin was previously managed by Aurelian Resources, which in 2007 claimed the property held an estimated 13.7 million ounces of contained gold and 22.4 million ounces of contained silver.
Let's reiterate the point that TMR has adjacent ground here.
On the back of Lundin's success, Ecuador has become one of the most sought after exploration jurisdictions for gold and base metals exploration. The South American country is home to mining giants BHP (ASX: BHP), SolGold (LON: SOLG), Fortescue (ASX: FMG) and Newcrest Mining (ASX: NCM).
Suffice to say, TMR is well positioned to realise the potential of its holding.
The final word
Now it is cashed up, Tempus Resources is in a great position to commence its physical exploration programs in Canada.
Tranche 1 of the placement will also be used to further its ambitions in the high-risk high reward jurisdiction of Ecuador.
It is thus all systems go for TMR, as it looks to capitalise on a high risk high reward play, whilst furthering its stable Canadian asset which has already had a material impact on its share price.
---