TMR reveals visible gold, summer drilling campaign has begun

Share price when sent: $0.180
Let us tell you more: The 2021 summer drilling season has now officially started in Canada and the first TMR drill cores are showing visible gold and have been sent to the lab.
Our portfolio company Tempus Resources (ASX:TMR) has just commenced a 6 month gold drilling campaign after a few months of hibernation and a 2020 season that was heavily impacted and delayed by COVID.
Two weeks into the new drilling season, TMR has just pulled up the first drill cores and sent them to the lab awaiting results... However before that, TMR took a number of photos of the drill cores which confirmed more visible gold has been found. This is a good sign that assay results will provide us with gold intercepts.
We originally took a position in TMR at 20c back in February 2020 because we liked its Canadian and Ecuadorian Gold projects, active drilling campaign plans and small number of shares on issue. We increased our position in November 2020 at 34c.
TMR spent some time above 40c during the COVID impacted 2020 drilling season but we have held on hoping for a more significant return in this 2021 season.
We further increased our position in April 2021 at 14.5c in the placement and again for a fourth time this month at 17.86c... (see our investment plan at the end of this note for more detail).
TMR is one of our biggest positions that is currently sitting around our average buy-in price of ~18c.
TMR's Canadian gold project already has a resource of over 200,000 ounces at 12.26 g/tonne (inferred), plus permitted mine infrastructure that could fast track it into production.
The 2021 Canada drilling season is only a few weeks old - TMR's goals for this drilling season are to extend as much as possible the high grade veins that have already been discovered - before the season ends in December - so expect plenty of action to come over the next few months.
COVID delays in the 2020 season meant TMR could only deliver a fraction of the drilling they wanted to, especially at Elizabeth - we think the 2021 season is going to be full steam ahead.
TMR is one of those exploration stocks that has a finite window to drill each year (thanks to the Canadian winter), so all the share price activity is concentrated into those drilling season windows - the share price runs up in anticipation of a positive drilling campaign and if the results beat what the market is expecting then we think there will be a share price re-rate (hopefully more than the last highs of around 40c) where we will look to free carry.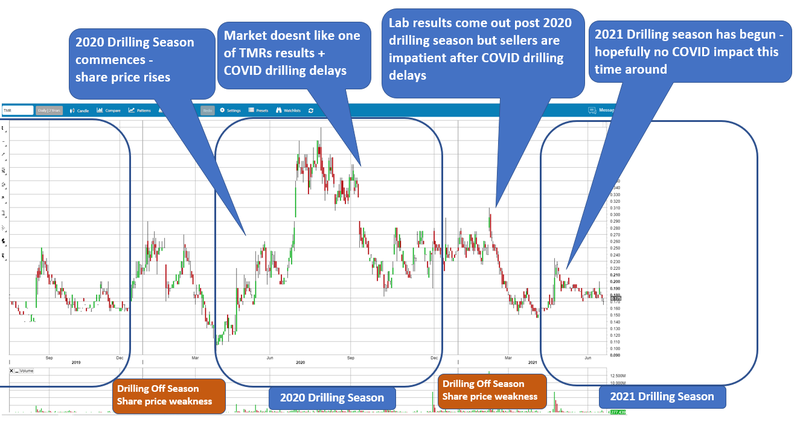 When TMR is expecting drilling and results within a drilling season window, the share price should run up in anticipation like it did early in the 2020 season.
If the drilling delivers above expected results we should see a rerate in the TMR share price - TMR only has ~113 million shares on issue so its share price can move quickly (up OR down).
So why didn't we sell some last year when the price was trading at above 40c?
We invest for 1,000% price increases over the long term and in our opinion TMR didn't get a chance to really get going in 2020 due to COVID - they only managed to do 2,000 metres of drilling out of a planned 6,000 metres at Elizabeth and the market didn't like the slow progress.
If we are going to take the risk on a small cap explorer then we want to see it reach its full potential. We also saw the opportunity to secure the 12 months capital gains discount on our initial batch of TMR shares into the 2021 drilling season - the 50% CGT discount is very valuable against the tax that can come with investing for 1,000% plus returns.
With only 100 million shares on issue (113.8 million fully diluted) we think TMR has a lot more to offer than 40c on the back of an above expectation drilling result, so we held on at the 40c mark, and unfortunately a result came in that the market didn't like AND drilling was impacted by COVID and then the drilling season finished.
We didn't mind as we were happy to hold and wait for the 2021 drilling season, which is now upon us.
We are hoping that drilling season 2021 will deliver what we hoped TMR would do during the 2020 drilling season before COVID struck.
TMR Company Milestones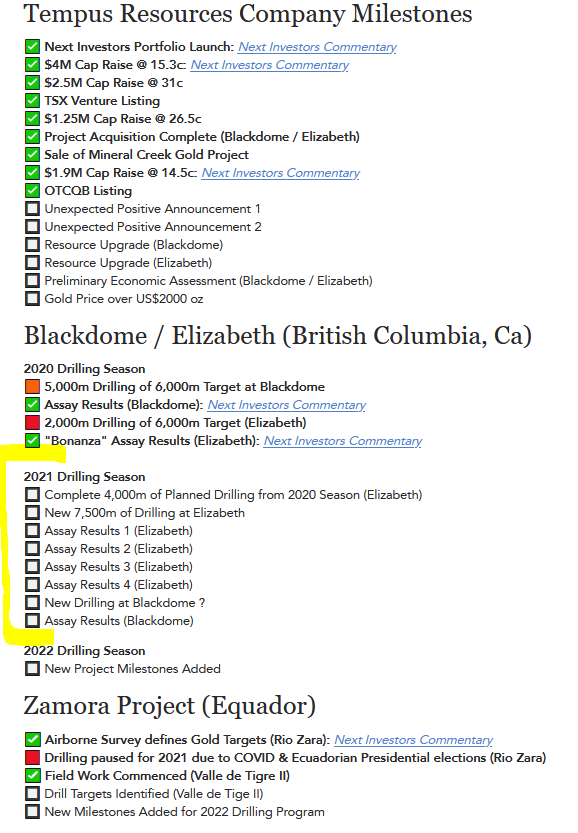 Next Investors Investment strategy for TMR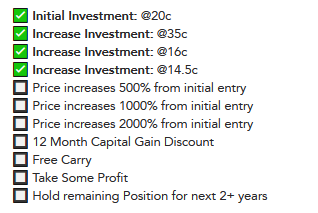 Our past commentary on TMR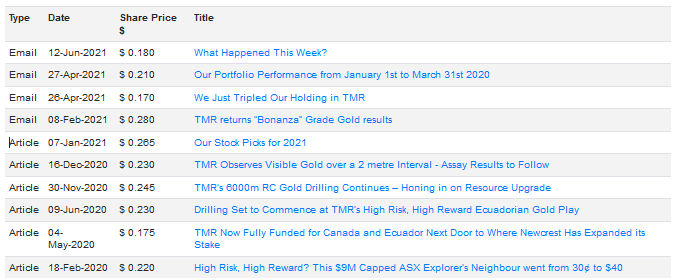 ---