KNI fast tracks Canada Lithium exploration
Disclosure: S3 Consortium Pty Ltd (the Company) and Associated Entities own 2,582,223 KNI at the time of publishing this article. The Company has been engaged by KNI to share our commentary on the progress of our Investment in KNI over time.
Our Investment Kuniko (ASX:KNI) is focused on discovering new battery metals deposits in Europe and North America.
These are two continents that are rushing to electrify their economies in order to:
Decarbonise to protect the environment;
Reduce reliance on fossil fuels supply from increasingly unpredictable countries.
Local supply of battery metals is highly desired in today's geopolitically unstable world.
Importantly KNI's portfolio of projects are all located within European and North American borders.
KNI is exploring for lithium, cobalt, nickel and copper - critical metals used in batteries and transmission of electricity.
Today, KNI announced fast-tracked fieldwork on its Canadian lithium exploration project in the red-hot James Bay region, with first drilling now more likely to happen this year or early next year
In the meantime, investors can be prepared for drill target generation fieldwork and possible identification of pegmatites to be announced in the coming months.
Last week, KNI announced nickel results from its Ertelien project in Norway - and to date all holes hit nickel consistent with the project's historic resource, a good sign that KNI may be able to convert the historic resource into a JORC compliant one.
JORC nickel resources within EU borders are rare.
Four weeks ago, over at KNI's Skuterud cobalt project in Norway, KNI announced they had "accidentally" stumbled on a high grade cobalt zone much closer to the surface while drilling a deeper target.
The company said this new shallow zone warrants further exploration to see how big it is.
The next round of cobalt assays followed by a new drilling campaign will start to reveal the full extent of this new zone - providing a new exciting period of newsflow for KNI over the coming months that we will be watching with great interest.
With 3 battery metals projects currently on the go, here is what we are now looking forward to from KNI next:
Norway Cobalt: more assays any day now followed by new drill campaign to test new shallow high grade zone
North American Lithium: fieldwork in lead up to drill program, two stage program, stage 1 complete by June, stage 2 complete by August
Norway Nickel: a JORC resource as KNI works to understand the mineralisation here (unknown time frame)
More on today's news - Fast tracking the lithium project
KNI has a trio of projects in the James Bay, Canada lithium exploration hotbed, with each having its own set of advantages.
James Bay is home to a host of lithium projects, some of which can be seen below: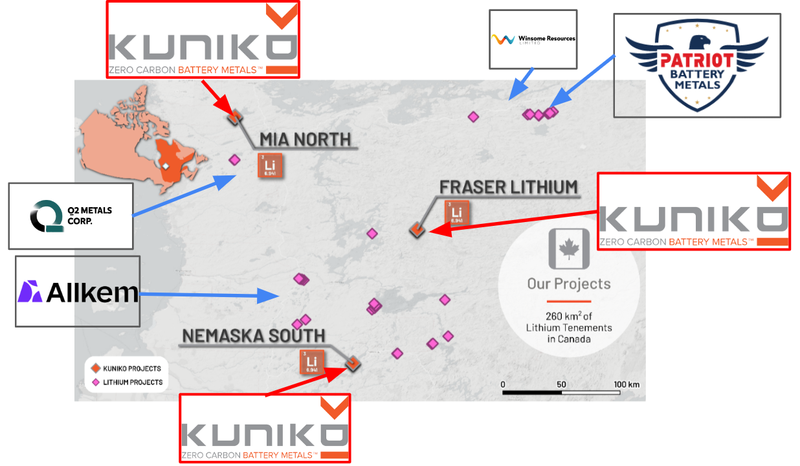 We covered the acquisition of these three projects in our recent note on KNI - here are KNI's lithium projects, with key highlights:
Project #1 - Fraser lithium project
150 km2
At least 30 mapped pegmatite outcrops
In 2008 a pegmatite outcrop here was found to contain spodumene
More mature, alternative style, granite hosted targets
Project #2: Mia North lithium project
80 km2
Located in a prospective and largely unexplored greenstone belt
Greenstones belts have played a role in a number of major lithium discoveries, both in the James Bay region and Australia - we see this as presenting more traditional targets
30 kms north of Q2 Metals' Stellar project which has demonstrated spodumene pegmatite occurrences
Project #3: Nemaska South lithium project
44 km2
At least 5 mapped pegmatite outcrops
Also includes a greenstone belt
The exploration program announced today will happen in two stages, with sampling and analysis at Project #1 and Project #2 due to be completed by June.
The second stage will see the same activities completed at Project #3 by August.
We like that KNI is moving quickly on its James Bay lithium projects, we note that the proposed timeline is a bit quicker than the timeline that was proposed when KNI acquired options over these three projects: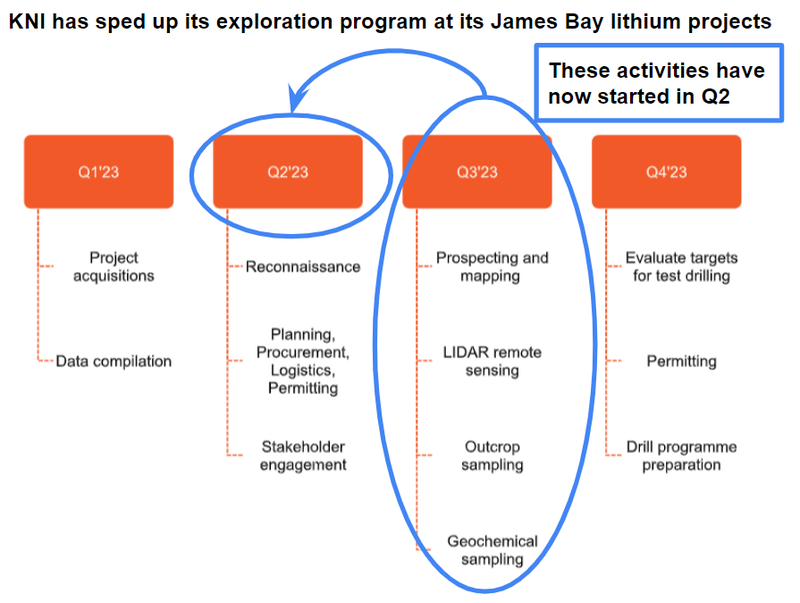 The flow on effect of this faster exploration schedule is that we think it is more likely that KNI will be able to drill this year.
We see this lithium project a source of potentially outsized upside for the company, as it progresses on two fronts in Canada and Norway.
KNI's European Projects
KNI recently announced high grade nickel assay results from Norway, stating that the company intends to pursue a JORC resource at this project.
Also, after releasing very high grade unexpectedly close to surface assays from its cobalt project, more assays are still to come - this project is located in a region that was historically the largest cobalt producing region in the world.
As a result, Europe remains the primary focus for our Big Bet (we may update our Big Bet if KNI makes a lithium discovery in Canada):
Our 'Big Bet'
"To develop a sustainable battery metals mine within European borders that is of strategic importance - and hence highly valuable as an acquisition target."
NOTE: our "Big Bet" is what we HOPE the ultimate success scenario looks like for this particular Investment over the long term (3+ years). There is a lot of work to be done, many risks involved, and it will require a significant amount of luck. There is no guarantee that it will ever come true. Some of these risks we list in our KNI Investment Memo.
For our summary of KNI's progress over time and how today's announcement contributes to our Big Bet see our KNI Progress Tracker: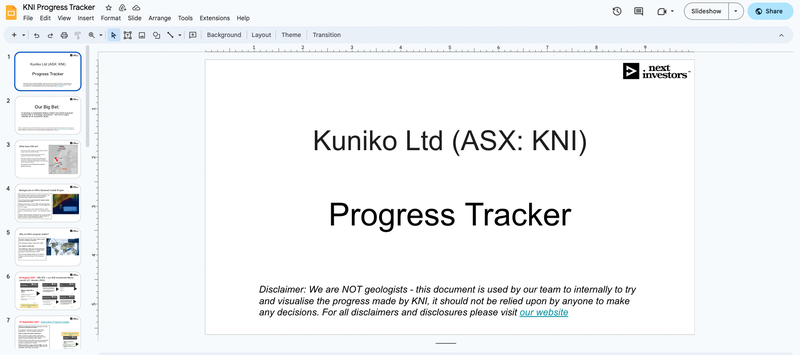 What's next for KNI at its Canadian lithium projects?
Field reconnaissance 🔄
The goal here will be to map pegmatite outcropping and hopefully, identify new pegmatites on these projects. This has now started.
Outcrop sampling and geochemistry (i.e rock chips) 🔄
Initially scheduled for Q3, here we are hoping that KNI will encounter high grade lithium mineralisation in outcrop sampling and geochemistry. This will ideally be completed by June/August of this year.
Best drill targets identified 🔄
Pending successful exploration, in Q4 KNI will likely aim to release a summary of the drilling campaign which will show us the best targets they've identified. This could happen sooner than that, all going well.
Permitting 🔄
KNI will aim to secure permits to drill during Q4 of this year, which will enable drilling to commence.
Bonus: Drilling 🔄
We think there's a better chance now for KNI to drill towards the end of this year or early next year. We note that the James Bay region suits winter drilling. Both Patriot Battery Metals and Winsome Resources drill during the winter months.
Meanwhile there is still plenty of newsflow to come from KNI, in particular from its cobalt project, which will continue to remain a focus of the company and the source of potential catalysts.
What could go wrong?
The projects KNI is working on are still all very early stage exploration projects.
This means there is no existing discovery or any existing JORC resource.
As a result we think the key risk for these projects is "Exploration risk" given there is always a chance that KNI drills and finds nothing at its projects.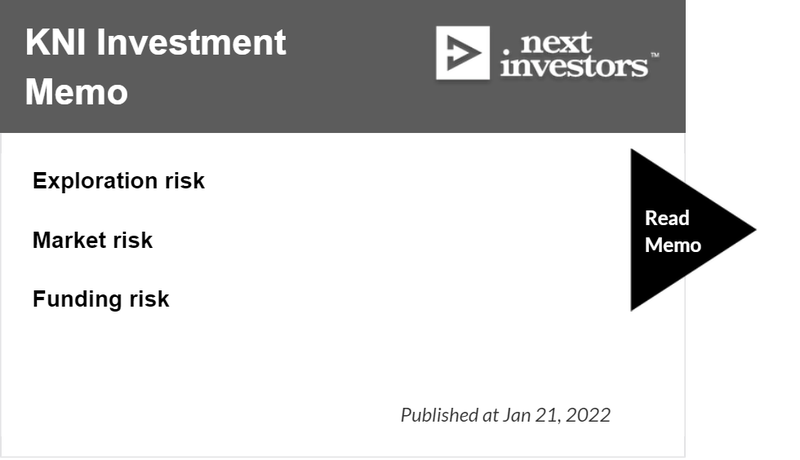 As for market risk, there is the possibility that the resources that KNI are exploring for decrease in value, hurting the economic viability of these projects, or alternatively a broader market sell off hurts the KNI share price. We recently published an article on what we think is happening in the lithium market right now.
Funding risk - as of 31 March 2023, KNI had ~$4M in cash meaning that it may need to raise capital in the medium term to advance its multi-pronged exploration program. If either of the two previous risks materialise this could have an added impact on funding risk.
Our KNI Investment Memo
Below is our KNI Investment Memo, where you can find a short, high level summary of our reasons for Investing including the following:
Key objectives for KNI for the coming year
Why we are Invested in KNI
The key risks to our Investment thesis
Our Investment plan
---