KNI acquires lithium projects in same region as $1.5BN capped Patriot Battery Metals
Disclosure: S3 Consortium Pty Ltd (the Company) and Associated Entities own 2,582,223 KNI and the Company's staff own 7,500 shares at the time of publishing this article. The Company has been engaged by KNI to share our commentary on the progress of our Investment in KNI over time.
It's probably the hottest region in the world for lithium exploration right now.
James Bay in Quebec Canada was thrust into the spotlight via Patriot Battery Metals' large lithium project.
Patriot publicly listed in December 2022 - going from a $553M market cap to its current ~$1.5BN market cap.
The value creation of this now billion dollar lithium discovery sparked an exploration rush to the region.
Beyond Patriot, there's also Winsome capped at ~$340M, who have also had some early success as well as the $7.7BN capped Allkem which has a major project in development here too (among its other lithium pursuits).
... and now our $29M capped battery metals Investment Kuniko (ASX:KNI) has just secured exclusive option agreements to acquire up to a 100% of a trio of promising lithium projects in the same region.
KNI now has battery metals exploration projects across the two parts of the world that are moving fastest to electrification and security of battery materials supply - Europe and now North America.
KNI's new North American lithium projects cover a total of 274 km2, each with distinct geological features, lending themselves to different types of potential lithium discoveries.
Across these projects are at least 35 historically mapped pegmatite outcrops - the typical host rock of lithium bearing spodumene.
And given its early days in the exploration of the ground, there is also the potential to uncover more lithium bearing pegmatites.
Lets use Patriot Battery Metals as a barometer - its Corvette project that catapulted it to a $1.5BN market cap features over 70 pegmatite outcrops.
So whilst its early days, with at least 35 mapped pegmatite outcrops, we like the potential scale of these new KNI projects.
Patriot is leading the charge in this region at a time when North America is making a concerted effort to secure domestic and friendly supplies of critical minerals.
This is primarily via the significant incentives found in the USA's recently passed Inflation Reduction Act (IRA).
And whilst lithium prices have shed roughly 40% from the early November record highs to today's prices amid conflicting signals out of China, we maintain our conviction that lithium will be part of a decade long macro thematic.
New supply rarely comes online in expected timeframes and demand from EVs and battery storage will be immense.
So after a few years of record growth, the current general softness in the lithium industry may prove to be a blip in the arc of market history.
We think KNI's move on these Canadian lithium projects may prove to be wise in the coming years if long term lithium demand forecasts are anything to go by.
Here's KNI's trio of lithium projects, with key highlights:
Project #1 - Fraser lithium project
150 km2
At least 30 mapped pegmatite outcrops
In 2008 a pegmatite outcrop here was found to contain spodumene
More mature, alternative style, granite hosted targets
Project #2: Mia North lithium project
80 km2
Located in a prospective and largely unexplored greenstone belt
Greenstones belts have played a role in a number of major lithium discoveries, both in the James Bay region and Australia - we see this as presenting more traditional targets
30 kms north of Q2 Metals' Stellar project which has demonstrated spodumene pegmatite occurrences
Project #3: Nemaska South lithium project
44 km2
At least 5 mapped pegmatite outcrops
Also includes a greenstone belt
And here are the key parts of the deal terms:
KNI is initially paying a total of CAD$355K cash + CAD$355K in KNI shares at the 20 day volume weighted average price (VWAP) prior to today. These payments allow KNI to get on the ground and start exploring.
1 year "anniversary" payments built into the agreements. Each anniversary payment for each project has a varying mix of shares and cash (ranging from CAD$55K cash to CAD$350K cash and CAD$55k to CAD$1.4M in shares).
Share payments at "anniversary" dates are based on the 20-day volume weighted average price (VWAP). KNI has the right to also pay share figures in cash if it wants.
Each project has a CAD$1M bonus cash payment in the event that KNI's drilling yields grades above 1% lithium in an intercept of length 10m or more - which is a pretty standard economic lithium result in greenfield drilling exploration that we would expect to see if the projects are to have economic value.
KNI can opt out of any of the projects at any time and it is not obliged to make any additional payments, and those projects return to the vendor.
In the event that one or multiple projects make it to production, the vendor will retain a 2% Net Smelter Return (NSR) royalty. KNI has a buyback option for 1.5% of the NSR, for C$2M.
So effectively for now - KNI has bought a CAD$710k "option" on three James Bay lithium projects.
We think the short version of why KNI is pursuing this acquisition is this:
The projects offer a good foot in the door for KNI in a very attractive location for lithium exploration, the projects themselves have highly prospective geology and the deal is being struck at an acceptable price point with plenty of flexibility (given the optional nature of the deal including ability to pay cash or shares).
This flexibility is very important because KNI plans to conduct outcrop sampling and geochemical sampling (i.e rock chips) at known and hopefully new pegmatite outcroppings on the projects in Q3 - before having to commit more capital to acquiring the tenements next year.
There's even a chance that KNI could even drill before having to stump up further shares and cash in the first "anniversary" payment.
Think of it as a try before you buy approach...
So in an ideal world, KNI has a successful rock chip sampling campaign at these projects that returns high grade lithium, followed by a successful drilling campaign.
We hope in this event, it would deliver a material re-rate in KNI's share price.
Obviously, there's plenty of exploration risk involved here too - part and parcel of early stage minerals exploration.
Here is where KNI's projects sit in relation to other notable lithium projects in the James Bay region:
It's a good spread of prospective ground for KNI, and we're hoping at least one of these potential acquisitions delivers something of significant value.
What's more, the James Bay region produces 99.8% of its power from hydroelectric sources - which aligns well with KNI's remit to pursue a Net Zero Carbon footprint in its activities.
As a result of KNI's new projects, we've added a new objective to our KNI memo:
[NEW] Objective #4: Identify Canadian lithium drill targets, be permitted to drill
We expect KNI to conduct preliminary exploration campaigns at its Canadian lithium projects over the coming months, and pending the results of this work, select the best targets and be fully permitted to drill by the end of 2023.
Our 'Big Bet'
"To develop a sustainable battery metals mine within European borders that is of strategic importance - and hence highly valuable as an acquisition target."
NOTE: our "Big Bet" is what we HOPE the ultimate success scenario looks like for this particular Investment over the long term (3+ years). There is a lot of work to be done, many risks involved, and it will require a significant amount of luck. There is no guarantee that it will ever come true. Some of these risks we list in our KNI Investment Memo.
For our summary of KNI's progress over time and how today's announcement contributes to our Big Bet see our KNI Progress Tracker: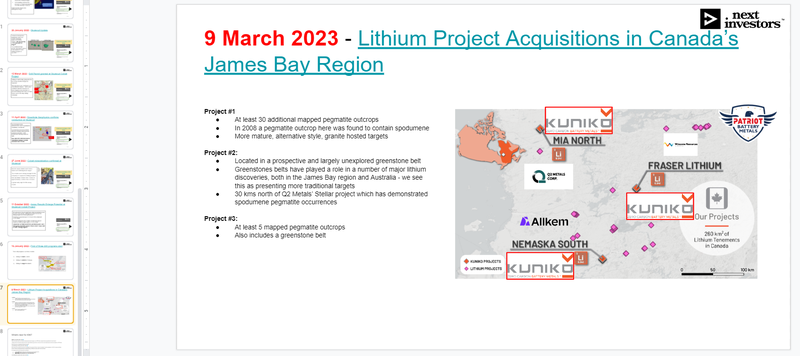 Why is KNI suddenly in Canada?
Now, we are well aware that KNI has billed itself as a European battery metals explorer since it IPO'ed in August 2021 and these acquisitions mark a geographical move from its European exploration assets.
After Investing since KNI's IPO, today's move came as a bit of a surprise to us, but we think it's a good one that gives additional upside potential for the stock.
Like the European Union, North America (Canada and USA) is rushing to move away from fossil fuels through electrification and securing supply of battery materials from friendly, nearby locations.
We continue to back KNI's board and management team to deliver value for shareholders, and the KNI team would have no doubt done their due diligence on these assets prior to doing the deal.
Regular readers of Catalyst Hunter will know we recently Invested in another company with a James Bay lithium project - Megado Minerals.
Megado is also targeting drilling around the end of this year - so we've now got two bites at the James Bay lithium cherry across our Next Investors and Catalyst Hunter portfolios. Also, each company has other projects as well that they are both progressing - which means more chances of new minerals discoveries from different regions.
The overarching goal of all exploration companies is to make a significant discovery, and generally having a few more shots on goal is one way to accelerate this process.
Investing in small caps always throws up surprises and whilst the departure from an EU focus was unexpected from KNI, we intend to maintain the majority of our position in KNI, and Megado, over the coming months as they both prepare for future drilling in James Bay.
After all - we think it's currently the hottest region on the planet for lithium exploration, so we are OK to have a few Investments in the race.
More on KNI's James Bay lithium projects
Project #1: Fraser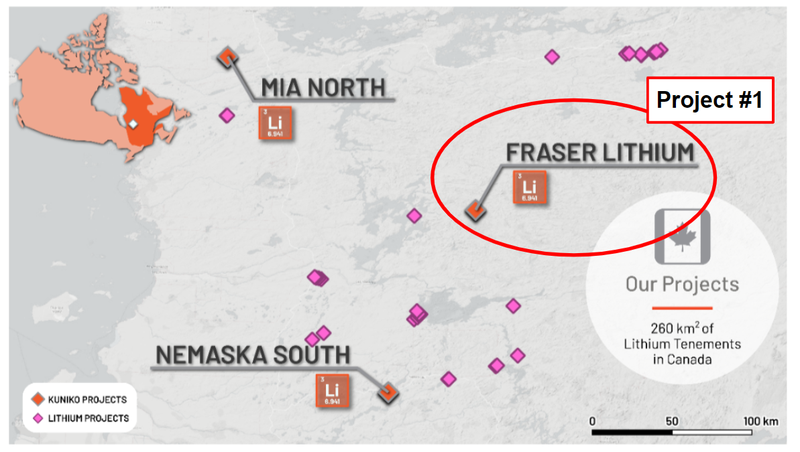 Style of target: Pegmatites with proven spodumene occurrence.
Commentary: This project could be seen as more mature given that geologists from the Quebec Ministry of Energy and Natural Resources have previously located a pegmatite outcrop that contains spodumene here in 2008.
There are at least 30 additional historically mapped pegmatite outcrops. The project is characterised by "the presence of numerous east-west trending pegmatitic granite dykes" which can be seen below (pink shaded areas):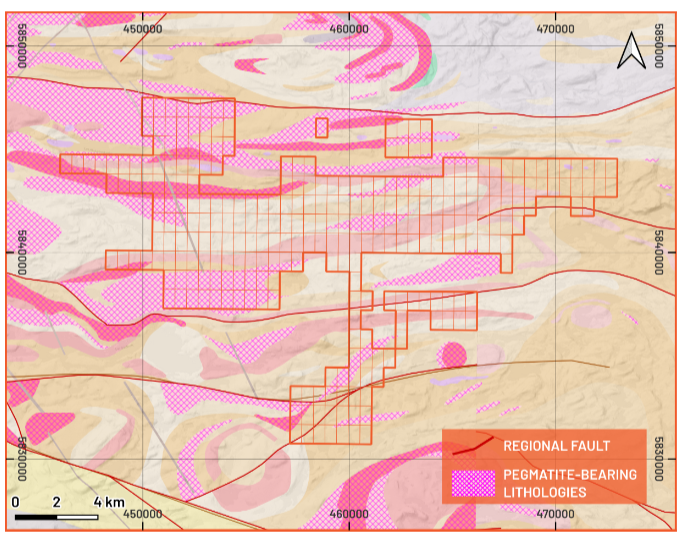 Project #2: Mia North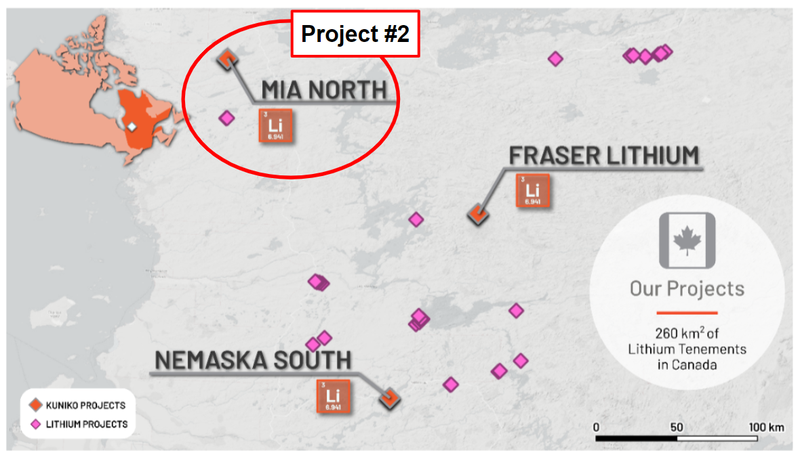 Style of target: Pegmatite outcrops in a greenstone belt.
Commentary: In describing this project KNI was keen to draw parallels between Mia North and TSX listed Q2 Metals' recently acquired Stellar project and the nearby Mia-Li 1-2 projects which have demonstrated spodumene bearing pegmatites. Q2 is capped at $58M.
Importantly this project has, by our estimate, a ~20-30km long greenstone belt that trends east-west.
Greenstone belts have played a role in a number of major lithium discoveries, both in the James Bay region and Australia - so we see this as presenting more traditional targets. Below, the green shaded region is the greenstone belt: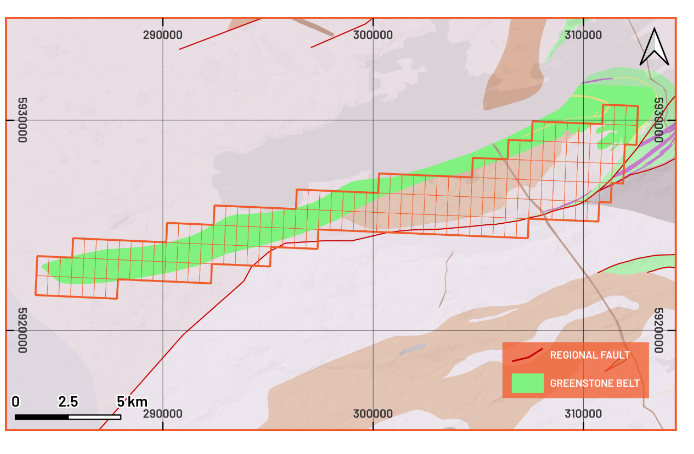 Project #3: Nemaska South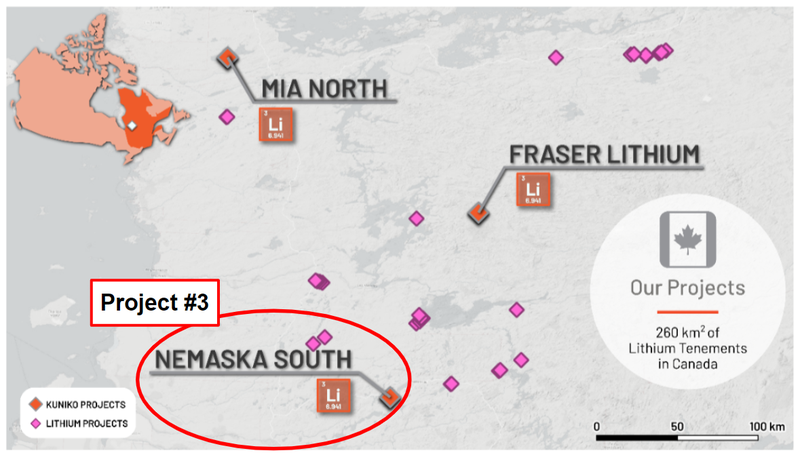 Style of target: Pegmatite outcrop in proximity to a greenstone belt.
Commentary: This is the earliest stage project of the bunch, which is reflected in the lower price KNI could eventually pay for the project, however it still has some good features to explore.
We note that it has at least 5 historically mapped pegmatite outcrops, a smaller greenstone belt and is adjacent to a project owned by Li-FT Power (capped at $350M).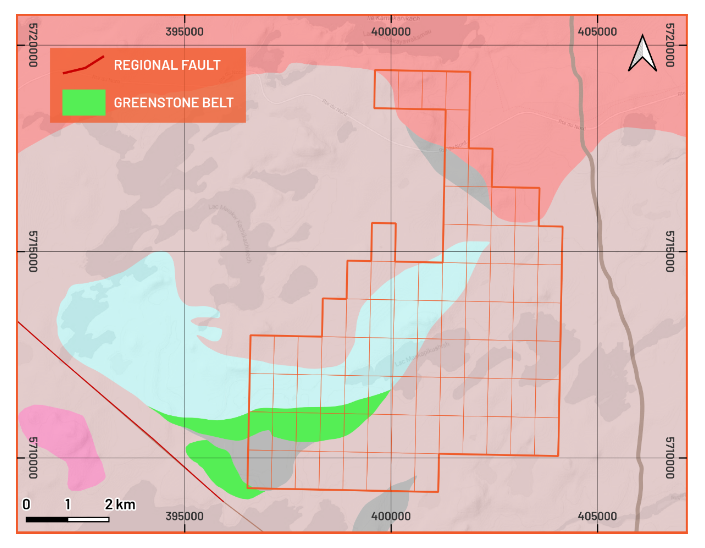 To read more about the different types of lithium projects, we recently published an educational article which you can read here: 🎓 The different types of lithium projects explained.
More on the KNI vendor payment structures for each project
As we said above, KNI is initially paying a total of CAD$355K cash + CAD$355K in KNI shares at a 20 day VWAP to get on the ground and start exploring.
That is an initial combined CAD$710k with no other payments due for at least another 12 months.
The option agreements have 1 year "anniversary" payments built into it and each have a $1M bonus payment in the event that KNI's test drilling hits a grade above 1% Li lithium in an intercept of length 10m or more - which is pretty standard economic lithium result in drilling.
Each anniversary payment for each project has a varying mix of shares and cash and as a result, the terms have the following structure as a total consideration: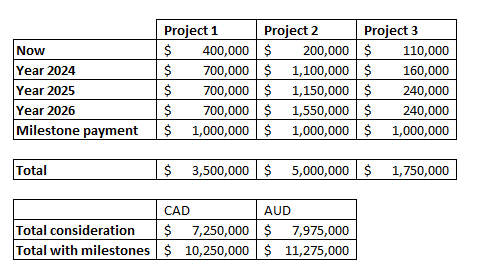 (based on an AUD/CAD exchange rate of $1.10)
If all milestones are hit and KNI proceeds with all the projects proceeding to 100% KNI ownership, then the total amount will come to ~AU$11.3M in cash and shares.
While that may seem on the high side at first glance, the price of real estate in James Bay has gone up significantly since Patriot's billion dollar discovery. It will all be worth it for KNI if it can deliver an outsized return on a successful large lithium discovery of its own.
We also think these terms give KNI plenty of "outs" if any one of the projects don't turn up enough economic lithium mineralisation.
For some context on the potential upside of KNI's new projects, KNI's James Bay peers are capped at multiples of KNI - $1.5BN Patriot & $340M Winsome Resources.
KNI is capped at just $29M.
If KNI goes on to make a discovery and re-rates to anywhere near these levels then the consideration paid will be relatively small considering the value created.
For example, one project might be easier to advance or more promising - KNI can then give up the option on any of the others based on what they find in the first year.
The key thing we are looking out for this year will be what the pegmatite outcropping sampling program returns in Q3, as we think that will be a good leading indicator of what the project's potential in drilling could be when correlated with other exploration activities.
What's next for KNI at its Canadian lithium projects?
Below is the proposed timeline for these projects: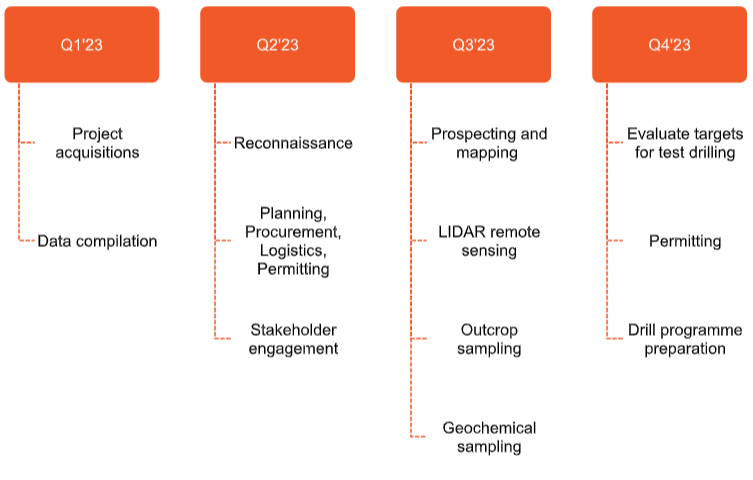 Field reconnaissance 🔄
The goal here will be to map pegmatite outcropping and hopefully, identify new pegmatites on these projects. Expected May or June of this year.
Outcrop sampling and geochemistry (i.e rock chips) 🔄
Scheduled for Q3, here we are hoping that KNI will encounter high grade lithium mineralisation in outcrop sampling and geochemistry. Expected in Q3 of this year.
Best drill targets identified 🔄
Pending successful exploration, in Q4 KNI will likely aim to release a summary of the drilling campaign which will show us the best targets they've identified.
Permitting 🔄
KNI will aim to secure permits to drill during Q4 of this year, which will enable drilling to commence.
Bonus: Drilling 🔄
We think if all goes well during KNI's exploration program there is a chance they could drill towards the end of this year or early next year. We note that the James Bay region suits winter drilling. Both Patriot Battery Metals and Winsome Resources drill during the winter months.
Meanwhile there is still plenty of newsflow to come from KNI from its nickel, cobalt and copper projects in Norway, which will continue to remain a focus of the company and the source of potential catalysts.
We're still eagerly awaiting the assay results from three different Norwegian battery metals drilling campaigns.
Reminder: What's next for KNI at its European battery metals projects?
Assays from nickel project drilling 🔄
Given that the focus here is on drilling out a mineral resource and bringing it up to JORC status, we haven't set any expectations for the drill results.
Instead we will look to see what comes from the drill program before trying to work out how much of the current mineral resource could be converted into JORC status.
We will then set up our expectations following the results.
Drilling results from the cobalt drilling program 🔄
We're hoping KNI can significantly improve its knowledge of the ore body at Skuterud, where it has already hit cobalt mineralisation in 8 of 8 of its previous drillholes.
We want to see the strike extended beyond the already existing ~450m and for more cobalt to be found at depth.
For the assay results we will be looking for the following:
Bullish case = Several intercepts with cobalt grades ranging from 0.05 to 0.1%.
Base case = At least once intercept with cobalt grades around 0.05%.
Bearish case = No mineralisation found in any of the drillholes.
Drilling results from the copper drilling program 🔄
Here KNI is testing EM targets where the company has never drilled.
At this stage we view this drill program as a free option on a discovery and so our expectations are as follows:
Bullish case = KNI hit copper mineralisation from one of the two geophysical conductors.
Bearish case = Drilling returns no significant mineralisation.
Risks
The projects KNI is acquiring are still all very early stage exploration projects.
This means there is no existing discovery or any existing JORC resource.
As a result we think the key risk for these projects is "Exploration risk" given there is always a chance that KNI drills and finds nothing at its projects.
Our KNI Investment Memo
Below is our KNI Investment Memo, where you can find a short, high level summary of our reasons for Investing including the following:
Key objectives for KNI for the coming year
Why we are Invested in KNI
The key risks to our Investment thesis
Our Investment plan
---