KNI hits "Exceptional Mineralisation" at Shallow Depth as EU launches Critical Materials Act
Disclosure: S3 Consortium Pty Ltd (the Company) and Associated Entities own 2,582,223 KNI and the Company's staff own 7,500 shares at the time of publishing this article. The Company has been engaged by KNI to share our commentary on the progress of our Investment in KNI over time.
Kuniko (ASX:KNI) has just announced five out of six drillholes have visible cobalt at its EU critical metals project.
The cobalt is near surface, from as shallow as 7 metres - drilling is continuing now.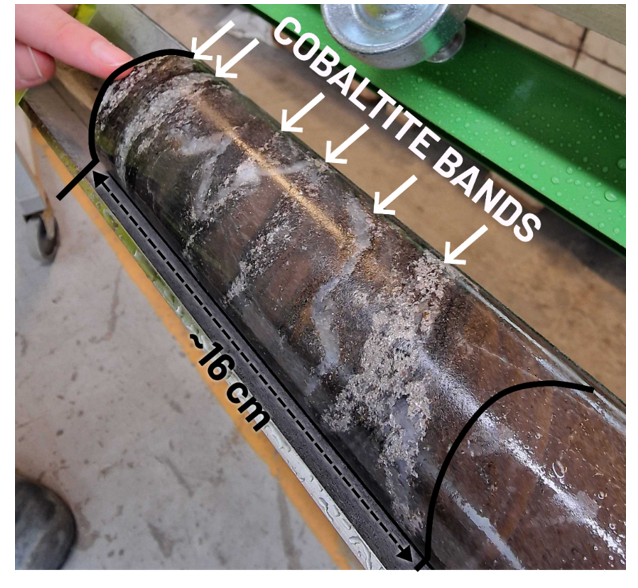 Cobalt is one of the key critical materials required in the global energy transition and is listed in the critical raw materials strategies of the US, EU, Japan, India and Australia: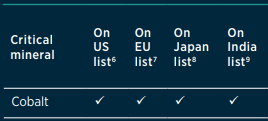 Just last week, the European Commission proposed The Critical Raw Materials Act to encourage development of European based critical materials projects.
This is the EU's answer to the USA's Inflation Reduction Act - and it promises to light a fire underneath battery materials projects located in Europe.
We're hoping KNI's Norwegian cobalt project is one of them - the project is located near a cobalt mine that used to be part of the largest cobalt producing region in the world.
KNI is one of our largest holdings - we remain Invested to see it bring a critical minerals project into development.
KNI is actively exploring cobalt, copper, nickel and lithium projects.
Like another of our main Investments, GAL, KNI had a purple patch around the middle of last year and has since moved lower on tiny volumes in a weak market.
Looking at GAL as an example, after tracking down for months on low volumes, the share register tightened up and GAL surged from 55c to a peak of 85c on announcing some excellent drill results on Tuesday, settling at around 70c.
We are hoping that after months of weakness on tiny volumes, and a now tighter register, KNI can make a similar recovery off the back of some decent results.
KNI was spun-off from our best ever Investment, Vulcan Energy Resources - which went from an Initial Entry Price of ~20 cents to an all time high of $16.65 (it's now sitting at around $6).
KNI is currently capped at $24M and was birthed by the same team behind VUL, with VUL still maintaining over 20% ownership of KNI.
Like VUL, KNI also has a remit to pursue Zero Carbon battery materials.
As we saw in the EU's recent Critical Raw Materials Act, the continent is insisting on having a sustainable supply chain for their raw materials, which is forcing major stakeholders like battery manufacturers and carmarkers to act.
KNI has prioritised on ESG and zero carbon across its cobalt, copper, nickel and lithium projects - you can view KNI's ESG monitoring dashboard.
We think that the VUL team's extensive EU networks can be leveraged by KNI if they can prove up a commercial battery materials deposit while observing Zero Carbon and ESG principles.
In addition to its EU projects, just two weeks ago KNI announced the acquisition of a trio of promising lithium projects in James Bay, Canada.
So KNI now has an extensive portfolio of projects in TWO parts of the world (North America and Europe) that are desperate for battery materials - and pushing through laws to ensure supply.
There's plenty to come from KNI in terms of newsflow - they now have exploration activities across four projects.
Here's what we expect from KNI in the next couple of months:
Assays from nickel project drilling 🔄
Drilling results from the cobalt drilling program 🔄
Drilling results from the copper drilling program 🔄
Today though - it's all about cobalt in Europe.
And initial signs are positive - bearing in mind these are just visual results and need to be confirmed by assays.
Assays are the confirmation of significant cobalt mineralisation we're looking for.
This is what the visually identified cobalt looks like in one of the drill cores (here it is again):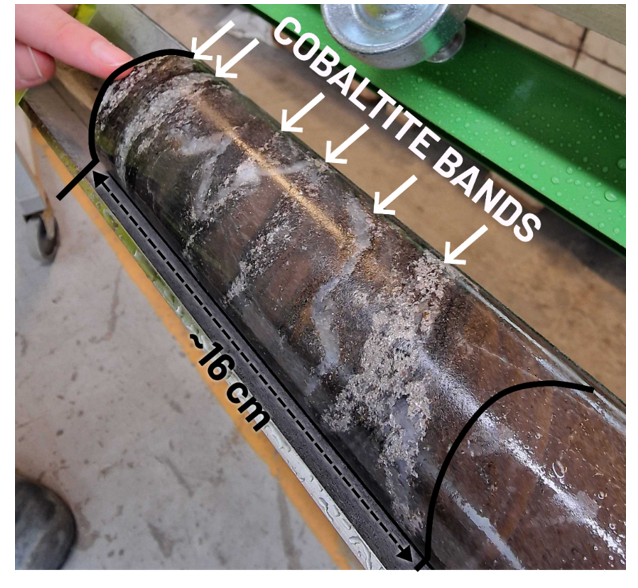 Visual cobalt mineralisation like this is generally rare - but this is now the second time KNI has hit a high proportion of visual cobalt mineralisation in the company's second pass at the Norwegian cobalt project (called Skuterud).
The "Skuterud 2.0" drilling program has now established 520m of strike, hitting visual cobalt in 5 of 6 holes (up to 4 more holes to come) - similar to the maiden drill program which hit visible cobalt in 7 out of the 8 holes.
The assays came in at our base case for that drill campaign - all eight assays were at or above the 0.05% economic cut-off grade - grades required for a cobalt project to be considered economically viable is generally 0.05%.
Now a 0.05% cobalt grade doesn't sound like much - but that's because cobalt is very expensive per tonne.
It still sells for US$34,000 a tonne, despite a sharp price correction playing out over the last 12 months.
But...
We think today's cobalt results could be the start of something much larger for KNI in Norway, at a time when the EU continues to import the vast majority of its cobalt.
We want a similar result from the upcoming assays from "Skuterud 2.0" - and today's results give us hints the assays could actually improve on the first campaign.
On top of being far closer to the surface.
Again, we must stress that assays are the real proof - visual results are just a rough guide.
Cobalt is a battery material "secret sauce" - it ensures batteries don't overheat or even worse, catch fire.
It also helps extend the life of batteries - automakers usually guarantee their batteries for 8 to 10 years.
Because cobalt is so good at improving the longevity of batteries - it's hard to strip out of the supply chain, despite its significant cost.
Due to the fact that the majority (~70%) of it is sourced from the Democratic Republic of Congo (DRC) where unethical mining practices are rife - ESG conscious battery manufacturers and carmakers are looking to substitute cobalt with other battery materials.
And yet...
S&P Global Market Intelligence has forecasted that cobalt demand from EV's will get close to doubling between 2022 and 2023: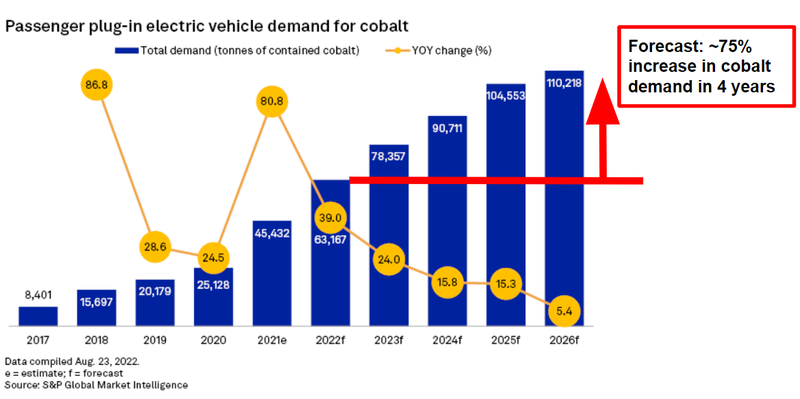 Following the proposal of the Critical Raw Materials Act, we're now more certain that the EU would jump at the chance to have a local cobalt mine.
In other words, given what we know about cobalt demand - we think ethically sourced cobalt from friendly jurisdictions (ideally from within EU borders) must urgently be discovered and brought online.
We think KNI's cobalt project is closely aligned with the EU's raw materials objectives.
If implemented, The EU Critical Raw Materials Act could play a big role in KNI's prospects of developing its cobalt project in Norway down the track - which would satisfy our Big Bet for KNI:
Our 'Big Bet'
"To develop a sustainable battery metals mine within European borders that is of strategic importance - and hence highly valuable as an acquisition target."
NOTE: our "Big Bet" is what we HOPE the ultimate success scenario looks like for this particular Investment over the long term (3+ years). There is a lot of work to be done, many risks involved, and it will require a significant amount of luck. There is no guarantee that it will ever come true. Some of these risks we list in our KNI Investment Memo.
For our summary of KNI's progress over time and how today's announcement contributes to our Big Bet see our KNI Progress Tracker: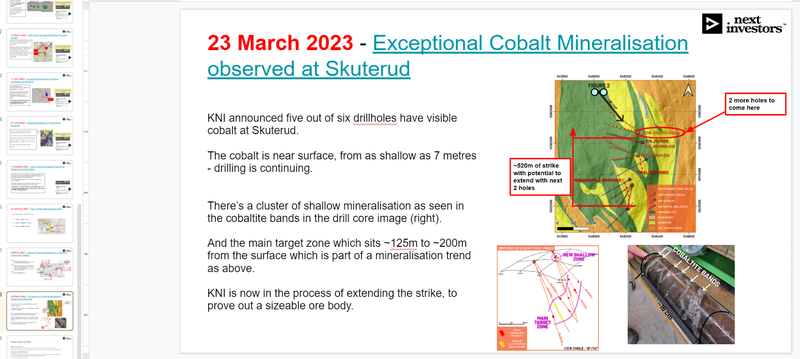 Why is the EU Critical Raw Materials Act good for KNI?
It all comes down to some of the proposed minimum domestic content benchmarks that will be built into the proposed legislation: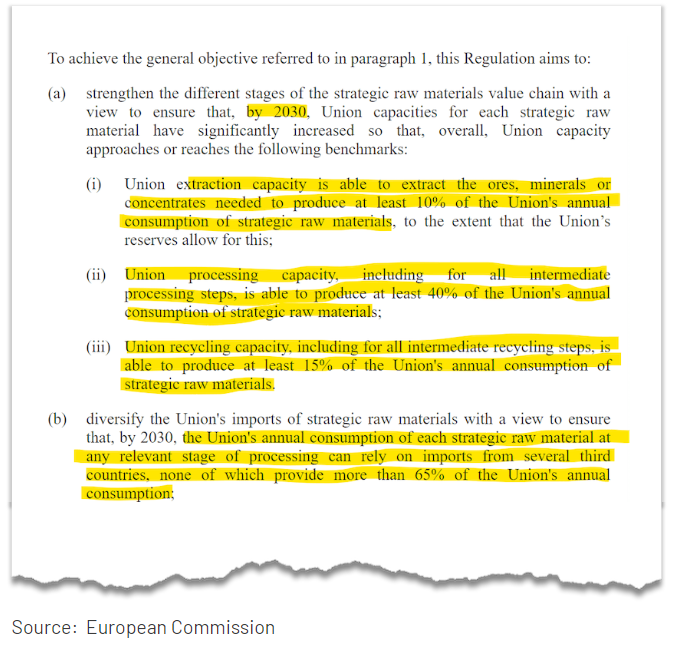 This is a big deal - if Europe imports roughly 68% of its cobalt from the DRC as of 2020 (source) and Russia was the second largest supplier of cobalt in 2021 - quick maths starts to show how a domestic EU cobalt source becomes important.
Quickly.
On the processing front - Finland is the world's second largest processor of cobalt, having produced 14K tonnes in 2021 compared to 104K tonnes in China, also in 2021.
KNI's project is in close proximity to Finland's cobalt processing facilities: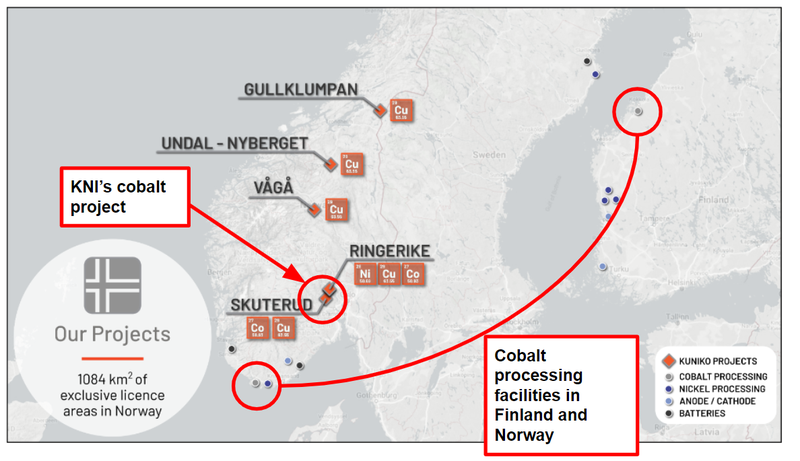 There is also cobalt processing capacity in Norway.
With the EU's new legislation setting benchmarks for processing, domestic production and most importantly, reducing reliance on third countries - below is our ideal scenario for KNI's cobalt project (noting that they have additional EU battery metals projects as well, that could result in economic mineralisation and generate shareholder value):
KNI continues to drill at Norwegian cobalt project, and releases a Mineral Resource Estimate.
Meanwhile, the EU reduces permitting barriers for domestic mines among other incentives for domestic production.
KNI puts its cobalt project through fast tracked Scoping Study/Pre-Feasibility Study
And over time a Norwegian cobalt mine comes to fruition, just in time for the EU to meet its domestic content benchmarks.
Meanwhile, it gets a JORC compliant resource at its nickel project, and hopefully, some great copper hits at its copper project.
Obviously there are a lot of risks, and KNI will need a measure of luck to achieve this.
But today's results put KNI on the path to getting this ideal scenario going - here's more on the specifics of what KNI turned up.
KNI's Environmental, Social and Governance (ESG) progress
As we saw in the EU's recent Critical Raw Materials Act, the continent is insisting on having a sustainable supply chain for their raw materials, which is forcing major stakeholders like battery manufacturers and carmarkers to act.
KNI has prioritised on ESG and zero carbon across its cobalt, copper, nickel and lithium projects.
Global fund managers, high net worth family offices and millennials are now actively seeking to invest exclusively in ESG companies. Consumers are demanding best in class ESG products and smart people only want to work with top ESG credentialed companies.
KNI uses the World Economic Forum ESG framework to regularly report their ESG progress so they can best tell their story to international ESG investors, potential offtake partners and community stakeholders: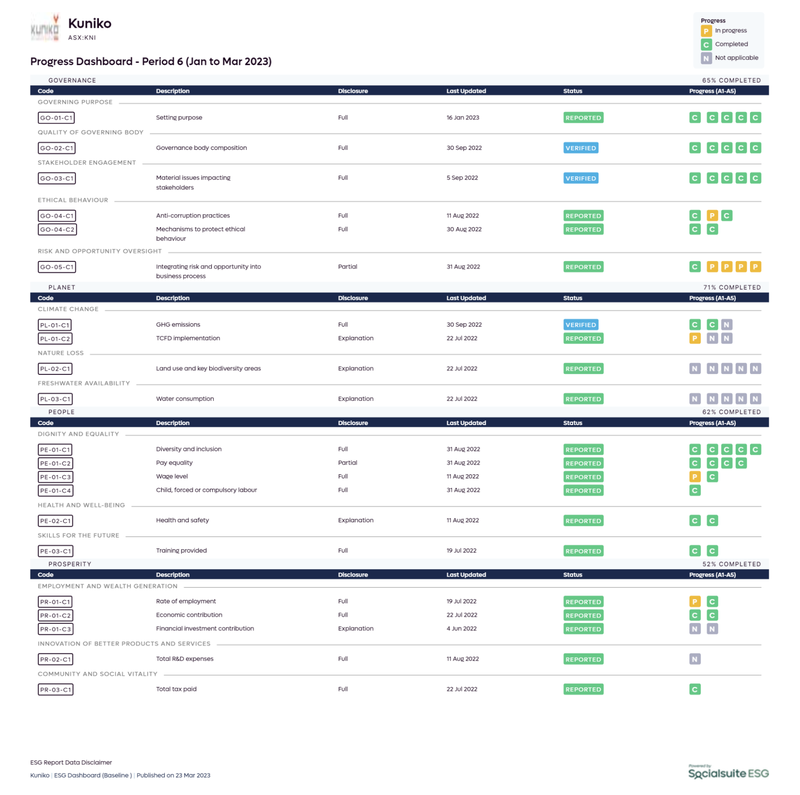 More on today's KNI cobalt results...
As before, today's visual results are from KNI's cobalt project in Norway - located near a cobalt mine that used to be part of the largest cobalt producing region in the world.
It helps that 79 of the 104 European cobalt deposits are in Sweden, Norway and Finland.
But KNI's cobalt project in Norway may prove to be a leading Scandinavian cobalt deposit, following today's visual results.
There could be more to come too (up to 4 more holes) - this is clearly fertile ground for cobalt exploration.
The two things to see from these visual intercepts is that there's two areas of interest: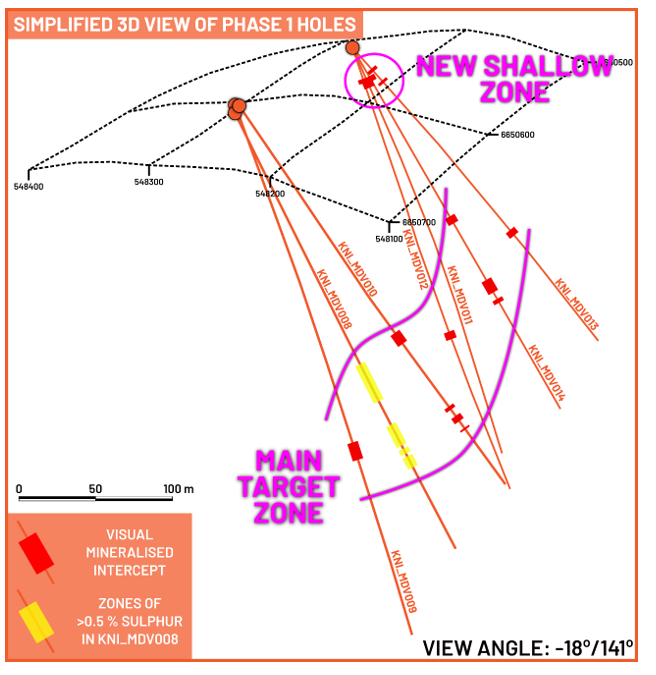 There's a cluster of shallow mineralisation which gave rise to the cobaltite bands in the drill core image from the start of this note.
And the main target zone which sits ~125m to ~200m from the surface which is part of a mineralisation trend as above.
KNI is now in the process of extending the strike, to prove out a sizeable ore body: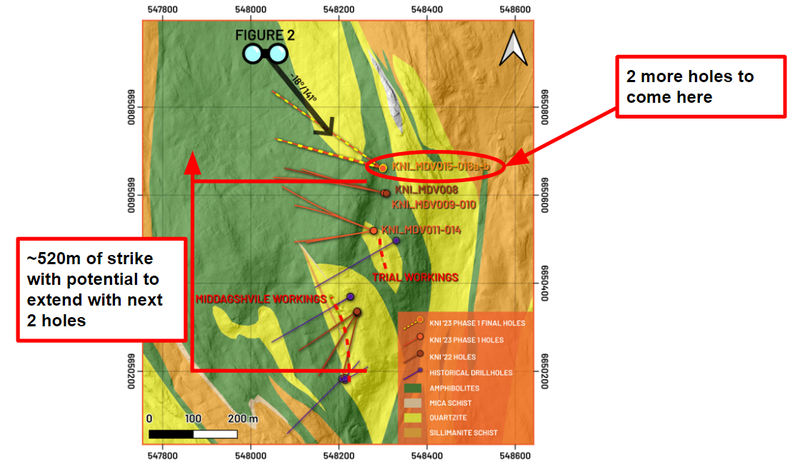 All up, we see today's results as a very solid start to a second pass drill campaign.
Risks
As we stressed before - KNI's visual cobalt might not result in good assays, it's just an indicator.
As such, we see exploration risk as ongoing - and we note that assays previously took an extended period of time to come through.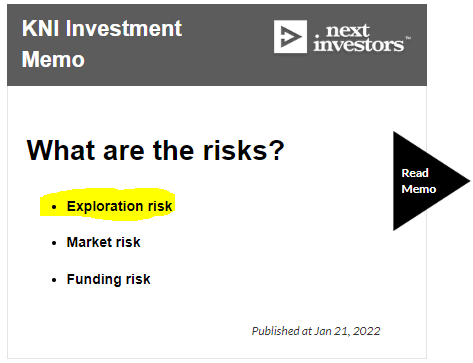 Our KNI Investment Memo
Below is our KNI Investment Memo, where you can find a short, high level summary of our reasons for Investing including the following:
Key objectives for KNI
Why we are Invested in KNI
The key risks to our Investment thesis
Our Investment plan
---