Kuniko releases high grade nickel assays in Norway
Shares Held: 2,582,223
Options Held: 0
---
Yesterday, our European and North American critical minerals Investment, Kuniko (ASX:KNI) released nickel, copper and cobalt assays from its Ertelien project in Norway.
We know Europe is very hungry for new critical minerals projects, with the Critical Raw Materials Act recently coming to prominence.
Just recently, the EU proposed listing both nickel and copper in its critical raw materials list.
Nickel, copper and cobalt are all essential in the production of Electric Vehicle (EV) batteries.
Yesterday KNI hit all three (nickel/copper/cobalt) with the thickest intercept measuring 4.8m and the highest nickel grade measuring ~1.43%.
Here is a list of the latest assay results.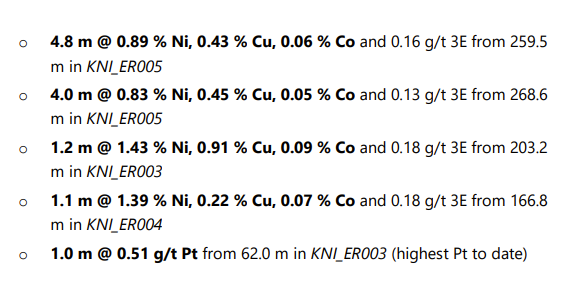 The results are following up on the assays from KNI's first drillhole which returned 25.1m at 1.14% nickel, 1.2% copper and 0.07% cobalt.
We think these are solid results which should help KNI understand the mineralised system at this particular project, as the company pursues a maiden JORC resource at this project.
That JORC resource would help KNI establish the value of this nickel project in relation to other European nickel projects.
Importantly, the results of this drilling indicate that there could be more mineralisation at depth, with the below image indicating that KNI intends to test the continuity of this mineralisation: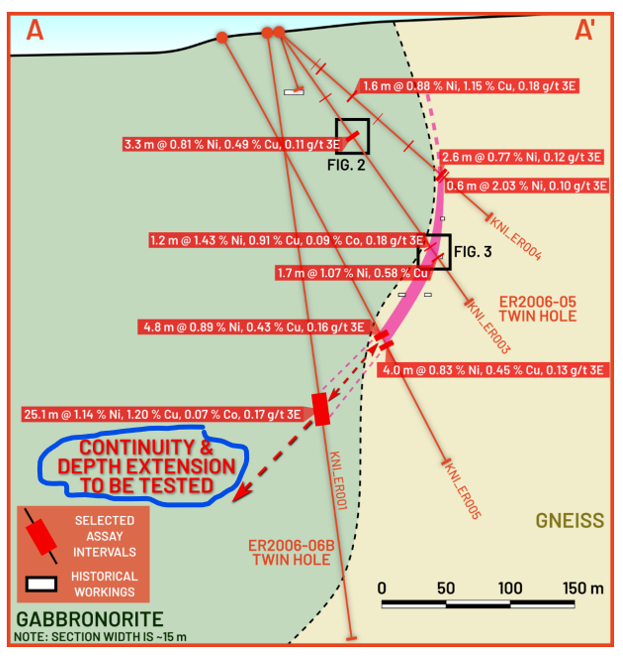 What's next for KNI?
We are also waiting on more assays from KNI's cobalt project which we covered in our last KNI note.
The initial assays from that project were quite surprising - in a very positive way. KNI hit a big chunk of very high grade cobalt very close to the surface which we think dramatically improved the potential economic viability of the project.