KNI delivers unexpected high grade, shallow intercept - biggest hit yet.
Disclosure: S3 Consortium Pty Ltd (the Company) and Associated Entities own 2,582,223 KNI and the Company's staff own 7,500 shares at the time of publishing this article. The Company has been engaged by KNI to share our commentary on the progress of our Investment in KNI over time.
We weren't expecting this.
Neither was KNI...
And it's good.
While drilling to hit a deeper target, KNI discovered high grade cobalt mineralisation, close to the surface.
This is in a totally new, near surface and unexpected zone.
In our last note on our EU and North American critical minerals Investment, Kuniko (ASX:KNI), we highlighted the potential at its Norwegian cobalt project, after the company established 520m of strike, hitting visual cobalt in 5 of 6 holes.
The EU has no local supply of cobalt - an essential ingredient in EV batteries. KNI is aiming to change this by proving up the size and scale of its Norwegian cobalt project.
Today's drill results are a very positive development.
The market was expecting results on the potential extension of mineralisation in the deeper target zone of the drilling, progressing from the 2022 drill campaign results.
Instead KNI "accidentally" stumbled on a high grade zone much closer to the surface, which now warrants further exploration to see how big it is.
And to test if similar high-grade, near-to-surface zones exist nearby.
KNI cobalt assays released today included peak results of:
6.2 m grading 0.43% cobalt from 25.2 m
3.0 m grading 0.52% cobalt from 25.2 m; and
AND
1.0 m grading 1.08% cobalt from 30.4 m.
A grade of 1% cobalt is a very high grade, positive assay result and a 6.2m intercept at 0.43% again, reveals the possibility that KNI is onto something much bigger here.
Our view is that today's results dramatically upgrade the potential viability of KNI's Norwegian cobalt project, as it aims to eventually establish an ethical, domestic source of cobalt for the EU.
Plus, we don't even know the full extent of it yet.
The next round of assays followed by a new drilling campaign will start to reveal this - providing a new exciting period of newsflow for KNI over the coming months that we will be watching with great interest.
Today's results mean KNI is well on track to exceed our bull case expectations for assays from this project - as we laid them out in January.
To exceed our bull case expectation, KNI just needs to deliver one or two more intersects at above 0.1% grades.
Our bull case is looking for "several" intercepts - KNI has delivered the first one today.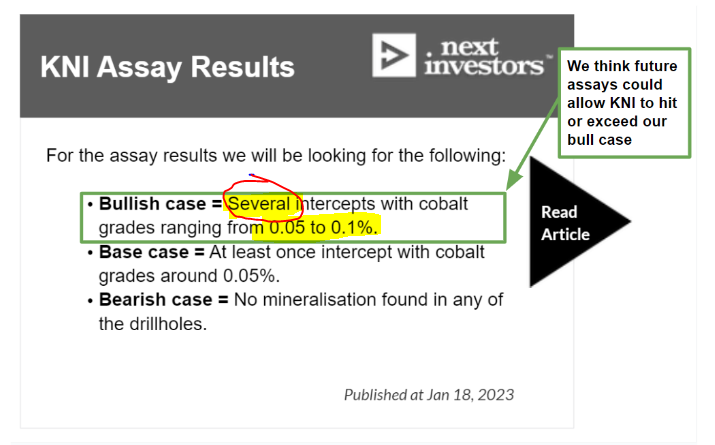 The next seven assays from the eight hole drilling program are due next month.
As we said above - KNI is well on track to hit our bull case if the assay results are anything like today's assays.
Then KNI will need to plan a new set of target generation work and drilling campaigns based on this newly gained knowledge about this accidentally discovered high grade zone.
This next drilling (which takes into account the new information from this unexpected hit) is the one we are now really looking forward to.
Our 'Big Bet'
"To develop a sustainable battery metals mine within European borders that is of strategic importance - and hence highly valuable as an acquisition target."
NOTE: our "Big Bet" is what we HOPE the ultimate success scenario looks like for this particular Investment over the long term (3+ years). There is a lot of work to be done, many risks involved, and it will require a significant amount of luck. There is no guarantee that it will ever come true. Some of these risks we list in our KNI Investment Memo.
For our summary of KNI's progress over time and how today's announcement contributes to our Big Bet see our KNI Progress Tracker: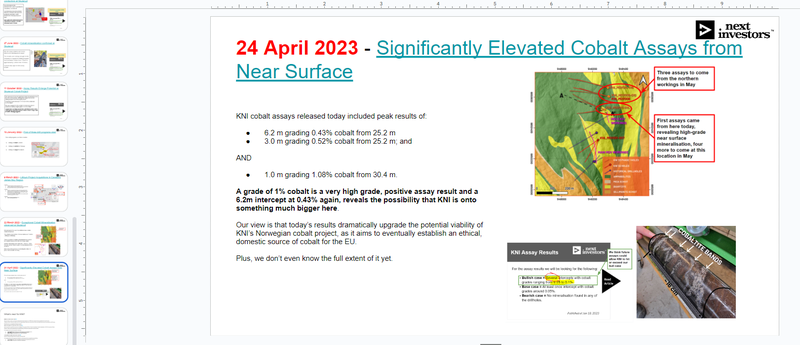 How good were KNI's assays today?
In short, very good.
For context, there's another cobalt company on the ASX that has a project also in a jurisdiction that is desperate to secure supply of critical minerals, called Jervois Global.
Jervois is capped at $208M and has a revenue generating cobalt processing facility in Finland, but today we are most interested in its cobalt mine in Idaho, USA.
Here are the metrics for that mine from a 2022 presentation:
Things to note here is that the 6.2m KNI hit at .43% cobalt are in line with JRV's cobalt grades in the Idaho resources.
Noting of course, that:
JRV's resources also have significant copper credits, and
KNI has only drilled a few holes to date, and today's news is one excellent drill hit. KNI still has a lot more work to do to prove out what exactly they have stumbled upon.
Importantly however, KNI's intercept today is very close to the surface - which improves mine economics, assuming KNI can drill out more near surface cobalt.
Below is a map of KNI's workings at the Norwegian cobalt project so far.
Bottom line:
Today's assays could be the first signs of scale potential at KNI's Norwegian cobalt project. They justify additional drilling at the project and make it a bigger priority in KNI's overall exploration program.
What's next for KNI?
Here's what we expect from KNI in the next couple of months:
Assays from nickel project drilling 🔄 - KNI is trying to move this project towards a JORC resource.
MORE drilling results from the cobalt drilling program 🔄 - today's results revealed that could be more upside to come at KNI's Norwegian cobalt project. There are 7 more assays to come.
Drilling results from the copper drilling program 🔄 - this project was in a underexplored area and we are hoping the assays reveal some interesting copper results.
Risks
There is always a chance that the upcoming assays results from the remaining 7 holes at the Norwegian cobalt project disappoint.
In addition to that, as we highlighted above, the cobalt price has fallen significantly and KNI may continue to see market risk materialise, harming the economics of developing a potential project in Norway.
As a result, these are the two risks we are most focussed on at the moment for KNI:
KNI's Environmental, Social and Governance (ESG) progress
As we saw in the EU's recent Critical Raw Materials Act, the continent is insisting on having a sustainable supply chain for their raw materials, which is forcing major stakeholders like battery manufacturers and carmarkers to act.
KNI has prioritised on ESG and zero carbon across its cobalt, copper, nickel and lithium projects.
Global fund managers, high net worth family offices and millennials are now actively seeking to invest exclusively in ESG companies. Consumers are demanding best in class ESG products and smart people only want to work with top ESG credentialed companies.
KNI uses the World Economic Forum ESG framework to regularly report their ESG progress so they can best tell their story to international ESG investors, potential offtake partners and community stakeholders: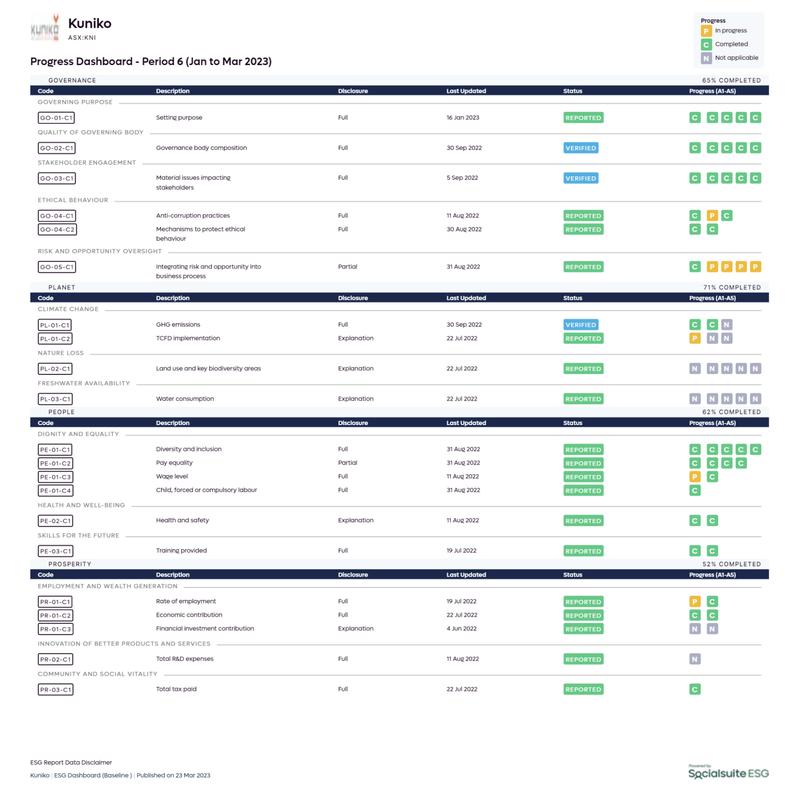 Our KNI Investment Memo
Below is our KNI Investment Memo, where you can find a short, high level summary of our reasons for Investing including the following:
Key objectives for KNI
Why we are Invested in KNI
The key risks to our Investment thesis
Our Investment plan
---