EXR's 2021 Mongolia Drilling Program is Well Underway
Elixir Energy (ASX:EXR) is exploring for natural gas on the Mongolian-China border to replace burning of coal for energy in China.
EXR has just announced drilling of not one, but two new wells this month with results due soon after AND the results of its first 2021 well with:
17m of coal intersection - but there may have been more...
That it has found "Sales Gas" specification gas
This well "appears to be a highly gaseous but structurally complex depocentre"
Key things we note from today's announcement is that EXR mentions this well result contained "sales gas" specification gas, which means that they have found gas that can be sold into the market without the need for processing or a processing plant.
Most gas discoveries contain butane, propane, CO2 or other impurities which needs processing to be removed before it can be sold into the market or into a pipeline - hence a processing plant.
This well reached a total depth of 578m - it intersected a total 17m of coal... but after 300m of depth, further logging was not possible due to hole conditions - so we don't actually know how much more coal intersections there may have been in the second half of the hole.
EXR says "Analysis of the results of Yangir 2 will be completed before planning the next appraisal steps in what appears to be a highly gaseous but structurally complex depocentre."
The good thing about EXR is they have already found gassy coal and the type of drilling they are doing is lots of smaller drills delivering rapid results with the goal to either:
Discover new basins.
Extend existing basins that have been discovered to prove how big they are.
EXR also announced that the rig used to drill this well is now moving to a new area to drill an exploratory well starting this month. It also said a second rig has now been contracted and should be moving onto site soon - so expect a faster pace of news from EXR.
We originally invested in EXR as our 2019 Energy Pick of the Year.
We doubled down on EXR when it was beaten up by the 2020 COVID market crash - this was scary at the time but proved to have worked out well.
In the last few months EXR seems to have captured the imagination of investors on Reddit, which we wrote about when the share price was 22c...
At 44c today, we are delighted that EXR continues to perform and send congratulations to all the holders who have had a win.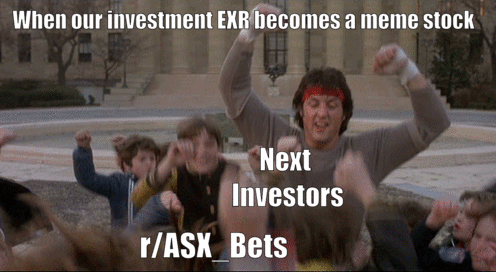 We have been invested in EXR for almost 3 years now and are delighted with the progress to date in what continues to be one of the best long term performers in our portfolio.
EXR is a great example of the kind of investment we look for - a long term hold while the company delivers on a plan, which leads to a sustained long term share price rise.
Here is all our past commentary on EXR since we first called it our Energy Pick of the Year in July 2019: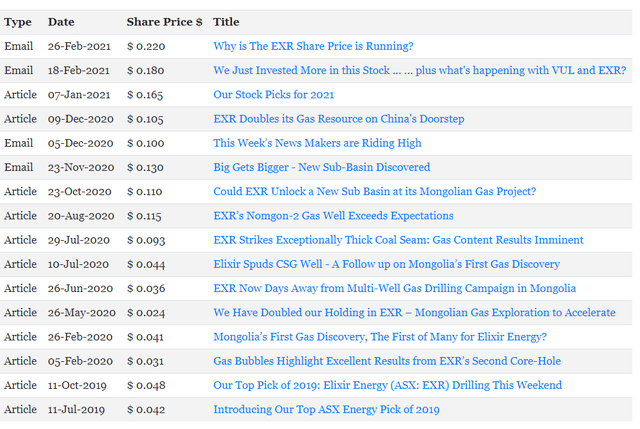 ---