Introducing Our Top ASX Energy Pick of 2019
The Next Oil Rush is constantly reviewing ASX listed energy stocks and bringing our readers insights into those with potential for significant share price appreciation.
Some ASX stocks tick all of our investment criteria boxes and we choose to take large, long term positions in them.
These kinds of stocks don't come along all the time, but on certain occasions we are emboldened enough to give them the coveted 'Top Pick of the Year' selection.
Today's company is well deserving of this mantle for the Next Oil Rush Pick of the Year in 2019.
This article will outline all the reasons why we are "long" on this $20M capped ASX stock.
This company is sitting on a gigantic, independently certified 7.6 trillion cubic feet (risked "best" or mid case) coalbed methane (CBM) Prospective Resource in southern Mongolia — right on the border of China.
The Chinese government expects a 300% surge in the country's gas demand over the next 15 years. The only problem is... it doesn't have much of its own.
The company's gas resource sits within a giant 7 million acre (30,000 square kilometre) Production Sharing Contract (PSC) — the Nomgon IX PSC.
This is the only coal seam gas PSC issued by the Mongolian government, and it's 100% owned by this company.
Notably, right now Mongolia has zero gas production within its borders — so success for this ASX stock would be pivotal for the country.
This massive prospective gas resource acreage is of export scale and comparable size to Santos' GLNG acreage in Queensland, yet it's far less remote from markets than rural Australia.
Rio Tinto's (ASX:RIO) Oyu Tolgoi copper and gold mine literally sits within this company's acreage. The mining giant is under increasing pressure to find an energy supply from within Mongolia's borders instead of bringing it in from China – could our Pick of the Year assist?
This company has assembled a strong board, including its Chairman Richard Cottee, who famously took Queensland Gas Company (QGC) from a $20M capped junior into a $5.7B takeover play.
Managing Director Neil Young is an ex-Santos executive, who has been hustling in Mongolia working to secure the Nomgon IX PSC since 2011. Another ex-Santos executive is Stephen Kelemen, who ran the company's coal seam gas (CSG) business — the exact kind of gas this company is looking for. (What Australians call CSG the rest of the world calls CBM).
The company's initial exploration program is now fully funded, a seismic contract has been signed, a preferred drilling contractor will be selected imminently, and the stage is set for drilling within a few months.
The company emerged from a trading halt this morning, confirming that the last of the required regulatory milestones to begin seismic and then had been approved.
That means this company is "all systems go" to commence drilling, which could deliver a significant run of share price catalysts over the months to come.
After eight long years of hard slog, this regulatory approval is the final piece to fall into place, and the company can begin getting to work on unlocking the true value of its potentially giant clean energy resource in the heart of Asia.
We are expecting a steady stream of newsflow in the story over the next six months which should provide significant interest to ASX small cap investors.
We have made a large investment in this stock and in this article we will run you through why. We will be following this story as it unfolds every step of the way through the rest of 2019 and beyond.
Let's take a closer look at: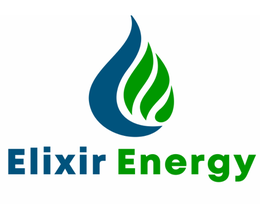 Share Price: $0.039 (as at 8 July 2019)
Market Capitalisation: $19 million
Here's why we've selected Elixir Energy (ASX:EXR) as our Top oil and gas Pick for 2019: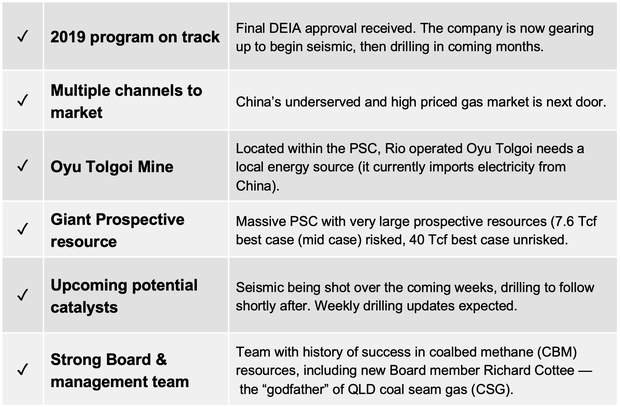 Elixir Energy (ASX:EXR) entered the Mongolian oil and gas scene late last year completing its acquisition of Golden Horde (GOH) and its Nomgon IX coalbed methane (CBM) production sharing contract (PSC) in southern Mongolia.
The news was covered by Finfeed.com:

When we first wrote about EXR in November last year, "Which ASX Gas Junior Has a 40TCF Unrisked Resource on China's Doorstep?", the company was just about to finalise the 100% acquisition.
Since then, EXR has cleared the way to focus its attention squarely on its high-impact Mongolian CBM opportunity, divesting its Alaskan portfolio of assets to Entek Energy (ASX:ETE) a number of months ago.
With that behind it, EXR is busy progressing its exploration activities in Mongolia and plans to commence drilling in or around September.
On offer is potential for a major share price re-rating — once gas content and permeability test results come in following the upcoming drilling program — a key part of the reason why we have chosen now to select EXR as our Next Oil Rush Top Pick of the Year.
EXR's 2019 Exploration Program aims to confirm:
The presence and thickness of coal
Gas content
Gas composition
Permeability
Ultimately this will take EXR on the path to a contingent resource, which would highly likely re-rate this stock from its current levels.
In between that, news of drilling two to three separate wells in the final two quarters of 2019 and weekly drilling updates, there'll be plenty of action for investors to pay close attention to – any one of those announcements could drive rapid share price movement.
Our Next Tech Stock Pick of the Year has been up as high as 158%
Here at the Next Investors, we don't give out our 'Pick of the Year' position easily. We do a significant amount of due diligence prior to us making an investment.
Over at the Next Tech Stock, ASX cybersecurity junior WhiteHawk (ASX:WHK) was chosen as our tech stock Pick of the Year.
So far, that stock is up 50%, having been up as much as 158%, since we made the call on May 1. We are still long term believers in this story, and think there will be significantly more growth from here. You can get the latest news on that and many other tech stocks by subscribing to The Next Tech Stock.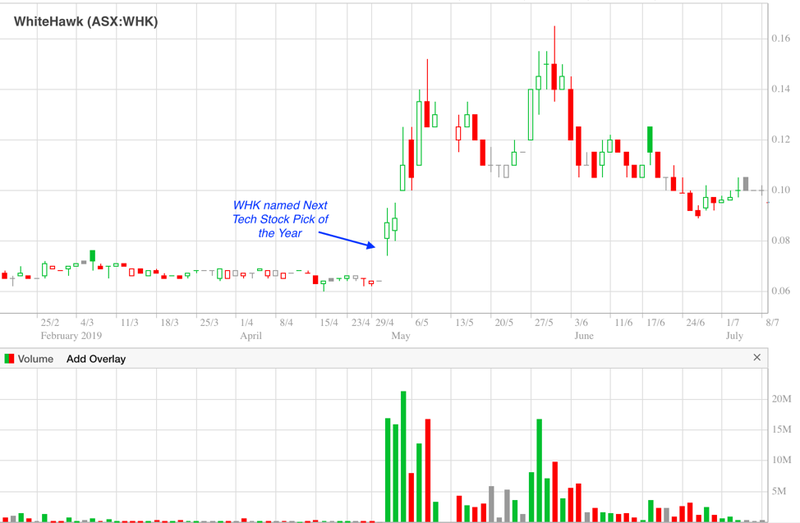 We are hoping for an even better result for EXR over the coming months
Today EXR confirmed a huge milestone, receiving the final approval required to progress to seismic and drilling — after years of work to get to this stage.
Investors should be keeping a close eye on the upcoming milestones, which have high potential to deliver a share price re-rate.
But before we get into the company's progress to date in Mongolia and upcoming works, it's worth exploring the PSC asset as a whole, and the state of play in the region's energy market.
The Nomgon IX CBM PSC: a giant gas prospective resource
EXR's 100% owned Nomgon IX coalbed methane (CBM) production sharing contract (PSC) is located in the South Gobi Desert in Mongolia, immediately next to the Chinese border.
This is a region that is exceptional in its combination of massive potential gas and renewable energy resources (wind and solar), minimal competing land uses, and its location right in the heart of Asia.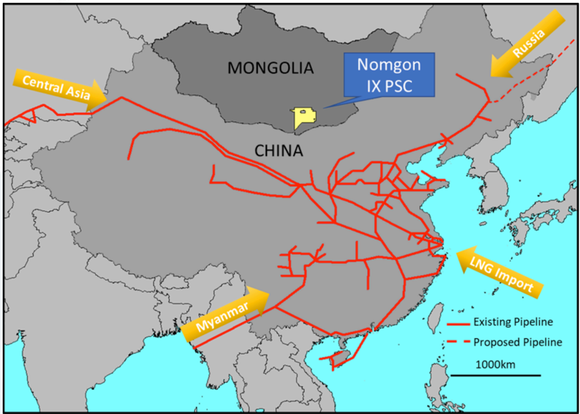 The Nomgon IX CBM PSC covers an area of around 30,000 square kilometres (over 7 million acres).
Below you can see the impressive size on Nomgon IX (left) when compared to Santos' GLNG licences in Queensland (right).
Perhaps even more importantly, the maps show that the licences lie similar distances to China's gas pipeline system, on the one hand, and the port of Gladstone on the other – not far at all in pipeline terms.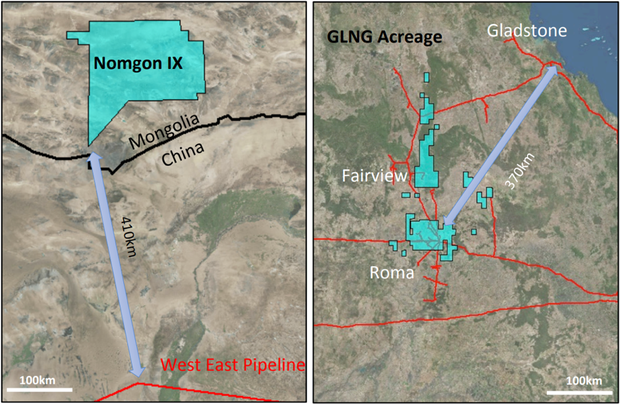 The PSC was entered into with the Mongolian Government (which can share in up to 40% of profits but otherwise has no back-in or similar rights) in September 2018 and has a 10- to 15-year exploration term (which can be extended) and a 30-plus year production period.
A major benefit is that it gives EXR long term and robust tenure over the licence area.
An independent prospective resource report was completed by ERC Equipoise Pte Ltd (ERCE) — one of the largest petroleum Reserves and Resource auditors globally — which validated the world class potential of the Nomgon IX CBM PSC.
ERCE identified a giant resource and noted that its geological risk was likely to be significantly reduced following the upcoming 2019 exploration program (2D seismic and corehole drilling).
Its best case (2U) unrisked recoverable prospective resource came in at 40.1 Tcf, while its risked resource was 7.6 Tcf.

EXR is next door to China's gas market
One big reason why EXR is our Top Pick of 2019, is assuming it can successfully prove up its gas resource, it has a huge, ready and willing market to sell that gas into.
Leaving aside Mongolia's own energy needs for a minute, potentially the preeminent world superpower of the rest of this century, China, is right next door.
Energy hungry China imports gas from every direction — Russia, Myanmar, Central Asia, and by sea in the form of LNG from the likes of Australia.
Furthermore, China is aiming to significantly reduce its reliance on coal and is taking steps to reduce carbon dioxide and other emissions, as air pollution is a critical issue across its cities.
China's crackdown on coal use has not only seen demand rise for renewable energy sources, but also for gas — which it's struggling to meet.
The Chinese government is desperate to avoid a repeat of the 2017-18 Chinese winter where millions of households were left without power due to severe gas shortages.
The government expects a three-fold increase in gas demand within 15 years and EXR is in an excellent position to help meet this demand.
Given that a substantial increase in demand is expected for electricity and cleaner fuels in China, the Chinese National Development and Reform Commission (NDRC) have urged gas producers to increase their output and speed up construction and development of infrastructure in key gas fields to ensure supply security.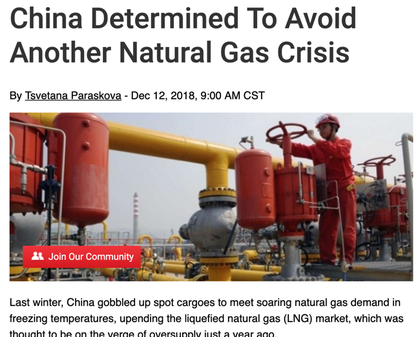 There is obviously a big incentive for EXR here — if it can successfully prove up the gas resource in Mongolia, the Chinese would no doubt be interested in buying it. Non-Chinese large energy companies would also see the attractiveness of the Chinese market.
With the potential to find and develop multiple TCFs of gas from CBM in the PSC area, it is feasible that both the Mongolian and Chinese markets can be supplied with Mongolian CBM.
Also boding well for EXR is that coalbed methane (CBM) from Mongolia is expected to be highly cost competitive in China when compared to alternative sources of gas for the country.
CBM supplied to China from Australia has delivery costs (liquefaction, etc.) that make up about half the final price — this would not be the case with Mongolian CBM thanks to its proximity to China.
Rio Tinto's Oyu Tolgoi mine... another EXR customer?
The Rio Tinto (ASX:RIO) operated Oyu Tolgoi copper and gold mine is literally located within EXR's Nomgon IX CBM PSC area in the South Gobi region.
Launched in 2009, Oyu Tolgoi has transformed Mongolia's economy. The mine alone is expected to account for as much as 30% of the country's GDP once full commercial ore production starts in a couple of years.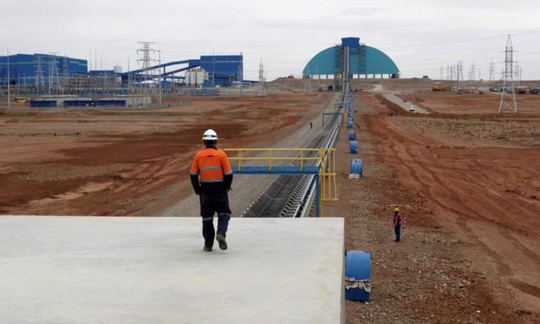 It's scheduled to complete a $5.3 billion underground expansion for first production by 2020, creating one of the world's biggest copper suppliers.
However, to get there Rio is required to secure it a large and reliable power source from within Mongolia under an agreement with the government.
Currently, Oyu Tolgoi buys about US$150 million of power from China per year, but the pressure is on from the Mongolian government to lock-in a domestic power source.
The most feasible option is an Oyu Tolgoi-based power plant as it could deliver a domestic power source within the shortest timeframe.
Remember, Oyu Tolgoi sits inside EXR's 7 million acre PSC.
We would assume the Mongolian government would be very keen to see EXR develop a large scale gas resource capable of delivering power to both Rio Tinto and China, aside from its own internal gas needs and desire for a cleaner energy source.
Once again, this speaks to the ready and willing market, hungry for a large gas resource, in EXR's neighbourhood.
There's been talk of Rio, through the Oyu Tolgoi joint venture, building and operating a new 300MW coal-fired power station that will draw coal from the nearby Tavan Tolgoi coal mines (also within the PSC).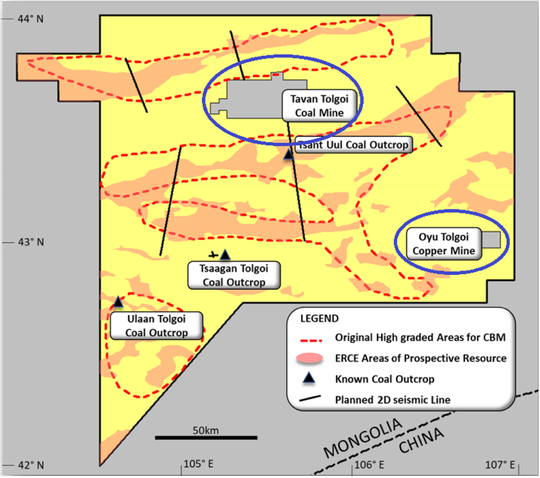 Just last week, the AFR reported that a non-binding agreement had been signed for the construction of a 300 megawatt plant beginning in 2020, close to the Tavan Tolgoi coalfields, to supply electricity to the Oyu Tolgoi mine.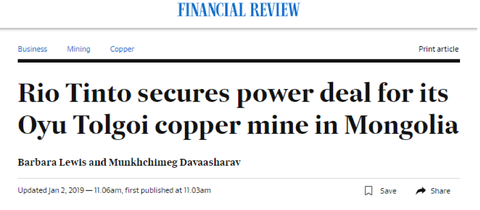 While that option would end the project's dependence on power imports from China, Rio has made it clear that coal is no longer its fuel of preference. In fact, the $40 billion miner is taking steps to improve its environmental impact so avoiding dirty fuel is high on its agenda.
This shift comes after Rio last year sold its interest in the Grasberg copper mine in Indonesia, where mine wastes were being disposed into nearby rivers. The move led the Norwegian sovereign wealth fund to scrap its decade-long ban on investing in Rio due to environmental concerns — a major win for Rio.
The news too was covered by the AFR: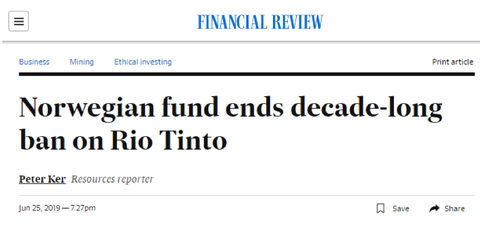 So, in keeping with its new environmental slant, it's a reasonable bet that Rio would prefer to power its Oyu Tolgoi from a combination of gas and renewables, rather than from (or as a minimum in addition to) coal.
Again, this is exactly where EXR can step in.
Remember, EXR owns the only CBM tenement issued by the Mongolian government and the gassy coal seams that the company is seeking to tap sit deeper in the same coal province that hosts the Tavan Tolgoi mine.
With Oyu Tolgoi located within EXR's PSC landholding, Nomgon IX CBM PSC could deliver a much needed (non-coal) energy source if, or once, it constructs a power plant to serve the mine.
Plus, existing large-scale electricity transmission running through the PSC has large spare capacity that could potentially be met by gas fired electricity generation with fuel supplied by EXR — within the existing Mongolian grid or as potential electricity exports.
It's this situation in particular that has the EXR Chairman Cottee imagining that perhaps he has (once again) found himself in the right place at the right time — just like his Queensland Gas days.
Air pollution, a shared regional adversary
This environmental shift by Rio (and China) is also keeping with the Mongolian government's commitment to reduce air pollution.
While Mongolia currently has no gas production, there too is a strong political desire to replace high emission and polluting coal power and heat generation with low emission clean-burning gas fired power generation.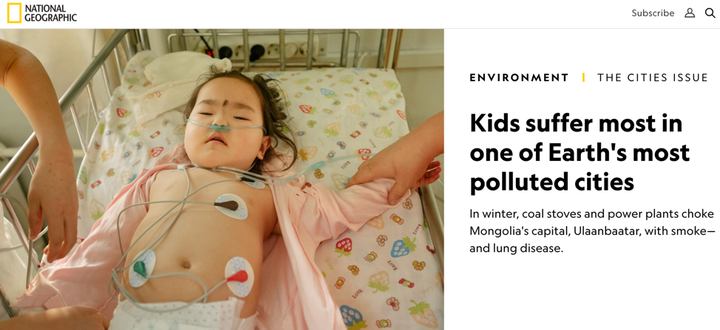 In May, the government banned raw coal burning in the country's capital, Ulaanbaatar — home to 46% of the population, and it has been highly supportive of the renewable energy sector including the proposed Asian Super Grid.
The Asian Super Grid would be a massive system of interconnected electricity grids across North Eastern Asia that allows for the exchange of power from renewable and other clean energy resources like solar, wind, and hydro (and gas) across the continent.
It would involve building a land and ocean floor based power network to connect countries' electricity grids and enable a cleaner and more efficient Asian electric power system.
Along with Mongolia, it is also backed by the likes of China's State Grid Corporation, Japan's Softbank and governments of the region.
The following video explains the proposed project:
The energy grids will utilise the abundant clean energy of Mongolia and Russia to supply much cleaner energy to China, South Korea and Japan. In order to do this, the Asian Super Grid project plans massive new transmission lines through the Gobi Desert — where EXR's massive PSC is located.
Given that gas and renewables are symbiotic energy sources, the Asian Super Grid project multiplies EXR's potential channels to market.
Another prime reason why EXR is our Pick of the Year.
Solar power can only be supplied during the day, and wind power fluctuates depending on the weather and season, so gas complements the high-quality renewable resources in the Gobi, as well as being a viable and reliable option away from Asia's use of coal.
The Mongolian government is understandably highly supportive of the Asian Super Grid and its President has recently met with his peers from the larger countries of China and Russia to push this forward. Further meetings of these heads of state on this topic are expected later this year.
Gobi Clean Energy Alliance
The Gobi region is a key part of the Asian Super Grid concept — a plan to transport clean power across Eastern Asian through extensive new electricity transmission connections.
In late May, EXR announced that it was a founding member of the Gobi Clean Energy Alliance. The Alliance's aim is to promote within Mongolia itself — and beyond — the huge potential of the clean energy resources (gas and renewables) of the Gobi region in Mongolia's south, just north of the Chinese border.
Other founding members include the Rio Tinto operated Oyu Tolgoi operation, European energy giant ABB, Mongolia's sovereign wealth manager Erdenes Mongol — that has been funded to great degree by Rio's expanding copper giant, Oyu Tolgoi — plus various Mongolian NGOs (such as the Business Council of Mongolia), renewable energy developers and ASX listed Aspire Mining.
Given EXR has a seat at the table with the other illustrious members of the Gobi Clean Energy Alliance, it will be in a strong position to advocate for the development of the Nomgon IX PSC resource in parallel and complementary to the region's renewable resources.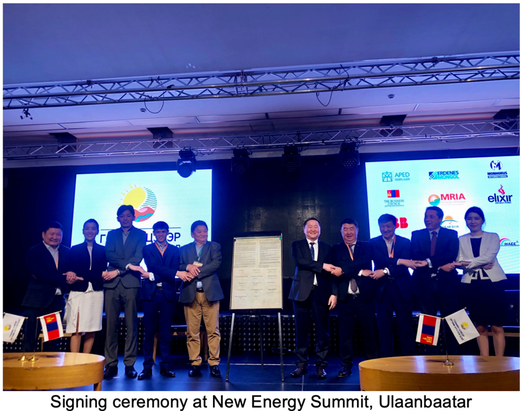 Backed by an exceptional team of industry experts
We always like to see a strong board and management team, highly experienced in their field, with skin in the game, to drive ASX companies forward.
Once again, EXR ticks this box. Its management team and board comprises an exceptional team of coal seam gas / coalbed methane industry experts.
Managing director and CEO, Neil Young has more than twenty years' experience in senior management positions in the upstream and downstream parts of the energy sector, focusing on business development, new ventures, gas marketing and general commercial functions. He has worked for a range of companies in the UK and Australian including EY, Tarong Energy and Santos (ASX:STO).
Young founded Golden Horde Ltd in 2011 with a view to exploring for gas on the Chinese border in Mongolia. He has also developed various new ventures in other countries including Kazakhstan, Japan and the USA.
We always like it when management has skin in the game and given Neil Young's role as Managing Director following the Golden Horde acquisition and as the largest shareholder in EXR, it all bodes well for EXR investors.
Recently appointed non-executive chairman, Richard Cottee made his name running Queensland Gas Company (QGC) and is considered the "godfather" of coal seam gas in Queensland.
A 32-year veteran of the industry, Cottee has spent the vast majority of his career in senior executive roles in the energy industry, including acting as CEO at CS Energy, NRG Europe, Central Petroleum and Nexus Energy.
In just six years, Cottee led QGC from a $20 million market-cap company with a share price of 20 cents through to its acquisition by British Gas for $5.7 billion (~$6 a share). QGC's CSG assets are now operated by Royal Dutch Shell and produce gas that is sold to China and other LNG markets.
Cottee commented, "as an early stage CSG explorer that holds some well-located and highly promising acreage, Elixir's prospects resonates with my early days at QGC. I look forward to working with the Company's Australian and Mongolian based teams to see whether we can replicate some of the successes achieved there. It is serendipitous that we are chasing the same Chinese gas market".
In the video below, Neil Young discusses EXR's recent appointment of Richard Cottee to the board.
Non-executive director Steven Kelemen is also hugely respected in the industry as a technical guru. He had an extensive technical and commercial career at Santos and is currently a non-executive director at Galilee Energy (ASX:GLL) — which last year was the most successful oil and gas stock on the ASX.
2019 exploration program progresses
EXR expects the upcoming field program at the PSC to reveal the extensive presence of coal seams on seismic, and to measure gas content and saturation, permeability and flowability.
A number of leads where coal is known to be present within the CBM depth window have been identified via the collation of technical data from multiple sources and the integration of these into its geological model.
Final Approval just received & seismic to begin
As mentioned earlier, Mongolia's Ministry of Environment and Tourism this week approved EXR's Detailed Environmental Impact Assessment (DEIA) — the final step prior to the commencement of its planned seismic and drilling program.
In anticipation, a seismic services contract was signed prior to the DEIA approval with Mongolian company Micro Seismic LLC, which has prior experience in acquiring seismic in EXR's licence area for mining companies.
EXR has now advised Micro Seismic LLC that it should mobilise to the South Gobi region and commence operations. These should start in in around three weeks, following the Mongolian summer festival of Nadaam, which started this week.
It will cover ~120 kilometres of 2D seismic targeting three specific CBM drilling leads. EXR expect fast track field processing every week and that fast tracked data used to site coreholes.
Here are the planned seismic lines (the coreholes will be placed on these):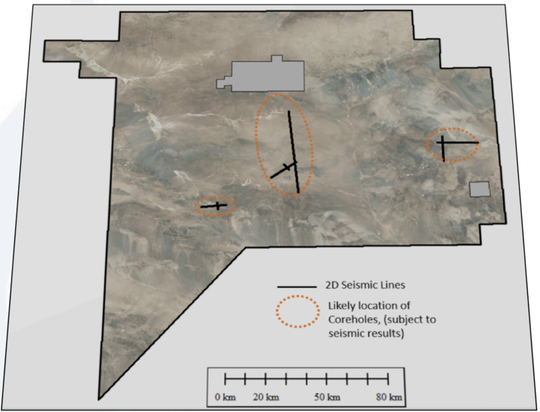 The company's upcoming drilling programs (for this year and next) will incorporate the results of this seismic program via fast-tracked field processing – keep an eye out for the below ASX announcements as they come for the remainder of CY2019:

Funding sorted
EXR received strong support for an over-subscribed placement of new shares in the company in May, raising $3.6 million at 3.6 cents per share.
The placement funds will allow the company to "vigorously pursue" its seismic and corehole drilling program (with options to expand the drilling program beyond an initial 2 well plan), meet all government rents, fees and bonuses required under the PSC and cover working capital requirements.
Drilling campaign – starting in September
The drilling campaign, comprising up to three fully tested coal bed methane (CBM) coreholes, will follow closely after the seismic program starts and is currently expected to commence in or around September 2019.
EXR's drilling tendering process is now at the point that a selected contractor will be named shortly.
The first CBM wells will be designed to provide information on coal thickness, gas content and permeability.
This is what EXR expect from the corehole drilling:
15 days per well including ~300-400m of coring.
Cores captured for immediate desorption testing.
Wireline logs acquired to determine net coal thickness.
Drill Stem Testing to determine flowability and permeability (likely measuring water influx to wellbore).
The results from the drilling program will serve to significantly de-risk technical risks and advance the process of converting resources into reserves. They will also serve as a platform upon which to build a 2020 pilot drilling program which is planned to include de-watering and production testing.
EXR expect that by the end of this year it will have undertaken enough work such that it will be looking to start to establish contingent resources in the PSC.
EXR, our Top Oil & Gas Pick of the Year
With an eye on both the short and longer term trends for reliable and clean energy supplies in China and throughout Asia, EXR is primed for growth.
The company is right in the thick of this evolving approach to energy supply and is well positioned for uplift on rising gas demand and the shift away from coal.
The 7 million acre PSC is strategically located on the China-Mongolia border and lies over a major Permian coal bearing region. Its certified coalbed methane (CBM) risked prospective resource (of 7.6 Tcf and an un-risked recoverable prospective resources of 40 Tcf) is ideally placed for future gas sales into the extensive Northern China gas transmission and distribution network.
The next six to twelve months will be crucial in determining the true size of this gas resource.
Such is the potential here that EXR has been named our Oil and Gas Top Pick of 2019.
Now with today's approval in its hands, it's all systems go for EXR. Exploration is fully funded, seismic is set to begin, a selected contractor will be named shortly, and initial drilling is scheduled to get underway in September.
From there, we can expect further significant and potentially market-moving newsflow as the program progresses.
---