We Have Doubled our Holding in EXR – Mongolian Gas Exploration to Accelerate
PUBLISHED: 26-05-2020 13:42 p.m.
Elixir Energy (ASX:EXR) has just completed a massively oversubscribed capital raising ahead of an expanded drilling campaign at its coal bed methane (CBM) exploration project on the Mongolian-Chinese border.
The recent Placement and SPP saw the company bank $3.35 million, which will be used to bring forward exploration/delineation plans by around a year.
Demand had come in at close to $5 million, but in being mindful of the dilutionary impact of the SPP, while also ensuring existing shareholders' were able to participate, the Board scaled it back fairly on a pro-rated basis.
Investors can now expect to see a number of catalysts unfold over the coming months, as I outline below.
Here at the Next Oil Rush we are long term holders of EXR and recently doubled our holding in the stock.
We have been backing the company since we first added the stock to our long-term investment portfolio last year. At that time, in July 2019, we named the stock as our Pick of the Year, based on the exceptional potential of the company's prospective CBM assets and the proven expertise of its management team and board.
EXR then went on to successfully complete its first exploration program in Mongolia in February, capped off with the country's first ever gas discovery at the Nomgon-1 well, as I discussed in the article, Mongolia's First Gas Discovery, The First of Many for Elixir Energy?
The Nomgon-1 well is within EXR's mammoth seven million acre (30,000km2) coalbed methane (CBM) production sharing contract (PSC) – the Nomgon IX CBM PSC, strategically located in the South Gobi Desert on the Mongolia-China border.
The 100% owned PSC lies over a major Permian coal bearing region and has a giant independently certified CBM risked mid-case prospective resource of 7.6 Tcf and an un-risked prospective resource of 40 Tcf.
Considering its success at Nomgon-1 and the successful containment of COVID-19 in Mongolia, EXR decided to raise a target of $2 million via a Placement and Share Purchase Plan (SPP) to fund expedited delineation and further exploration efforts.
Although the coronavirus has had significant impact on capital markets in recent months, with oil and gas stocks affected particularly badly, EXR received exceptional support in the capital raising.
Its $2 million target was far exceeded with the company receiving bids exceeding $2 million for the Placement alone. The SPP was also oversubscribed, attracting applications of over $2.9 million – well up on the $250k target.
The raising was scaled back to a total of $3.35 million with management cognisant of dilution effect of the SPP.
EXR is now more than sufficiently cashed-up and busy planning an expedited follow up exploration campaign. The funds will bring forward the company's exploration/delineation plans by around a year – despite the unique and difficult current global circumstances.
All required national approvals have been received and the drilling contractor has been appointed ahead of the recommencement of drilling scheduled for a July start — immediately after the Mongolian election in late-June.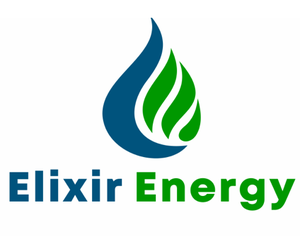 Share Price: $0.023
Market Capitalisation: $11.5 million
Cash: $900K (at 31 March) + $3.35M (Placement + SPP, before costs)
Here's what I like about Elixir Energy: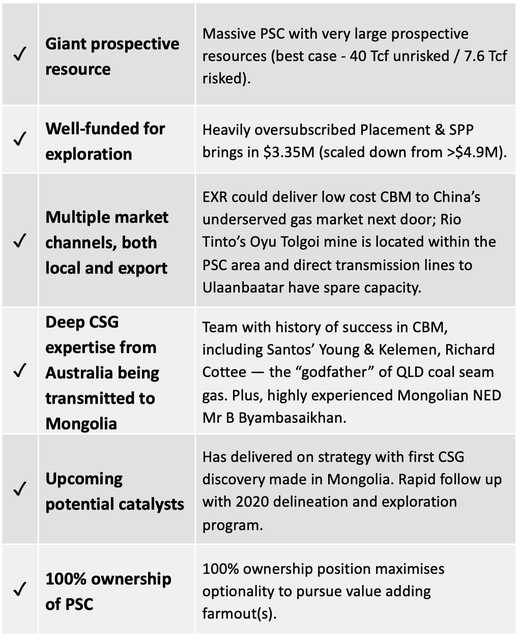 Placement & Share Purchase Plan massively over-subscribed
Given the successful first stage of Elixir Energy's (ASX:EXR) exploration campaign in January-February and the successful containment of COVID-19 in Mongolia, the company recently decided to raise funds of around $2 million to expedite its delineation and exploration efforts.
The aim was to raise around two-thirds of the $2 million target from a Placement to sophisticated investors and the balance from a Share Purchase Plan (SPP).
Elixir was seeking to raise $1.25 million via the Placement, as a minimum. However, the Placement was oversubscribed and the company received bids in excess of $2 million — more than the combined initial target of the Placement and SPP combined.
Rather than cancelling the planned SPP, the Board decided to scale back the Placement to $1.65 million (plus another $100,000 earmarked for directors, subject to shareholder approval).
This decision meant that all existing shareholders still had the chance to participate in what the Board thought to be (and what has proved to be) an attractive investment opportunity.
EXR today reported that its SPP was also massively oversubscribed with applications totalling over $2.9 million – almost nine times the $250,000 target.
If all subscriptions were accepted, the SPP alone — like the Placement — would raise more than the original combined $2 million Placement and SPP target.
Given such the demand, the Board was mindful in considering the dilutionary impact of the SPP, while ensuring existing shareholders' expectations were met at least in part. The Board therefore decided to cap the SPP at the same figure as the placement (excluding directors) at $1.65 million. This was done on a pro-rated basis — in line with the estimated proportion of retail investor ownership of total issued shares prior to the capital raising.
In order to share the scale-backs being made to other shareholders, the Directors volunteered to reduce their amount to be sought under the placement by half.
The combined total amount raised by the company will therefore be $3.35 million (assuming the Director placements are approved and before the costs of raising).
Elixir's Managing Director, Mr Neil Young, said, "The Board is delighted to receive such an exceptional show of support from the company's shareholders and has sought to treat all stakeholders equitably in the overall capital raising process.
"The additional monies will bring forward the company's exploration/delineation plans by around a year – notwithstanding the unique and difficult global circumstances. I'm sure all shareholders will join us in eagerly awaiting the imminent drilling campaign."
Elixir's Nomgon IX CBM PSC
Elixir's independent prospective resource of 40 Tcf unrisked / 7.6 Tcf risked sits within a giant 7 million acre (30,000km2) Production Sharing Contract (PSC) on the Mongolia-China border — the Nomgon IX PSC.
A clean gas resource of the scale Elixir is looking to prove up is just what China needs right now as the country anticipates a tripling of gas demand over the coming decade.
The PSC gives Elixir long term and robust tenure over the massive licence area. It was signed in September 2018 with a 10 to 15- year exploration term and gives EXR 100% ownership with no back-in rights assigned to the Mongolian government.
This is the only coal seam gas PSC issued by the Mongolian government and it is 100% owned by Elixir.
Here is an overview of Elixir Energy and its Mongolian CMB PSC, Nomgon IX:
Coal seam gas discovery - Nomgon-1
In late-February, EXR announced Mongolia's first ever gas discovery at its Nomgon-1 well...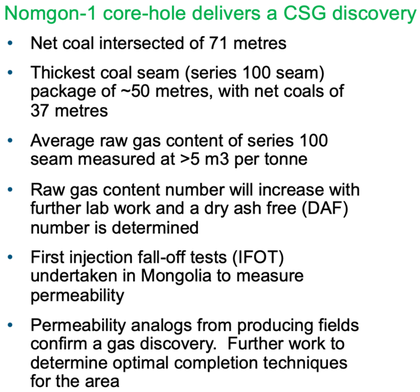 The Nomgon-1 well was the company's second core-hole well in Elixir's two core-hole 2019 drilling program at Nomgon IX PSC. It was first identified as being prospective for CSG exploration by Elixir's subsidiary company over four years ago, when it undertook initial on-ground prospecting work across the PSC area.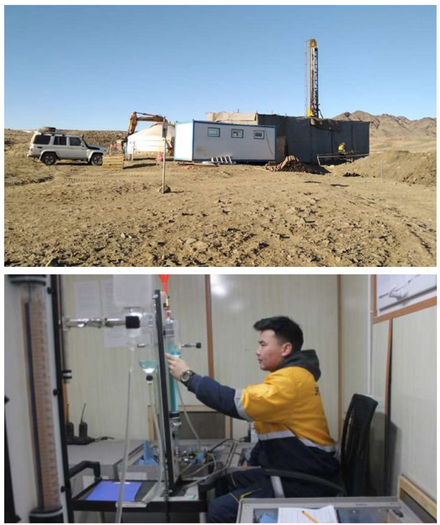 Upcoming exploration
The additional funds raise, as announced today, will be invested in an expanded delineation/exploration program that is due to commence in early July.
This upcoming campaign will include:
- Locking in the targeted 2D seismic program and potentially increasing its coverage.
- Drilling further exploration stratigraphic chip-holes (strat-holes) in both the Nomgon sub-basin and in new sub-basins outside this area.
- Possibly following up a successful strat-hole with one or more fully tested core-hole.
Data from these are intended to feed into a maiden contingent resource report later in the year.
EXR earlier outlined an indicative drilling program in a Corporate Presentation on 11 May, however, given the additional funds raised, details of the expanded upcoming campaign will now be released next month.
This delineation and exploration program included:
Laboratory Data Analysis
Field Mapping
Appraisal based around fully cored drilling (Core-hole) with desorption and testing
Ultra low cost exploration to open up new sub-basins - using stratigraphic drill holes
Targeted 2D Seismic Program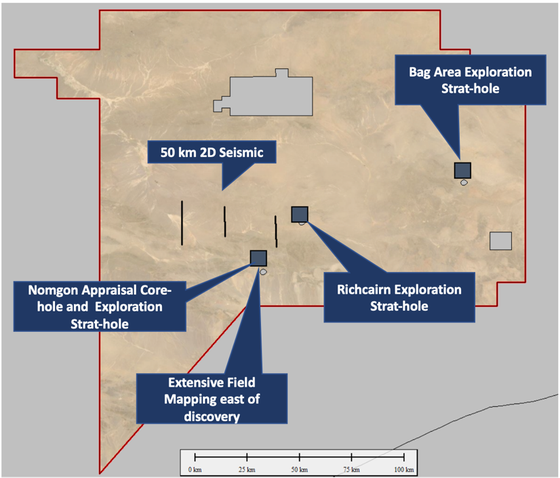 Having doubled our shareholding in EXR, the company is central to our portfolio, and for good reason.
Elixir is in a rare position to actively explore in the time of the coronavirus, given that Mongolia was an early mover in isolating from China and the rest of the world. With just a low number of cases and no internal outbreaks, Mongolia is soon to see work programs re-start in the South Gobi.
The Gobi will soon be ready for activity with contractors and local staff already liaising with local Government. This include EXR which is planning for the commencement of its expanded exploration program in July.
Young said, "Elixir is in a fortunate position compared to many of our peers in that we can still undertake exploration work in the next few months, notwithstanding the global COVID-19 pandemic. Our local team and contractors in Mongolia have shown through the course of the last year that they have the skills, equipment and experience to safely and efficiently prosecute an exploration campaign even in the current world of travel restrictions, etc."
The company has the same overall team as in 2019, with strong local management in place and experienced local sub-contractors. Online supervision from Australia has already been successfully trialled during the drilling of the Nomgon-1 well. Resident expats are also available as required.
Elixir and its contractors have proven to be safe operators in all seasons and have obtained all central Government approvals ahead of this next stage of exploration.
Elixir is backed by a high-quality board and management team including Chairman Richard Cottee, who famously took Queensland Gas Company (QGC) from a $20M capped junior into a $5.7B takeover play.
Ex-Santos executive Neil Young is managing director, having been working in Mongolia to secure the Nomgon IX PSC since 2011. Another ex-Santos executive is Stephen Kelemen, who ran its coal seam gas (CSG) business.
Director Bayanjargal Byambasaikhan also brings considerable experience to Elixir having chaired the Business Council of Mongolia and he served as chief executive of Mongolia's sovereign investment company, Erdenes Mongol, where he was also a board director of Rio Tinto's partner Oyu Tolgoi LLC.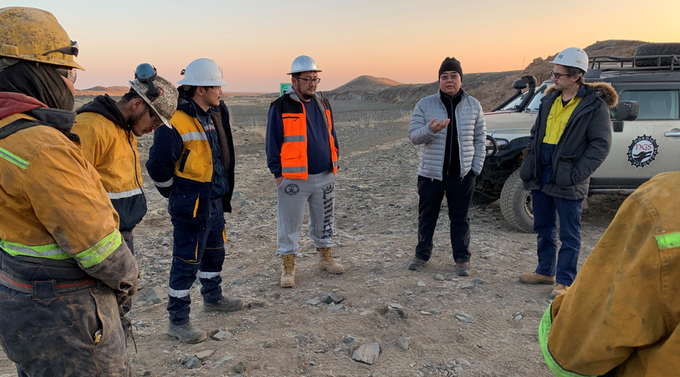 Elixir Directors Byambasaikhan (second right) and Neil Young (far right) recently visiting Nomgon-1
Elixir Energy: our oil and gas Pick of the Year
Added to our long-term portfolio last year as our 'Pick of The Year', EXR's oversubscribed Placement and SPP was welcome news to us at the Next Oil Rush following our decision to double our shareholding in the company. This show of support from investors reflects the confidence held in Elixir's ability to pick back up after finishing the 2019 drilling season on a high back in February.
Now with more than adequate cash behind it, we look forward to seeing the expanded exploration campaign. In the near term this will include an update on well locations and analysis on the last well results with an updated gas content number from further lab work.
Due to commence in July, all national approvals have been received and the drilling contractor has been signed on.
---