Mongolia's First Gas Discovery, The First of Many for Elixir Energy?
PUBLISHED: 26-02-2020 09:56 a.m.
Elixir Energy (ASX:EXR) has capped off its first exploration season in Mongolia, delivering the country its first coal seam gas (CSG) discovery.
Elixir made the discovery while drilling the Nomgon-1 well at its 100% owned Nomgon IX coal bed methane (CBM) production sharing contract (PSC) in the South Gobi Desert located on the Mongolia-China border.
Elixir Energy is exploring for CSG, also known as coalbed methane (CBM), in the seven million acre (30,000km2) landholding located over a major Permian coal bearing basin consisting of multiple sub-basins. This is to date the only coal seam gas PSC issued by the Mongolian government and now has the country's only coal seam gas discovery.
The news of the discovery supports Elixir managing director Neil Young's long held belief in the potential for a commercial Mongolian gas sector. Young has been pursuing this opportunity in Mongolia for over eight years now, working to unlock the true value of this potentially giant clean energy resource in the heart of Asia.
His plans for success are now materialising and initial results from drilling at Elixir's second corehole, the Nomgon-1 well, were reported in an update to shareholders this morning which he described as "a great outcome for the company".
Exploration in the region has previously revealed sizable coal deposits — the world class Tavan Tolgoi coal mine sits within the boundaries of Elixir's PSC acreage — yet this is the first coal seam gas, or coalbed methane (CBM), discovery in the country.
Elixir's location on the Mongolian-Chinese border is particularly noteworthy given that China's demand for gas has been rising and is set to skyrocket in coming years, driven by the country's desire to reduce carbon emission and clean up its air quality.
The company can check off its key objective for this first exploration campaign in delivering a discovery of thick gassy coal seams below a depth of 300 metres. The average gas content (raw) of greater than 5 cubic metres per tonne was measured in an exceptionally thick coal seam. Further laboratory work will deliver a "dry ash free" (DAF) gas content number, which by its intrinsic nature will be higher than this.
Encouragingly, the range of permeabilities that were measured here are analogous to certain producing fields in Australia and China.
Elixir will now undertake further laboratory work to measure features like saturation and ash content. The results will be fed into a planning process that's now underway to design a testing and delineation program for this sub-basin.
This de-risking work will increase the attractiveness of the Nomgon IX PSC to potential partners as the company ramps up discussions with such parties over the coming months. Such interest could deliver major growth to the company's market valuation that is currently just over A$20 million.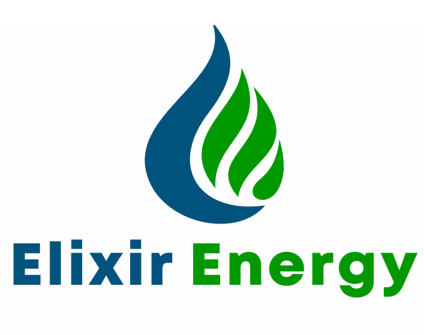 Share Price: $0.042
Market Capitalisation: $21 million
Here's what I like about Elixir Energy: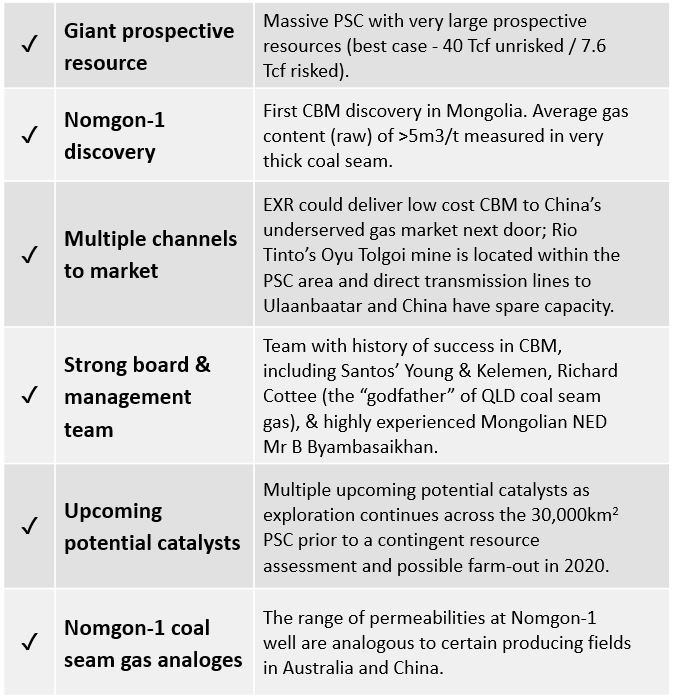 After kicking off drilling at its second core-hole well, the Nomgon-1 well, in mid-January, Elixir updated shareholders on 5 February with news that well-site geologists had encountered coal qualities that were considerably better than those encountered at the initial drill site at the Ugtaal-1 well.
Drilling had reached a total depth (TD) of 491 metres and met the company's "key strategic objective of intersecting very thick and visually good quality coals within the CSG depth window".
Elixir observed abundant gas bubbling from the recovered core across the whole interval and the vertical well indicated synclinal coal seams.
The 5 February update, which highlighted intersections of thick gassy coal seams below 300m, sent Elixir's share price up ~125% on the day of the announcement on exceptionally strong volume. This single day rally saw the stock move back above the level it was trading at prior to results from its first corehole, Ugtaal-1.
As you can see on the 12-month chart below, the company's stock was sold off from mid-2019, in a reaction to the update reporting that permeability and preliminary gas content results at Ugtaal-1 came in at the lower end of expectations. However, the sell-off that came amid that initial corehole drilling appeared to have been an early overreaction.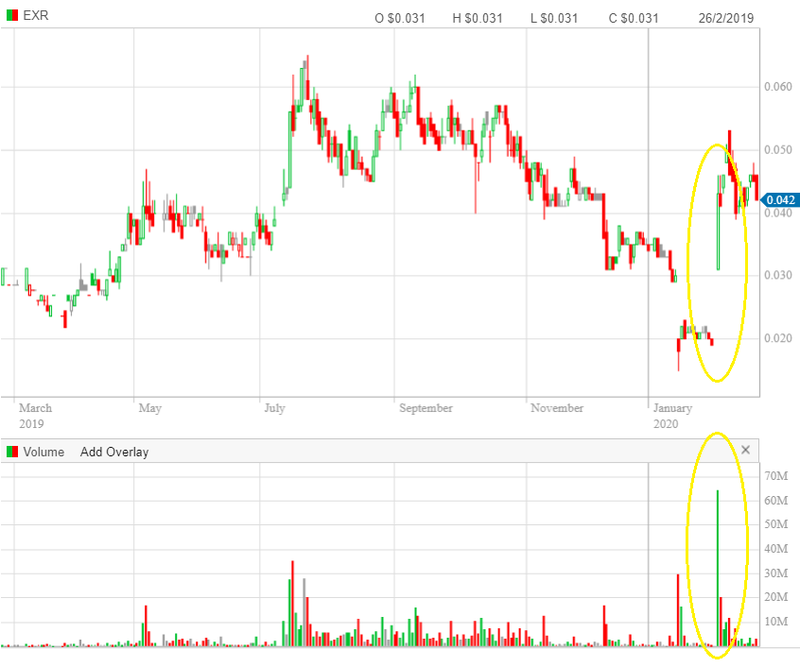 Elixir Energy (ASX:EXR) – 1 year daily chart
Coal Seam Discovery at Nomgon-1
Elixir's subsidiary company first identified this second core-hole location as being prospective for coal seam gas (CSG) four years ago when it undertook initial on-ground prospecting work across the PSC area. This field work confirmed thick outcropping coal seams that demonstrated good cleating and coal quality to the naked eye.
Backing up those previously announced intersections, a further update on the progress of the drilling program was made available this morning.
The well-site desorption laboratory at Nomgon-1 has measured an average coal content, in the thickest 49 metre gross (37m net) coal seam package, of >5 cubic metres per ton, measured on a "raw" basis.
The result of the well meets the technical definition of a gas discovery under the Petroleum Resource Management System (PRMS).
However, further work over coming months will provide a "dry ash free" (DAF) number. This is the figure most commonly quoted by CSG companies, and which, by definition will be higher than the raw number when corrected for ash and moisture.
Three down-hole permeability tests were successfully conducted on the well using injectivity fall-off test (IFOT) equipment.
At this early stage, the testing is analogous to that reported from producing fields in certain parts of Queensland's Bowen and Surat Basins and various basins in China.
Elixir has now moved onto the technical and regulatory bodies of work that's required to undertake further work at this location and elsewhere in its massive PSC.
This further laboratory work will measure features such as saturation and ash content. The results will feed into a planning process — which is now underway — to design a testing and delineation program for this sub-basin.
This de-risking work will make the PSC increasingly attractive to potential partners as Elixir ramps up its discussions with such parties in the months to come.
Here's a snapshot of the analysis undertaken and findings to date:
- Gas recovered by wellsite gas desorption laboratory analysis.
- Gas was then analysed in a gas chromatograph and determined to be dominantly methane (CH4).
- Recordings were made over the gross interval 270.90m to 456.91m.
- In total, 42 samples were taken. The results delivered raw gas contents from 0.6 to 7.4m3 per ton.
- Readings were seen to increase with depth, which is generally the case.
- The thickest and most prospective coal seam (100 series) extended from 373.0m to 423.6m (logger). It measured raw gas from 2.4 to 7.5m3/t, with an average raw gas content of 5.3m3/t.
Numerous analogs to Nomgon IX PSC producing in China & Australia
Elixir's operations are located just 410 kilometres from China's main transmission pipeline – the East-West Gas pipeline that extends all the way from Turkmenistan. This proximity to China gives Elixir a strategic advantage in meeting the coming rise in Chinese gas demand, as discussed in the article below: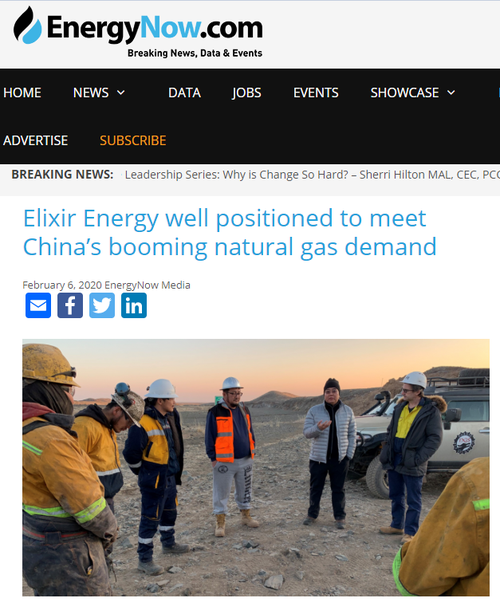 Elixir Energy's PSC lies over a major Permian coal bearing region and has a giant independently certified CBM risked mid-case prospective resource of 7.6 Tcf and an un-risked prospective resource of 40 Tcf.
This gigantic landholding spans 30,000km2 and covers a major Permian coal-bearing basin that consists of multiple sub-basins. The first two core-hole were located in two different Permian sub-basins in the very large PSC.
The Permian coal region is the same age as that of Santos' (ASX: STO) prime Queensland coal seam gas (CSG) acreage and its geologic quality stacks up remarkably well compared to Queensland's Bowen Basin.
Specifically, the range of permeabilities that were measured at the Nomgon-1 well have now been shown to be analogous to certain producing fields in Australia and China.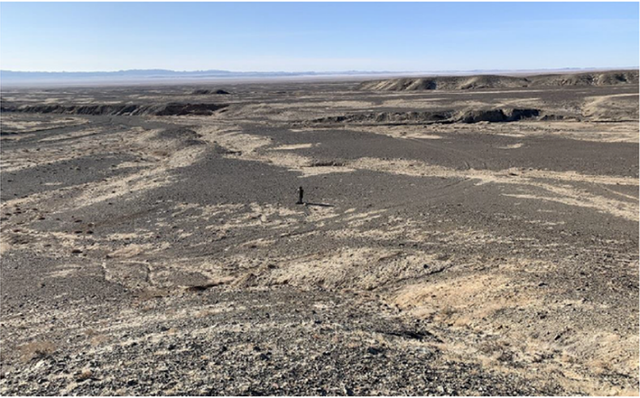 The Nomgon-1 well location – looking south towards China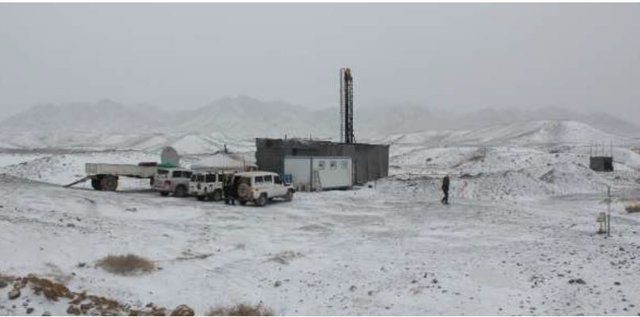 A rare recent snow-fall at Nomgon-1
Elixir's has now capped off its first exploration campaign in Mongolia with successful drill results from its second corehole on its gigantic 30,000km2 project area.
Further testing and delineation work will follow today's update at the second corehole location, which will help in de-risking the project and will make the PSC increasingly attractive to potential partners, with whom discussions are set to ramp up over coming months.
Multiple upcoming potential catalysts remain as EXR continues its analysis and exploration across the 30,000km2 PSC prior to a contingent Resource assessment later this year.
---