EXR Just Started Drilling Cracker-1S Well - Results Coming in Weeks
Elixir Energy (ASX:EXR) is exploring for natural gas on the Mongolian-China border to replace burning of coal for energy in China.
EXR has just announced it has started drilling a new exploration well today, with results expected in weeks.
EXR has a license on a giant patch of land in Mongolia, right on the doorstep of China, who has a goal to hit zero emissions by 2060. Natural gas forms a key part of the decarbonisation energy mix.
Speaking of decarbonisation, last week we wrote about EXR's newly announced foray into adding hydrogen to their energy mix - we are watching this space.
EXR made their first sub-basin discovery at Nomgon-1 in Feb 2020 and their second sub basin discovery in Yangin-1S in November 2020.
EXR has today announced their NEW exploration drill has begun - EXR has called the well "Cracker-1S" - hopefully it will open up a third new sub-basin.
There are two types of drilling that EXR has been doing since we called them our Energy Pick of the Year back in July 2019.
Exploration drilling - Drilling in previously undrilled locations to hopefully find a new sub basin, like Nomgon-1 and Yangin-1S.
Appraisal drilling - Drilling to extend a sub basin and understand how big it is by peppering the surrounding area with new holes and see how far the coal extends around the initial basin opening exploration drill.
Cracker-1S is an exploration well - We are hoping that in the next 3 or so weeks EXR will announce that Cracker-1S hit a coal intersect (100m would be incredible) and the coals have been tested and are gassy.
Next step would be a few appraisal wells around Cracker-1S to see just how big the discovery might be...
EXR just raised $10M at 36c through an insto placement, to add to the $9.3M they have in the bank according to the last quarterly.
There is also a live Share Purchase Plan for existing holders to buy shares at 36c which is closing today - we will find out how much this SPP raised on Wednesday next week.
The share price might need to work through around the 36c mark over the near term like we see sometimes after a cap raise, but this is not necessarily a rule, especially if there is a big result on the Cracker-1S well.
EXR has a very healthy bank balance to accelerate exploration and appraisal wells. Today EXR also announced an EXTRA drilling team and rig has been mobilised, so the pace of drilling and appraising will be a lot faster than we saw in 2020.
To read all our coverage of EXR: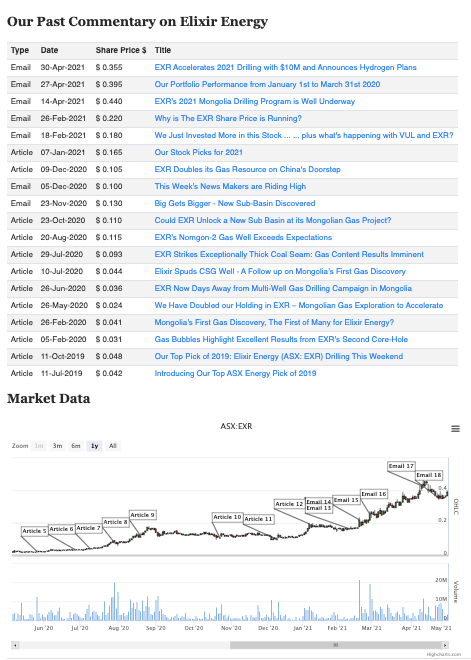 ---