EXR Accelerates 2021 Drilling with $10M and Announces Hydrogen Plans
Elixir Energy (ASX: EXR) is exploring for natural gas on the Mongolian-China border to replace burning of coal for energy in China... and has just revealed Blue and Green Hydrogen ambitions in this morning's quarterly.
We invested in EXR as our Energy Pick of the Year 2019 (and a couple more times after that).
EXR has been one of the best long term performers in our portfolio, and we continue to maintain a significant holding. EXR has just started their busy 2021 drilling program that is about to be accelerated with a fresh $10M in the bank (raised at 36c from instos).
EXR has been kicking goals since we invested and has had a great run over the last couple of years:
Giant exploration license (almost the size of Belgium),
Early stage gas fired energy plant MoU supported by Ministry of Energy,
11 out of 12 wells so far hit coal,
Busy 2021 work program planned, about to get busier with more funding...
Raised $8M from oppies exercise,
Raised $10M from instos,
SPP in progress targeting $20M from existing shareholders.
And today... revealing the addition of a blue AND green Hydrogen strategy to its proposed energy mix.
Hydrogen is obviously a hot global theme so we are interested to see how this progresses in addition to EXR's core business.
EXR's Blue and Green Hydrogen plan appears to have been bubbling away in the background for a while now, given that EXR's quarterly reveals that it has already created a clean energy subsidiary AND procured a SODAR sun and wind monitoring machine which has already been shipped to Mongolia (that sounds like months of work).
Blue Hydrogen is created from gas fired energy (EXR has gas) and Green Hydrogen is created from wind and solar energy (EXR is now measuring the wind and sun on their giant license... in the Gobi Desert).
If you haven't yet heard about our current Green Hydrogen Small Cap Pick of the Year ASX:PRL, don't worry, you will - we will be covering every step they take. Every move they make.
Petrofac's diagram gives a summary of Blue and Green Hydrogen: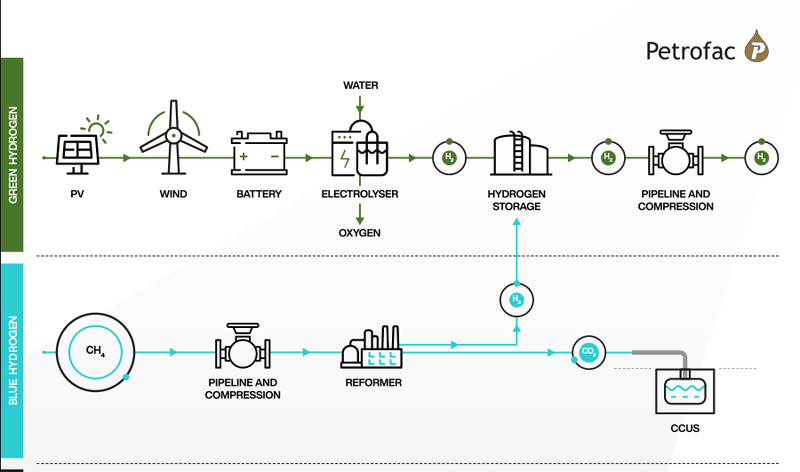 In the EXR quarterly Managing Director Neil Young provides some commentary to summarise a few key macro themes that are boding well for them and also what led to adding Green and Blue Hydrogen to EXR's natural gas plan: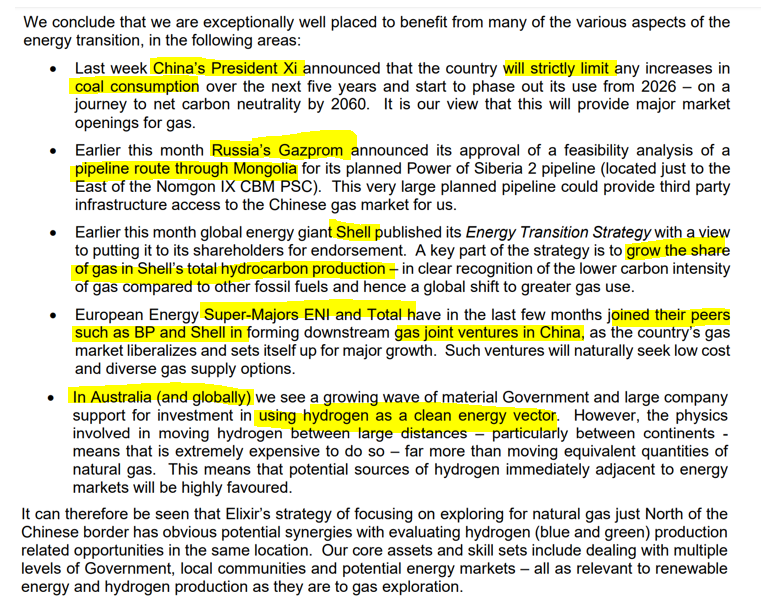 TL;DR on the management commentary is that China wants to decarbonise quickly, Russia is building a gas pipeline through Mongolia to China, the global energy super majors are falling over themselves for natural gas and everyone loves Hydrogen, especially if it's close to a giant market.
Here is our fast reaction to the rest of the quarterly comments:
Hmmm okay - this sounds interesting but it must be an early stage evaluation right?

EXR seems serious as they appear to have started their green & clean energy thing before it was cool and already have the SODAR machine enroute to Mongolia.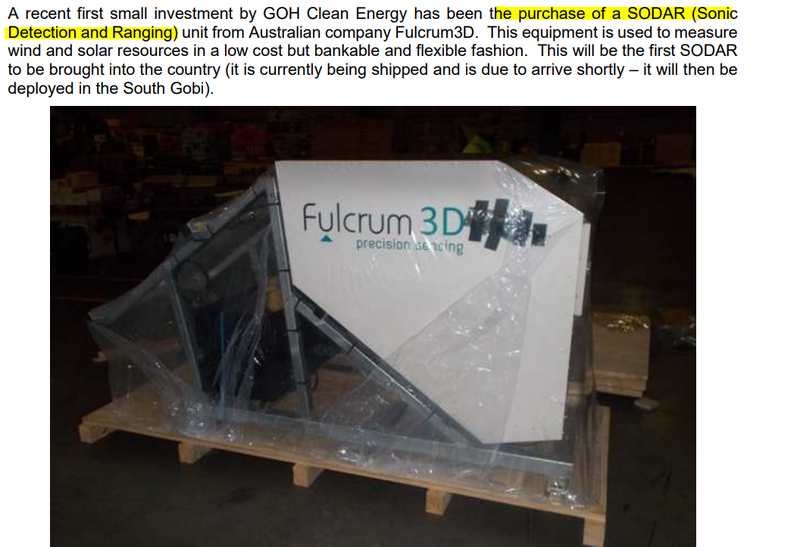 We think there will be a huge rush on SODAR machines as other natural gas companies (small and large) see if they can get on the great clean energy rush of this century.
In fact we think the SODAR machine rush has already begun and EXR has moved early and got their hands on one of these increasingly rare machines (think shovels in a gold rush).
What to watch out for next:
EXR has a fresh $10M in the bank and has said it will be accelerating it's 2021 drilling program
Watch out for upcoming new sub basin opening wells and wells that extend the size of already discovered sub basins - we will keep you up to date as these come along, we are expecting a new result every few weeks from EXR so plenty to watch with this one.
The Hydrogen news is interesting and even though EXR has already made some progress it is obviously very early stage - we continue to watch for updates on this front.
Our investment in EXR
Regular readers will know we have been invested in EXR since 2019 and it's been a huge performer - EXR is the kind of stocks that validates our investment strategy of long term holding in quality companies.
Here is our past coverage of EXR including some highlighted highlights highlighting historical highs: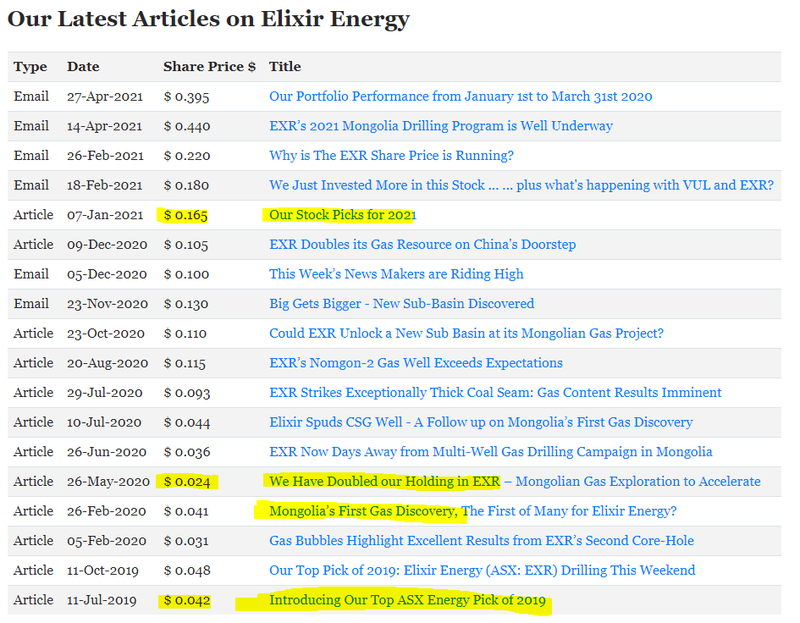 ---