High grade assays again…
---
Galileo Mining (ASX: GAL) just put out more high grade assays from its Callisto PGE discovery in WA.
Today's results come to the west of the known mineralised area and could be considered step out drillholes.
Some of the highlight assays are as follows:
22m at 1.64 g/t PGE's from 111m.
23m at 1.36 g/t PGE's from 117m.
11m at 1.63 g/t PGE's from 143m

inside this intercept GAL also hit a higher grade zone measuring 3m at @ 2.96 g/t PGE's.
Our key takeaway from today's news is that GAL has now extended the known mineralised zone of its discovery to the west/north-west.
Today's announcement is just more proof that GAL's discovery continues to get bigger with grades staying consistent throughout the areas being intercepted.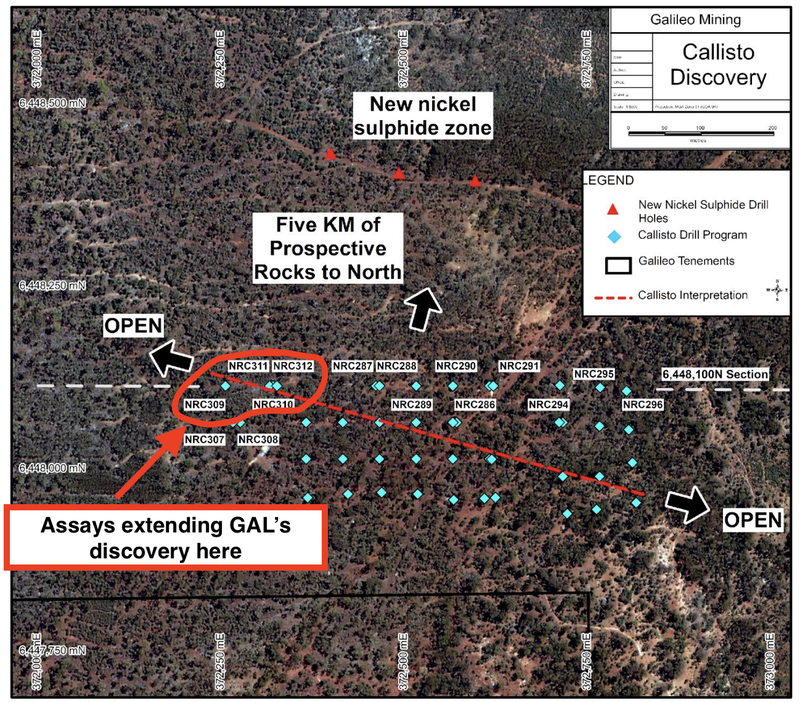 What's next for GAL?
We want to see the assay results from the recent massive sulphide intercepts that the company made towards the eastern part of its discovery.
We think that these massive sulphides could be a game changer for GAL's discovery because they tend to be the host rock for higher grade zones of mineralisation.
We touched on the significance of these massive sulphides in our last GAL note which you can read here: GAL Hits "Massive" Sulphides - Here's Why It Matters.
On top of this, we also want to see the assays from the newly intercepted sulphides to the north of GAL's discovery.
Again, we think that if the results are positive here then these could also be a game changer for the company too indicating that either:
The original discovery is suddenly way bigger - assuming that the ore body extends all the way from the original discovery to the step out drill holes, and assays come back positive.

OR
GAL has found an entirely new mineral system - today's new potential discovery may NOT be connected to the original discovery to the south, meaning an entire new system has been discovered, with a further 5km of highly prospective ground to the north.
To read our deep dive on that bit of news check out our last GAL note here.