ANOTHER discovery OR one giant discovery? GAL hits thick sulphides on 400m step out drills
Disclosure: S3 Consortium Pty Ltd (the Company) and Associated Entities own 2,161,544 GAL and the Company's staff own 14,000 shares at the time of publishing this article. The Company has been engaged by GAL to share our commentary on the progress of our Investment in GAL over time.
Today Galileo Mining (ASX:GAL) released the first news on step out drilling 400m north of the Callisto discovery, which it has been drilling to expand since May this year.
"Step out" drilling aims to drastically increase the size of a discovery by drilling a higher risk hole far away from the original discovery in the hope that it also hits mineraislation.
GAL's step out drilling has now delivered nickel sulphides in all four holes, with the largest being 51m — so far on par with the original discovery.
Why is this a big deal?
Obviously we are still waiting on the all important assays to determine the metals and grades from the step out holes...
But these (so far) successful step out holes can mean one of two things:
The original discovery is suddenly way bigger - assuming that the ore body extends all the way from the original discovery to the step out drill holes, and assays come back positive.
GAL has found an entirely new mineral system - today's new potential discovery may NOT be connected to the original discovery to the south, meaning an entire new system has been discovered, with a further 5km of highly prospective ground to the north.
We would more than welcome either of these results and will know more over coming weeks and months while we wait for GAL to:
Deliver important assay results
Drill south to test if the new discovery connects to the the original discovery
Drill more step out holes to the north, as well as east/west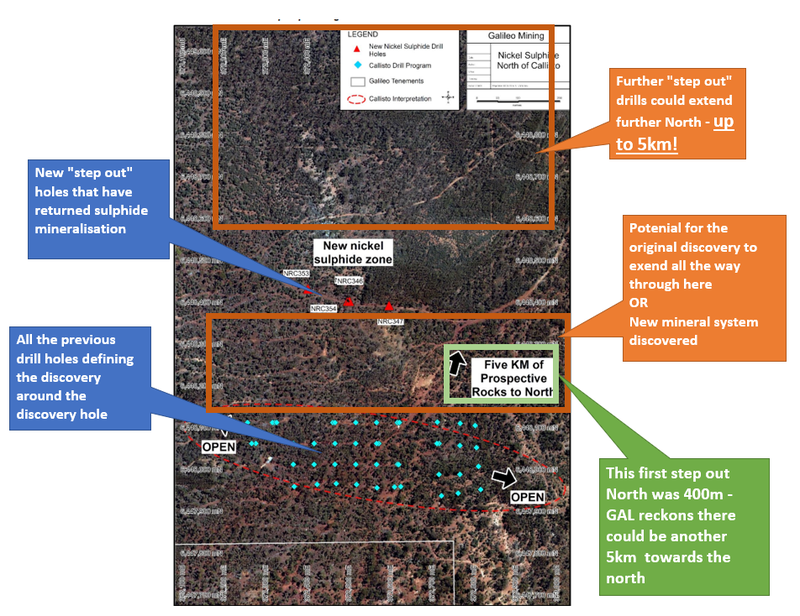 The new sulphide intercepts are almost identical to the ones that GAL put out a week before assays confirmed GAL's new discovery.
The difference is that these sulphides start at almost half the depth of the original Callisto discovery intercepts — from as shallow as ~82m below the surface over a 51m intercept.
This compares to the ~55m zone intercepted back in early May from a depth of ~144m.
The May 2022 sulphide intercepts didn't get much of a reaction from the market but once assays came back confirming a new discovery GAL's share price rallied ~300% in one day.
In the weeks following, GAL's share price moved to almost $2 per share, for an almost 1,000% return (from ~20c) since news of the nickel sulphide intercepts just weeks earlier.
Assays are now expected in around five weeks, and we hope positive results lead to similar share price action.
Ultimately we think positive assays will start to reveal significant size and scale at GAL's project, moving it closer to ultimately achieving our "Big Bet".
Our 'Big Bet'
Our "Big Bet" for GAL is as follows:
GAL increases the size/scale of its Norseman PGE discovery to a stage where the project/company is acquired by major shareholder IGO Ltd (or another major miner) for over $1BN.
NOTE: our "Big Bet" is what we HOPE the ultimate success scenario looks like for this particular Investment over the long term (3+ years). There is a lot of work to be done, many risks involved - just some of which we list in our GAL Investment memo. Success will require a significant amount of luck. There is no guarantee that our Big Bet will ever come true.
For our summary of GAL's progress over time and how today's announcement contributes to our Big Bet see our GAL Progress Tracker.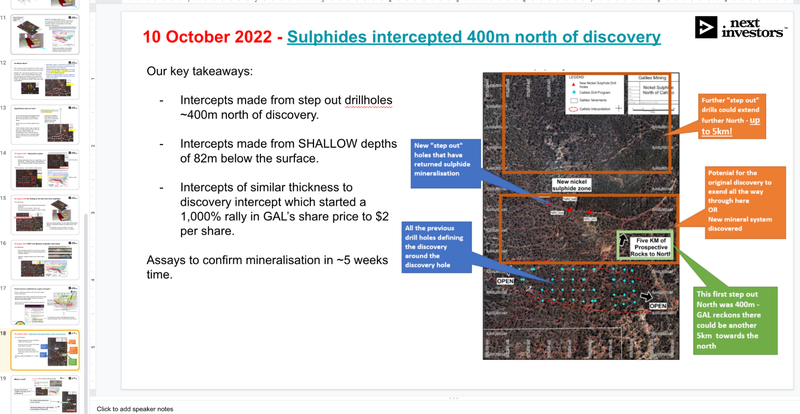 More on today's news
Our key takeaways from today's announcement were as follows:
Step out drilling hit sulphides - step out drilling is the highest risk approach to drilling, testing for extensions to a discovery.
GAL's intercepts are ~400m north of its discovery, meaning the project could significantly increase in size/scale along the ~5km of prospective strike that extends to the north (pending assays).
All four intercepts announced today are from shallow depths - sulphides were intercepted from as shallow as 82m below the surface. Shallow mineralisation increases the probability of a low cost open-pit mine for GAL's discovery (improving project economics).
For context, GAL's discovery intercepts were made from depths of ~144m. This means that positive assays could indicate GAL's discovery is becoming closer to surface to the north.
Below are the two announcements: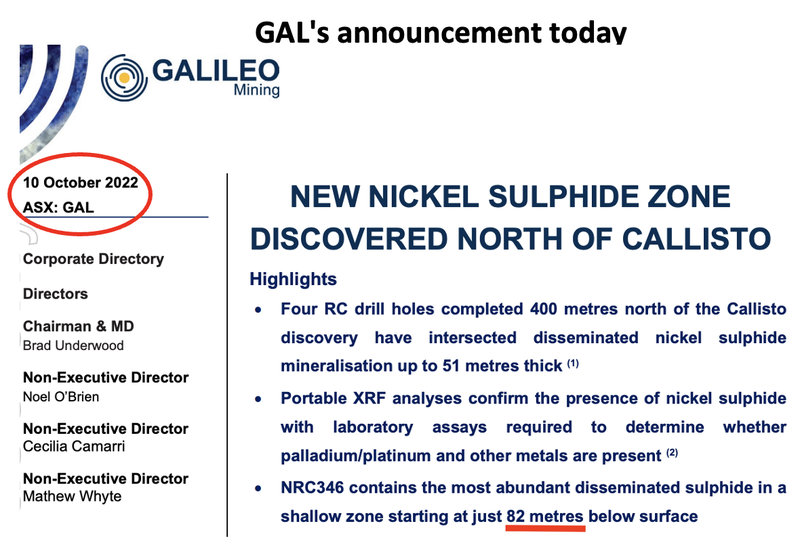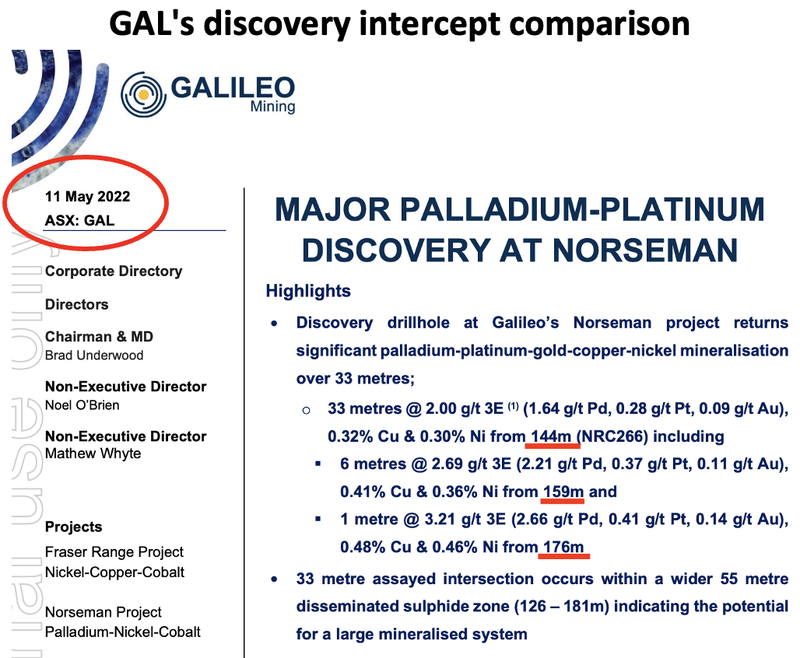 Intercepts similar to those made before the discovery was confirmed - GAL hit up to 51m in sulphides today. The initial discovery intercepts were made inside ~55m intercepts.
Here are the two announcements again, one after another: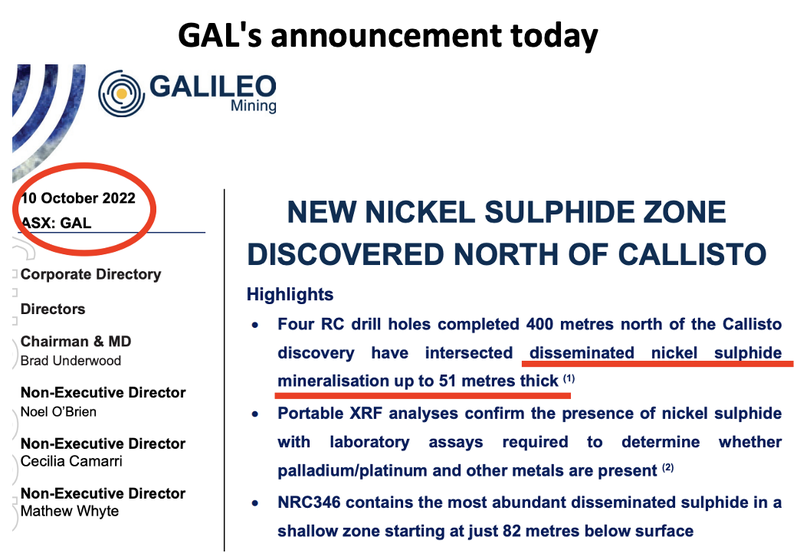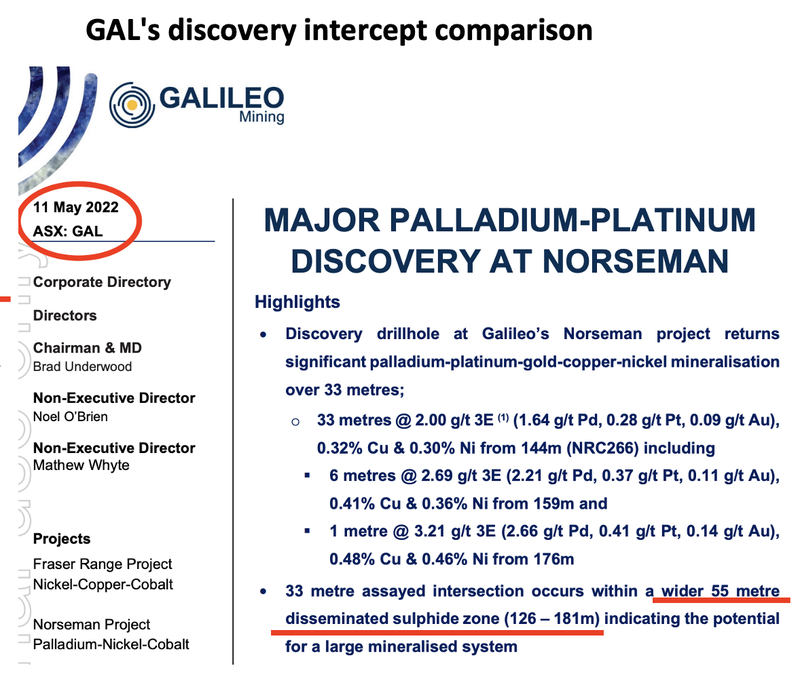 The three reasons above point to significant size/scale potential for GAL's discovery, especially given the shallow depth and intercepts' thickness.
Assays from today's intercepts are due within five weeks.
We note that in regards to GAL's first discovery hole, it was the assay results that started the share price rally from ~20c to ~$2 per share (~1,000% return from when the sulphide intercepts first got announced).
We hope to see similar movement off the back of strong assays this time around.
What's next for GAL?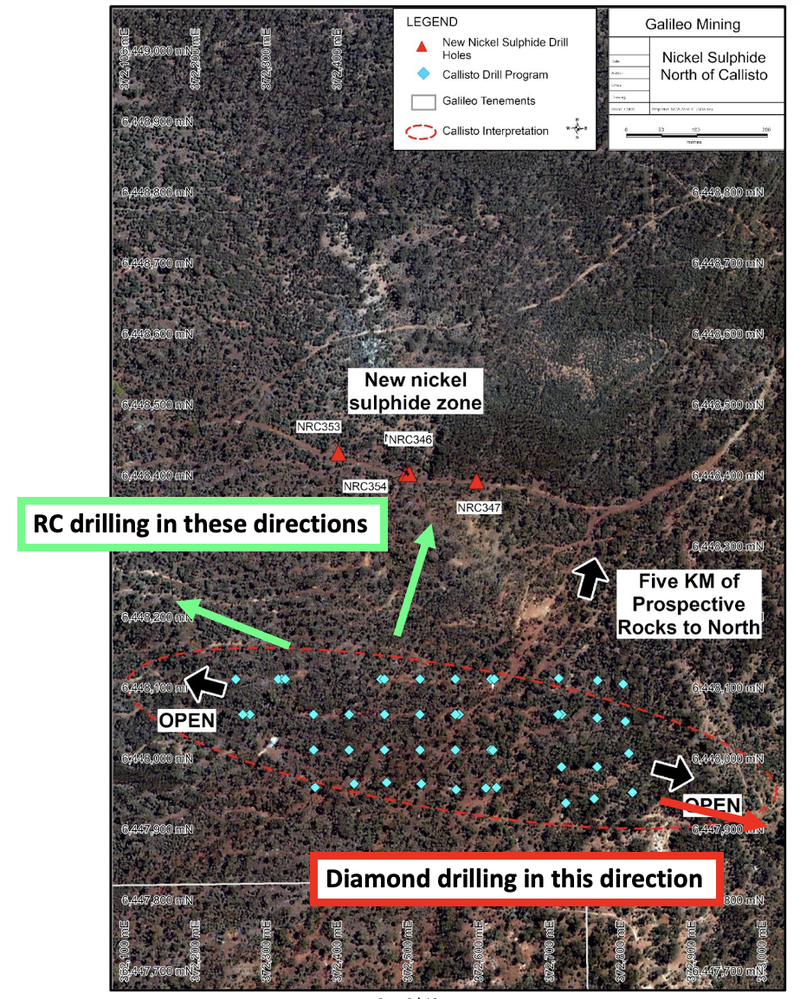 RC drilling testing extensions to the north 🔄
GAL is currently doing RC drilling to the north, east, and west of its initial discovery, which could mean we see more announcements like today's.
Today's intercepts come from ~400m to the north, a part of GAL's testing of its more than 5km of prospective strike.
So far, the sulphides intercepted to the north suggest the discovery could continue northwards OR that GAL has another separate ore body to the north.
Ultimately, assays will better reveal what GAL has on its hands.
As a result, we will be watching to see if GAL continues to intercept sulphides here to the north, and in all directions.
Diamond drilling to the east testing mineralisation at depth 🔄
GAL is also doing step out drilling south east of its discovery, testing for mineralisation at depth.
This is the same area where GAL recently hit massive-sulphides.
The massive sulphides are particularly important because they are generally a host rock for higher grade, easier to process mineralisation.
We hope the deeper diamond drillholes continue to hit more of the same type of geology.
Assays from massive sulphide intercepts to the south/east 🔄
We recently looked at the massive sulphide intercepts that GAL made at depth during its diamond drilling run.
We are still waiting on the assays from these drillholes and hope that they return high grade mineralisation.
If we get positive assay results, GAL's discovery could start to show similarities to projects like IGO's Nova Nickel Project which has small zones of high grade massive sulphide structures nestled in its deposit.
To see why we think massive sulphides could be a game changer and our deep dive on the nova nickel analogy read our previous note here.
Our 2022 GAL Investment Memo
Today's news contributes to key objective #1 of our GAL Investment Memo.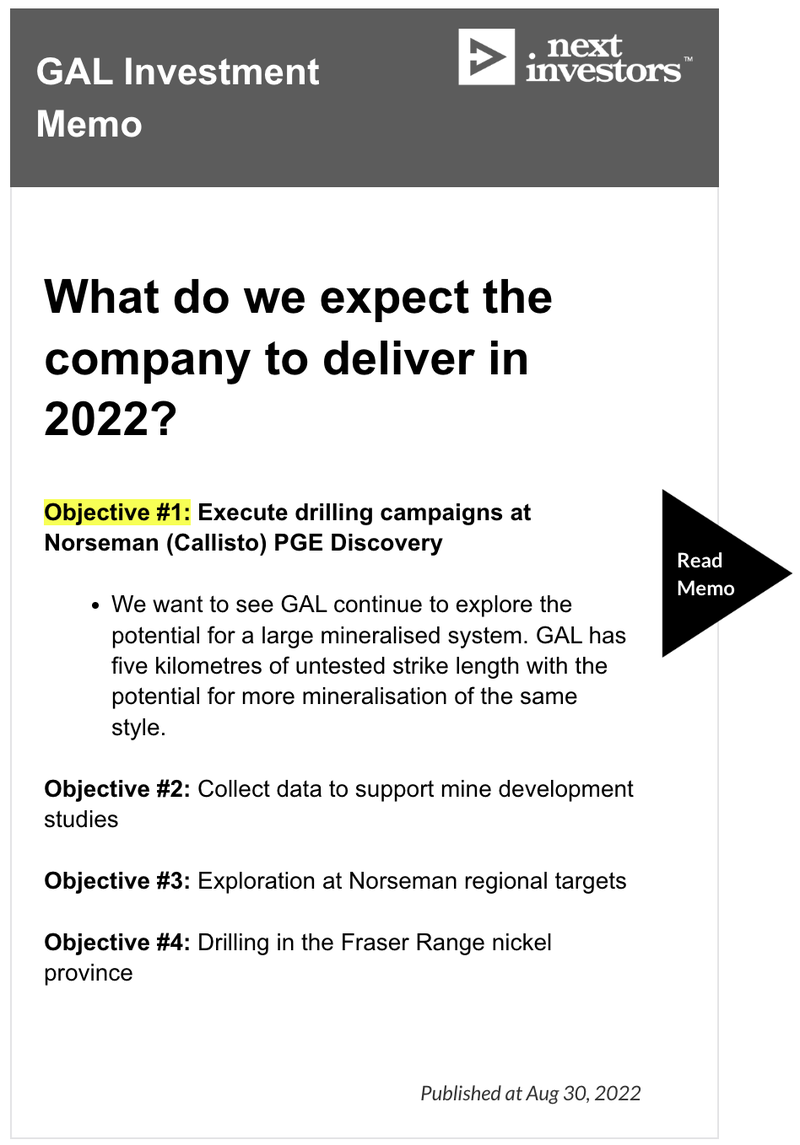 Below is our GAL Investment Memo, where you can find a short, high level summary of our reasons for Investing including the following:
Key objectives for GAL for the coming year - starting from March 2022
Why we are Invested in GAL
What the key risks to our Investment thesis are
Our Investment plan

---