Breaking News: Stellantis signs offtake MoU with VUL
Published 10-JUL-2021 09:43 A.M.
It's been a very busy week for us as we followed key events that positively impacted some of our investments in VUL, EMN and PRL - and today we provide a few extra comments on what happened with some of our other portfolio companies.
But before we get into what happened this week...
BREAKING NEWS: A couple of hours ago Reuters broke the story that the Stellantis' lithium offtake MoU from geothermal brines in Europe is with Vulcan Energy (ASX:VUL) but they haven't revealed their source of this info...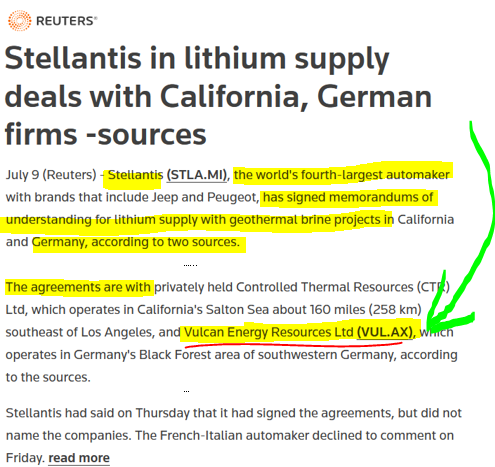 We are watching developments closely and expect to find out more on Monday....
This week we also continued to review potential new opportunities but we haven't made a new investment in a while - only two new stocks have been added to our portfolio so far this year in ONE and BPM.
We hope to announce a new investment in the coming weeks.
As our investment portfolio grows we are looking for a super star equities analyst specialising in small cap stocks to join our small team of seven in Melbourne.
This is a rare opportunity working directly with the Next Investors founders helping to analyse potential small cap investments and the ongoing progress of our portfolio investments.
Please respond to this email if you or somebody you know are interested. We are interviewing candidates with a broad range of experience so as long as you are smart, analytical and passionate about small cap stocks we would love to hear from you.
📰 Here's what happened this week on Next Investors
Our biggest holding Vulcan Energy (ASX:VUL) is developing sustainable Zero Carbon lithium from geothermal brines in Germany - events from this week could mark the beginning of a global scramble to secure supply of exactly VUL's type of lithium from geothermal brine.
General Motors (one of the biggest car companies in the world) announced that it had signed a "strategic investment and commercial collaboration" to secure supply of sustainably produced lithium from geothermal brines locally in California.
We understand this was the world's first offtake of lithium produced from geothermal brines, and a big vote of confidence in the concept.
You can read all about it here: World First: Lithium from geothermal brine offtake deal signed in the USA
We wrote that GM was the first cab off the rank to secure and own a sustainable lithium supply from geothermal brines, which could be a huge boost to our investment in VUL if other automakers start rushing to put their foot on their own lithium supply.
Then just a few days later we stayed up to watch Stellantis (Europe's biggest car maker by volume ) announce not one, but TWO offtake MoUs to secure lithium from geothermal brines - one in the US and one in Europe.
You can read all about it here: Stellantis EV Day: Mystery European Geothermal Lithium MoU & Manganese to be used in all batteries
We are very surprised to see THREE offtake agreements for lithium from geothermal brine announced in just one week.
We think this could be the start of a scramble to secure green, sustainable lithium supply as big car manufacturers get FOMO seeing the flurry of offtake deals being announced by their competitors - watch this space.
BREAKING NEWS: A couple of hours ago Reuters broke the story that the Stellantis' lithium offtake MoU from geothermal brines in Europe is with Vulcan Energy (ASX:VUL) but they haven't revealed their source of this info... we are watching closely and expect to find out more on Monday.
Euro Manganese (ASX:EMN) also got a win from the Stellantis EV day after it was revealed that both Stellantis's battery types would have manganese as a key ingredient.
PRL Peg-fest - Australia's richest man Andrew "Twiggy" Forrest's FMG Resources Pty Ltd went on a merciless pegging rampage securing every single bit of land surrounding Province Resources (ASX:PRL)'s proposed green hydrogen project - and more beyond.
Forrest has pegged almost the entire Gascoyne region surrounding PRL's proposed renewable energy / hydrogen project - and we don't know why...
Whatever the reason, we think PRL could ultimately benefit from the increased activity in the area.
Read our full commentary here: Australia's Richest Man Grabs Outrageous Amount of Land Surrounding PRL
🗣️ Quick Takes - Our Other Investments:
We invested in $16M capped BPM for its lead-zinc project 40km away and along strike from $310 capped Rumble Resources' massive lead-zinc discovery in the Earaheedy Basin, the same region that BPM has its ground.
BPM's neighbour Rumble is currently running a 30,000m drilling campaign, and we are watching for any results that might have implications for BPM. This week Rumble increased its mineralisation footprint by 125% after drilling the four step out holes - and bumped up its exploration target to 100-120mt as a result.
So in short, Rumble's discovery is getting bigger - we are looking forward to BPM's planned drilling in a few months time.
Today IVZ advised the market that a non-binding farm in agreement signed in December 2020 was terminated at the due diligence stage. This can happen in commercial transactions and is not unusual.
We didn't think this news was a big deal and the market didn't seem to either as IVZ says it has a bunch of other interested parties in the mix. We continue to hold IVZ expecting a run up in the lead up to drilling which is still a while away - we are less than two months from the 12 months cap gains discount.
IVZ's near term focus is completing a seismic acquisition programme which should be done before the end of this quarter - we hope that will identify some solid drill targets for IVZ.
Since drilling commenced in September last year, LCL has announced long, rich gold intercepts at its Tesorito prospect in Columbia.
This week LCL announced the first assays from its neighbouring Ceibal porphyry target, with gold mineralisation reported along the entire core-lengths from the first two drill holes.
Whilst these early results don't yet signal Ceibal as the next Tesorito, it is still a step in the right direction for confirming the size and scope of the deposit.
This week CPH Non Exec Chairman and related entities sold down CPH shares on market - reducing % ownership from 16.24% down to 10.31%. There were also some options sold off market which are expected to be exercised by the new owner.
Whilst he still has a significant stake at over 10%, management selling is never a great signal to the market. The announcement says the sale relates to a $4M unsecured interest free loan provided to the company in Q4 2020.
The market seemed to be okay with it though, as the CPH price held up after the selling was announced.
On a positive note CPH secured a purchase order from a Red Light Holland subsidiary to the value of A$212,220 - a sign the two companies are working closely together ahead of the planned merger.
CPH announced the ticking of a regulatory box for importing its animal health products into Uruguay - keep those announcements coming CPH...
Advanced Human Imaging (ASX: AHI)
AHI concluded its due diligence for the proposed acquisition of Israeli based tech company Musculoskeletal Assessment (MSK) company Physimax Technologies Ltd.
This technology will likely complement AHI's existing suite of scanning capabilities, opening it up to new opportunities.
The companies are now updating the binding acquisition agreement, which will see a material reduction in the acquisition amount previously announced.
🦉In our other portfolios 🏹
🦉 Wise-Owl
Auroch Minerals (ASX: AOU) has uncovered a very high priority nickel drill target that it intends to drill test immediately. This decision to instantly drill this new target was based on the target's size, strength and location and the company will be poking three RC drill holes ranging between 150-250m in depth in the coming days.
This drilling will lead into the Nepean Deeps drill programme, which is scheduled to begin later this month – this is a major catalyst for AOU.
AOU is also currently awaiting results for the recent RC programme at its Leinster Nickel Project.
🦉Read our update here: AOU finds new drill target – so good they decide to drill it immediately
🏹 Catalyst Hunter
Aldoro Resources (ASX:ARN) this week acquired new lithium ground and now has nickel, PGE and lithium discovery potential following this latest acquisition.
The acquisition of this new lithium project next to the one it already has, puts ARN in one of the only locations in the world where a hypothetical battery gigafactory could be built alongside all the natural resources to meet its needs.
ARN also announced that they have pegged holes for drilling at their Nickel project and we expect drilling to commence very soon.
🏹 Read our update here: ARN Adds Lithium to Nickel
Catalyst Hunter invested in Ragusa Minerals (ASX: RAS) this week.
RAS has a tiny market cap of $9M. Its newly acquired halloysite project shares a border with $72M Latin Resources' (ASX: LRS) 207 Mt Cloud Nine discovery.
LRS is another of our Catalyst Hunter investments as we wait for it to catch up to its bigger brother $365M capped Andromeda, and we are familiar with this space.
RAS is also planning to acquire an Alaskan gold project near two multi hundred million ounce projects including one owned by $200M capped Nova Minerals.
🏹 Read our kick-off here: Tiny Ragusa Minerals (ASX: RAS) Acquires Two Nearology Projects - We Have Invested
It's early stage, but TechGen Metals (ASX: TG1) has just detected some pretty impressive copper drill targets during some recent airborne electromagnetic surveying.
Goldman Sachs are calling copper the 'new oil' and whether that is true or not, a multi year bull market for copper on the back of green CAPEX spending does sound pretty good for TG1.
🏹 Read our update here: Goldman Sachs say "Copper is the New Oil" - TG1 Copper Drill Target Announced
🌎 Relevant Mainstream Media:
Hydrogen (PRL)
Financial Times: 'Clean hydrogen' fund wins backing from Ineos
Gold (TMR, LCL, TTM, PUR, GTR)
Bloomberg: Gold Regains Shine After Central Bank Buying Drops to Decade Low
Lithium (VUL)
AFR: Wesfarmers and rivals charge down the road with lithium
Reuters: GM shakes up lithium industry with California geothermal project
The Verge: General Motors strikes a deal to source lithium in the US for its electric car batteries
Controlled Thermal Resources: GM Secures Sustainable, U.S.-Based Lithium Supply in part from Controlled Thermal Resources for Next-Generation EV Batteries
Battery Metals (VUL, EMN)
Electrive: Stellantis to invest €30 billion in e-mobility
Auto Evolution: Herbert Diess Announces New Volkswagen Strategy on Twitter: New Auto
Investor's Business Daily: Auto Giant Unveils $35.5 Billion EV Plan As Dodge, Ram, Jeep Go Electric
Telecommunications (VN8)
iTNews: TPG Telecom launches 5G standalone service
Natural Gas (EXR)
AFR: Not enough natural gas to calm a global price rally
Cyber Security (WHK)
AFR: Cyber agency confirms Australian firms hit by supply chain attack
Cannabis (CPH)
Pondering Pot: Mexico's Supreme Court decriminalises the recreational use of cannabis
ESG
Bloomberg: TotalEnergies Will Likely Cut Emissions Faster in Sync With EU
AFR: Big investors warn Australia on climate change
Have a great weekend,
Next Investors
---