Cash is King, Gold Stocks and Enough of VUL and EMN
Published 17-JUL-2021 13:35 P.M.
OK we get it....
"Enough with VUL and EMN already" wrote one of our readers yesterday...
Yes, we realise it was a very VUL and EMN heavy week this week, but there was a good reason...
VUL and EMN are two of our biggest long term holdings and we believe the European battery metals story is a "once in a lifetime" investment theme that we want to get ahead of - we wanted to make sure we were across the unusually high amount of related news coming out of Europe over the last two weeks.
So in the tiniest possible summary - the best bit was a Reuters article claiming their "sources" say there is an off-take MoU between VUL and Europe's biggest car maker by volume Stellantis - VUL did not confirm or deny this rumour.
But OK - enough about VUL and EMN for a while... let's talk about gold.
The gold price has been creeping up again over the last month so we are going to be covering our gold investments over the next few weeks - LCL, TMR and TTM.
LCL are rapidly drilling out their large gold porphyry system in Colombia but went into trading halt early in the week to complete a cap raise - we thought LCL still had at least $5 million in the bank AND potentially another $8M coming from options exercise in a few weeks on the 16th of August so we were surprised to see a cap raise announced so soon.
We were predicting LCL would need to raise cash around November/December this year - ideally at a higher share price AFTER the 16c options overhang was removed allowing the share price to run from a few more big drill results coming in - also noting that most small cap companies look to shore up their cash balance just before the capital markets effectively shut down for 3 months around the Christmas holidays.
Cap raisings are a part of early stage investing and we do expect them - but it's frustrating to get blindsided by a cap raise like this - we called LCL management and expressed our concerns, especially given that we had just written commentary on LCL the day before about their latest drilling results announcement. Please also remember we are long term holders in each stock we write about and our update emails are generally designed for readers who are already holding shares in these companies and also long term holders (see our new email footer for more info on how it all works) - we can't and don't comment on short term trading ideas.
On a positive note - LCL does now have a total of $24M in the bank (according to their announcement), with $8M potentially coming from the August 16th options and with institutional money now on the register we hope LCL can start its march upwards once the options are exercised.
LCL now joins a couple of other companies where we hold large positions that have raised decent amounts of cash to execute their plans over the medium term - EXR with $36M, PRL with $18M, VUL with $120M - so it's now over to the company management to spend the money wisely and deliver some of those coveted investment milestones... we will be watching every step of the way.
Before we summarise what happened this week across our portfolios a big thanks to everyone who applied for the equities analyst role with Next Investors - we will respond to all enquiries shortly.
If you are interested to join the Next Investors team as a small cap equities analyst its not too late - please reply to this email and we will send you more information on the role.
📰 Here's what happened this week on Next Investors
Galileo Mining Ltd (ASX:GAL) is edging closer to a major drilling event at its Fraser Range Nickel Project in WA.
GAL has a history of running 4-5 drill programmes a year since its 2018 IPO with the aim of making a large nickel discovery and with five months left to go in 2021, we are expecting GAL to run multiple drilling events before the end of the year.
GAL is planning to drill its next set of nickel targets, via a 1,000m diamond drill programme aiming for two highly conductive targets - positive results would see GAL trading at multiples of where it currently is.
GAL's drill rig is sitting in Kalgoorlie and prepared to mobilise, with drilling "close to commencing". So we are hoping in the coming weeks we will get confirmation of drilling beginning .
In the meantime - GAL's palladium play is getting interesting. GAL has started soil sampling at its palladium project, with over 500 samples collected from an 1,800-sample program.
You can read all about it here: We Increased our Holdings in GAL - while we wait for next piece of news
Los Cerros Ltd (ASX:LCL) delivered more outstanding drill results from its large near surface gold discovery in Colombia.
LCL released assay results from two more holes, continuing to grow the size of the discovery, and demonstrating shallow, high grade gold is present.
We are looking forward to a resource estimate by Christmas, taking into account all the impressive drill results LCL has been posting.
When we featured the drill results on Tuesday, we were not expecting the company would go into a trading halt for a capital raise just 24 hours later.
On Friday morning, LCL confirmed it had raised $20M at 16c per share, bringing in half of that from a number of North American gold funds.
You can read our views on the raise here: LCL Raises $20M at 16c - Five Drill Rigs on Site
You can read all about its latest drill results here: New Assay Results for LCL's Giant Porphyry System
(OK this is the last time we promise...)
Last week, we told you how our European battery metals investments Vulcan Energy Resources (ASX:VUL) and Euro Manganese (ASX:EMN) both lifted off the back of the Stellantis EV 2021 day - especially VUL which has had a great run since that event after unconfirmed reports from Reuters about an MoU for an offtake with Stellantis.
Both VUL and EMN should also be beneficiaries of the latest news from VW Group and the European Union.
This week VolksWagen announced its new group strategy dubbed: NEW AUTO - Mobility for Generations to Come. As the future is CO2-neutral and software-driven.
We watched intently for any information relating to our two battery metals investments. The main takeaway was that VW will transition from being a vehicle manufacturer to a leading, global software-driven mobility provider in an effort to develop sustainable, connected, safe and tailored mobility solutions for future generations.
You can read all about it here: VUL and EMN: Key takeaways out of Europe this week
🗣️ Quick Takes - Our Other Investments:
This week the UN released a report highlighting the impacts of COVID-19 on food security around the world.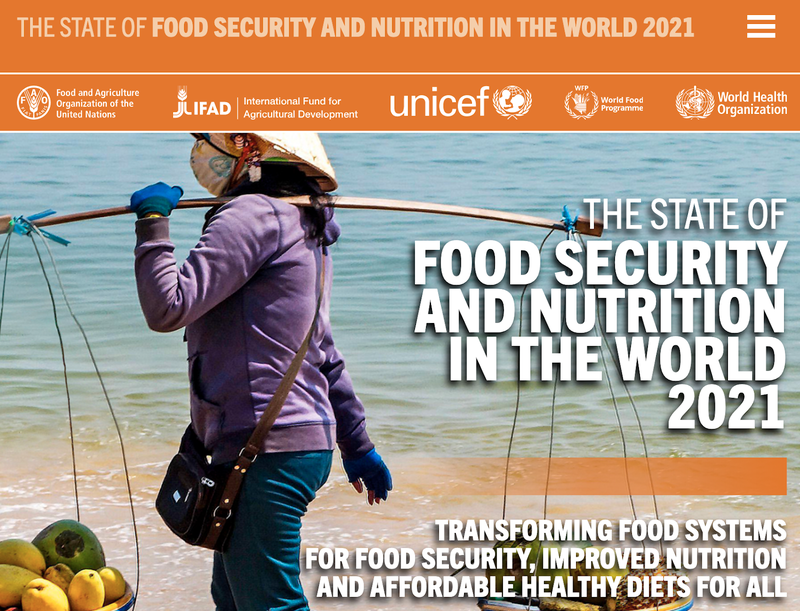 Key stats from the report:
Hunger affects 21% of the population of Africa
Compared to 2019, 46 million more people in Africa were affected by hunger in 2020
Nearly one in three people in the world (2.37 billion) did not have access to adequate food in 2020
These alarming numbers highlight the importance of food security in Africa, an area which Minbos is well placed to support.
Part 4 of the UN's recommended pathway to food system transformation suggests that governments supporting initiatives should "intervene along the food supply chains to lower the cost of nutritious food". We think that an increased supply of fertilizer is key to supporting this goal, especially in the Sub-Saharan region in Africa where Minbos operates and crop yields are drastically lower than other regions around the globe.
We have a deep dive on the impact of surging Phosphate prices on MNB's scoping study numbers and NPV coming very soon - for a preview check out this recent article we wrote
CPH continues to pepper the market with announcements. On Friday, it launched its cannaDOL® product through multiple distribution channels to target Swiss sports, health and wellness markets. Probably the more interesting news was the finalisation of the acquisition of psychedelics company Halucenex ahead of its merger with Red Light Holland.
With news late in the week of the US Democrat party's proposed new bill to decriminalise cannabis on a US Federal level - which will allow all cannabis companies to trade on all US stock exchanges, and do banking like any other company, it looks like a good sign for CPH and its increasing North American focus. It is worth noting that it is a draft bill - so let's see how far it goes but it's a step in the right direction for the cannabis industry.
PUR released its quarterly results this week. We are always keen to see how much cash our explorers are holding at the end of each quarter so we can see how much runway they have. PUR has $8.95M at June 30th which looks like plenty for upcoming drilling.
There's a 1,500m drill programme set to begin at the end of July after being re-scheduled due to recent rain - that will be an exciting event for PUR investors.
🦉In our other portfolios 🏹
🦉 Wise-Owl
Food Revolution Group (ASX: FOD) is starting to gain traction with new products like their "wellness juice shots", with the products appearing on the shelves at Coles and Woolworths over the last few months.
We were surprised to see the CEO Tony Rowlinson depart earlier in the week.
Usually it's not good news when you see a sudden CEO departure, but Wise-Owl spoke with the new CEO and caught up with the outgoing CEO – and after hearing from both of them we are satisfied with the proposed transition.
🦉Here is what we think: Management changes at FOD – We continue to hold
Bod Australia (ASX: BDA) creates and sells medical cannabis, Cannabidiol (CBD) and hemp healthcare based products for consumers around the world. They released a positive quarterly report earlier in the week showing things are heading in the right direction.
The report confirmed BDA had a record year for revenue and it reduced its cash burn – quarterly revenue is up 20%, with FY revenue up 23%. Cash burn is down 11%.
Despite the positive financial momentum, BDA is trading at its lowest levels in 2021 – around the 33c mark.
We are hoping BDA's share price can get some upward momentum soon that matches its improving financial performance.
🦉Read our update here: BDA achieves record FY21 – so why is the share price down?
🏹 Catalyst Hunter
Julimar exploration hopeful Mandrake Resources (ASX:MAN) announced it had completed two drill holes with two more planned - and got pounded.
A nice photo of a drill core showed visible sulphides PLUS another conductor was discovered down hole.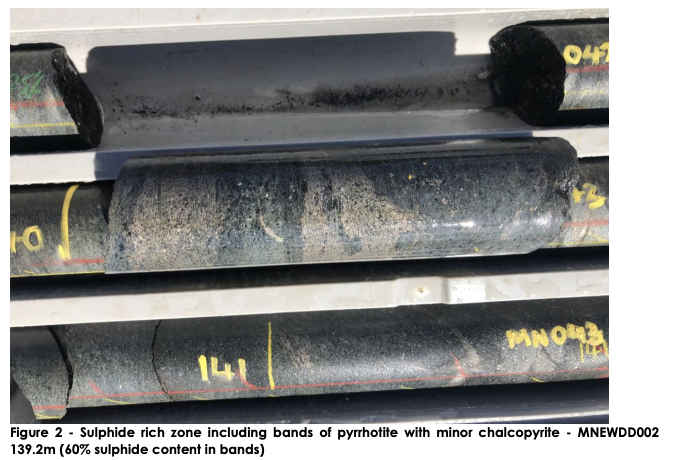 We are surprised to see so much selling pressure in the stock on this news. Drilling can be quite a volatile time for investors in exploration stocks, with traders coming in and out of a stock on speculation - it looks like a big group decided to cut and run early for whatever reason.
We are hoping it's just a short term spike down fuelled by panic sellers followed by a quick share price rebound once they are all done.
🏹 Read our update here: MAN Takes a Beating After Showing Drill Pic
Catalyst Hunter invested in Ragusa Minerals (ASX:RAS) last week.
We invested because we like its newly acquired halloysite project, which shares a border with $72M Latin Resources' (ASX: LRS) 207 Mt Cloud Nine discovery.
LRS is another of our Catalyst Hunter investments as we wait for it to catch up to its bigger brother $365M capped Andromeda, and we are familiar with this space.
RAS originally listed on the back of a Zimbabwe gold project before they acquired their two new projects early last week when we invested - we considered this particular project a "side bet".
RAS's Zimbabwe gold project is a former mine, and this week, RAS released some underground sampling results there. We liked the high grade of 221 g/tonne.
🏹 Read our update here: RAS Side Bet Delivers Early High Grade Gold Result (221g/tonne)
🌎 Relevant Mainstream Media:
UN Food Security Report (MNB)
World Health Organisation: UN report: Pandemic year marked by spike in world hunger
The Guardian: Almost one in three globally go hungry during pandemic – UN
Aljazeera: UN report: Pandemic year marked by spike in world hunger
EU Green Deal (EMN, VUL)
The Economist: Why the European Union is a less-than-jolly green giant
Bloomberg: The Seven Elements of the EU Green Deal You Should Care About
BBC: EU unveils sweeping climate change plan
Cybersecurity (WHK)
NBC News: 'Barely able to keep up': America's cyberwarriors are spread thin by attacks
Commodities
Bloomberg: Russia Considers Measures to Tap Mining Profits Once Export Tax Ends
AFR: Commodities bounce as China unleashes $206b of cash
Cannabis (CPH)
New York Times: Schumer Proposes Federal Decriminalization of Marijuana
Business News Australia Australia's top 20 cannabis companies
All three cannabis stocks that we are currently invested in across our portfolios made it in the Top 20 - CPH 3rd, NTI 15th BDA 17th
ESG
Reuters: EXCLUSIVE Blackstone asks its companies to regularly report on sustainability
Have a great weekend,
Next Investors
---