New Assay Results for LCL's Giant Porphyry System

Share price when sent: $0.165
Our investment Los Cerros Ltd (ASX:LCL) continues to deliver more outstanding drill results from its large near surface gold discovery in Colombia.
Yesterday LCL released assay results from two more holes, continuing to grow the size of the discovery, and demonstrating shallow, high grade gold is present.
We are looking forward to a resource estimate by Christmas, taking into account all the impressive drill results LCL has been posting.
Here's why we continue to hold LCL:
LCL is hunting giant gold systems in Colombia, in a place called the 'Mid Cauca Porphyry Belt' - this region is dotted with many multi-million ounce gold deposits.
LCL has already identified a giant porphy discovery called Tesorito South that it is aggressively drilling now.
LCL has another EIGHT porphyry and epithermal targets that it is working on.
We first invested in LCL in April last year. When LCL first found evidence of a big porphyry gold system in September 2020, its share price tripled.
LCL then raised $10M (at 11.5c) to drill in all directions around it to see just how big it actually is.
LCL has had three drill rigs going in parallel in Colombia, across its gold discovery and testing new targets in recent months.
We maintain a significant position in LCL and closely follow new developments as the company continues to deliver excellent drill results.
Since the first discovery hole, LCL's gold system has continued to get bigger and bigger.
Los Cerros Limited
ASX:LCL
What happened to LCL yesterday?
Yesterday LCL put out more impressive drill results from two more holes.
Here are the key takeaways:
Both holes intersected high grade gold mineralisation at surface.
Adds to 'modelled volume' to the high grade surface material first encountered in a previous drill hole.
This is a good sign for the potential project economics - near surface high grade gold is critical in early production years.
LCL is going to drill more holes radiating from the same region to further expand this "zone of interest".
Drill Result #1:
330 metres at 0.99 g/t gold, including 56 metres at 1.95 g/t gold from surface, including 24 metres at 2.7 g/t gold from surface.
These are outstanding results in terms of thicknesses and grades - 330m at ~ 1 g/t gold was far wider than LCL was anticipating.
That result was backed up by the second hole.
Drill Result #2
158.0m @ 1.42 g/t gold from surface, including 10.0m @ 2.13 g/t gold from 2m, 66.0m @ 1.89 g/t gold, including 30.0m @ 2.6 g/t gold from 80m.
LCL is still seeking to define the limits of Tesorito, as it is still open in all the directions drill tested so far - it's pretty excited by the north west extension that remains open.
Here you can see how the discovery has grown in recent months from one quarter to the next: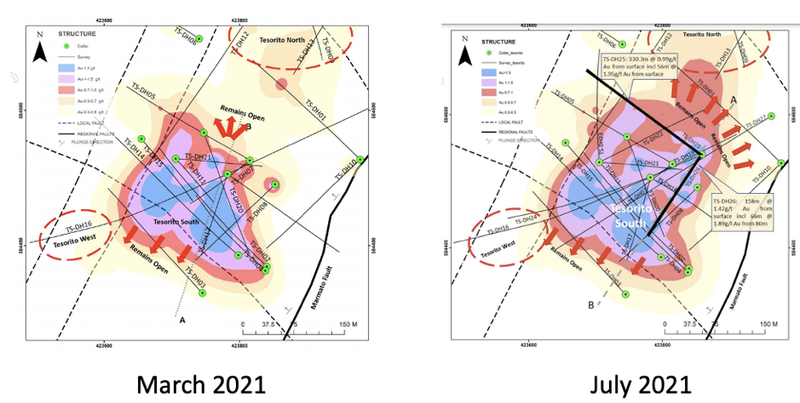 Once LCL comes to grips with the boundaries of the system, we would expect the company to start the resource estimation process - the first stage would be an indicated and inferred resource, perhaps that could be delivered by Christmas.
So why isn't the LCL share price going up?
LCL has a current market cap of $82M.
LCL had $6.12M in cash at the end of the March quarter, having spent ~ $1M on aggressive exploration and drilling in the three month period.
We will get a fresh look at the cash on hand at June 30th in the next quarterly report which should arrive in the coming weeks.
We can offer a couple of potential explanations as to why we think the share price might not be moving as rapidly as it did on the first discovery hole back in September 2020.
Options overhang. LCL currently has 486.5 million shares on issue, and 50 million options expiring on 16th August at a strike price of $0.16. If all the options were exercised, it would bring in $8.4M to the company removing the need for a medium term funding alternative. Given LCL is trading at around 17c it's hard to see this completely happening but we will have to see. Perhaps the market is waiting for these to be exercised or expire...there is now just 4 weeks to go.
Combined with...market desensitised to good news from LCL. If any other company with no previous drill holes, was delivering the assay results LCL is, we would expect much more share price movement. LCL keeps posting some of the biggest and highest grades gold results anywhere in the world.
LCL discovery - comparison to AngloGold's 30 million ounce beast
If LCL's discovery was one of AngloGold's Colombian projects, which aren't too far away from Tesorito, and located in the same Mid-Cauca Porphyry Belt, market commentators might be hailing LCL's results as the forerunner to another Nuevo Chaquiro's 30 million ounce AuEq (gold plus copper).
Nuevo Chaquiro is an AngloGold project that delivered similar grades and thicknesses to those being delineated by LCL at pretty much the same stage of exploration and drilling.
LCL is hitting large thicknesses like Nuevo Chaquiro, but note the generally higher gold grades LCL is delivering, including 320 metres at 1.5 g/t gold, just 2 metres from surface and 330 metres at 0.99 g/t gold, including 56 metres at 1.95 g/t gold from surface as we saw yesterday.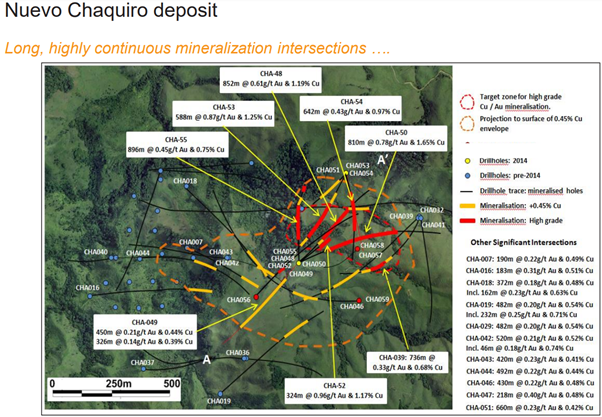 Today, Nuevo Chaquiro is one of Anglo's largest gold projects in South America.
Check out AngloGold's full presentation on the Nuevo Chaquiro discovery here.
LCL continues to intercept strong gold mineralisation in every direction tested, delivering 'spectacular' result after 'spectacular' result.
What's next for LCL?
Pending assays results from TS-DH27 - sited ~100m north-east of TS-DH25: This has the potential to dramatically expand mineralised volumes to the north-east towards
Maiden resource at Tesorito: With all these outstanding results, just how big can we expect Tesorito to grow? We anticipate a first indicated and inferred resource by Q4 2021, with a million+ ounce deposit very much on the cards.
Ceibal: More drill results to come from LCL's latest drill target.
More targets: LCL is on the hunt for further drill targets to expand its ground.
Scoping study at Tesorito: LCL will soon begin a Scoping Study.
Moving from exploration to production: Smart investors that look past the headline grades and reflect on other huge deposits in the region, will notice that some of the monster projects in the area have a combination of lower grade copper and gold mineralisation near surface – and lots of it. That sounds a lot like Tesorito.
---