LCL Raises $20M at 16c - Five Drill Rigs on Site

Share price when sent: $0.180
We were surprised to see Colombian gold explorer Los Cerros (ASX:LCL) enter into a trading halt for a capital raise the morning after our most recent note on the company.
LCL has identified a near surface gold porphyry discovery and is aggressively drilling it now in order to figure out how big it is: porphyry discoveries in the region can be massive and LCL's drill intercepts continue to provide evidence that LCL's discovery could be in the millions of ounces.
After reviewing LCL's latest drill results and making a rough estimate on what we thought the company's cash position was earlier in the week, we didn't think a capital raise was likely so soon - especially given that LCL potentially had $8M coming in from 16c options in August.
Obviously, LCL management took a different view and elected to significantly boost the cash on the balance sheet now and take a dilutionary hit to existing investors - we definitely did not see this cap raise coming. Here is what we think:
Los Cerros Limited
ASX:LCL
This morning LCL has confirmed it raised $20M at 16c per share, bringing in half of that from a number of North American gold funds.
Renowned gold investors Sprott Capital Partners was a joint lead manager in the raise, which is a pretty good name to bring on board LCL. They join international mining major AngloGold Ashanti on the LCL register - Anglo was a Top 20 holder prior to this raise. In our previous note, we featured Anglo's 30 million ounce beast near LCL as an idea of the size of the prize LCL is aiming for.
LCL's $20M should go a long way toward building out its Colombian gold discovery - funds raised will be for:
Increase diamond drill rigs on site from three to FIVE - so expect even more and faster drilling results from LCL.
Calculate a maiden resource estimate for its Tesorito South porphyry - to get an idea of the size of the discovery.
Start metallurgical studies - this kind of work is crucial to seeing whether or not the gold underground can be easily and cheaply processed once out of the ground.
Complete more government and regularly approval work.
Continue to progress exploration of other earlier stage prospects within its project.
As we pointed out earlier in the week, LCL has ~ $8M in listed options with a strike price of 16, but this new raise removes the strong need for these to convert.
Los Cerros Limited
ASX:LCL
Whilst on face value this capital raise and dilution can be painful for new investors who entered the stock above the capital raise price of 16c: the nature of small cap exploration stocks is that without any revenue source, capital raisings are required to continue exploring and build shareholder value.
As long term investors in LCL, we welcome the injection of new capital and hope to see the LCL price trading at above 20c soon after the options expire in a few weeks.
LCL is aiming to make a Tier 1 gold discovery in the millions of ounces - and funds are required to prove this out.
This capital raise has brought on some top institutions, and could be the inflection point that LCL needs to get an upside breakout in the stock assuming continued strong drill intercepts.
The new shares are expected to be issued 26th July - and it will be interesting to see how LCL performs with well over $20M in the bank and five drill rigs on site.
Los Cerros Limited
ASX:LCL
Esteemed gold analyst and LCL investor Warwick Grigor made the following comments on the LCL raise to his audience:
A number of readers have asked me what it takes to get an upside breakout on the share price.
My comment is that you need an inflection point such as a capital raising with institutions that introduces the big boys.
This looks like that inflection point.
There are still $8m worth of options becoming due in August, but this placement obviates the need to have these exercised.
With this cap raise LCL has ticked off a key milestone we were expecting by adding an institutional investment fund to its register and we have added an unexpected milestone of raising $20M.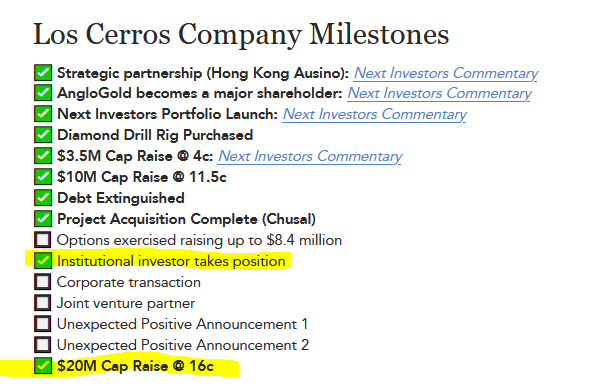 Now with plenty of cash in the bank, and more likely coming from the option exercise, we are watching for continued drill results to expand LCL's porphyry: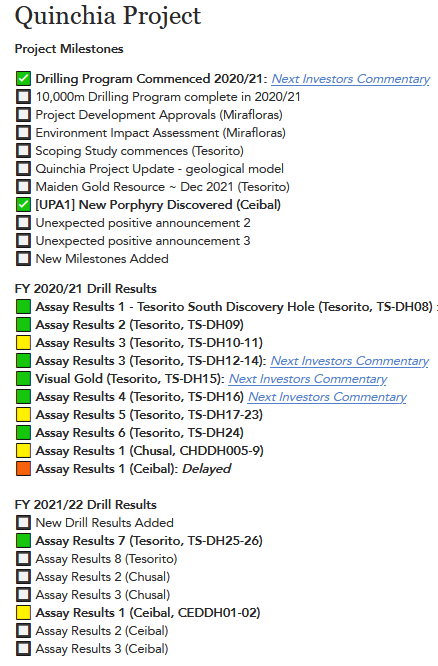 Here is the progress of our current investment plan for LCL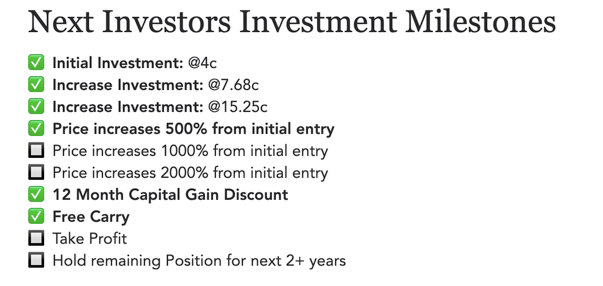 Here is our past commentary on LCL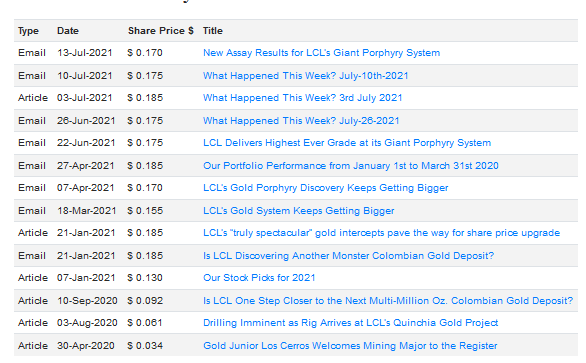 ---