We just invested - Extra Exposure to Elephant Energy Explorer
Our 2020 Energy Pick of the Year Invictus Energy (ASX:IVZ) is chasing the largest, seismically defined, undrilled structure onshore Africa.
We first invested in IVZ in September 2020 at 4.9 cents. We maintain our full initial position and have just increased our holding at 11c in the placement.
We had today's commentary about IVZ all written and ready to send, letting you know we have "Doubled Down"... business as usual.
But IVZ has just gone into an unexpected halt and we think we know why....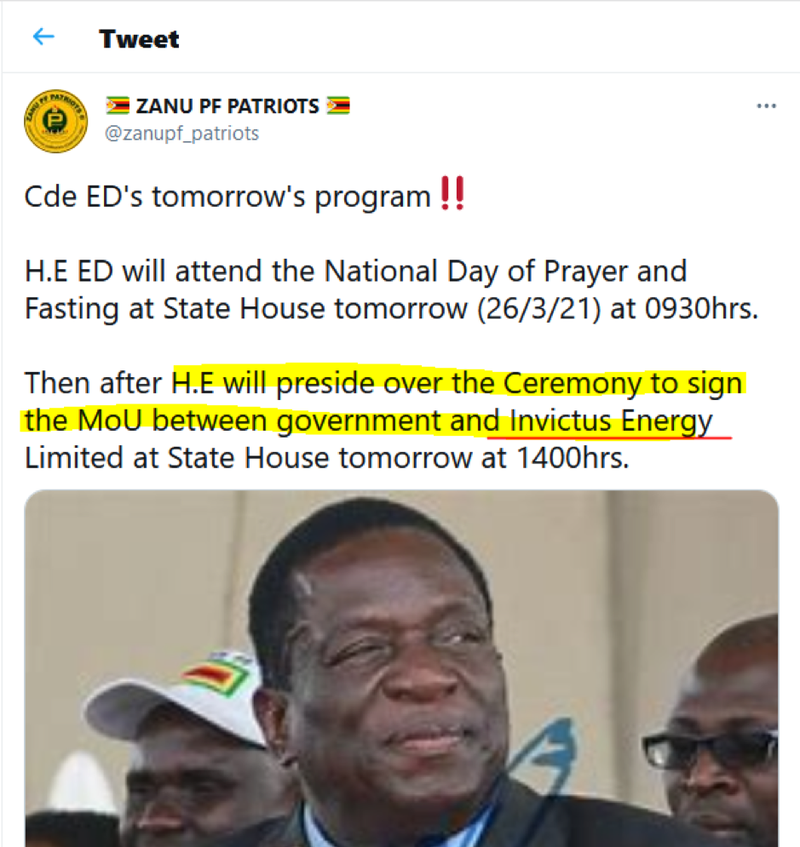 Check out this tweet Zthat has been doing the rounds - showing the Zimbabwe President's meeting schedule today... including to "preside over the Ceremony to sign the MoU between government and Invictus Energy".
We have no idea if this info is credible or real, but we are pretty sure this is why IVZ has just gone into a trading halt...
So what happens next? One of two things:
The tweet is true and the IVZ will have finally signed the long awaited Production Sharing Contract with the Zimbabwean government - a huge milestone and catalyst!
The tweet is false, and IVZ resumes trading as normal.
Either way, we will be watching when IVZ opens again...
IVZ is one of only three oil and gas exploration stocks in our portfolio.
All of them have run well recently as you can see below:
Even though IVZ has just been put into a halt, we thought we may as well publish our commentary anyway...
This week, IVZ raised $8M at 11c per share - the new shares will be on the market on the 30th March.
While IVZ has had a pretty good run over the last few months, we are still holding our full initial position and have just invested again in the placement.
With drilling still a while away, we think there is upside from here especially with several near term catalysts to come including:
Signing of PSC (as leaked in tweet, might not be real)
Finalisation of farm out
2D seismic campaign to refine drill targets...
... And then the big one:
IVZ to drill the largest seismically defined, undrilled structure onshore Africa.
The share price of oil and gas explorers usually run in the lead up to big drilling events - when speculation of a 'company making' result is rife.
We first invested in IVZ when drilling was still AT LEAST 12 months away and speculation of a great result was yet to work its way into the share price.
Regular readers know our strategy for early stage explorers is to:
Invest long before the drilling starts
Patiently hold for the long term and take some profit before the results come in
Leave a free carried holding in place to ride the result - hopefully a big one.
We hope IVZ can repeat the 2,150% gains made in 12 months by nearby peer ReconAfrica, which is currently drilling in Namibia.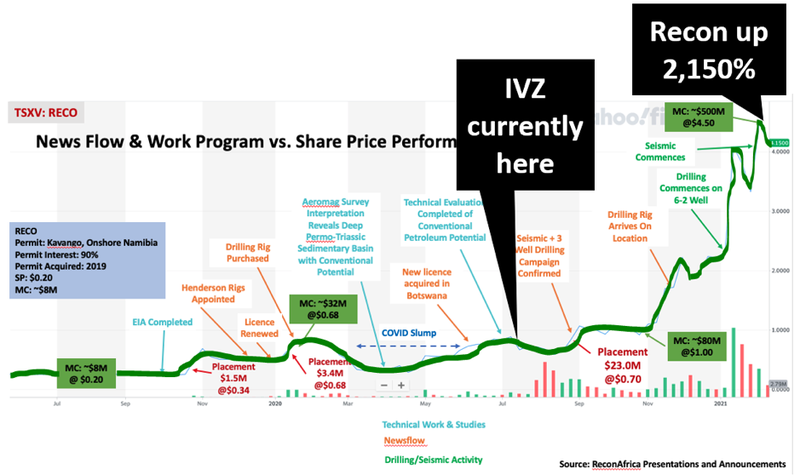 In summary, we have had great success with EXR and 88E by investing early and holding in the lead up to drilling as speculation on a positive result takes hold.
IVZ is still a while away from its drill so we hope it has room to run (like its peer ReconAfrica has).
---