Up 2,150% - Will IVZ Repeat this Run?
Our 2020 Energy Pick of the Year Invictus Energy (ASX:IVZ) plans to drill the largest undrilled onshore gas prospect in Zimbabwe Africa this year.

We think IVZ can repeat the 2,150% gains made in 12 months by nearby peer ReconAfrica, which is currently drilling in Namibia.

Recon is a few months ahead of IVZ and is capped at $500M... IVZ is currently capped at just $40M and we think it is technically better (we'll show why in a comparison table below).
Full details of why we invested in IVZ in September 2020 are in our article IVZ: Our Top Energy Pick of 2020.
Compared to ReconAfrica, which has grown to a $500M market cap in recent months, you can see IVZ is earlier in its journey below.
IVZ is very close to a large potential value uplift, given drilling is around the corner: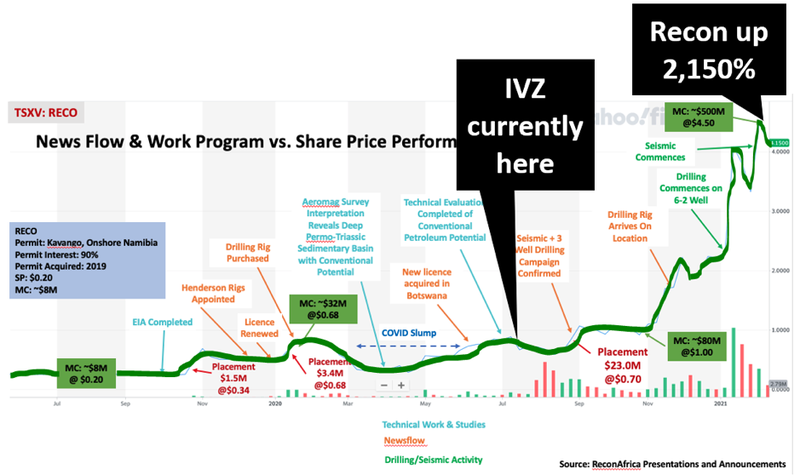 For any technical oil and gas boffins out there, here is a side by side comparison showing why IVZ is better technically: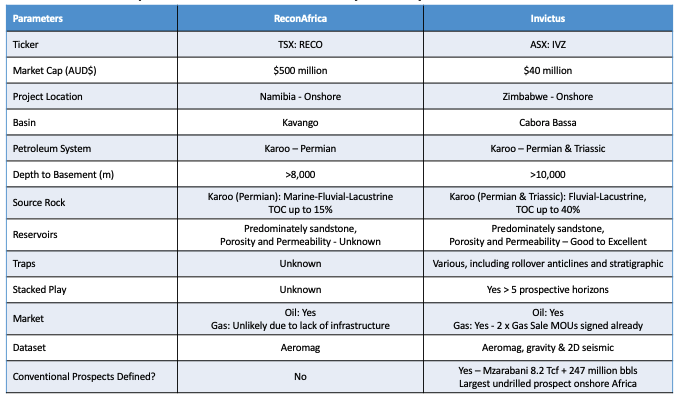 The good news for IVZ is that the more success ReconAfrica has, the better chance IVZ has of finding an offtake partner before it drills.
Alternatively, a takeover could become apparent before it drills at all.
The next IVZ catalysts to watch out for ahead of drilling are:
Conclusion of the non-binding farm-in offer IVZ received late last year - any week now...
Seismic acquisition to begin - likely April.
For all our commentary and research in our investment in IVZ, check out our IVZ company page:
---