This time PUR hit it, more drilling incoming...

Share price when sent: $0.043
Our Julimar exploration hopeful Pursuit Minerals (ASX:PUR) today announced it has completed two more drill holes and has intersected copper and nickel bearing sulphides.
Importantly PUR now has a better understanding of the actual position of the two EM conductors it has been drilling - one of which it just missed by just 10m with its first drill a few weeks ago.
While PUR moves the drill rig to the next set of targets for more drilling, the cores of these two new drill holes have been sent to the assay lab and we now await results to see if there are any decent grades.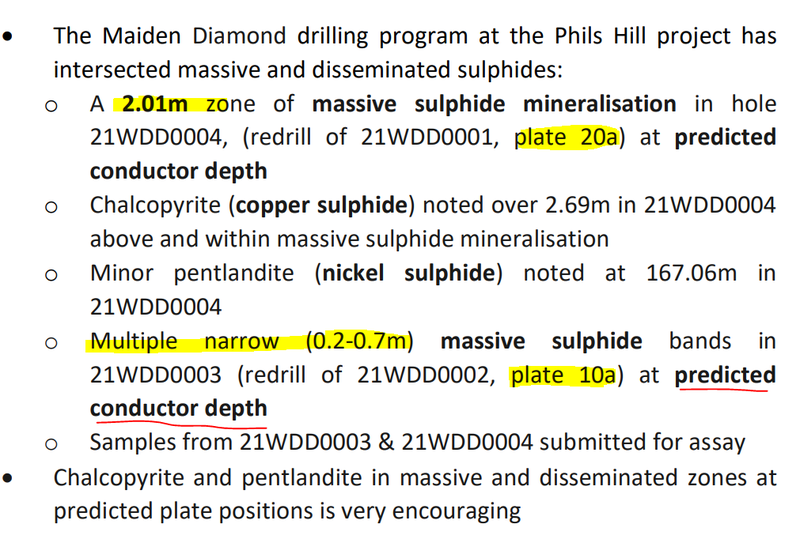 Metals Exploration 101 Reminder: Precious metals conduct electricity - so exploration companies run electromagnetic (EM) surveys where they shoot EM waves underground to see if there are any conductive bodies underneath. If they find an EM conductor they will drill into it and then send the drill cores to be tested in an "assay lab" to see if there are precious metals present.
PUR previously identified four EM conductors underground. A few weeks ago PUR drilled its first two holes hoping to hit them (at EM conductor plates 20a and 10a), one that *just* missed hitting the EM conductor plate 10a by 10m. A near miss of a target can happen with only a single EM data point collected from the surface.
In our last article we explain in more detail how drilling an EM conductor target works.
After drilling the first two holes, PUR temporarily paused drilling to run a "downhole EM survey" to get a better idea of where the conductors actually sit. Given this type of EM surveying is taken below ground at the bottom of the drill hole, it is much closer to the conductors - which hopefully results in much more accurate drill target locations. With a refined conductor location, PUR did hit conductor 10a with one of the drill holes announced today (hole 0003) - so we now have confirmation of where the 10a conductor actually is located.
Today's news means that now PUR have intersected nickel and copper bearing sulphides AND they have a more accurate model of where EM conductor 10a actually sits so they can improve drill targeting.
PUR reports that the new drill hole on EM conductor 20a intercepted a nice 2m zone of massive and disseminated visible sulphides: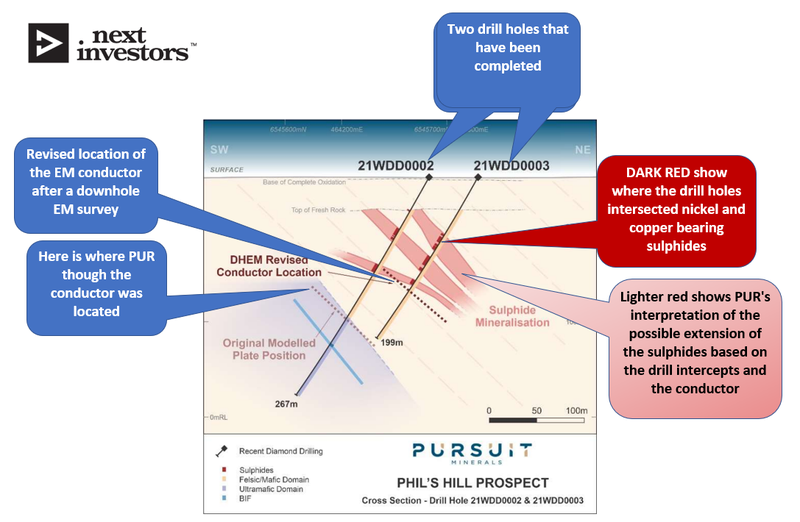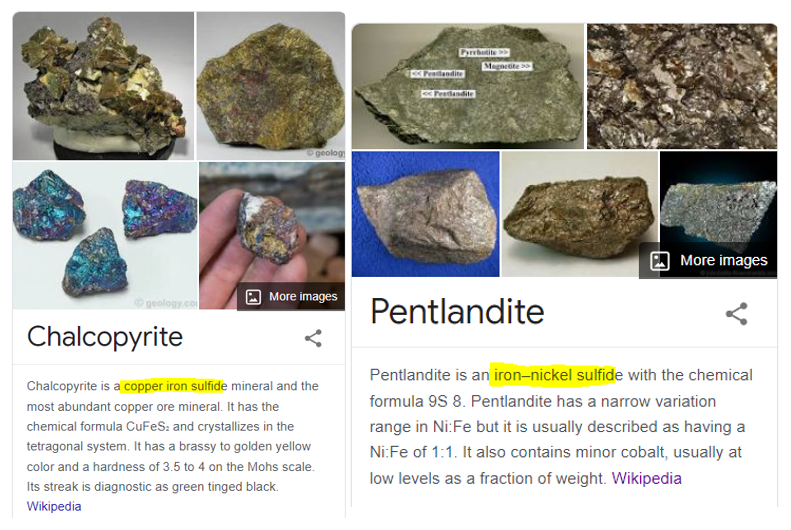 Here are the drill cores from hole 004 which was targeting conductor plate 20a:
So what happens next:
Assay Results: We are interested to see what grades the assay results deliver which we should see over the next few weeks (we understand that assay labs are currently swamped with work so there could be delays). We want to see some big grades come in ideally over decent lengths.
More down hole EM surveys: as we discussed in detail in our last PUR article here, downhole EM surveys are done by dangling an EM survey tool down a drill hole to provide an even clearer picture of the potential sulphide body - with two new drill holes now done, PUR will conduct more down hole EM surveys on these holes to prep the next drill.
Drill the other conductors: PUR found a total of FOUR EM conductors in their initial surface level EM surveys (20a, 17a, 10a and 06a), the drill rigs are now moving to drill 17a and 06a while the down hole EM surveys are being completed on the initial EM conductors at 20a and 10a. We want to see them hit the EM conductors and return big long sulphide intercepts from the drill cores.
If you are new here, remember that (1) investing in early stage explorers is extremely risky - see the footer of this email for more info and (2) our PUR investment plan is already in full swing and we are in the middle of the first drill campaign where there can be big movements (up or more likely down) in the share price on drill results.
Risks: future drill holes may return no nickel/copper/PGE bearing sulphides OR upcoming assay results might return low grades that are not economical to mine.
Pursuit Minerals Corporate Milestones
✅ Next Investors Portfolio Initiation
✅ Sale of Scandinavian projects for $3M
✅ $8.25M Cap Raise @ 6.9c
🔲 Unexpected Announcement 1
🔲 Unexpected Announcement 2
🔲 Unexpected Announcement 3
🔲 New Milestones Added: Gladiator Project (Gold)
🔲 New Milestones Added: Combatant Project (Gold)
Warrior Project Milestones (PGE-Ni-CU)
⚔️ Chalice Gold Mines Julimar Discovery
✅ Land Acquired in Julimar Region
✅ [UPA] Further land acquired
✅ Electromagnetic Surveys (1), (2)
✅ Drill targets identified
✅ Soil geochemical sampling: Results
✅ Heritage Approvals Secured
🔄 Drilling Program 1 (1,500m Diamond Drilling)
Drilling Program 1
✅ Drilling Program Commenced
✅ First Two Drill Holes Complete (No Sulphides Intersected)
✅ Downhole Electromagnetic Survey 1
✅ Follow-up Drilling 1 (Sulphides Intersected)
🔲 Follow-up Drilling 2 (MLEM Plate 17A, 06A)
🔲 Downhole EM Survey 2
🔲 Assay Results 1
🔲 Assay Results 2
🔲 Assay Results 3
Next Investors Investment Milestones
Key Drilling Event 1
✅ Initial Investment: @1.35c (≈7 months before key drilling event)
✅ Increase Investment: @6.9c (≈4 months before key drilling event)
✅ Price increases 250% from investment
✅ Price increases 500% from investment
🔲 Price increases 1000% from initial entry
✅ Free Carry (prior to drilling results)
🔲 Take Some Profit
🔲 Hold position for key drilling event
🔲 Decide New Investment Plan after results of key drilling event
Key Drilling Event 2
🔲 New Milestones Added
---