PUR's EM conductors "significant" - Drilling in 6 to 8 weeks

Share price when sent: $0.061
In December 2020 our investment Pursuit Minerals (ASX:PUR) acquired exploration licenses right near Chalice's multi-billion dollar discovery in the emerging Julimar mineral province in WA.
Chalice is now up over 2,900% since January 2020, and is currently capped at $2.5BN - still one of the top performing companies on the ASX.
Today PUR announced refined EM conductors (colourful blobs) that according to the company are HIGHLY conductive. SIGNIFICANT and within the known range of conductivity of $2.5BN Chalice's discovery.
Now, the only thing standing between PUR and drilling is some permitting, PUR reckons drilling in 6 to 8 weeks.
Pursuit Minerals
ASX:PUR
Explorers that are about to drill near Chalice (like PUR) are riding on Chalice's coattails as the Chalice price just keeps on rising, although PUR's share price got beaten up over the last few weeks by the broader market weakness (as did most explorers...).
Our PUR investment thesis has not changed, and drilling is coming.
Also keep an eye out for PUR's soil and rock chip samples coming back in the next two weeks - if these return any traces of PGE-Ni-Cu then it should be off to the races (if there are trace elements of PGE-Ni-Cu in soil samples, it increases the chances that the conductor is going to be PGE when its drilled).
Here is how close PUR is to Chalice: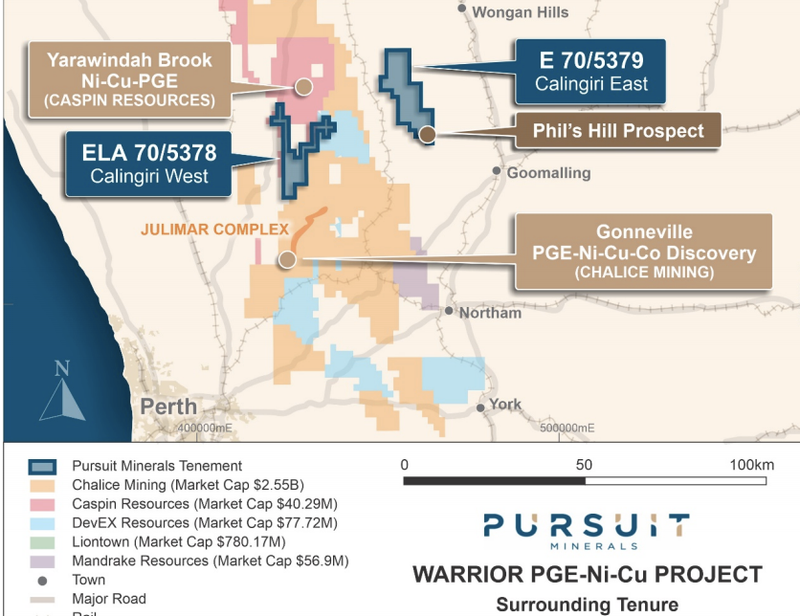 This is what the Chalice share price did after Chalice drilled their colourful blobs and it turned out to be a giant lode of PGE-Ni-Cu: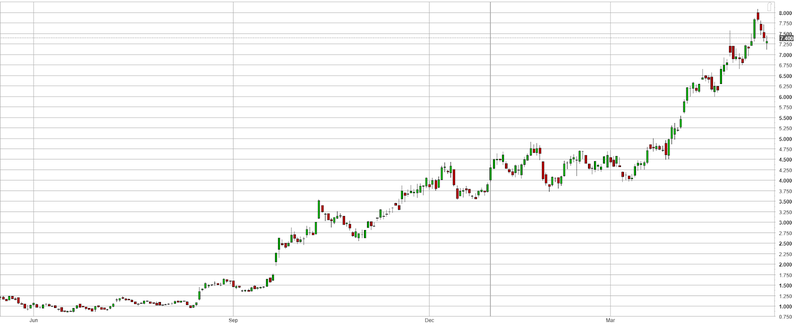 Our Investment Strategy
We are hoping that PUR can have some share price success in finding PGE-Ni-Cu after drilling, also being caught in Chalice's success slip-stream and as excitement builds in the lead up to PUR's drilling in 6 to 8 weeks. Its coming off a lower base now of around 5c after the broader market weakness of the last two weeks
As with all our exploration investments, we will look to take some profit in the lead up to drilling and hold a significant position for the drilling results. Exploration investing is risky and there is no guarantee of success.
Pursuit Minerals
ASX:PUR
Key points of PUR's news today:
✅ Additional discrete conductors identified via MLEM (Moving Loop Electro Mag) surveys - this means PUR now has better targets to drill, and there are a few of them.
✅ Strike length of ~ 1,640m - this is a very large length to potentially hit a large discovery.
✅ Target open to the north and south - this means it could get bigger - and is why PUR will follow up with more MLEM surveys and groundwork.
✅ Modelled depth to top of conductors of less than 100m - and it matches up with the edge of an ultramafic sequence, in a location that looks ripe for PGE-Ni-Cu mineralisation.
✅ Drill contractor secured
✅ Ready for drilling - subject to a few approvals.
Here you can see PUR's blobs and four plate conductors over the magnetic images:
You can read more about how EM targets work and what PGE-Ni-CU is in our PUR commentary from February 2020.
Also read our comments on PUR's tenements and nearology to Chalice's $2.4BN discovery.
Pursuit Minerals
ASX:PUR
What is coming next
Soil and rock chip assays - within next 2 weeks.
Government and Heritage approvals.
Second phase of MLEM surveys and ground follow up programs (to hopefully identify more conductors).
The big one - drilling to start in 6-8 weeks.
---