1,600% Gain Sparks Julimar Explorer Race - We Just Found the Cheapest
PUBLISHED: 02-12-2020 11:41 a.m.
Earlier this year, Chalice Gold Mines Ltd (ASX: CHN) made a groundbreaking discovery that sent its share price soaring.
CHN is up over 1,600% since January, and is currently capped at $1.2BN - one of the top performing companies on the ASX this year.
Since then, investors have been scouring the market for opportunities to leverage off the discovery of what is an entirely new province, the Western Gneiss Terrane of the famous Yilgarn Craton in WA, which includes CHN's Julimar discovery.
As of today, there is a new contender in the province.
We have taken a large position in this one, as we see near term upside in the coming months - and beyond:
Pursuit Minerals (ASX:PUR)
PUR has just announced it is set to acquire a 593km2 tenement package in the terrane, a mere 50km north east of CHN's monstrous discovery.
In this article, we will explain why we have invested in PUR now and the upside we see.
We like the current valuation of $10M market cap and having recently raised $2M the company appears reasonably funded going into exploration and drilling.
We especially like PUR's current valuation right now compared to other Julimar explorers who are closer to drilling, and are capped at multiples of PUR.
Before we go too far, a word of caution is required. PUR has a tiny market cap, and this is early stage exploration. This is a high risk, high reward investment.
The company has a number of unexplored magnetic and gravity anomalies, however it is yet to really test what's beneath the surface.
This is early stage exploration and the company's current valuation reflects that - which to us, makes it the most interesting of those in the province CHN has made famous.
In case you missed the CHN story this year ...
Known as the 'Julimar Complex', Chalice's discovery was Australia's first major palladium discovery, in an entirely new minerals province.
The discovery is shaping up to be a major deposit of critical metals for a clean energy future and includes palladium, nickel and copper.
Early stage CHN investors were well rewarded by this discovery, with the stock returning 1,600% since January.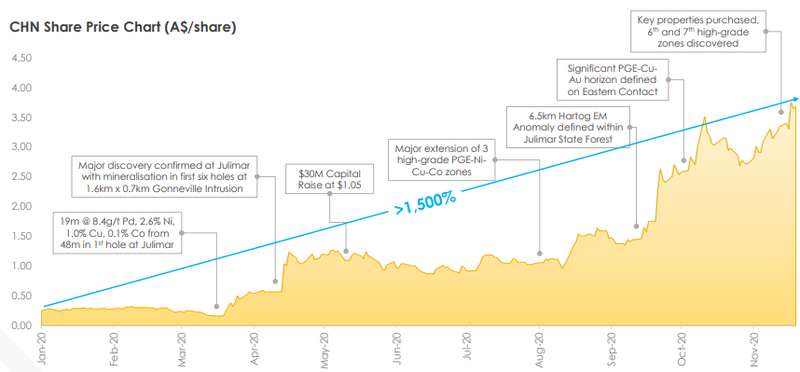 The result of this discovery has led to a field of ASX explorers taking up some ground, hoping to make their own.
Out of all the Julimar explorers - we think PUR has the most leverage to a discovery right now
Since CHN's discovery, the company has taken up most of the ground in the province, leaving limited options for other companies to take a position.
Here are the companies currently in the region including Chalice.
● Chalice (ASX:CHN) - $1.2BN market cap
● Mandrake Resources (ASX: MAN) - $30M market cap - planning to drill next month
● Devex Resources (ASX: DEV) - $71M market cap - planning to drill next month
● Caspin Resources (ASX: CPN) - $35M (just hit the boards this week)
And now:
PUR - $11M market cap, planning to drill Q1 2021
Given the valuations of PUR's peers on the cusp of drilling, we are hoping that PUR grows to multiples of its current value and reach at least par with its peers in the lead up to its own maiden drilling program in 2021.
PUR's Julimar project
PUR is set to acquire the Warrior PGE-Nickel-Copper Project, nestled in the Western Gniess Terrane, sandwiched between CPN and CHN.
The project includes well defined magnetic anomalies ready for geophysical surveys to define drill targets.
Its ground sits just 50km from CHN's PGE-nickel-copper discovery at Julimar.
As you can see above, all of the companies in the Julimar area are capped at much higher valuations than PUR, with investors hoping for another CHN-like discovery.
Caution: This is early stage exploration, with no guarantee of success.
Given the current low market cap, we intend to hold stock into drilling and ideally lighten our position (at multiples of current share price) in the lead up to drilling.
In summary, here's why we invested in PUR:
● PUR is the cheapest entry into the highly prolific Julimar region
● Its Warrior Project is no more than 20km from Chalice Gold Mine's Julimar Project, which has led to Chalice becoming one of the top performing companies on the ASX, with 1500% Total Shareholder Return (TSR) year-to-date
● PUR is well funded with $2.5M in the bank for an aggressive exploration program
● Surrounding companies have seen solid re-rates since entering the area.
● Pursuit has put together a formidable geological and geophysical team, appointing Mathew Perrot as Exploration Geologist to be assisted by Ian Lowie as Operations Manager and Barry Bourne as Project Geophysicist.
PUR is well funded with ~$2.5M of cash to fund its Julimar Warrior Project exploration program and with an Enterprise Value (EV) of ~$8.7m, provides significant leverage to discovery.
PUR finds its Warrior's way
PUR will acquire 100% of its Tier 1 Warrior PGE-Nickel-Copper Project, which is only between 20 kilometres and 170 kilometres to the north of Chalice Gold Mines Ltd's Gonneville Julimar discovery.
With the acquisition will come four highly prospective land positions (a mix of exploration licences and exploration licence applications), totalling 593 square kilometres.
Acquisition Terms
Looking at the acquisition terms, we think they are very reasonable for PUR shareholders. Pursuit will pay $300,000 in cash and 40,000,000 fully paid ordinary shares for the Warrior Project (which will occur after the first two tenements are transferred to Pursuit and Ministerial consent is obtained). Following transfer of all tenements, an additional 10,000,000 shares will be issued to the vendor.
Pursuit will also grant the vendors a 1% net smelter royalty on all minerals produced from the tenements and a milestone payment of $200,000 in cash on achieving a mineralised drill intersection on one or the Tenements of at least 10 metres of 2% nickel equivalent or better.
The company has completed a placement to raise $200,000 through the issue of shares at $0.009 each (the same price as the Company's recent placement and rights issue).
You can see how close the Warrior Project is to Chalice on the map below: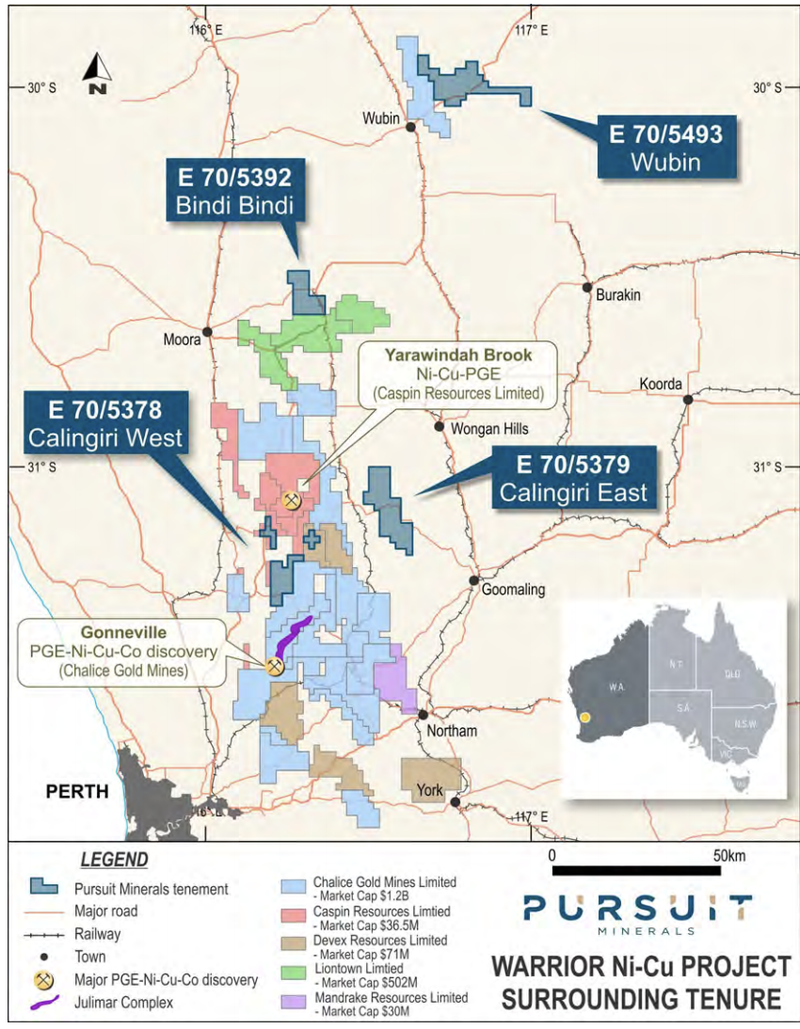 The Warrior PGE-Nickel-Copper Project covers a series of prominent magnetic anomalies whose magnetic response is similar to the mafic and ultramafic Gonneville intrusion, which has the potential to be the most important deposit of palladium in Australia.
PUR will interpret the available aeromagnetic data to define corridors of aeromagnetic anomalies prospective of PGE-Ni-Cu mineralization.
Follow-up electromagnetic surveys and soil geochemical sampling will be completed in order to define and prioritise drill targets. That's where it will really start to get interesting for PUR investors.
Previous aircore drilling on the Calingiri East tenement intersected up to 1420ppm Ni in mafic rocks and anomalous platinum and palladium has been intersected in RC drilling on the Wubin tenement, both of which further confirm the prospectivity of the Warrior Project for PGE-Ni-Cu mineralization.
Looking at the map above, PUR's Calingiri West (E 70/5378) tenement goes close to abutting Chalice's Gonneville PGE-nickel-copper-cobalt discovery while Calingiri East (E 70/5379) is also in close proximity.
The Calingiri West tenement application also abuts Devex Resource's (ASX: DEV) and covers part of their Sovereign Magnetic Complex as interpreted and is immediately adjacent to late-time airborne electromagnetic anomalies recently defined by Devex.
The West Margin of the Yilgarn Craton is highly prospective for Platinum Group Elements ("PGE") and Ni-Cu mineralisation associated with intrusive mafic to ultramafic rocks.
The area remains underexplored for base and precious metals due to lack of outcrop, predominance of farmland and the prior focus of exploration companies on bauxite and iron.
The area also remains prospective for Boddington-style porphyry gold and/or copper mineralisation.
It is becoming increasingly apparent that the prospective mafic rocks discovered to date are far more widespread than previously thought.
This year's discovery of the nickel-copper-palladium mineralisation on the Julimar Project by Chalice is the first significant find in the region which previously had only early stage indications of mineralisation at Yarawindah and Bindi-Bindi.
Can PUR find something of their own?
Warrior's tenements
The four tenements that make up the Warrior PGE-Nickel-Copper Project are:

The first tenement, Calingiri West (E70/5379) is located 10km south of the >600 Million tonne Caravel Cu-Mo project.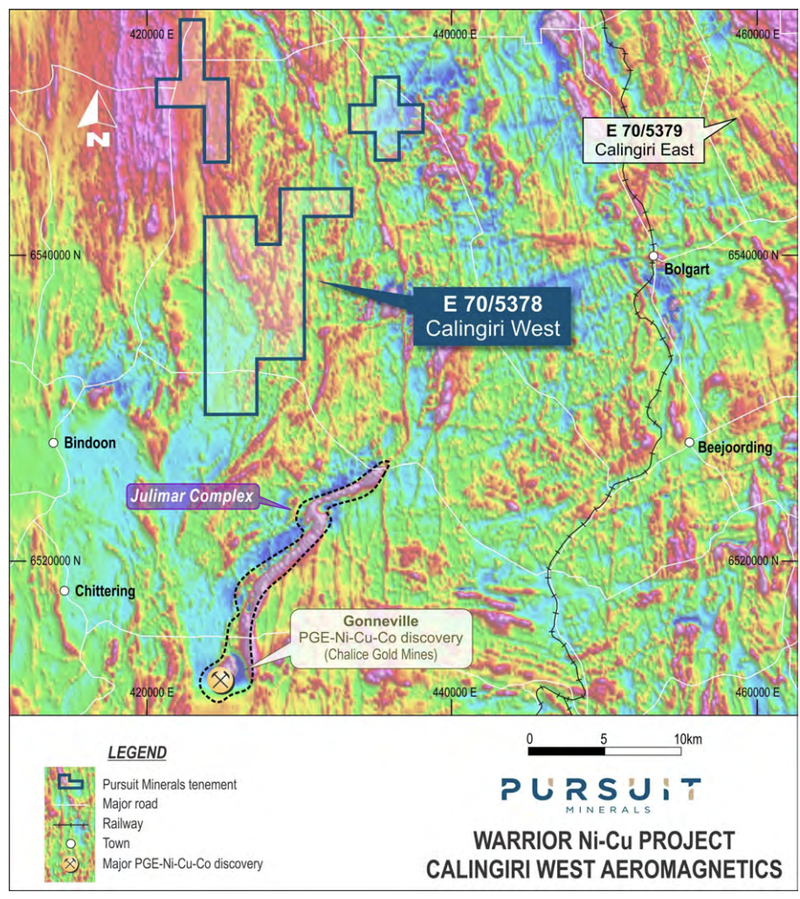 Prior work within the tenement application area focused on identifying porphyry Cu-Mo deposits, similar to Caravel, which resulted in the discovery of a 14km long Cu-Au geochemical anomaly, at the Ablett prospect, associated with greenstone rocks of the Western Yilgarn province.
Dominion Mining previously collected over 3,389 auger geochemical samples and drilled 41 aircore holes totalling 1,384m of aircore drilling. Kingsgate conducted further follow-up drilling with 53 aircore holes.
Prior drilling focused on copper and gold and did not assay for PGEs. However, half of the drill holes intercepted mafic rocks, anomalous in Au, Cu, As and W, which is a positive indication as mafic rocks are associated with PGE-Ni-Cu mineralisation at Gonneville.
The target ultramafic-mafic intrusions exhibit strong anomalies in regional aeromagnetic data, which will allow exploration for PGE-Ni-Cu to be quickly focused on the prospective mafic and ultramafic rocks. Having identified the prospective mafic and ultramafic intrusions, electromagnetic surveys will be conducted over the source of the aeromagnetic anomalies to generate drilling targets.
Calingiri West (E70/5378)
The Calingiri West tenement application, E70/5378), is located between the Julimar (Chalice Mines Limited) and Yarawindah (OZ Minerals Limited) Ni-Cu-PGE projects.
Prior exploration focused on bauxite and the bedrock geology is not well known.
Gonneville style PGE-Ni-Cu mineralisation is associated with mafic intrusions, which exhibit strong aeromagnetic anomalies.
The aeromagnetic data covering the Calingiri West tenement application exhibits a thin belt of north-south trending aeromagnetic anomalies which are interpreted as being due to prospective meta-greenstone belts and intrusive mafic/ultramafic rocks. Individual aeromagnetic anomalies within this north-south linear belt are prospective for PGE-Ni-Cu mineralisation and will be the focus of initial exploration.
Bindi Bindi (E70/5392)
The Bindi Bindi tenement application, E70/5392, covers part of the Bindi Bindi Intrusive Complex which manifests as scattered outcrops of weakly magnetic ultramafic rocks which have been intruded by negatively magnetised younger dolerite dykes.
The aeromagnetic data suggests that the ultramafic rocks prospective for PGE-Ni-Cu mineralisation are more widespread than indicated by surface outcrops.
Outcrops of ultramafic rocks mapped by the Geological Survey of Western Australia, 11km to the NNW of Bindi Bindi, are likely to be the northern continuation of the Bindi Bindi ultramafic, giving further credibility to the interpretation that the prospective Bindi Bini intrusion is much larger than currently known. However, the geological structure appears to be quite complicated with significant folding and faulting of some of the narrower ultramafic units.
Wubin (E70/5493)
The Wubin tenement (E70/5493), granted in November 2020, was previously explored for iron deposits by Magnetic Resources NL in 2010. As they were exploring for iron, Magnetic Resources focused their exploration on outcrops of Banded Iron Formations ("BIF") and high amplitude aeromagnetic anomalies, which could be due to BIF's. Magnetic Resources Limited only completed limited surface sampling and drilling.
The Wubin tenement area contains widespread, but isolated, greenstone remnants. Gabbro, dolerite and ultramafic rock types have been mapped and logged in drilling results, indicating that the tenement application area does contain the correct rocks to host PGE-Ni-Cu mineralisation.
For full detail of the tenements' geology and past exploration, please see PUR's announcement here.
More about the region and a potential re-rating
There is currently extensive interest in the Julimar region.
As noted earlier, Devex Resources Limited (ASX: DEV) and Mandrake Resources Ltd (ASX: MAN) have made very successful forays into the area.
Given Chalice's success, it isn't surprising to see that the area has become a hot spot for investors.

Mandrake's shares doubled in the last month based on its work, while Devex has also traded strongly with its shares surging 50% in the last three weeks.
Mandrake's Jimperding Project lies approximately 30 kilometres east of Chalice.
Caspin Resources (ASX:CPN), is a spin off from Cassini Resources (ASX: CZI) and has two West Australian gold and nickel projects. Chalice backed Caspin in its IPO – taking a 10 per cent stake.
Caspin commenced trading last Wednesday and closed at more than double the IPO price: the company is now trading at a premium of more than 200% to the IPO price.
While nothing is a guarantee, there is scope here for a similar performance from PUR, especially as it is looking to fast track exploration leading into a drill program in March.

Based on this timeline, PUR could very well see a re-rate ahead of drilling. Should Pursuit's Exploration Licence Applications (ELAs) be approved, its landholding will be four times that of the ELA comprising Mandrake's Jimperding Project.
Devex and Mandrake are at pre-drilling stage and on balance, one would expect Pursuit's valuation could be at least in line with that of Mandrake's $30M or perhaps Devex's $74M longer-term.
PUR has a lot of work to do, but given its location, the size of its holding and its similarities to Chalice, we expect it could re-rate quite quickly on success.
Here's why we like it: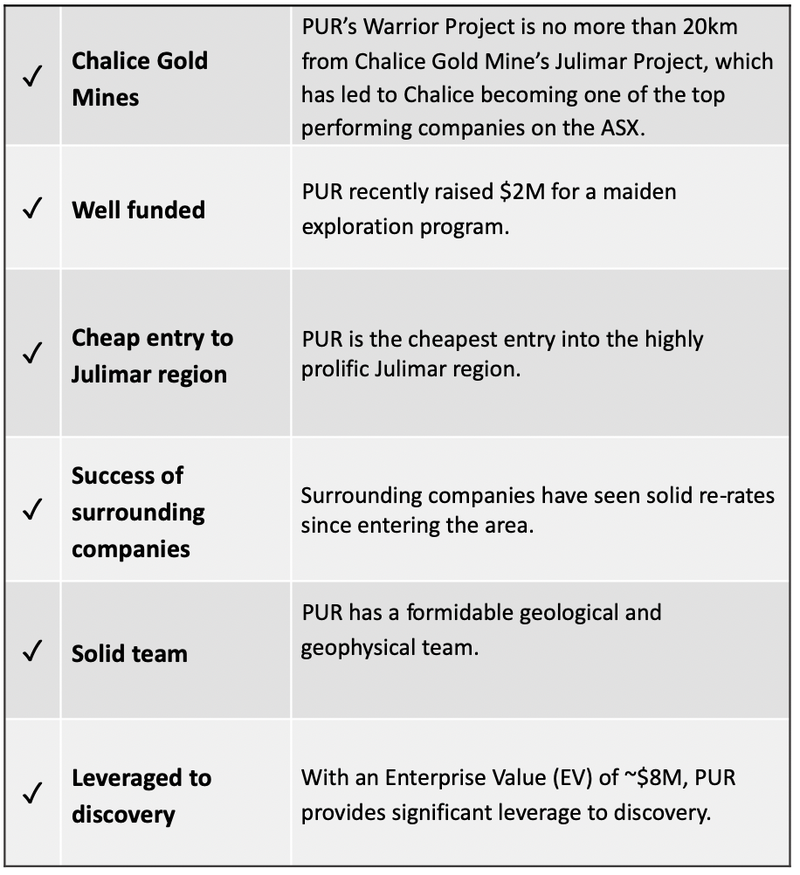 Pursuit Minerals
ASX:PUR
---