PUR first drill results are in - More coming in a few weeks

Share price when sent: $0.045
Julimar hopeful Pursuit Minerals (ASX:PUR) has completed the first two drill holes of its maiden 1,500m diamond drilling program at its Phil's Hill project, on budget and with no complications.
We have been holding PUR since December last year as an exploration investment, hoping it could replicate some of the success of next door Chalice Mining that rose 4,000% after intercepting high-grade nickel-copper-palladium sulphide.
If you are new here, remember that (1) investing in early stage explorers is extremely risky - see the footer of this email for more info and (2) our PUR investment plan is already in full swing and we are in the middle of the first drill campaign where there can be big movements (up or more likely down) in the share price on drill results.
Chalice got a great result after they conducted an electromagnetic (EM) survey, identified an EM conductor to drill, and hit significant high-grade mineralisation on their first attempt. That's like getting a hole in one in golf, and their share price reacted accordingly.
PUR also identified an EM conductor and yesterday announced the results of the first two drill holes.
Basically, the first two holes didn't intersect the EM conductor that PUR has identified underground. This can happen because the ground EM survey only returns a "rough 2D outline" of the complex 3D conductive body that is underground. But that conductive body can be a disjointed 3D shape OR be a bunch of "disconnected chunks" of mineralisation.
So in summary, the EM conductor is showing SOMETHING is down there, PUR just didn't hit it yet...
Our interpretation of the drilling is that PUR basically managed to neatly squeeze their drill holes in BETWEEN the conductive bodies that returned the 2D surface interpretation of the 3D underground shape, so we didn't get any drill cores containing any meaningful chunks of the potential mineralisation to analyse.
For any maths geeks out there, picture a complex underground 3D shape projecting a 2D image onto a surface plane... obviously you lose most of the critical info about the size and structure of the 3D shape.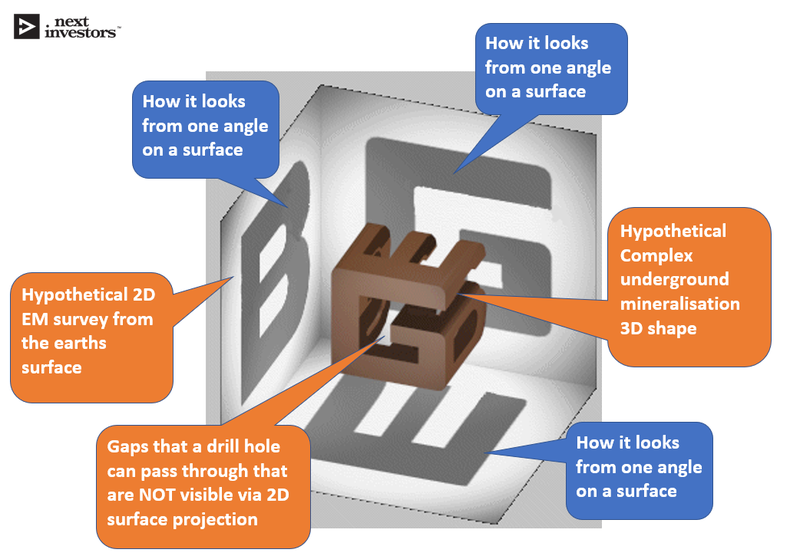 PUR made the initial drilling decisions based on the 2D representation of the unknown 3D shape of the underground conductive body and the two drill holes appear to have passed in between the potential mineralisation.
But we know there is SOMETHING conducting underground, and now with two holes, PUR can collect more data points to inform the next few drill holes and hit the conductive target.
Pursuit Minerals
ASX:PUR
Early stage exploration is like a puzzle, in that there usually needs to be a number of drills to figure out exactly what is beneath the ground.
Results from these first two diamond drill holes suggest that there could be multiple, high conductance plates. However, surface and airborne EM techniques cannot resolve beyond a very large high conductance plate.
For that reason, PUR has decided to pause drilling — to be recommenced in two weeks — and run down hole EM (DHEM) surveys this week to ensure that the rest of its ongoing diamond drilling program will be focussed on locating the rocks that give a strong conductive response.
Now that PUR has two drill holes passing in between the conductive bodies, what they can now do is dangle an eletromag survey instrument down each drill hole and get a better reading from underground (at multiple points) compared to what can be read from the surface projection - that is what a down hole electro magnetic (DHEM) surveying is.
PUR now plans to dangle the EM survey tool down their two drill holes and run it in all directions (above, below AND inline with the potential mineralisation). They can then start to build out a 3D picture of the conductive body and make much more informed drilling decisions for their next few holes.
This down hole EM (DHEM) survey will provide improved resolution and allow better targeting of conductors. DHEM surveys are used extensively across the industry and in particular by other PGE-Ni-Cu explorers in the region to more accurately model conductors in a 3D environment.
Down hole EM will take a week or two, with the next drill holes coming shortly after that.
While PUR didn't hit a "hole in one" like Chalice did from their first drill holes, we are eagerly anticipating results of the down hole EM surveys and the next few drill results over the next few weeks.
PUR came into drilling at a lower share price than we expected after a few of the Julimar hopefuls took a pounding lately, so we ended up holding a bigger than planned position into the drill result. Just like any typical exploration investment we had a plan, but have slightly changed it based on market conditions. The next few weeks of drilling and results should be fun.
As always, there were some "sellers on news" yesterday who we suspect were disappointed that PUR didn't deliver a rare Chalice style "hole in one" on the first drill hole with PUR closing down 23.7% and is now back below 5¢. But that looks to have been somewhat of an overreaction and we don't expect further selling as the results were not actually that bad.
Pursuit Minerals
ASX:PUR
Our PUR backstory
In December 2020, our investment Pursuit Minerals (ASX:PUR) acquired exploration licenses right near Chalice Mining's multi-billion dollar discovery in the emerging Julimar mineral province in WA.
Chalice is now up over 4,000% since announcing the discovery in March 2020, and capped at $2.4Bn. We invested in PUR when we began covering the story in December 2020, at 1.35¢ then again more recently at 6.9¢.
We invested in PUR hoping that its exploration program could achieve just some of Chalice's billion dollar success in this new precious metals province, searching for PGE-Ni-Cu (platinum group elements-nickel-copper).
Earlier this year, PUR reported that soil samples from its project "compare favourably" to the soil sampling that Chalice reported during its Julimar discovery, just 20-170km away from PUR's ground.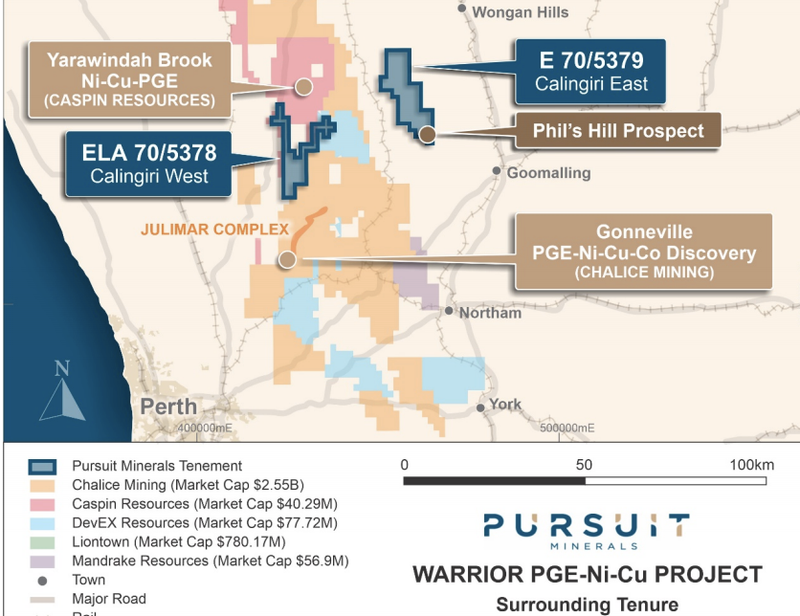 The Chalice share price did after Chalice discovered a giant lode of PGE-Ni-Cu: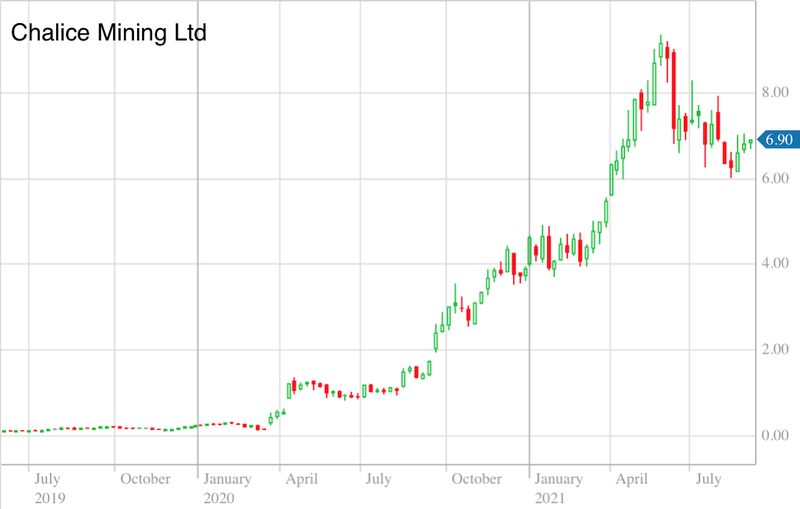 There is still a lot to come including results from the DHEM survey, assay results and follow up drilling, so we are happy to be holding on to see what the next batch of drilling brings in the lead up to Christmas.
So in summary...
In short, drilling of the first two holes didn't hit mineralisation.
Drilling the first hole down straight through the centre of an ore body, hitting PGE-Ni mineralisation, is very unlikely. It's not something that is going to happen straight away.
But we know that the mineral conductors are down there, somewhere, but they could be at any orientation. With the upcoming downhole EM, this will be modelled and give a much more accurate target.
The rig has been sent back to Perth for mandated servicing, giving time to process the downhole over the next 2 weeks. It will be mobilised back to site once DHEM results are completed. By then, when PUR comes back to drilling, it will have a pretty good idea of where that conductivity is and can target that in the next holes.
It's about getting as many data points as possible. Now PUR has EM, moving loop, and will have the downhole EM, which will help determine what direction the conductivity is coming from and know whether the conductivity is above or below the drillhole or to the north, east, south or west.
Of course, there is no guarantee once they get to the conductive body that it will be mineralised with PGE-Ni-Cu mineralisation.
What is known is that the type of minerals present are consistent with a nickel copper sulphide deposit, which, in this region, incorporates PGE. In addition, there's a good likelihood that it also has gold in it. Over 30 samples from the first hole have been submitted for analysis to the lab Perth for assay. It will be interesting to see what it comes back as.
And we know that this is a real EM response. Conductivity doesn't just happen — it is not salt water – it's conductivity of mineralisation. PUR now just needs to pinpoint exactly where it is.
PUR Company Milestones
✅ Next Investors Portfolio Initiation
✅ Sale of Scandinavian projects for $3M
✅ $8.25M Cap Raise @ 6.9c
🔲 Project Funding 2
🔲 Unexpected Positive Announcement 1
🔲 Unexpected Positive Announcement 2
🔲 Unexpected Positive Announcement 3
🔲 New Milestones Added: Gladiator Project (Gold)
🔲 New Milestones Added: Combatant Project (Gold)
Warrior Project Milestones (PGE-Ni-Cu)
⚔️ Chalice Gold Mines Julimar Discovery
✅ Land Acquired in Julimar Region
✅ [UPA] Further land acquired
✅ Electromagnetic Surveys (1), (2)
✅ Drill targets identified
✅ Soil geochemical sampling: Results
✅ Heritage Approvals Secured
✅ Drilling Program Commenced
🔄 1,500m Diamond Drilling
🔲 Downhole Electromagnetic Survey
🔲 Follow-up Drilling
🔲 Assay Results 1
🔲 Assay Results 2
PUR Investment Milestones
When it comes to our exploration investments, we typically look to take some profit in the lead up to drilling in order to protect against the downside while still holding a significant position for the drilling results.
But as we previously mentioned, as investors we went into this drilling program holding a larger position than we usually would have. PUR had commenced drilling from a lower share price base than we expected after a few other Julimar hopefuls had taken a pounding. Just like any typical exploration investment we had a plan, but that was changed based on market conditions.
Key Drilling Event 1
✅ Initial Investment: @1.35c (≈7 months before key drilling event)
✅ Increase Investment: @6.9c (≈4 months before key drilling event)
✅ Price increases 250% from investment
✅ Price increases 500% from investment
🔲 Price increases 1000% from initial entry
✅ Free Carry (prior to drilling results)
🔲 Take Some Profit
🔲 Hold position for key drilling event
🔲 Decide New Investment Plan after results of key drilling event
Key Drilling Event 2
🔲 New Milestones Added
---